Bleedin Edge
November 19, 2004
by Paragon
Original on the Bleedin Edge Website
Acronis Disk Director Suite 9.0
Introduction
There are very few consumers, whether associated with the "Computer Enthusiast Market" or the larger "Retail Consumer Market", that we know of that haven't at one time wanted to be able to completely change or modify the configuration of their drives without losing the valuable data that the drive contained. Many of these individuals were unaware of certain product availability that would let them accomplish this task without resorting to a complete reformat of their drives and a fresh reinstallation of their operating system, programs, and data.
Around the early part of 2000 a tiny handful of products were released by small groups of software manufacturers that automated this task. While some of these products worked quite nicely for some of the users' cases a few vendors automated several processes that would not always work as stated. In some cases this automation of several processes running either simultaneously or serially would produce untoward results; namely the entire corruption of the users' drive(s). Many of the problems may have been resultant from the fact that these products were attempting to cater to all or at least most of the operating systems of the day. As we know now even though the operating systems (especially in the Windows environment) had many similarities; but enough structural differences to complicate even the best software of the day.
In our experience at the BleedinEdge we have noticed two distinctly different types of marketing strategy utilized by most of the software vendors; 1) be the first to release a new product to the market thus taking advantage of the early marketing hype and capturing early consumer interest; and 2) those companies that used the "wait and see philosophy" and make a concerted effort to assure these flaws in these early releases of their competitors' products were not present in theirs. While strategy #1 may have been a bit sounder financially speaking, at least in the early going, we were much more impressed by end result of those companies that incorporated the "wait and see philosophy". Their products were generally much more polished and refined and as a general rule caused fewer problems for their users. Such was the case for the product that we are reviewing today, Acronis Disk Director Suite 9.0.
History
The beginnings of Acronis Disk Director Suite 9.0 were spun in early 2002 and continued into 2003 with the release of several products; 1) Acronis OS Selector — a software component that allowed the user to install and boot from multiple operating systems such as Windows and Linux on the same drive. It also would create a partition on the users' drive specific to the OS being installed; 2) Acronis Partition Expert 2003 — a complete user partitioning system that offered tools and functions that other partition managers of the time were incapable of performing; 3) Acronis Recovery Expert — a product allowing the user to recover from the accidental or incident related deletion of a partition; and 4) Acronis Disk Editor — a professional-grade program that performs a variety of actions on a hard disk: to restore boot records and files and folders structure, to find lost clusters, remove computer virus code from a disk, and the ability to edit you hard drive up to and including hexadecimal editing.
Later iterations of all these products are included in Acronis Disk Director Suite 9.0 along with many other useful features all bound together in one mature software package.
Acronis Disk Director Suite 9.0 Features
Features Overview
Dual modes: Automated (Wizards) for the average PC user and Manual for the advanced user
High-speed disk partitioning
Ability to create and copy disk partitions
An easy to understand user interface that looks very much like Windows XP Explorer
When deleting partitions, the software can overwrite the old data, making it more difficult to recover sensitive data
Full multiboot management capabilities which can run 100 or more operating systems on a single PC
Ability to run multiple versions of Windows from the same disk partition
Ability to boot an operating system from any drive in the system
Recover lost, damaged or deleted partitions, along with all their data, quickly and easily
Sector-level editing of the disk
Create hard disk partitions
Resize and move them without data loss and destruction
Convert partitions to other file systems without data loss
Format, label, assign letters, hide and unhide partitions, set active partitions and perform additional disk management operations
Boot installed operating systems from any hard disk partition
Boot installed operating systems from under Windows
Install several operating systems on a single partition
Hide or protect with a password any operating system on your PC
Duplicate installed operating systems and define different configurations for each copy
Recover boot records, files and folders structure, find lost clusters, remove viruses, etc.
Automated (Wizard) Mode
Create Partition
Increase Free Space
Copy Partition
Recover Partition
Manual Mode
Copy a partition
Move a partition
Resize a partition
Change the label of a partition
Format a partition
Delete a partition
Check the status of a partiton
Defragment a partition
Acronis Disk Director Suite 9.0 Distribution & Installation
Acronis Disk Director Suite 9.0 is offered to the retail consumer through two methods of delivery: 1) Purchase of the bundled package from one of the members of the Acronis reseller network; or 2) Direct software download from the Acronis website...
Installation is very straight-forward; simply double-click on the installation file from either the Acronis Disk Director Suite 9.0 CD or the distribution copy you downloaded. You will then be presented with the license agreement for your review and acknowledgement. Follow the system defaults and enter your supplied license key information then just sit back and wait the software does the rest. A reboot of your PC is then required.
Prior to ending the installation process you will be presented with the option of making a rescue disk which can be created on either 1 CD or floppy disks. This is an option that no user should pass up as it allows you the ability to: 1) Create or change hard disk partitions without booting to an operating system; and 2) Install and re-activate Acronis OS Selector boot manager on your PC.
You are also given the option of making either a full or safe version of the disk(s). The difference between the two is that the safe version does not support USB, SCSI or PC Card storage devices. Acronis recommends that the full version should always be utilized, the only exception is if the full version fails to boot properly on your system.
Writers Note: Most of you will note that installation of Acronis Disk Director Suite 9.0 is almost a mirror image of the installation utilized with Acronis True Image 8.0. As you will see in the balance of the review the mirror image extends as much as possible beyond the installation stage and into the actual operation of the program. I applaud Acronis for where possible making the look and feel of all their products as similar as possible thereby reducing the users' learning curve.
Delailed features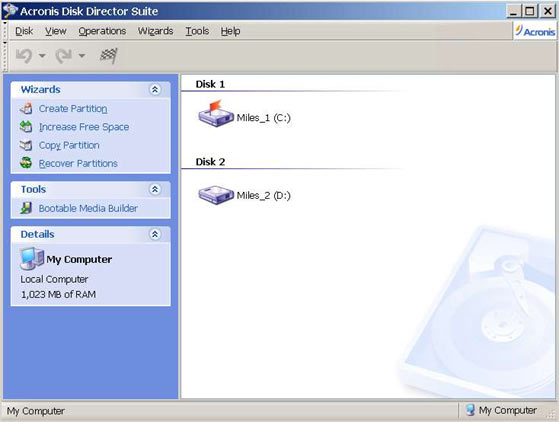 Main Screen: Automated (Wizard) Mode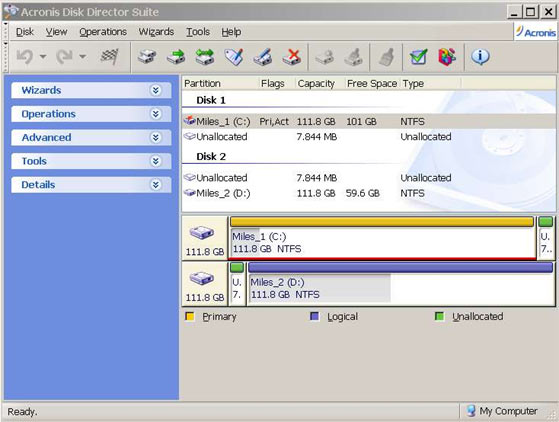 Main Screen: Manual Mode
Acronsi Disk Director Suite 9.0 main control screen
As with other Acronis products, Acronis Disk Director Suite 9.0 utilizes a main control screen which acts as a "hub" if you will for controlling all of the functions of Acronis True Image. Features detailed using the Automated Mode are mostly wizard driven for the less experienced consumer while those outlined using the Manual Mode allow the more experienced user much more control of the functions being carried out. Once installed the user can easily switch between the Automated and Manual modes by using the View option in the menu bar. Let's take closer look: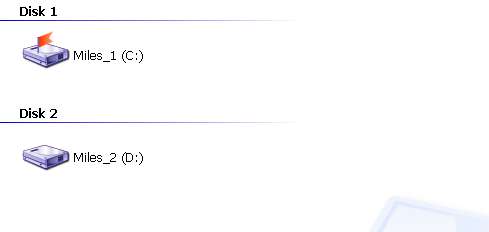 Drive Information: Automated Mode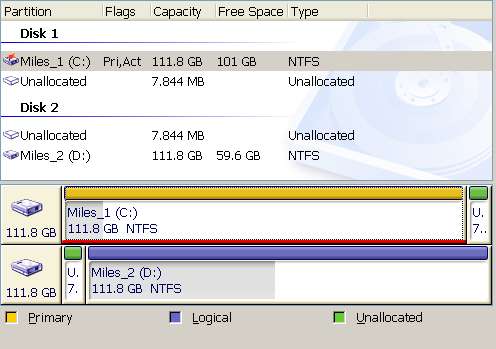 Drive Information: Manual Mode
As you can see the Disk Information screens are somewhat different with the Manual Mode giving the more experienced user vastly more information about his/her drives.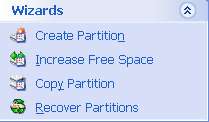 Wizards Screen — the wizards screen is available in both the Automated and Manual modes and provides identical user functionality to both types of consumer. These processes are fairly self explanatory and are not necessary to be detailed.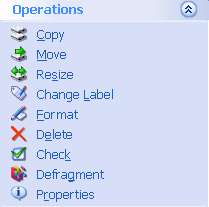 Operations Screen — this screen is only available in the Manual mode
Operations Features
Copy — copy a partition to a designated location
Move — move a partition to a designated location
Resize — resize a partition to your desired size without losing data stored on that partition
Format — format or reformat a partition to: FAT 16, FAT 32, NTFS, Ext2, Ext3, ReiserFS or Linux SWAP (New)
Delete — delete a partition
Check — check a partition for errors
Defragment — defragment a partition
Properties — shows the user partition properties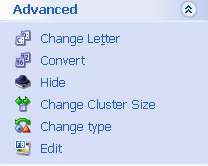 Advanced Screen — the advanced screen once again is only available in the Manual mode, and contains some very advanced features that should only be attempted by the most experienced user.
Change Letter — changes the drive letter of a drive
Convert — converts a Windows partition to either primary or logical partition
Hide — hides a partition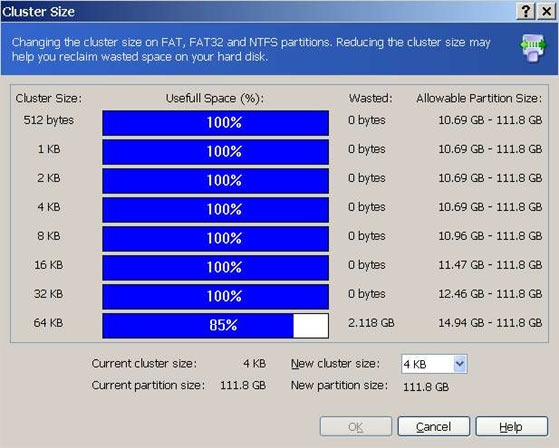 Change Cluster Size — allows the user to change the cluster size of a partition in many case saving valuable disk space that might be utilized by a less efficient size (See Screen Shot)
More screens and features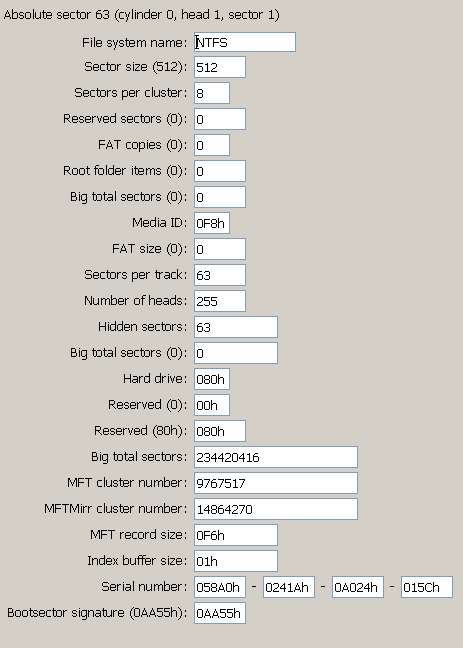 Editor Screen
Edit — this is likely the most advanced featured offered in Acronis Disk Director Suite 9.0 and if improperly used can result in the loss or extreme degradation of data (See Screenshot)

Tools Screen — The tools screen allows the user to create a rescue disk which was detailed earlier in this review.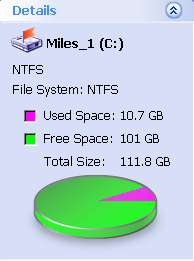 Details Screen

Menu Bar — the Menu Bar has all the aformentioned screens, controls, and features contained therein. While the Main Screns could be readily referred to as the "Control Center" the Menu Bar is the brains behind it and as with most software controls all the funtions that you will see in the Control Center. For those of you that read my Review of Acronis True Image Version 8.0, you'll notice the Menu Bar has the exact same family feel as was present. While not totally unique to Acronis, this certainly lessens the learning curve when from moving from one Acronis product to another.
Favorable & unfavorable issues
In doing my research for this review of Acronis Disk Director Suite 9.0 I read the product manual (which I downloaded from the Acronis website) twice and noticed that a few of the newer features contained in this version had not been completely detailed or were omitted from the latest version of the manual. Most had to do with NTFS. I did however find these areas detailed at least in part on the Acronis website.
After completing my review as not to be biased, I read every review that I could find of this product including the earlier versions of the products that make up this suite of software. I did see where some of the reviewers had detailed a very few issues generally associated with the more advance features of the product. I must state for the record that I found none of these issues to be true in the revision of Acronis Disk Director Suite 9.0 that I reviewed. This is by no means saying that these issues were not realized by the other authors.
Benchmarks are generally not associated with reviews of this type and mine is no exception. I will say that I found this product subjectively faster than other products of its type. This was especially true in the conversion, formatting, and resizing functions. I also find running a single function in lieu of a multitude of batched functions far superior as it substantially lowers the possibility of error.
I particularly like that the feel of this product was completely in line with the other Acronis products that I have used along the way. Had I not read the manual I feel it safe to say that I could have probably safely used 80% of the functions that this package has to offer. The wizards were also quite nice and I feel that the new user would have no major difficulties in performing all of their tasks by simply having a single page "Quick Start Manual" to refer to.
Conclusion
Acronis has done a truly excellent job with Acronis Disk Director Suite 9.0. While I would love to say it is by far the best on the market, I did not have the latest versions of their competitor's software to compare; so a statement of that type might be a bit far reaching. I will say that the product did two things that vastly impressed this author and is rare in today's world: 1) Acronis Disk Director Suite 9.0 performed as advertised; and 2) Said performance was efficient and without incident.
The only issue that prohibits me from awarding it the prestigious BleedinEdge Platinum Blade award was the shortcomings I alluded to in its manual. The Platinum Award signifies that a product is perfect in every respect. I do however feel very comfortable in awarding Acronis Disk Director Suite 9.0 "The BleedinEdge Gold Blade Award". The Gold Blade Award signifies an excellent product, which excels in all areas, and has limited negatives.
I must again sincerely thank Stephen Lawton, Director of Marketing, Acronis, Inc. for his help in providing not only Acronis Disk Director Suite 9.0, but the entire Acronis workstation product line along with technical literature for review by the BleedinEdge. This is installment two of a three part serial review with the next segment, Acronis Privacy Expert Suite 7.0, to be our finale.