PC Authority
April 2006
Protect your PC from itself and yourself
Acronis Disk Director Suite 10.0
Rating: 6/6
| | |
| --- | --- |
| 'Acronis understands how to present advanced technical operations at OS level so that anyone with a basic understanding can perform them.' | |
A properly partitioned drive will protect your data by keeping it separate from applications and the OS. After all, installing an OS is relatively easy, as are applications, but corrupt the drive that holds your data and, quite frankly, that's your lot. Disk Director Suite 10.0 is comprised of four integrated applications: Acronis Partition Expert enables you to split, merge, move, copy or resize partitions on-the-fly without losing data (something that Windows XP can't do); Acronis OS Selector is a multibooting OS loader that can handle in excess of 100 operating systems and allows you to boot into them from any partition; Acronis Recovery Expert provides a quick and simple means to restore lost or deleted partitions; and Acronis Disk Editor, which acts as both a drive repair tool for restoring boot records as well as an advanced hexadecimal editor.
Acronis understands how to safely present advanced technical operations at OS level in such a way that anyone with a basic understanding of computers can perform them. You can choose between automatic and manual mode, with the UI changing from a simple wizard-led approach to perform the most common partitioning operations with the former, to full operational control over every possible task. The ability to toggle between modes according to the task at hand, while retaining a consistent look and feel throughout, demonstrates a real understanding of what a good UI should be.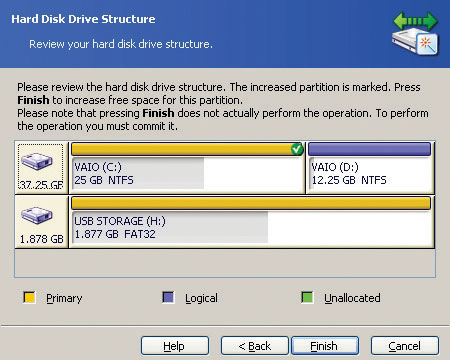 For commonplace partitioning operations, the 'automatic' mode adopts a wizard-led approach
That's not to say this is a product for beginners alone. There's no reason to eschew ease of use for pure machismo, which is catered for by the inclusion of an advanced disk drive editor that's only intended for those who understand the structure of hard drives.You'll be able to work in the universal hexadecimal mode of data representation, and in special modes for editing Partition tables, FAT 16/32 and NTFS boot sectors, and folders. Even at its simplest level, the ability to back up and restore a Master Boot Record (MBR) is always going to be a potential lifesaver.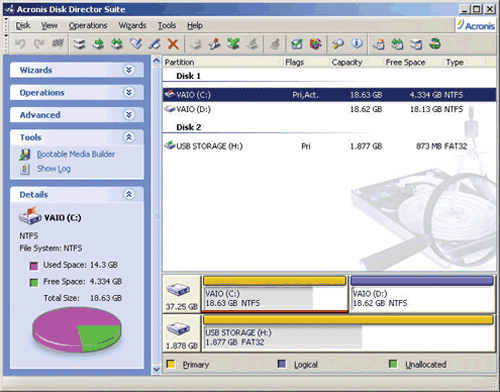 Acronis succeeds in making disk management straightforeard, delivering ease of use without sacrificing flexibility or power
New to version 10 of the suite is the ability to split one partition into two while leaving your data intact, or merge two into one. Amazingly, you can do this without harming your data even if the file systems on the partitions are different. Also new is the Windows Explorer-like interface that enables you to quickly view partition data before actually doing any partitioning action. Plus, there is also the ability to boot from an additional hard drive by selecting the drive you'd like to boot from. As soon as any bootable device, including removable media such as a CD/DVD, is inserted, the Acronis OS Selector kicks into action detecting it and displaying it as a boot option. Also added in the suite is the automatic OS detection, which is a lifesaver if your OS becomes unbootable because of damage to the MBR, for example.
Acronis prides itself on offering the widest of OS support, and a credit that it's still developing programs that support Windows 98 users. So it should come as no surprise to see the depth of file system support on offer. As well as the usual FAT16/FAT32 for DOS, OS/2 and Windows 98/ME/NT/2000/XP, and NTFS for NT/2000/XP/2003, there are also Ext2 and Ext3 Linux systems, ReiserFS (often used on data servers) and even LinuxSwap — used for Linux swap partitions. At the moment, you can convert only FAT16 to FAT32 and back, and the same for ext2 and ext3, but future upgrades to Disk Director promise to include more file conversion options. We tested it with multiple operating systems, successfully converting various file systems, and performing effectively and safely throughout, including when working within a RAID environment.
The only problem we ran into was when attempting to resize a partition on a system with Norton GoBack running. This, quite logically, had to be disabled to prevent it from stopping Acronis changing the partition table.
You'll gladly spend $90 on an Internet security suite because it protects your data and system integrity, but without a cast-iron data-backup and disk-management strategy you're wandering into proverbial bolting horse territory. Acronis Disk Director Suite 10.0 is highly recommended at $70. If you value your data and your hair, buy it.