Barry's rigs 'n reviews

June 15, 2006


by Barry Little

Barry's rigs 'n reviews web site



Acronis True Image 9.0 Home
Acronis True Image 9.0 Home Part 2

Like most software sold these days, the Acronis True Image 9.0 Home User's Guide is in Adobe Acrobat .PDF format, rather than a printed manual (you can download a copy here). The guide is well-illustrated with plenty of screenshots, concise, and does a good job of explaining things without going too heavy on technical terms that often intimidates and turns off new computer users (it could use an Index in the end, thought). Acronis True Image is so easy and intuitive to use, you probably won't have to refer to the User's Guide that often — if at all. In fact, you can probably get all the information you need on using Acronis True Image from the program's Online Help. Acronis uses its own proprietary-format for the online guide, rather than the usual Microsoft .CHM help files. While this makes for a much better-looking guide consistent with Acronis True Image's interface, it lacks the usual amenities of conventional help files used under Windows — like the ability to print, copy/paste, and bookmark individual topics.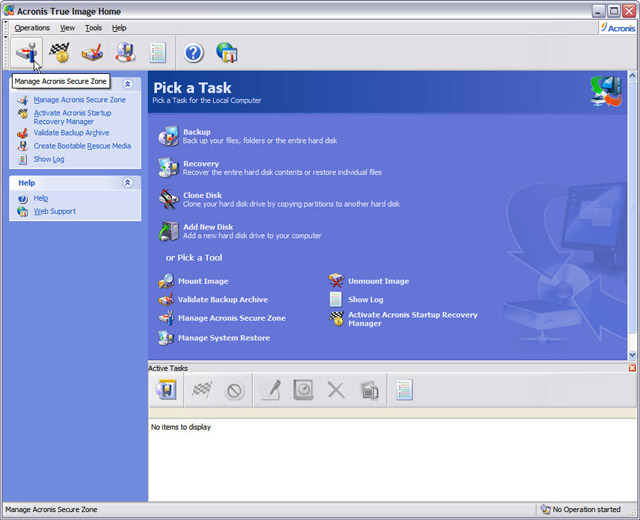 Data rescue functions may also be accessed through the Button Bar. This button activates the wizard for the Acronis Secure Zone.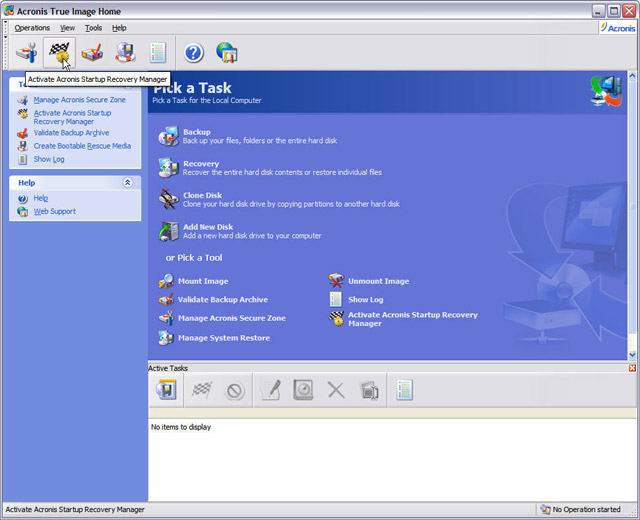 This button launches the Startup Recovery Manager, which works in conjunction with Secure Zone.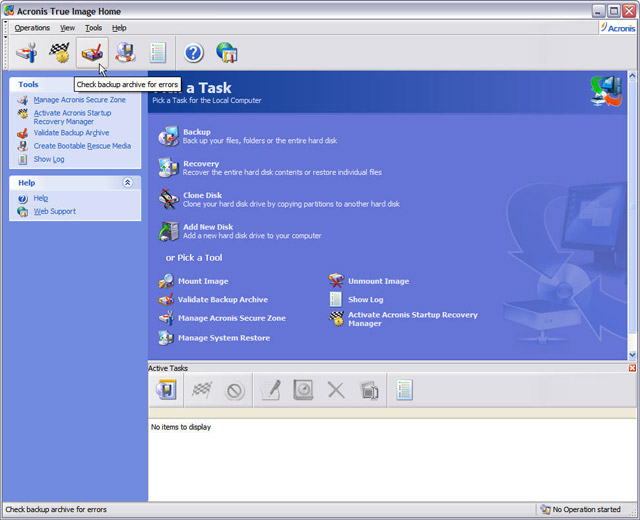 The wizard launched with this button checks Acronis True Image archive file for errors. You should run this on any archive file created which has not been verified immediately after the backup.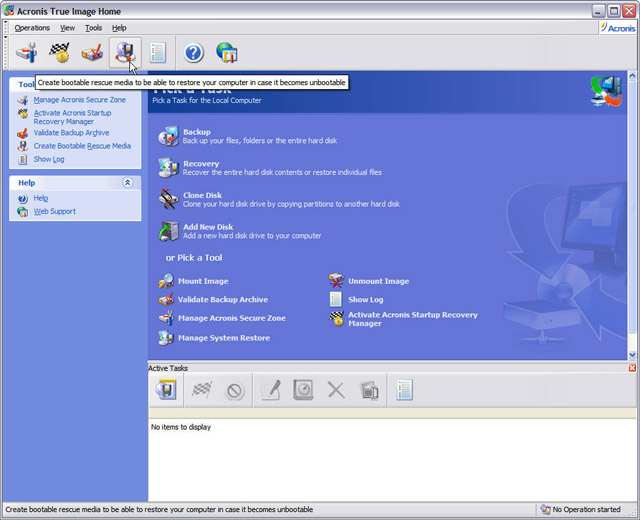 This launches the Bootable Rescue Media wizard.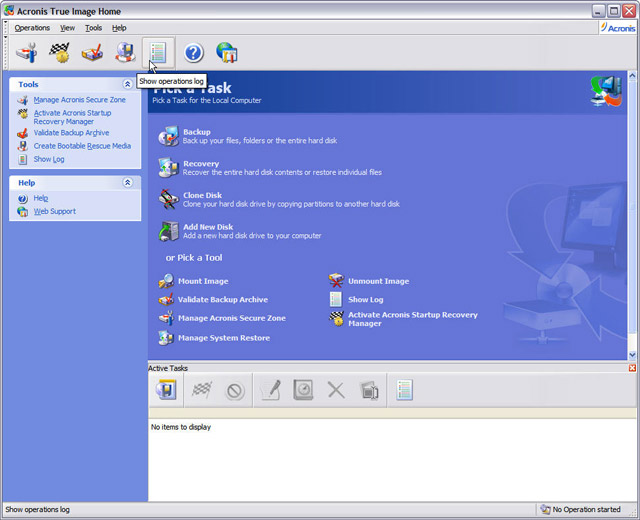 Acronis True Image logs each backup and restore operation under Windows.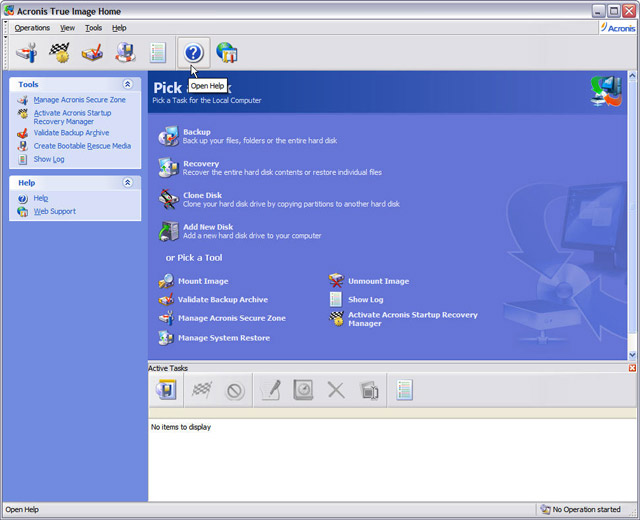 This brings up online help.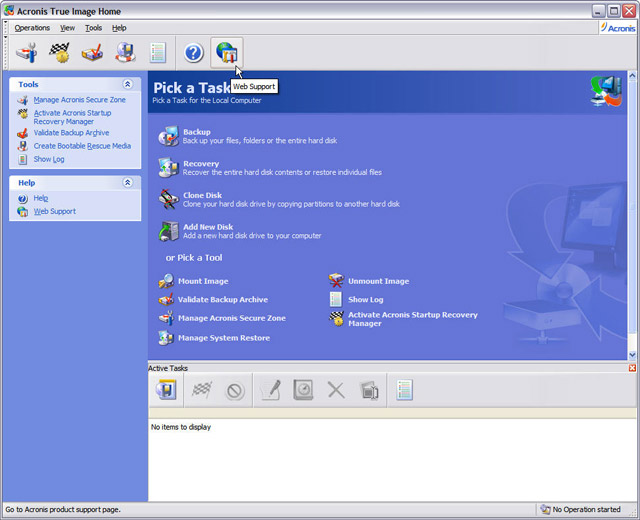 This takes you to Acronis Support Page on the Internet.
Acronis True Image 9.0 Home is completely wizard-driven, providing information and instructions in Plain English every step of the way. This makes backing up and protecting your system a breeze rather than a chore. But the latest version of Acronis True Image 9.0 (Build 3633 as of this writing) is more than just a streamlined, slightly updated pretty face. Its real beauty lies not only in its traditional power and ease-of-use, but some incredibly cool improvements under the hood.
Backups
Acronis True Image 9.0 Home retains all its previous advantages of using an image-based backup utility, with a wide range of backup configuration options. When an image file is created with Acronis True Image, it only records the areas of your disk that actually contain data with the drive's partition information. It doesn't back up paging or hibernation files--which are automatically recreated by Windows after restoring a system with Acronis True Image anyway. This is why Acronis True Image backups run quicker, using less disk space than competing products.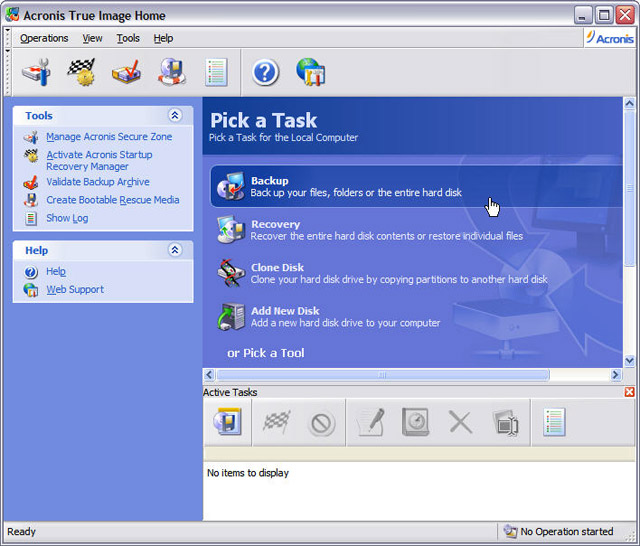 Bootable recovery CDs aren't worth much without a backup. Let's get one started.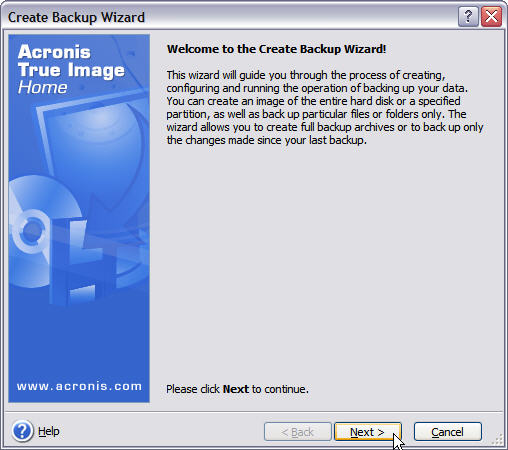 The Create Backup Wizard launches.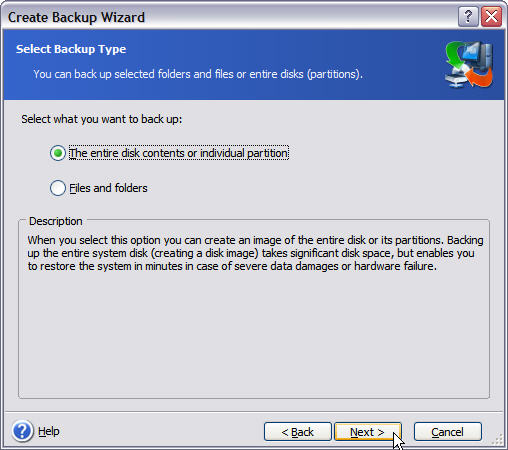 Acronis True Image Home 9.0 combines the power of image-based backup for quick "bare-metal" disaster recovery...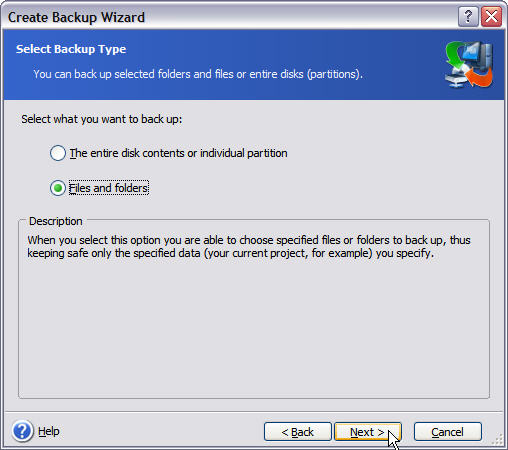 ...as well as backups of individual files and folders. Normally, you'd have to purchase two separate backup programs to accomplish the same thing!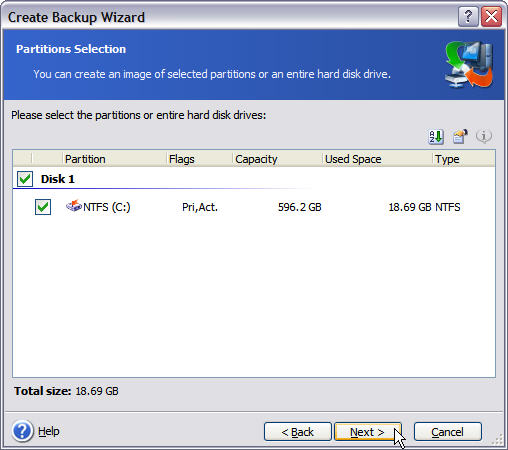 I'm going to create an image backup of the entire disk on this machine, which will return it to its most recent state in the event of a catastrophic OS or disk failure. No time-consuming OS and program re-installs and separate data-recovery routines!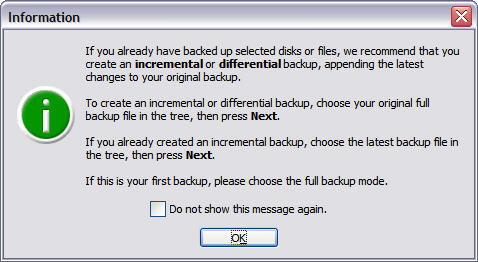 Some useful pre-backup information.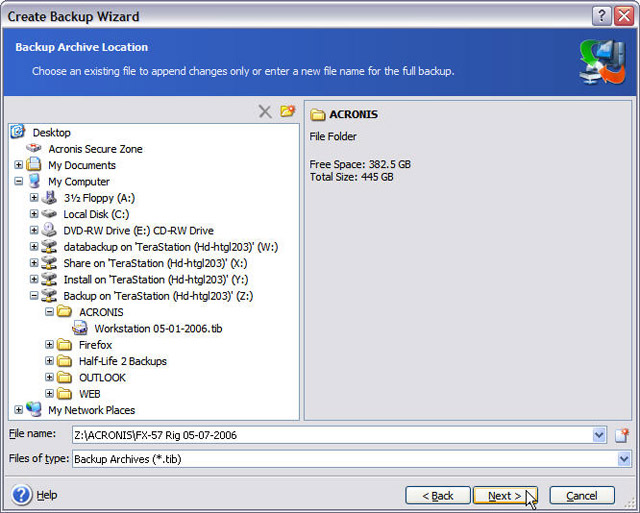 You can back up to a number of any supported sources with Acronis True Image. The target backup device that you see here is a Buffalo TeraStation NAS. Not good with coming up with file names? Click on the little icon next to the File name dialog box and Acronis True Image will create one for you.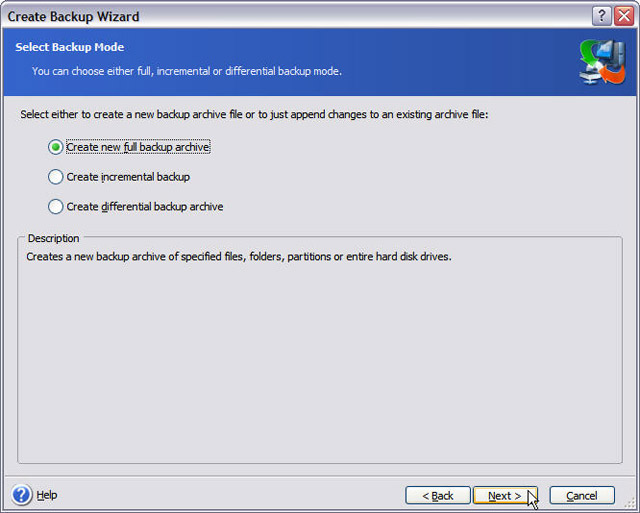 After selecting a target backup device and a name for the backup archive file, you're given a choice of full backups...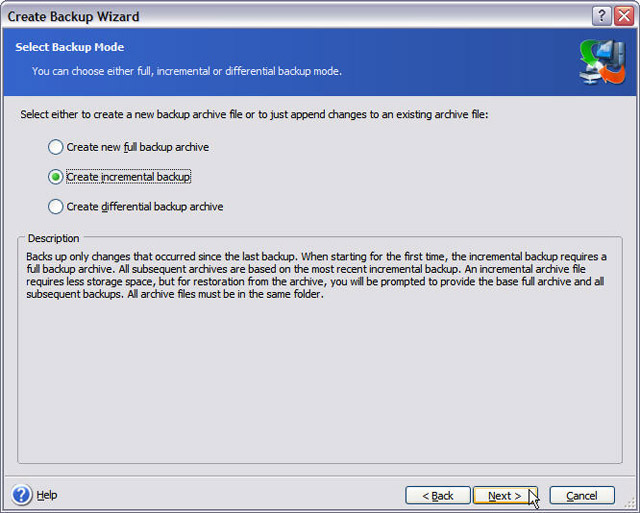 ...incremental backups...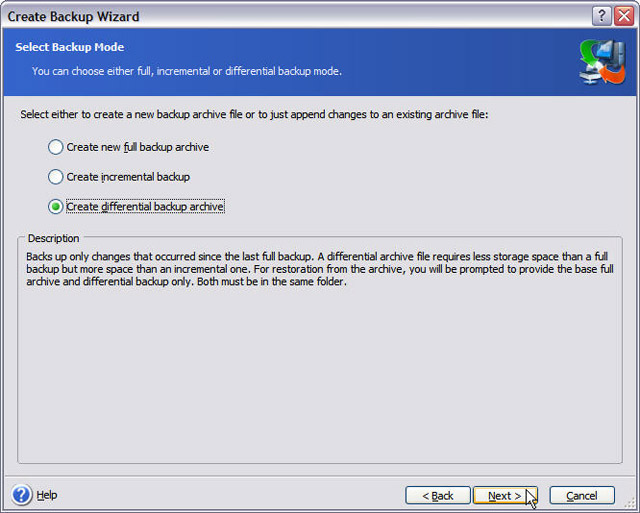 ...or differential backups. What's nice about Acronis True Image is that a description is usually provided for various functions in Plain English.
You can set a password to protect the archive file from unauthorized access, and launch commands before and after a backup (for example, stopping and starting services). Three compression levels are available for the backup sets you create — None, Normal, High and Maximum. The higher the level of compression you select, the smaller the archive file will be, but the longer the backup can take. There's plenty of room to experiment to find the best balance between compression to maximize backup storage space, and the length of time it takes for the backup to complete. Keep in mind that some files don't compress as well as others. For example; if you have many digital photos in the .JPEG format, these files will yield little if any compression improvements by archiving them with Acronis True Image's Higher and Maximum compression levels.
When backing up to CD or DVD ±R/RW media, image or file archives will rarely fit on a single disc. Acronis True Image can split the backup archive file across removable storage media with ease. It does so automatically by splitting the file only when it's absolutely necessary, completely filling one disc before requesting the next. This can save the number of discs you'll need for the backup. Or, you can specify the archive file be split into the following industry-standard removable media sizes:
100 MB Zip Disk
650 MB CD-ROM
700 MB CD-ROM
4.7 GB DVD-ROM
Because Acronis True Image is able to back up your system in the background while you work, you can adjust the Backup priority. When set to Low, the backup will proceed much more slowly than it normally would, but its impact on other processes and activity taking place on your PC is minimal. Normal will permit the backup to proceed at normal speed with minor to moderate impact on system performance. High allows Acronis True Image to process the backup at maximum speed, with the most impact on all other processes and activity taking place on your system.
I ran Acronis True Image on a system with an Athlon 64 X2 4400+ dual-core processor, and an Athlon 64 FX-55 single core processor — both with 2 GB of DDR 400 RAM, performing full image backups to a share on a TeraStation NAS at each priority setting, while performing common tasks on each system (E-Mail, web browsing, creating Word documents and editing photos with Photoshop CS). Low priority works the best on single-core processors and Normal on dual-core or Hyper-Threaded processors. High priority should definitely be reserved for scheduled backups when there is no activity on the computer, as just about anything you try to run will slow to a crawl or come to a screeching halt. Keep in mind that your actual results, based on your particular hardware and other variables, will vary.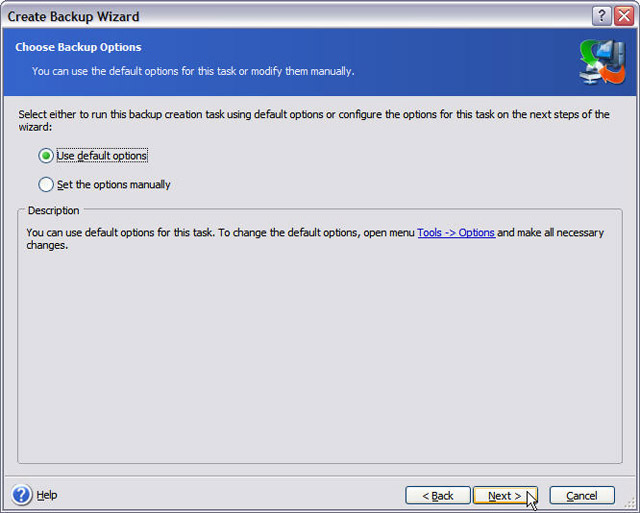 If you've set the Default options to your liking as previously shown, you can just click Next here.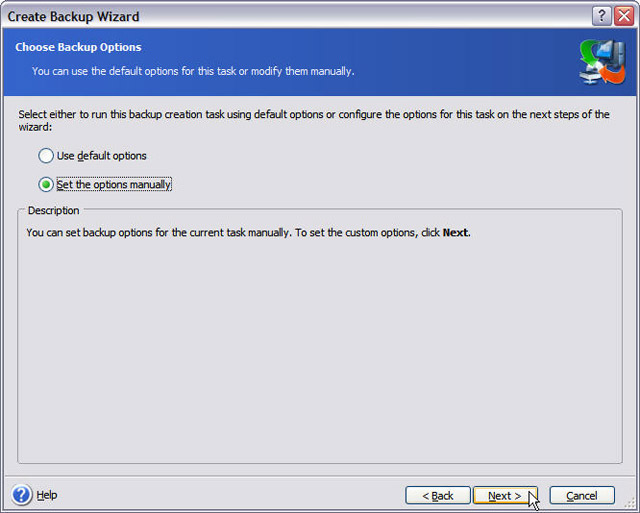 ...or if you rather set the options manually you can do so.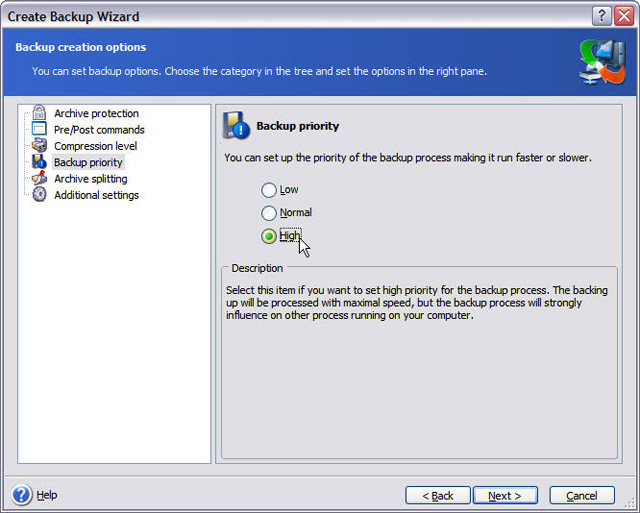 If, for example, I decided at the last minute that I wanted to change the priority from Low to High, I can do so with just a few mouse clicks.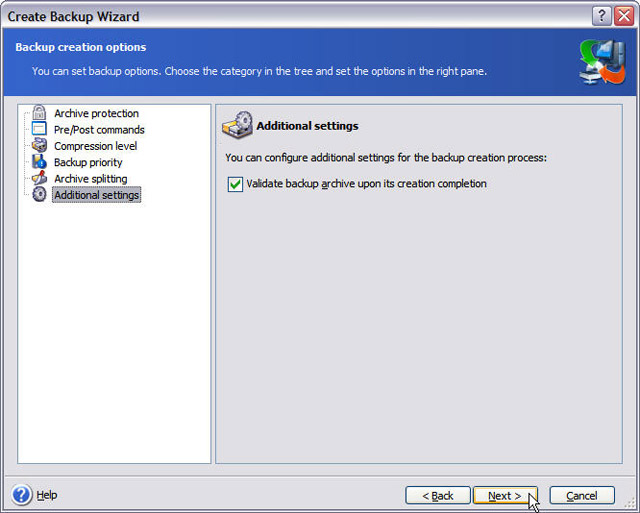 If you didn't set "Validate backup archive..." as a default, you can also do it here.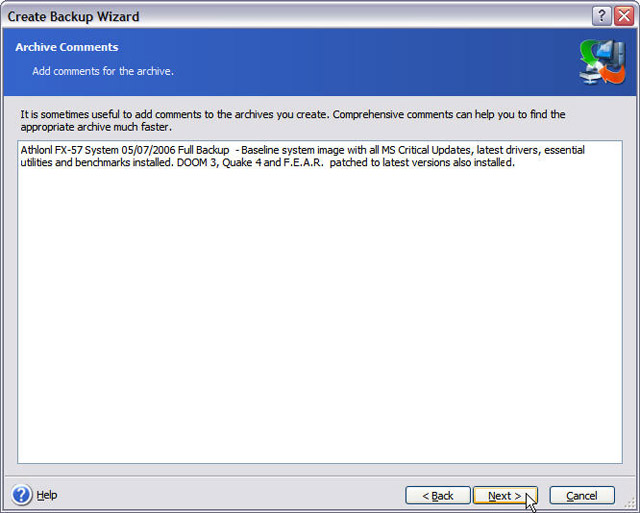 Although it's strictly optional, it's also helpful to write a description of what you're backing up.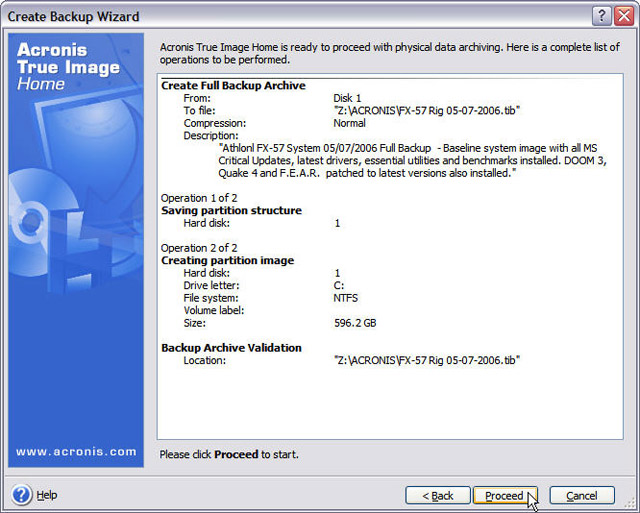 Here's a summary of our backup. You can go back to make any changes or click Proceed to kick it off.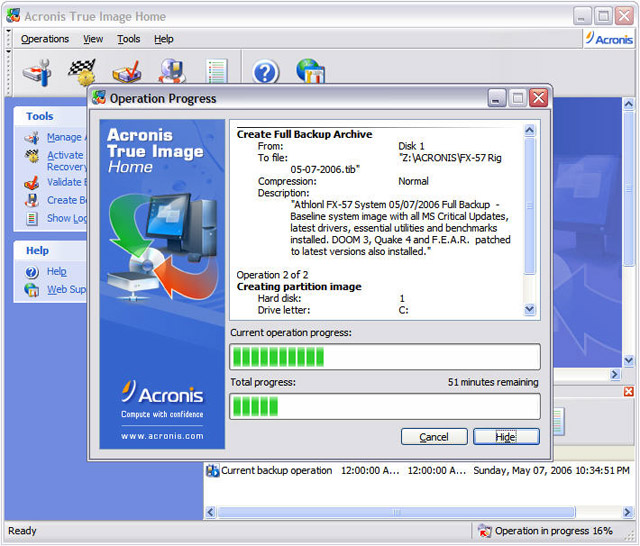 And away we go! Acronis True Image can backup open files in the background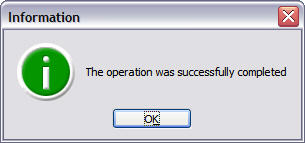 Backup successful!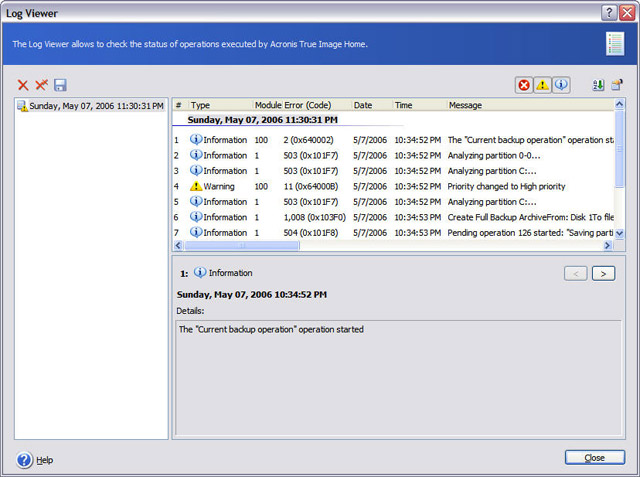 Here's the log.
One of my favorite improvements to Acronis True Image is the automatic verification of the image backup file as soon as it's completed. You still have the option of manually verifying an archive file by running the Backup Archive Validation Wizard right after the backup, or any archive you've created. Since it takes the same amount of time to verify the archive manually as it does automatically, I prefer the set-it-once and forget approach. This option was missing in previous versions of Acronis True Image, so I'm really glad Acronis finally put it in here.
Acronis True Image 9.0 can now perform differential backups to speed up recovery time and better consolidate the number of image files required to get your system up and running again in a disaster-recovery scenario.
Having a snapshot of your system to make things right again when they go horribly wrong is a great convenience. But what if you want to back up just a few important folders or files? Now, Acronis True Image 9.0 Home lets you do just that with its new files and folders backup feature.
Launch the Create Backup Wizard.
Click the Files and Folders radio button under the Select Backup Type dialog box and click Next.
Select the files and folders that you want to back up at the Source Files Selection.
Specify any hidden and system files that you may want to exclude from the backup, if applicable, or files that meet a specific criteria.
Select the target location of the backup (CD or DVD-R/RW, Network, External Drive)
Choose whether you want the backup to be full, incremental or differential
Follow the rest of the Create Backup Wizard steps to create your backup.
What could be simpler? Acronis True Image 9.0 Home is the only imaging backup solution available today that offers you this kind of flexibility.
Although they share the same ".tib" extension as disk/partition images, Acronis True Image file-by-file backup sets contain only the selected files and folders. As a result they cannot be mounted as virtual drives with the Acronis True Image's Mount Image Wizard.
Rescue Me
Whether it's hardware or software related, or just plain-old bad luck, you're bound to run into a situation where you can no longer boot into Windows — which is where the Acronis Rescue Media Builder comes in. The Create Bootable Rescue Media Wizard steps you through creating a CD-R, CD-RW or 3.5" floppy disks that boots a stand-alone version of Acronis True Image 9.0 Home to recover your system. The "Full" stand-alone version provides all of the functionality of Acronis True Image 9.0 running under Windows, with support for USB, PC Card and SCSI hard disks, while the "Safe" version does not. Just so you know, it takes ten 3.5" 1.44MB floppy disks for the Full version and nine of them for the Safe version. Acronis One-Click Restore can also be added to bootable rescue media containing an image archive file. Just boot the disc, click Restore, and Acronis True Image will go to work quickly and quietly restoring the image to the target disk.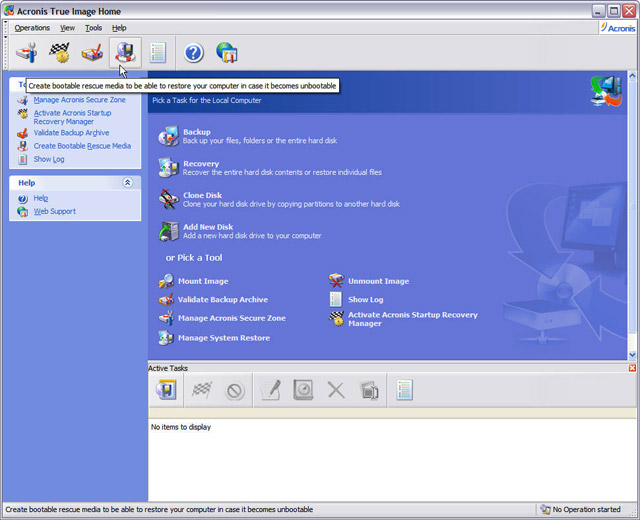 Okay, the first thing you should do after getting True Image Home 9.0 installed on your machine, is create a bootable Acronis True Image disc. You can launch the Create Bootable Rescue Media wizard from either the Menu Bar, Button Bar, or Task Bar on the left.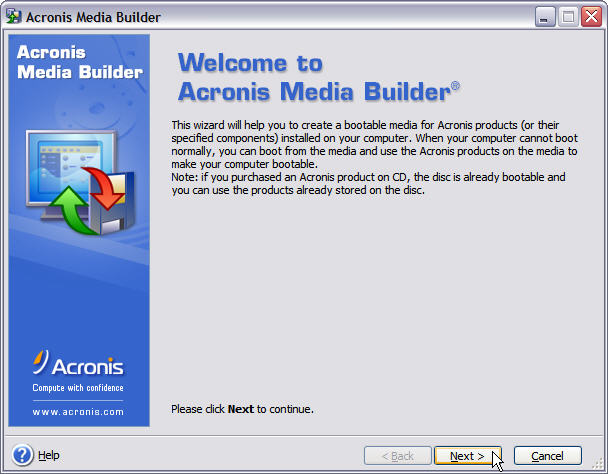 Interestingly enough, the Rescue Media wizard is called the Acronis Media Builder. But that's OK, just go ahead and click Next.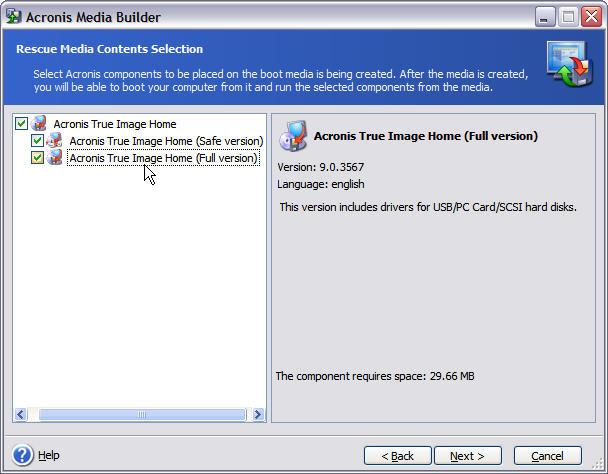 Leave both of these checked and click Next.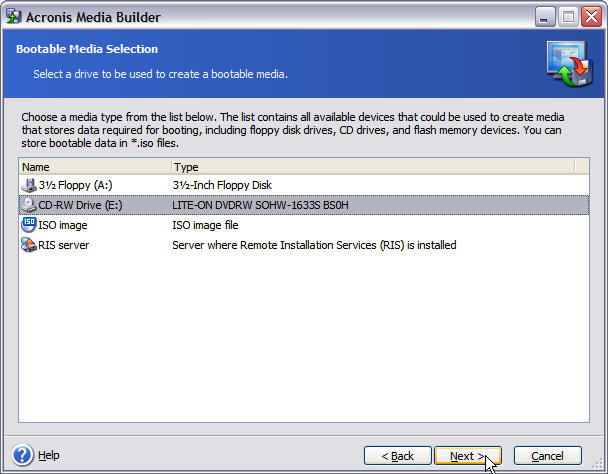 Select your CD or DVD burner here and click Next.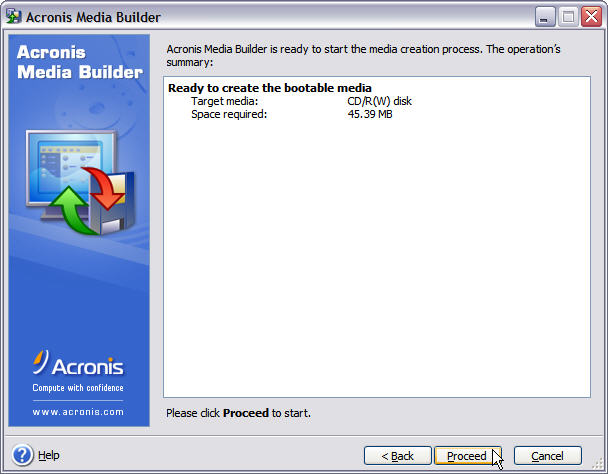 Make sure you've got a blank 650 or 700MB CD-R or CD-RW disc in your burner and click Proceed.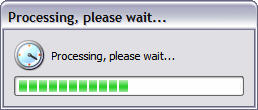 It's thinking...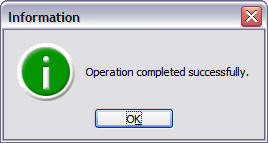 Rescue disc created!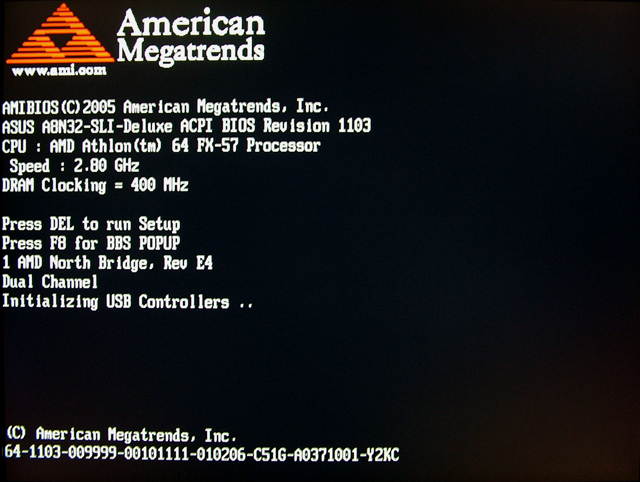 Set your Primary CD or DVD-ROM drive as the first boot device in your BIOS, if it isn't already. Then boot your PC with the Acronis True Image bootable disc you just created, in the drive.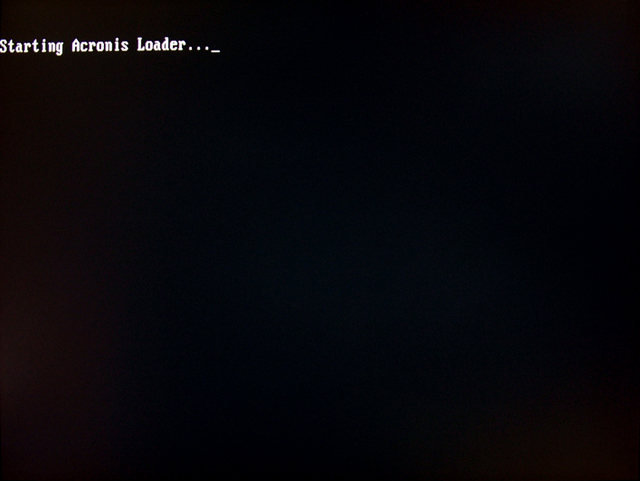 You'll briefly see this as your PC boots from the rescue disc.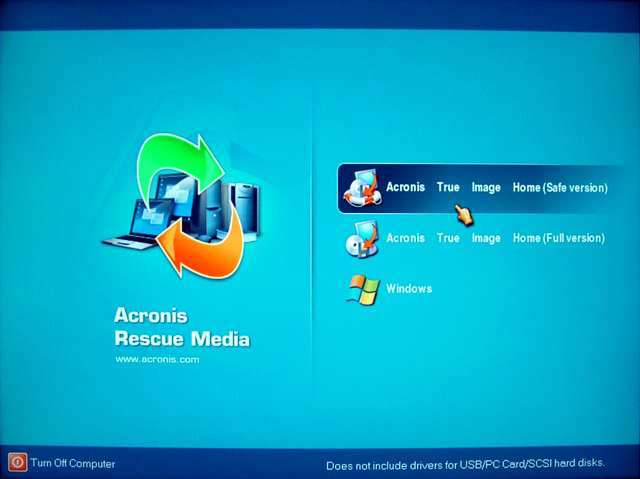 Here's the Acronis Rescue Media main screen. As you can see here, you can launch either the Full or Safe version of Acronis True Image, or go directly to Windows. I'll select the Full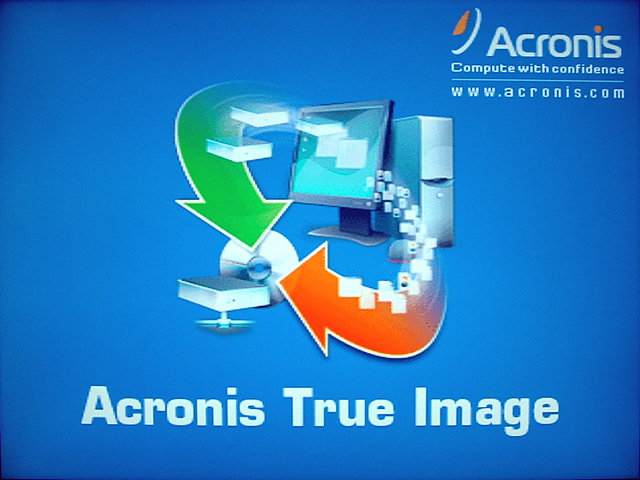 The Acronis True Image splash screen is briefly displayed.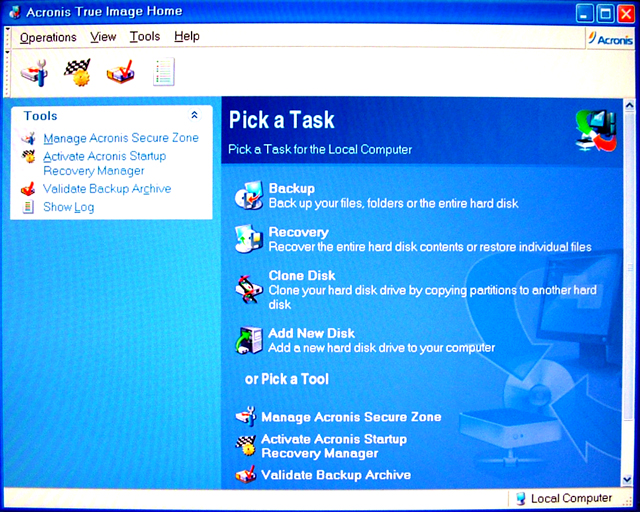 And here it is. Not only does it look like the Windows version, but it's just as easy and intuitive to use — compared to other products that use different interfaces running under and outside of Windows which can be confusing and intimidating for novice computer users.
Acronis has broadened the scope of supported rescue media in Acronis True Image 9.0 to include removable flash devices like USB thumb drives, ISO images and RIS (Remote Installation Services) servers. The RIS option is more relevant to an I.T. Department than home users. But the ability to use USB thumb drives as bootable Acronis True Image devices is a long overdue and welcome improvement (sure beats having to shuffle around nine or ten 3.5" disks).
With Acronis True Image's ISO imaging (you'll need third-party CD and DVD burning software like Nero and Easy CD to take advantage of it), you can create bootable DVDs that also support other Acronis products like Acronis Disk Director, or an Acronis backup image file of a baseline Windows install, which should fit nicely on an 8GB dual-layer DVD-ROM disc.
One nice thing about Acronis True Image that sets it apart from competing products is that when you load it from the bootable Rescue CD, Acronis True Image loads completely into RAM. So if you only have a single optical drive installed, you can remove the Rescue CD to insert the discs containing your backups without having to worry about swapping the Rescue CD in and out during the restore process. With DHCP (Dynamic Host Configuration Protocol) installed on your home network, Acronis True Image will automatically detect the IP address of any network storage devices you may have to store your Acronis True Image backups. If not, you can quickly and easily configure things manually.
Just remember that disk letters in the stand-alone Rescue CD can differ from the Acronis True Image handles drive letters under Windows. For example, Drive E: in the Acronis True Image Rescue CD may actually be Drive F: under Windows! Note that this is not an issue with Acronis True Image, but a limitation in the way Windows handles drive letters.