Barry's rigs 'n reviews

June 15, 2006


by Barry Little

Barry's rigs 'n reviews web site



Acronis True Image 9.0 Home
Acronis True Image 9.0 Home Part 1

Backup utilities may not be as exciting as all the latest gear that makes time spent in front of your PC more productive and enjoyable, but they can spare you the grief of losing your irreplaceable data. With all the different backup programs available, choosing one that's powerful, flexible and most important, easy to use, can be just as agonizing as the thought of losing all of your data. Fortunately, there's Acronis True Image 9.0 Home — the newest version of the award-winning total backup solution from the "Compute with confidence" folks at Acronis.
About Acronis
Acronis offers storage management solutions that are technically advanced for mission-critical applications but easy to use. The company provides disaster recovery, backup and restore, partitioning, boot management, privacy, data migration, and other storage management products for enterprises, corporations and consumers of any qualification. Acronis has offices in the United States, Europe and Asia and sells its products through retail outlets, resellers and on the Web.
A Brief Primer on Backup Technologies: Pros and Cons
There are three types of backup technologies in use today. File-by-file, checkpoint, and imaging. All have their pros and cons.
File-by-File — the first backup technology created and widely adopted for both professional and home markets. Each file and folder is backed up sequentially to the selected storage medium (tape, disk, optical and other large-format removable media) using one of three methods:
Full — a backup of the entire system in its current state, used as a baseline for incremental or differential backups. Requires the largest storage space, but has the shortest restore time in a disaster recovery scenario, as it only requires the most current full backup set to recover the system.
Incremental — a backup of only the files that have changed since the last full or incremental backup. Requires less storage space and time to complete than full or differential backups. Has the longest restore time in a disaster recovery scenario, as the last full backup set and all subsequent incremental backup sets are needed to restore the system to its most current state.
Differential — a backup of all cumulative changes against the first full backup. Requires more storage space and time than an incremental backup (but less than a full one). Differential backups take less time to restore than incremental backups, as only the last full and last differential backup set is required to restore the system to its most current state.
File-by-file gives you full control over what to backup (or not) and restore. You can choose to exclude certain system files (like the Windows paging file), and temporary files to speed up the backup and conserve backup storage space. The main drawback of file-by-file is that restoring your system in a disaster recovery scenario can be time-consuming:
The replacement hard drive must be partitioned, formatted and Windows reinstalled.
The backup software must be reinstalled.
All program and data files must be restored from your most current backup sets before the PC can be used again.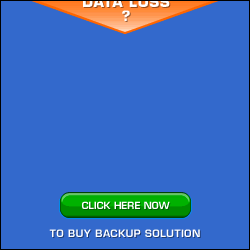 Checkpoint — takes a snapshot of your PC's system state each time there is a change, allowing you to "roll it back" to a previous state from a series of restore points. Windows XP's System Restore and Symantec GoBack — a more robust checkpoint utility that also records changes to your data — are examples of checkpoint technology. They are more "transparent" to the user, requiring minimal intervention or expertise to use. Checkpoint backups require system resources and a certain amount of disk space set aside for the restore points.
The drawback of checkpoint backups is there are a limited number of current restore points that can be saved before they are overwritten by newer ones. Even with a program like GoBack, your chances of recovering a file that you now realize you desperately need, but deleted over four months ago, are nonexistent.
The biggest drawback is that checkpoint software keeps restore points on the same drive they are protecting — which won't do you much good if the hard drive fails. Not only that, restore points can't be backed up to or recovered from storage media to use in a disaster-recovery scenario.
Imaging — makes a sector-by-sector snapshot of the entire hard drive in its current state. Ideal for disaster recovery, imaging only requires that you boot the system from a "Rescue" CD or DVD, load the imaging program, and restore the image archive file to the new hard drive. Uses almost the same amount of storage space as a file-by-file full backup, but is much faster. Having a system completely restored to its most current state with all of its customized settings, programs and data intact before the failure occurred in less than or little over an hour, is not unheard-of with imaging software.
The main drawback of an image backup is that it's an "all or nothing" deal when it comes to backing up or restoring a drive. Unlike file-by-file, you don't have the added flexibility or option to pick and choose which folders and files get backed up, restored — or not. Until recently, imaging utilities were incapable of performing differential and incremental backups. Acronis was the first company to pioneer incremental imaging backups with Acronis True Image 7.0.
The Evolution of Imaging Software and Acronis True Image 9.0 Home
Think of all the time you've spent installing all of your favorite programs, games, and utilities on your PC. If you're a gamer or power-user, you've probably invested even more time and effort than the average computer user fine-tuning your rig for maximum performance and efficiency. For the average user, losing data is traumatic enough an experience. For more experienced users, the only other thing worse than losing data is losing all those OS, game and application tweaks.
With gigabytes of downloaded songs, digital photos, and other data that matters most to people now at stake, it was obvious that a single backup utility that offered more power and flexibility than current backup technologies offered alone, was needed. Users wanted both the ability to back up and restore specific files and folders, while being able to recover quickly from hard drive failures or other problems that prevents you from booting into Windows. Acronis is the first and only company to take imaging software in this direction with Acronis True Image 9.0 Home.
Installing Acronis True Image
Whether you buy the boxed or downloaded version, installation of Acronis True Image 9.0 Home is quick and painless. There are three installed options to choose from:
Typical — the default and most suitable choice for most users. Installs Acronis True Image and the Rescue Media Builder.
Custom — whether you're a power-user who runs a "lean and mean" rig free of all the disk space and resource-hogging "extras" many software packages installed by default, or you're just picky about what goes on your hard drive, this option allows you to choose which Acronis True Image features to install. Notice that you are given the option to install Acronis' Bart PE plug-in that allows you to create a bootable Windows CD or DVD-ROM disc with a number of other useful disk recovery utilities.
Complete — installs everything — Acronis True Image, the Rescue Media Builder, and the Bart PE plug-in.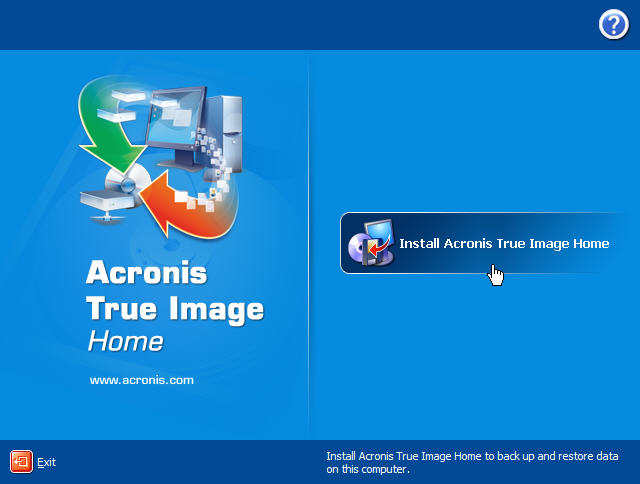 The main installation screen.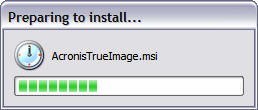 The installation routine launching.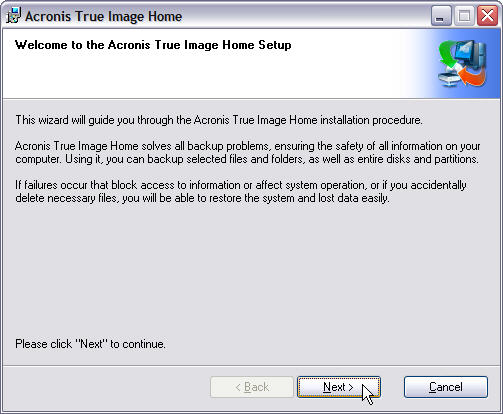 Click Next at the Welcome screen to get started.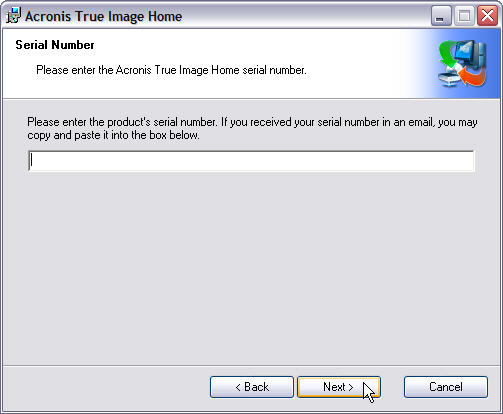 Enter your Serial Number here.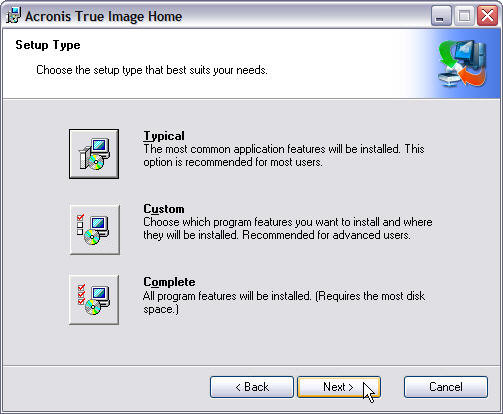 This screen presents you with a number of installation options, with Typical being fine for most users; Custom if you want to individually select options to install or omit; and Complete if you want to install the whole nine yards.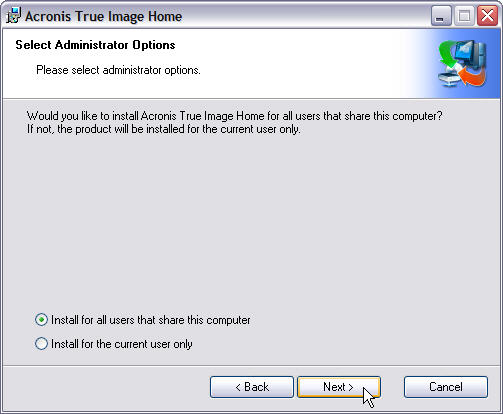 You can install Acronis True Image under your own user account or for all users on the PC.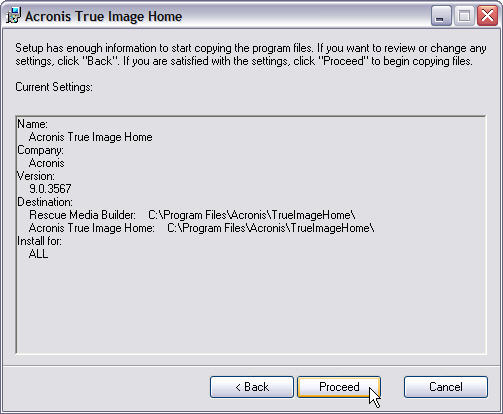 You can click the Back button to make any last-minute changes to your installation choices. If everything is cool, then click Proceed to install the program.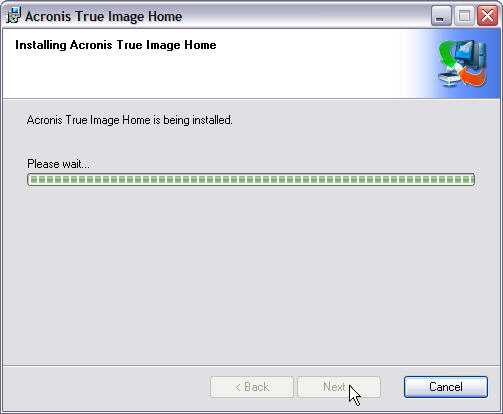 The installation takes less than a minute...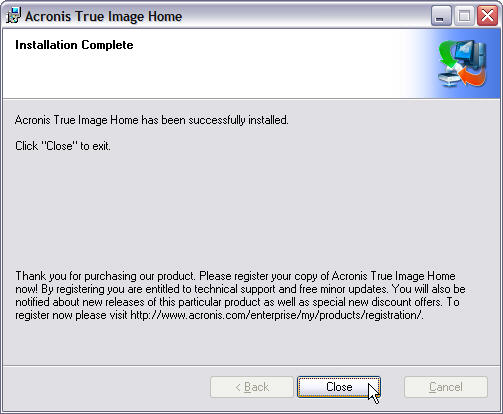 ...and we're done.

Reboot to complete the installation.
I strongly recommend that if you select one of the two last installation options, you always opt to install the Rescue Media Builder. The ability to boot Acronis True Image from a Rescue CD when Windows is no longer accessible is a real stress-saver. Even if you bought the boxed version of Acronis True Image whose installation CD also doubles as a bootable Rescue CD, as Acronis makes upgrades of Acronis True Image available, you'll want to burn a new Rescue CD updated with the latest build. After the installation routine completes and you reboot your PC, you'll need to register your copy of Acronis True Image online to download program updates as they become available.
Once you've installed Acronis True Image, Acronis True Image Home program group will be created under All Programs, with an icon that links you directly to Acronis home page; one for Acronis True Image 9.0 Home and one for the Bootable Rescue Media Builder. Acronis True Image 9.0 Home icon will also be placed on your desktop. If you look under Device Manger, you'll see Acronis True Image Backup Archive Explore. Under Services, you'll find Acronis Scheduler2 Service set to run automatically whenever Windows starts. Acronis True Image needs them both to work properly, so leave them alone.
More than Just a Pretty Face
Acronis True Image's appearance hasn't changed much over the years since I first started using Version 7.0 back in 2004. Acronis True Image logo and desktop icon have a more up-to-date, sleeker look. You can still access all of Acronis True Image's functions from the Menu and Button bars along the top. The separate, context-sensitive Details section that briefly describes selected functions in the main window has been removed from the Outlook-style task bar on the left.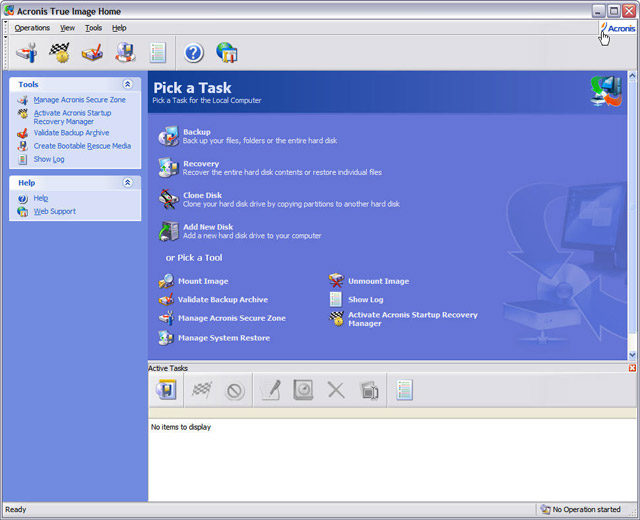 Acronis True Image's clean, user-friendly interface hasn't changed much from previous versions. After all, why mess with a good thing?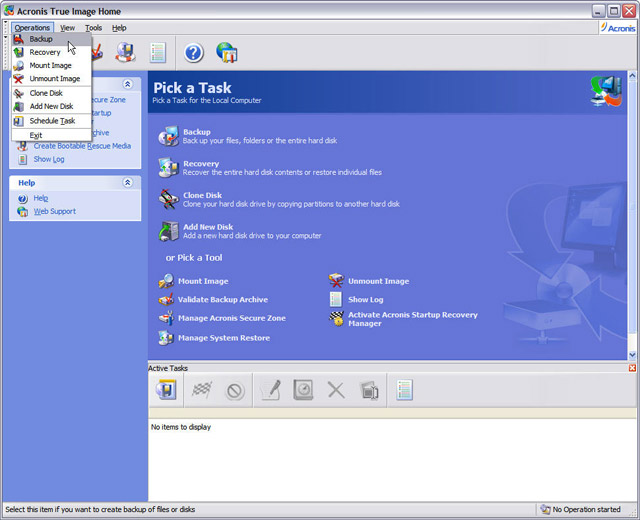 If you'd rather use the menu bar, you can access Acronis True Image's main functions through Operations.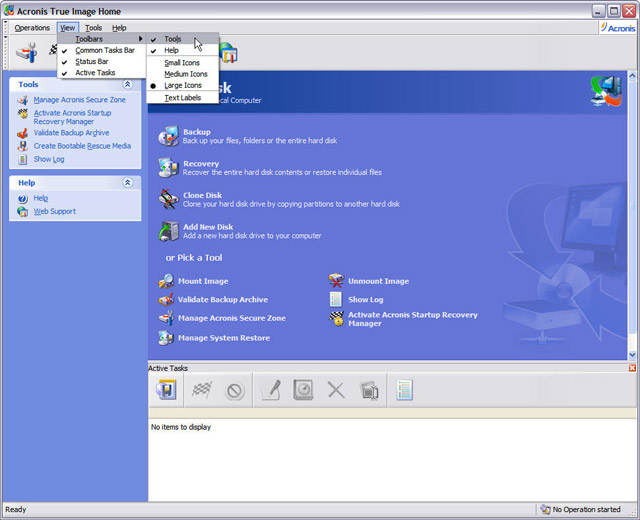 Acronis True Image's appearance can be tweaked to your liking through View.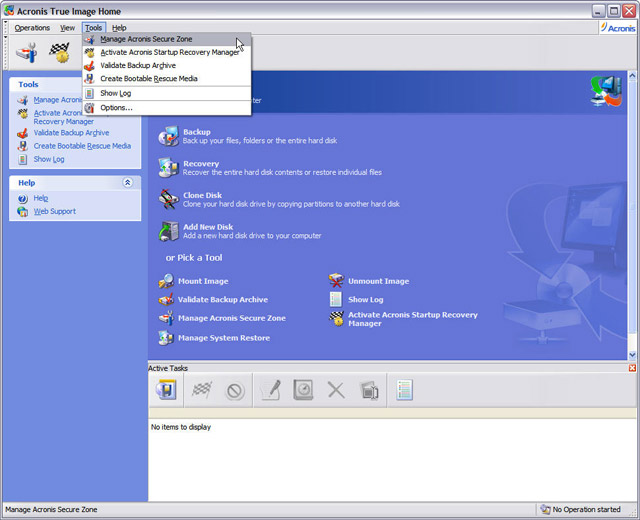 Data rescue and other options are under Tools.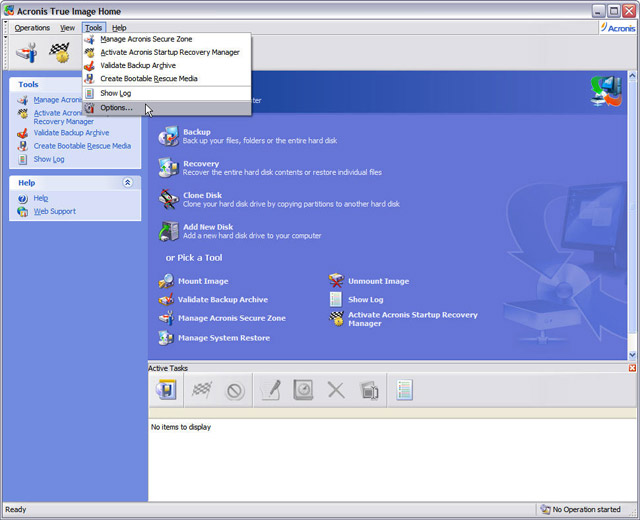 Let's take a look at Options.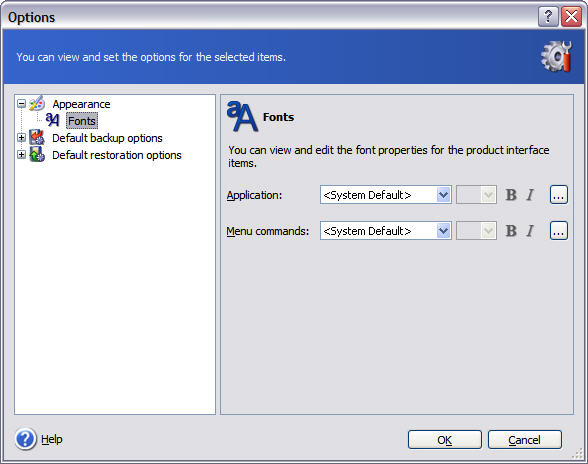 If for some reason you find the default system fonts used for Acronis True Image's interface lacking, you can change the fonts here.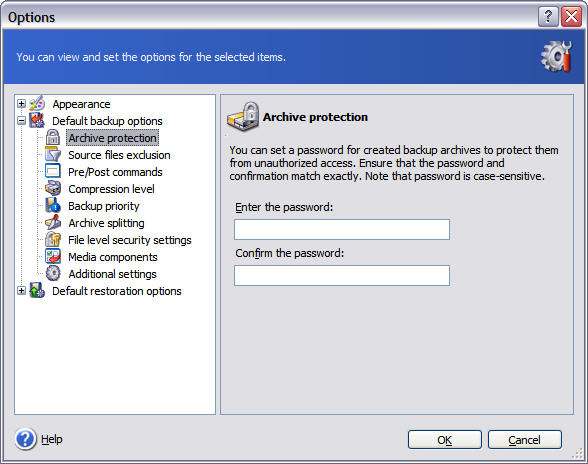 You can configure the Default backup options here. Acronis True Image archive files can be password protected.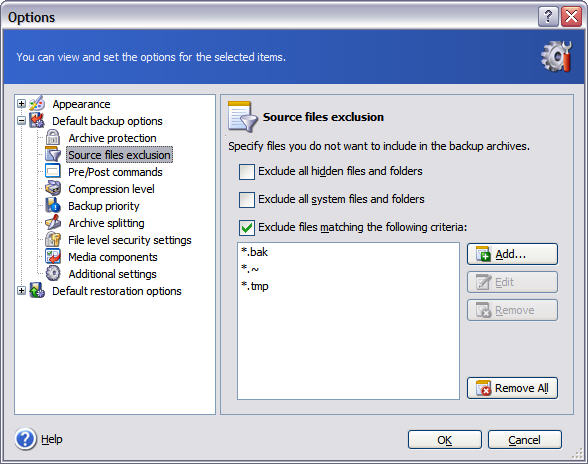 If there are certain files you wish to exclude from your backups, you can do it here under Source files exclusion.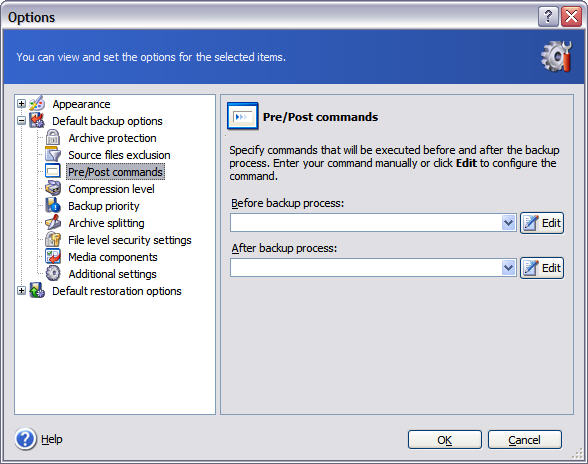 Pre/Post commands allows you to run commands or batch files before and after a backup — like stopping and starting a service.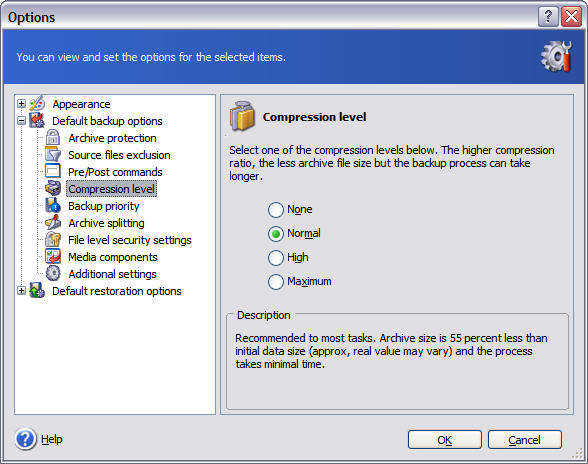 Here you can adjust the level of compression Acronis True Image uses when creating backups.
The main program window has been renamed Pick a Task, with a brief explanation of what each primary task — Backup, Restore, Clone Disk and Add Disk — does. More Acronis True Image options under Pick a Tool includes Mounting and Unmounting image files; verifying Acronis True Image backups with Validate Backup Archive; viewing Acronis True Image log file with Show Log; managing Acronis Secure Zone and Startup Recovery Manager; and managing Windows XP System Restore feature with Managing System Restore. Directly below, you'll find the Task Activity pane with tool and status bars for managing scheduled Acronis True Image jobs.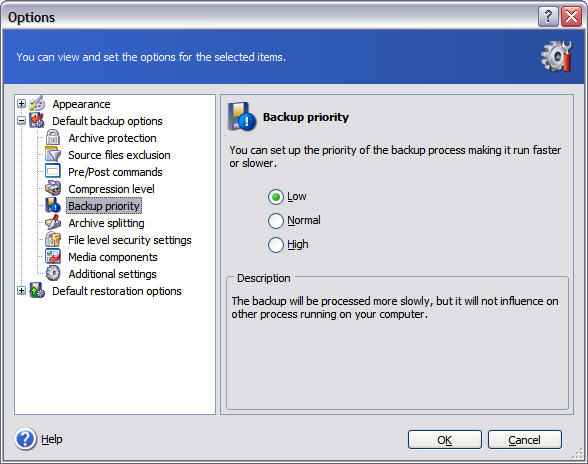 The speed of the backup process and the amount of system resources used, are configured under Backup priority.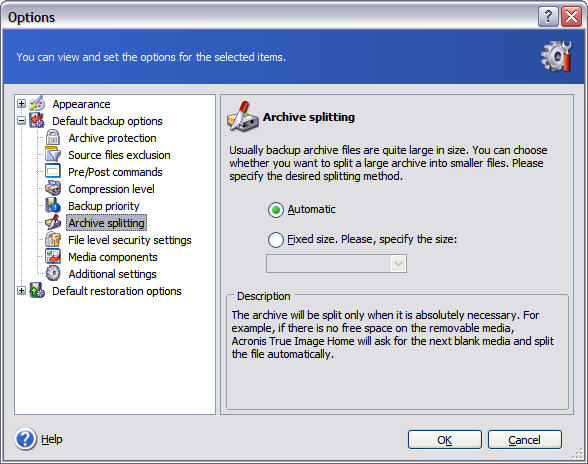 Backing up to removable media isn't a problem for Acronis True Image. You can let the program do it automatically...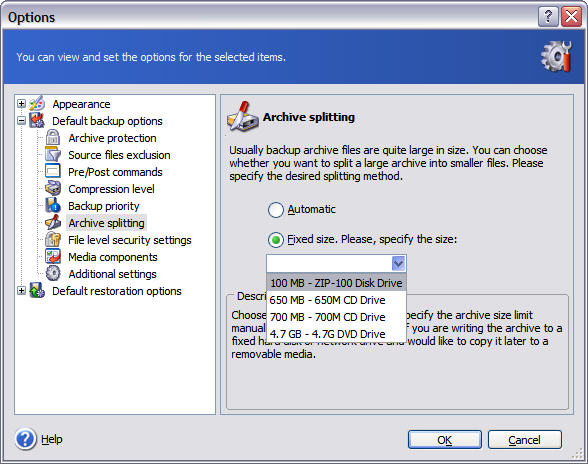 ...or choose from a drop-down list of industry-standard fixed sizes for the most popular removable media formats.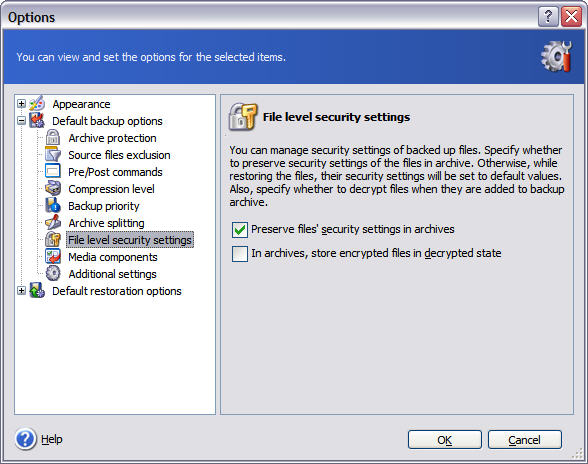 Security settings of backed up and encrypted files are managed here.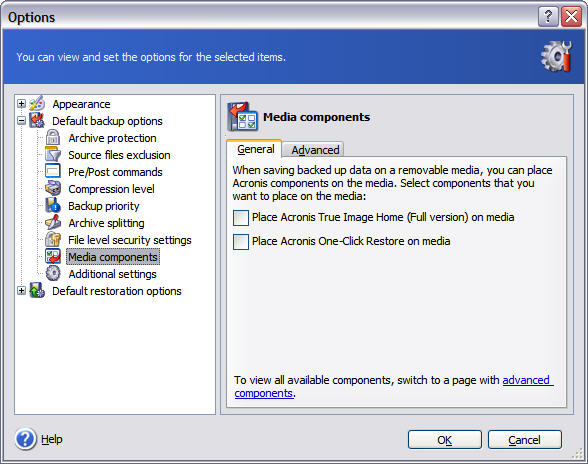 When backing up to removable media, you have the option of placing either the full version of Acronis True Image on the media, or a One-Click Restore version.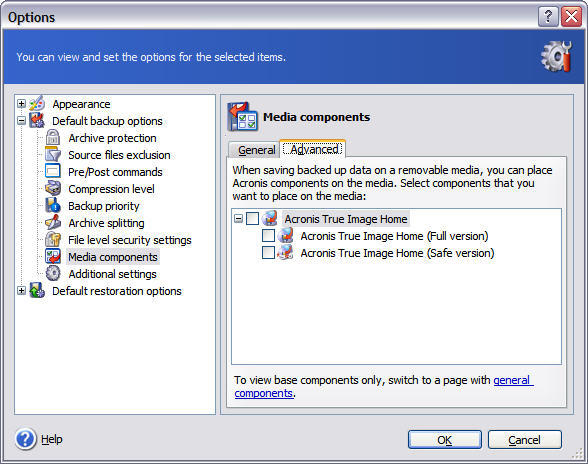 If you'd rather have more functionality at your disposal than One-Click Restore, but space on your removable media is not at a premium, you can select the Safe Version of Acronis True Image Home, which omits drivers for USB, PC Cards and SCSI disks.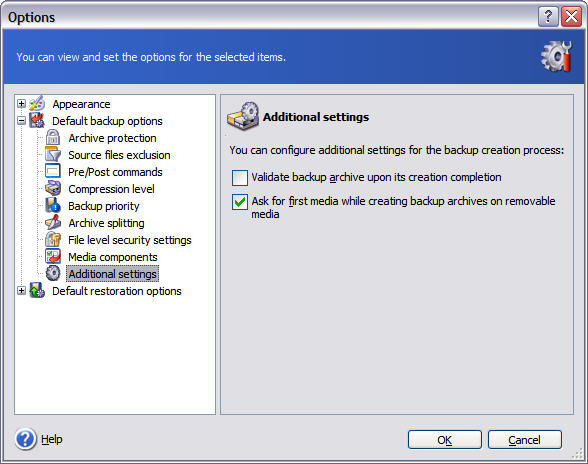 If you change none of the backup options, the one that I would strongly recommend that you check off, is Validate backup archive upon its creation completion. The bad news is, it will take your backup longer to complete. The good news is, it will insure that there are no problems with your backup.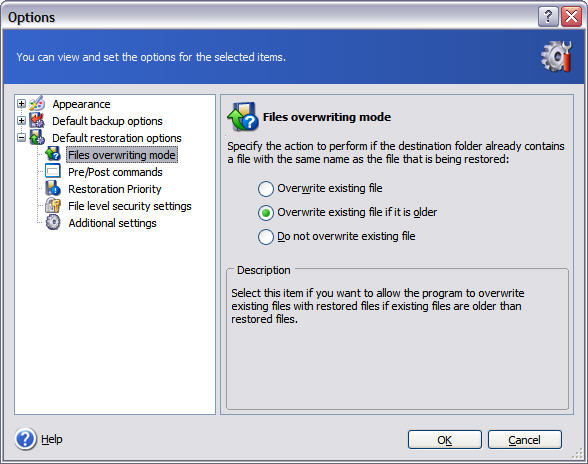 You can configure how Acronis True Image restores your backups under Default restoration options. Of note is Files overwriting mode where you can choose how and if Acronis True Image overwrites existing files. The rest of the restore options function similarly to the ones we just covered for backups.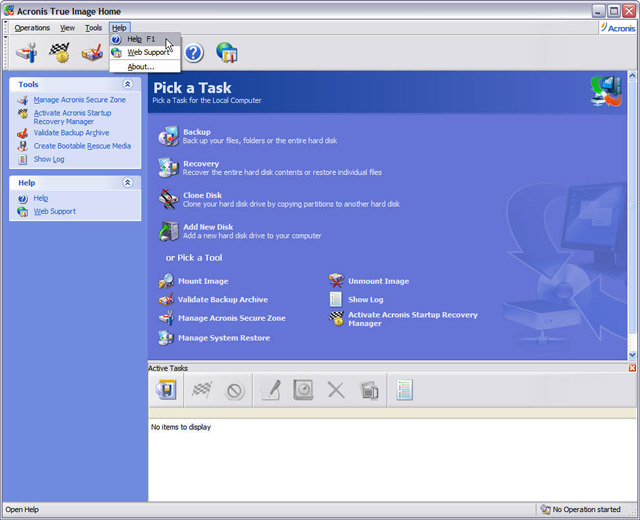 Acronis True Image's online Help, Web Support, and the usual About information which displays, among other things, the software's version and build numbers is accessed here.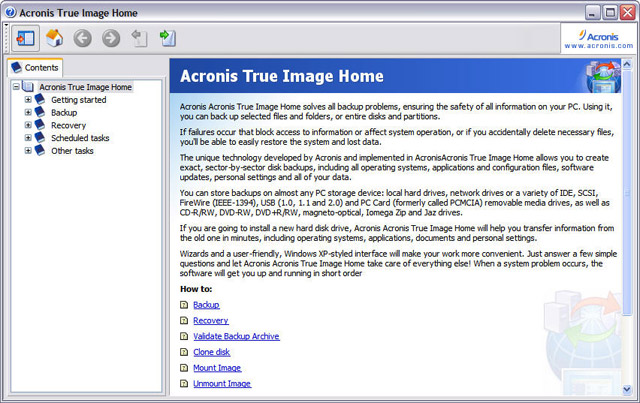 Online documentation for Acronis True Image Home 9.0.