Acronis Backup & Recovery 11.5, the next generation of True Image products, is now available. Click here for more information.

Buy Upgrade
BJorn3D
August 28, 2006
by Miles Cheatham
Acronis True Image 9.1 Workstation
Rating: 9/10
Introduction

My first association with computer imaging software began rather auspiciously five years ago; after I experienced a computer user's worst nightmare, a hard drive completely seized locking down my entire system; resulting in the loss of all my data. At the time the only decent imaging product on the market was Symantec's Norton Ghost and then later PowerQuest's Drive Image, a very good product which has since been purchased by Symantec, and essentially disappeared from the market. These products served me well for a couple of years; but as time moved on my data files once again had become very large and extremely important to me, this coupled with my previous experience made me very anal about the redundancy and backup of my data. I never wanted to experience another catastrophic event as the type described above without being adequately prepared.
Three years ago I began looking for a new tool to image my complete system. This call for change was necessitated as my old standbys: Symantec's Norton Ghost and Power Quest's Drive Image were no longer working properly with the new computer I had recently built. I had moved to the then new Intel 875 chipset; more importantly, I began using RAID 0 and RAID 1 arrays based on the Intel ICH5-R controller and SATA drives. The then latest version of Drive Image would not recognize my RAID array and Norton Ghost would go through its DOS based imaging regime without incident only to be unsuccessful restoring my data on a consistent basis. Hence the search began for a new product that would meet all of my detailed imaging needs.
To make an increasingly long story short, after an exhaustive search where I virtually looked at every backup utility and imaging product on the market, I found Acronis True Image which is an imaging software product authored and distributed by a company named Acronis. This product which at the time was the newly released version 7 proved pretty much faultless in giving me images from my SATA RAID array. I have used Acronis products religiously since that time in most cases backing my entire system up a couple of times a week and on any occasion that I feel the need to radically experiment with system settings. Yes! There have been a few more occasions where I experienced either major file corruption and/or system issues. The current iteration(s) of the Acronis "home product" has always literally saved my hind parts from the exhaustive process of reinstalling my OS, applications, and data. We're talking a 15-20 minute restoration of a fresh, unadulterated image as opposed to the 6-8 hour process of manually restoring everything.
About six months ago I began planning to do a recurring series of articles that looked at a complete overview of RAID technology and products for our readers' workstations and/or small business servers. Given the sheer scope and magnitude of this task I began to question whether the home version of Acronis True Image would facilitate the imaging tasks I was planning using a number of different RAID formats on several different computers. A short visit to the Acronis website revealed a product in their "Corporate/Enterprise Product" line that appeared to be perfect for the tasks at hand, Acronis True Image 9.1 Workstation. Please join me today as I test the capabilities of this product to see if it will truly measure up and keep my previous "lily white impression" of Acronis products in tact.
Product Components
Acronis Backup Server — Ensure optimal usage of storage resources by allowing IT administrators to establish backup policies
Acronis Group Server — Ease administration by viewing the status of all systems in the network
Acronis Management Console — Deploy the product to remote machines and manage backup tasks remotely
Acronis True Image Windows Agent — Run backup and recovery tasks on remote Windows servers in your network
Acronis True Image Local Versions — Backup and recover a local system
For clarification sake the features and specifications captioned below are specific to the entire spectrum of services that this product is reputed to perform on any system ranging from an enterprise level server to a local workstation. We will be reviewing the local installation which limits these capabilities to a single workstation.
Features
DVD Burning — Save backups directly to DVDs without using 3rd party DVD burning software
Acronis Universal Restore — Restore to different hardware and recover from any unforeseen event (note: requires a separate add-on license)
Remote unattended restores with the Acronis bootable agent — Recover all systems in the network from a central location
Modify images — Mount images in read/write mode and apply changes directly
Boot from an image, using Acronis Active RestoreTM (a patent pending technology) — Decrease downtime by allowing systems to be used during recovery
64 bit Windows support — Use one application for both new and old systems
Automatic image verification — Peace of mind by ensuring that images can be used for restoration
Differential backups — Decrease the number of backups you manage
File backups, in addition to our traditional image backups — Flexible system protection
Exclude files from backups — Capture only business data and save space in storage archives
Windows Event Log and SNMP support — Plug into your existing network monitoring application
Custom scripts before/after backups — Facilitate compliance with company-wide backup policies
Throttling to control hard disk write speed and network bandwidth usage — Minimize disruptions of business operations
Create CDs with bootable images, PXE packages, and bootable recovery media ISOs — Eliminate the need to have separate recovery media and provide flexibility for application management
Backup to FTP server — Expand your backup archive options
Acronis Secure Zone — Save a backup image to a special partition, from the operating system for complete local recovery
Acronis Startup Recovery Manager — Initiate recovery by selecting the F11 key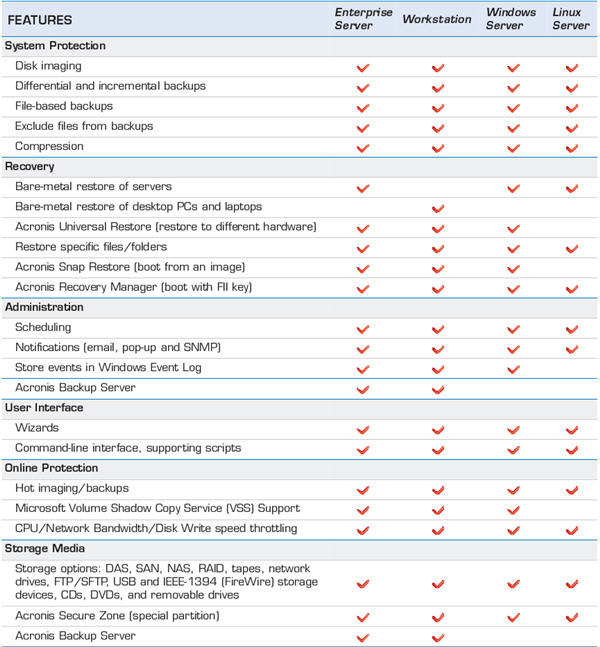 Installation
To install Acronis True Image Workstation components:
run the Acronis True Image Workstation setup file
in the Install Menu, select the program to install: Acronis True Image Management Console, Acronis True Image Agent for Windows, Acronis Backup Server, Acronis Group Server or Acronis True Image Workstation (local version)
follow the Install Wizard instructions on the screen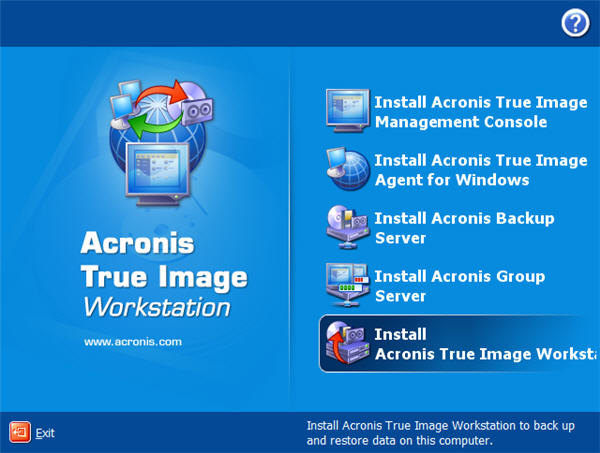 True Image Workstation Install Menu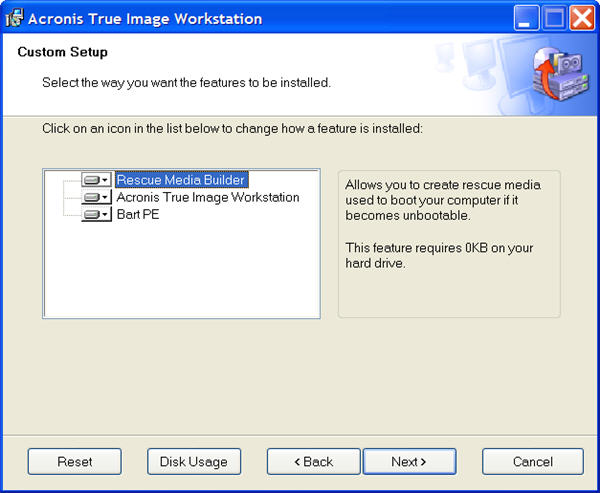 Custom Setup Options
Having chosen to install the True Image Workstation (local version) under the install options, we are then presented with the "Custom Setup Options" screen. Aside from the workstation install option we are also presented with the options to install Rescue Media Builder and the Bart PE plug-in. With Rescue Media Builder you can create bootable rescue disks or RIS packages. The well-known Bart PE utility is used to boot into a Windows-like environment from CD. Applications are installed into Bart PE in the form of plug-ins. Choosing Bart PE plug-in installation (disabled by default) provides the ability to include Acronis True Image Workstation into a Bart PE plug-in tab. The plug-in files will be placed into the component installation folder along with other program files.