Secure Enterprise File Sharing and Syncing
Enterprise employees are increasingly demanding better, easier, more efficient file sharing and syncing tools in order to get their jobs done. They want two main functions:
Anytime, Anywhere Access – Accessing and syncing files between their devices – laptops, desktops, smartphones and tablets – is a priority for enterprise employees.
Easy Collaboration: Externally & Internally – The ability to share and collaborate on files with both internal and external constituents.
But many employees have taken matters into their own hands using unauthorized and unsecure solutions and methods to meet their needs, such as Dropbox. This exposes the organization to significant risk through potential data leakage, non-compliance with regulations, lack of visibility and auditability, and a general lack of control.
Enterprise file sharing and syncing solutions need to provide organizations with the right security and control, balanced with an easy to use solution for endusers. Acronis activEcho provides enterprises a unique, comprehensive sync and share platform.
Controlled
The Acronis Access Server provides a complete security and management platform that provides a single view into the enterprises file sync and share operations.
The Access Policy Engine, integrated with Active Directory, makes setting up authentication and user community shaping policies very simple.
By using the common Acronis Access Server and Acronis Policy Engine, activEcho integrates seamlessly with mobilEcho to provide secure access to corporate content located in file servers, SharePoint and other data sources to users from mobile devices.
Secure
activEcho gives Enterprise IT complete control over who can use the solution, who can do what, and who can share with whom, to meet the compliance and security requirements of their organization.
activEcho provides a level of tracking, monitoring and visibility not available from consumer-based solutions.
activEcho allows IT to complete the security picture by deciding whether to run the solution and store its data on-premise, private cloud or VM environments.
Simple
activEcho is the industry's only Enterprise File Sharing and Syncing solution that balances the end user's need for simplicity and effectiveness with the security, manageability and flexibility required by Enterprise IT.
activEcho gives Enterprise IT control over who has access to files and lets IT determine whether file-sharing activities meet the compliance and security requirements of their organization. And, activEcho provides a level of visibility and monitoring not available from consumer-based solutions. This is critically important for regulated industries like financial services, healthcare, pharma, legal services and security sensitive organizations.
Secure Enterprise File Sharing and Syncing
Acronis activEcho is an enterprise file sharing and syncing solution that puts the enterprise and IT back in control. The proliferation of mobile devices, BYOD, and the increased use of consumer solutions, such as Dropbox, has driven organization to find new solutions to meet the needs of their users. And these solutions have to meet a stringent set of requirements associated with compliance, security and corporate governance standards. activEcho addresses all key requirements for IT, the enterprise, and its users.
Total Control
Controlling users – Allows the enterprise to control who uses the system and who shares what with whom. This applies to both internal and external users.
Administrator-configurable features – activEcho uses the Acronis Policy Engine which allows IT to easily set up the right policies for their organization's needs.
Auditing – Gives IT and compliance groups the visibility they need. Every activity detail is tracked and logged.
Security
Authentication of users – activEcho is integrated with Active Directory to manage users
Encryption – all data is encrypted at rest and in-transit
Selective remote wipe of mobile devices
Other critical features that maximize protection for the enterprise.
Regulatory Compliance
Helps organizations meet data and file access compliance regulations.
Eliminates costly fines and data leakage.
Provides many administrator-configurable features which gives IT the ability to implement the right mobile policy for their organization.
Simple and productive solution for your end users
Improves productivity - Faster access to information improves decision-making.
Happier employees who can work anytime, anywhere.
Enterprise File Sharing and Syncing delivers significant advantages to the enterprise – increased control, improved security, greater information access, increased teamwork, and more collaborative employees. Driving these advantages will lead to better customer service, improved products, faster production cycles and increased revenue/profitability.
For the end-user, activEcho can be used by a wide audience of users, both inside and outside the corporation, for many different purposes: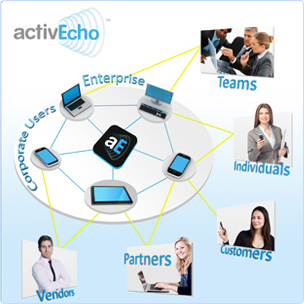 Team Projects:
Teams can set up activEcho folders to speed collaboration and workflow.
Individual Use:
Users have true "anytime, anywhere" access for their files across all their devices – Windows, Macs, tablets, smartphones, and web browsers.
Customer Connections:
Corporations can securely share sensitive materials with customers.
Partner Interactions:
Sharing critical files with key partners is easy and secure.
Service Provider Interchanges:
Service providers, such as lawyers, accountants, auditors and financial institutions, can securely and easily share sensitive material with clients.
Controlled. Secure. Simple.
activEcho gives Enterprise IT everything they need to provide secure Enterprise File Sharing and Syncing across the enterprise. activEcho protects critical corporate data, avoids compliance violations, and prevents data leakage, all with the simplicity demanded by end users, and the control and security required by enterprises.
Key features that drive value to the enterprise and its end-users include:
Storage
Server
Firewall
Clients
Controlled.
Storage quotas for users.
Black and Whitelists for AD and non-AD groups and external users to manage access and sharing.
Automatic notification alerts for IT.
Audit trail and history for all transactions, with searching, filtering and export functions.
Data lifecycle management functions.
Secure.
IT sets the most appropriate security level by choosing from various deployment options (e.g., on-premise, in the DMZ, on VM or in a private cloud).
Active Directory (AD) integration allows the organization to leverage existing corporate security policies and infrastructure.
IT decides who can use activEcho by setting Whitelist and Blacklist policies for internal and external groups, domains and users.
Logging, tracking, audit trail, with one-click export functions.
Data is encrypted in transit and at rest.
IT can set expiration policies for files, links, and user accounts.
Simple.
Users have access to their desktop files using any mobile device or computer without effort.
Users can share files with colleagues and business partners.
Anytime, anywhere data access that is always updated on any device – PC, Mac, mobile device, or web browser.
Drag and drop files, or download entire folders in seconds.
Alerts and notifications keep users informed of changes and events.
Active Directory (AD) integration eliminates multiple login credentials for different systems.
Systems Requirements
Secure Enterprise File Sharing
The activeEcho solution consists of two components: server software and client apps for Mac, Windows, iPad and iPhone. The client is also accessible via most popular browsers.
activEcho can be installed on both server and workstation-class versions of the Windows operating system. For optimal results, your Windows machine should be running the latest service pack from Microsoft.
Server:
Windows 2003 / 2008 / 2012
Intel/AMD Server
Virtualization environments
Cloud (Amazon EC2)
Client:
Windows: Vista, 7, XP
Mac OS X 10.6 and higher
iPad, iPad 2, iPad 3, iPad 4, iPad mini
iPhone 3G, 3GS, 4, 4S and 5 (iOS 4.3 or later)
Android Phones and Tablets (Android 2.2 or later)
Browsers: Firefox, Internet Explorer, Google Chrome, Safari
Mac OS X 10.5 or later required for DFS and Network Spotlight support
activEcho Product Overview
Overview of Enterprise File Sharing and Syncing. Simple. Secure. Managed. Flexible.
How To: Administration - Configuration and Settings
What separates activEcho from many of the other solutions are its management and security capabilities. This video will show you the most important activEcho server security and management settings.
How To: Mobile Device (iPad) Use
activEcho allows users to share, sync, and collaborate on files with others, such as when working on a group project. It also allows users to maintain synced files and folders with their various devices - laptops, desktops, tablets, and smartphones.
How To: Install and Use activEcho Sync Client on Windows
This video will show you how would share and collaborate on files with a group of people. This could be for an ongoing project or it could be more ad-hoc collaboration.
Analyst Reports
Videos and Demos
White Papers
Product and Program Briefs
Latest Releases
Click here for latest releases.
Knowledge Base
Click here for our Knowledge Base.