HEXUS
December 28, 2006
by Steve Kerrison
Acronis True Image 10 Home
We'll all regret it in the end

What's essential, often annoying, and something many of us don't do enough, if at all? You already know that the answer is backup, because you've read the title and worked that out. No? OK, well maybe you thought we were going to talk about an image-editing app... fair enough, but you were wrong.
So yes, about backups. Hands up if you've ever regretted not doing them enough? Thought so.
Backing up is one of those things that, while seemingly a chore, will inevitably save your bacon. Every computer user has some level of responsibility for backing up their own data, in spite of how much automation is going on in the background, on the PC, over the network, or in the datacenter.
But it's just so hard to do it properly. There's no point backing up the whole hard drive all the time... what an utter waste of space. And how easy is it to restore that backup? Sometimes it's just a few files that have gone wonky and the restoration process need be a little less extreme.
Sufficient to say it's hard to get into a good backup regime. So, any application that can make the whole charade a bit easier is most definitely welcome. In this review we give one such app. a prod and a poke.
Oh, and you can all put your hands down now.
Acronis True Image 10 Home
Acronis is a company that specialises in storage management solutions, from backup & restore, to partition and boot management, scaling as large as enterprises and going as small as the home. Acronis True Image is one of its better known, if not best known, products. It uses technology taken from a number of the aforementioned areas of storage management, in an effort to create a well-rounded, easy-to-use backup app.
The core functionality of Acronis True Image 10 Home is, as its name suggests, taking images of disk partitions, much like Norton Ghost or the free Drive Image XML. However, Acronis has extended the functionality of Acronis True Image 10 Home beyond this over the course of new releases. Here's a quick lowdown on the main features of the software:
Key features
Copy your entire PC
Backup selected files
Backup Microsoft Outlook content
Backup application settings
New features introduced in version 10
Windows Vista support
Selected file backup
Outlook backup
Application protection and restoration
Quick backup
Explore backups (without mounting)
Create backup rules
Email notifications
Save to FTP
Get the full skinny on the Acronis website.
Before we go any further, a quick announcement for users of older Acronis True Image versions who have been waiting to hear this: Windows XP x64 edition is now supported! Do a little dance; it never appeared in version 9 of the Home Edition, which is a shame, but at least it's here now.
A number of features jump out from the page. Vista support is a great thing to see on there. It could also help Acronis get its software bundled with PCs this Christmas. The software will still work once those Vista upgrade coupons have been used.
The ability to backup specific application settings is potentially useful too, depending on just how flexible and portable it is. Save to FTP is great to see, particularly for the 'power' home user who might have an FTP server running on a NAS box somewhere.
Let's get stuck in with Acronis True Image, then.
Installation
Despite a marketing-heavy cover on the box, inside all you get is the Acronis True Image 10 Home CD, a quickstart guide and a registration card for the company who publishes Acronis True Image here in the UK, Computrolley. Acronis True Image can also be a digital purchase; downloaded rather than shipped as a CD. Either way, if you lose your copy of Acronis True Image, all you need to do is login to your Acronis Account and re-download it, so it's highly recommended that you register the product on the Acronis website.
The CD serves not only as the installation disc, but as a recovery CD. Boot from it and it'll take you into the Linux version of Acronis True Image, should the system not be in the mood for booting from fixed disk. More on that later.
Installation
Click next a few times, reboot and Acronis True Image 10 Home is installed. There isn't much to configure during installation, but one of the optional components is support for BartPE.
BartPE is a fantastic toolkit for creating a 'pre-installation environment' from a Windows XP CD. It creates a bootable iso (CD/DVD image) which provides a Windows XP environment that runs without requiring the hard disk. Extra software can be loaded onto it to increase functionality.
Given that this reviewer started using Bart's tools in days of yore to create network-enabled DOS floppy disks, it's good to see Acronis acknowledge the usefulness of BartPE and provide a means of integrating its software into it.
Usage: Backup, cloning, browsing and the bits we didn't like
Fire up the Acronis True Image app and a very XP-esque console will greet you.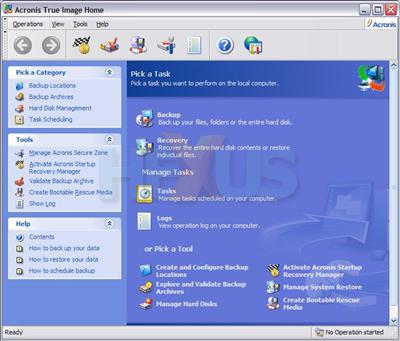 Much like in Windows XP, there's about eight ways to do one task. Chances are you'll find a way you prefer, rather than being utterly confused. It's easy to use because it's relatively familiar. The interface will likely be recognised by users of previous Acronis True Image versions. Let's click the alluring 'backup' button...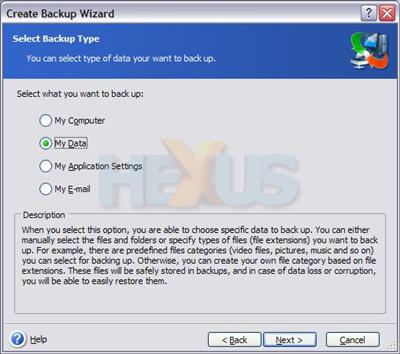 This version has more backup options than those that came before it. The first option, 'my computer' is for taking partition/disk images, while the 'my data' option allows file selection. The next two options explain themselves.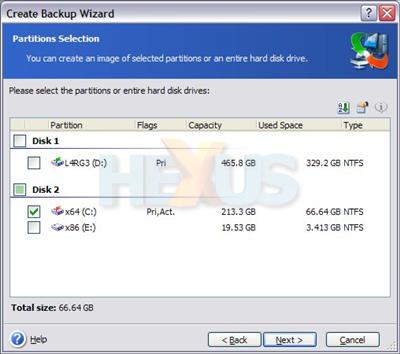 When backing up partitions, it's a simple case of selecting that partitions or disks to be imaged, then where to save the image file. The backup target can be a local folder, DVD/CD, FTP server or network drive.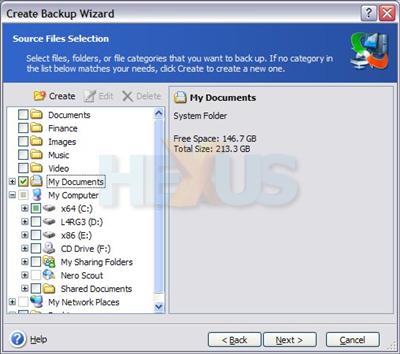 The file selection is much like any other backup app.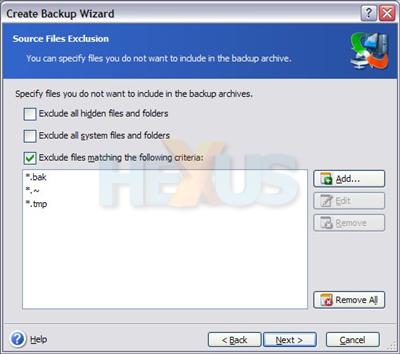 For file backups, rules can be setup to exclude certain files, saving on backup media usage and time. This isn't possible with partition imaging.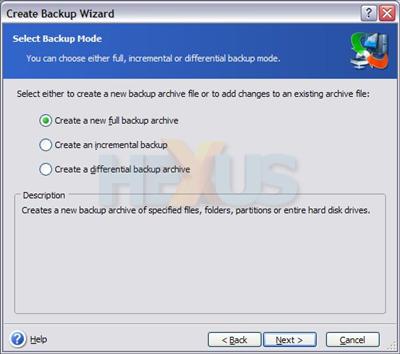 Backups of any kind can be incremental, full, or differential. So, a full disk image isn't a several-hour affair every time it's run.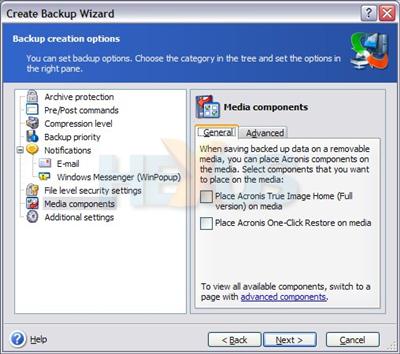 Users with a desire for customisation can change quite a number of backup options. The compression level can be adjusted to save time or space. If the target media has a sluggish transfer rate, compression can really help things along. Backups can be verified, priorities changed and notifications sent. The user is in control.
Scheduling is supported, of course, so you needn't consider backing up an arduous task; just configure it once and then more or less forget about it. If you're going to be backing up onto a fixed disk, then Acronis True Image can manage the target folder to keep backups from consuming entire disks. If that's not good enough for you, then Acronis True Image can create a hidden partition on the hard disk on which to store partition images. These can be accessed from the main program, or bootable recovery utility.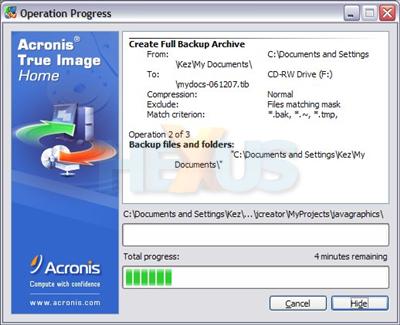 A backup of this reviewer's 4GiB 'My Documents' folder onto DVD+R took roughly half an hour (precise times and other info can be found in the Acronis True Image log, if required). A 200GiB NTFS partition backup (65GiB used) onto another disk took a little over an hour. The resultant image file was a mere 42.7GiB in girth.
It should be clear by now that backups don't require any downtime. Even the MBR and system partition can be backed up without even a logoff.
Disk cloning
As with any good disk imaging software, Acronis True Image can be used to copy a partition or entire disk onto another one. Partitions can be resized to suit the target disk, making sure the process runs smoothly even if the cloning isn't onto the same-sized medium.
Partition resizing can also apply to disk image restores, so recovering onto a different disk isn't a problem, either. Boot sectors and MBRs are backed up/cloned by the imaging app too, of course.
Browsing
Created images can be browsed as if they were folders, or better still they can be mounted as virtual disks, making grabbing specific data from them immensely easy. Mounted images can even be made read/write, so that the images can be modified.
Oops
All's good so far, but there are a few issues to be raised.
We haven't yet touched on application setting backups or Outlook backups. The reason for this is simple: they weren't really any use. Acronis True Image scans the system for applications, then lists all the applications it can backup, most of which won't be installed on the system. The user must then find the apps. that are supported and tick them for backup. At the time of writing, IE7 and Firefox 2 weren't supported, for example. Acronis should change this feature to list only the installed applications that can be backed up. We don't care what else it can back up if that software isn't installed. Acronis must also ensure the supported applications list is kept up to date. As of yet, though, no updates for Acronis True Image 10 Home are available.
So what about Outlook backup? It's probably very good, but this reviewer uses the cheaper (free) option... Thunderbird. We'd like to see Thunderbird supported alongside Outlook, please.
Linux?
We've come quite a way through the feature-set of Acronis True Image 10 Home, but we're not done yet. What happens if a system goes so tits-up that it becomes non-bootable? There are three different ways to save the day.
Firstly, Acronis True Image can be installed as a boot option, so if Windows doesn't play ball, restoration can easily be performed. This marries well with Acronis Secure Zone — the hidden partition that can be setup for disk images.
But what if the hard disk is a duffer? Easy, boot from the installation CD, or from that BartPE you made, or even from one of your backup CD/DVDs (if you chose to burn the recovery software to them as well as the backup itself).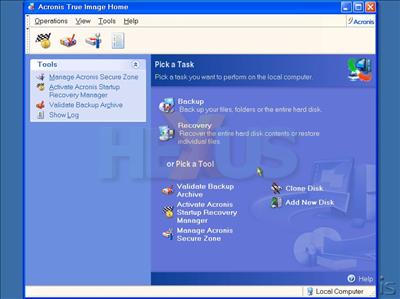 Very similar to when in Windows, isn't it? This is actually a Linux-based recovery version of Acronis True Image. Actually, it's more than just for recovery; you can backup too. While the options are a little more limited, all the important features remain.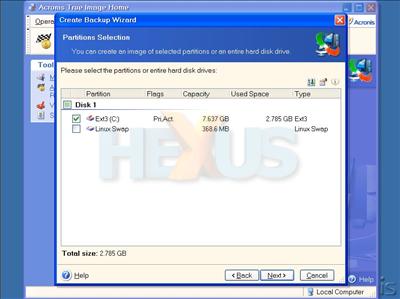 Oh, yeah, Acronis True Image can backup and restore Linux partitions too. Great!
One of the biggest problems with creating a backup solution that utilises Linux is that one can't always guarantee that it'll support funky disk configurations. However, Acronis has managed to get NVRAID on nForce 4 to work, something not seen by this reviewer on previous Acronis True Image versions, so it's safe to assume the support is fairly recent, if not new. Still, with every Acronis True Image update tends to come improved disk controller support from Acronis. That said, it can still be a bit tricky if you have an unusual RAID configuration, especially for pseudo-hardware RAID implementations.
Final thoughts, HEXUS.awards and HEXUS.right2reply
What it all boils down to... what it always boils down to, is money. Is Acronis True Image 10 Home worth the money?
You can backup your disks with DriveImageXML for free. You can backup files with NTBackup or Xcopy for free. So why pay for a backup app? Simple... it's so easy to use.
Acronis True Image 10 Home makes creating backups easier than highlighting a load of files and hitting delete (oh, the irony). What's more, with Vista and x64 support, along with its Linux bootable and BartPE recovery components, it can save the day in nigh on any situation. A few of the added features are a little less useful than others. Application settings support didn't do anything for us, but then again, it didn't take away from the fact that we have an amazing backup solution here.
The icing on the cake is the price. Sit down for this. Acronis True Image 10 Home costs £25. Twenty-five pounds! If it doesn't pay for itself in the time saved setting up backups, then it will in the time and data saved should something go wrong with your computer. So yes, it is worth the money... every penny. Acronis True Image 10 Home is essential software, and provided Acronis delivers regular updates to keep hardware and software support fresh, it will remain essential.
Got data you really don't want to lose? Give Acronis True Image a try... there's even a 15-day trial (in a meaty 101MiB package) so you can get a feel of the program for yourself.
HEXUS.awards
We almost gave this product an "Editor's Choice" award, but given that we have no recent examinations of any competing products, we've decided to hold that thought. Still, this product comes highly recommended.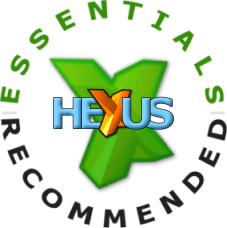 HEXUS.where2buy
Acronis True Image 10 Home can be purchased from CompuTrolley, or from the Acronis online store.