BleedinEdge.com
October 22, 2004
by Paragon
Original on the BleedinEdge.com
Acronis True Image Version 8.0
Introduction
My introduction to computer imaging software began rather auspiciously three years ago; when I experienced a computer user's worst nightmare, a hard drive completely seized locking down my entire system; resulting in the loss of all my data. At the time the only solid imaging product on the market was Symantec's Norton Ghost and then later PowerQuest's Drive Image. These products served me well for a couple of years; but as time moved on my data files once again had become very large and extremely important to me, this coupled with my previous experience made me very anal about the redundancy and backup of my data. I never wanted to experience another catastrophic event as the type described above without being adequately prepared.
One year ago I began looking for a new tool to image my complete system. This call for change was necessitated as my old standbys: Symantec's Norton Ghost and Power Quest's Drive Image were no longer working properly with the new computer I had recently built. I had moved to the then new Intel 875 chipset; more importantly, I began using a RAID 1 array based on the Intel ICH5-R controller and SATA drives. The latest version of Drive Image would not recognize my RAID array and Norton Ghost would go through its DOS based imaging regime without incident only to be unsuccessful restoring my data on a consistent basis. Hence the search began for a new product that would meet all of my detailed imaging needs.
To make an increasingly long story short after an exhaustive search where I looked at every backup utility and imaging product, I found Acronis True Image which is an imaging software product authored and distributed by a company named Acronis. This product which at the time was the newly released version 7 proved pretty much faultless in giving me images from my SATA RAID array. Recently Acronis released version 8 of this product on which my review today will concentrate. This review will be of the Windows workstation version of the product although server versions for both the Windows and Linux operating systems are also available.
What Is Disk Imaging?
Disk imaging is the process of making a snapshot of not only your data, but your entire system and storing it on media where it can be readily retrieved and restored should the need arise. The imaging process is generally much faster and considerably more precise than software that utilizes either the file-by-file method of backup or system roll back (restore points).
Prior to the advent of Acronis True Image this process required that your system be separately booted into a DOS environment. The only advantages I experienced with DOS based imaging products were: 1) In most cases it guaranteed a complete image due to none of the Windows system files being active at the time the image was generated; and 2) When properly configured it would allow you to boot and restore an image to a system that had file corruption and couldn't boot. The primary disadvantages I found were: 1) The user lost system access during the time that the image was being generated; and 2) In many cases (particularly with older versions) FAT 16 and FAT 32 were the only file systems supported meaning NTFS files had to imaged to a FAT file system and could only be restored as such.
Acronis True Image works totally in the Windows environment and can image your system while you continue to work within Windows. For those few situations where a DOS based product is superior Acronis True Image provides the user with the ability to make a rescue disk which works entirely in the DOS environment and provides far more advantages than captioned above.
Acronis True Image Product Features

Complete image or incremental backup capabilities
Fastest bare-metal restore for workstations and stand-alone PCs
Scheduling of system imaging
Support for all Windows workstation operating systems
Support for all Windows files systems: FAT 16, FAT 32, and NTFS
Support for non-Windows operating systems including Linux and NetWare
Support for high-speed, high-performance storage devices
Full support for all RAID configurations both IDE and SCSI
Acronis Secure Zone
Acronis Startup Recovery Manager
Works solely within the Windows environment
Drive cloning
Migration of data from an old drive to a new drive
Redeployment of a hard drive as a data disk or a system disk
Stores only the necessary disk sector contents
User-defined compression levels
Multivolume archives
Password protection
Support for hard disks of any size
Changes partition type, file system, size, and disk location
*Data verification after image creation and prior to image restoration
*Creates images faster and requires less disk space by skipping hibernation and paging files
*Allows direct image storage on DVD burners after installation of UDF packet DVD-writing software
*New feature with Acronis True Image version 8.0
Acronis True Image Distribution & Installation
Acronis True Image version 8.0 for the workstation is offered to the retail consumer through two methods of delivery: 1) Purchase of the bundled package from one of the members of the Acronis reseller network; or 2) Direct software download from the Acronis website. Acronis True Image retails for $49.95 and upgrades are $29.95.
Installation is very straight-forward; simply double-click on the installation file from either the Acronis True Image CD or the distribution copy you downloaded. You will then be presented with the license agreement for your review and acknowledgement. Follow the system defaults and enter your supplied license key information then just sit back and wait the software does the rest. A reboot of your PC is then required.
Prior to ending the installation process you will be presented with the option of making a rescue disk which can be created on either 1 CD or 6 floppy disks. This is an option that no user should pass up as it allows you the ability to create or restore an image should your primary hard drive become corrupted and unable to boot. You are also given the option of making either a complete or safe version of the disk. The difference between the two is that the safe version does not support USB, SCSI or PC Card storage devices. Acronis recommends that the complete version should always be utilized, the only exception is if the complete version fails to boot properly on your system.
The emergency disk may especially be useful for those that fall in the "computer enthusiast" market as it allows the following options: 1) You can make an early image of your system. A perfect example of this would be for the user that is experimenting with various system setup options and simply want to make a bare bones image of their operating system to preclude having to repeatedly install it; 2) The emergency disk once created will allow the user to fully image and restore their computer(s) that use non-Windows operating systems (i.e.; Linux and Novell); and 3) The ability to restore an image from any of the supported storage devices:
IDE devices
USB (version 1.0, 1.1, & 2.0)
IEEE 1394 (Firewire)
PC or PCMCIA cards
CD & DVD drives
Iomega Zip and Jazz drives
*It should be noted that the workstation version on Acronis True Image does not support imaging to tape drives; these are only supported by the server versions of the software.
Detailed Features


Acronis True Image Main Control Screen
The main control screen is the "nerve center" if you will for controlling all of the functions of Acronis True Image. Each of the features captioned below are wizard driven and incredibly easy to use. Let's take a little more detailed look at each feature:

Disk Imaging
Create Image — create a disk (partition) image
Restore Image — restore a disk (partition) from a previously created image
Explore Image — connect and view an image as a virtual drive
Unplug Image — disconnect the connected virtual drive

New Disk Deployment
Disk Clone — transfer operating system, applications and data from the old disk to the new one
Add New Disk — add a disk for data storage, leaving the operating system and applications on the old drive

Tasks
Add Scheduled Task — create a scheduled disk (partition) image creation or restoration task with specified time or periodicity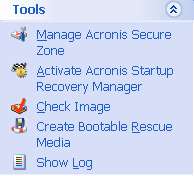 Tools/Operations
Manage Acronis Secure Zone — creates a special hidden system partition on a disk for storing disk (partition) images
Activate Acronis Startup Recovery Manager — activates the boot restoration manager
Check Image — runs disk (partition) integrity checking procedure
Create Bootable Rescue Media — runs the bootable media creation procedure
Show Log — opens a window with logs
View
Toolbars — contains commands that control toolbar icons
Common Task Bar — enables/disables common task panel in the left area
Status Bar — enables/disables the status bar
Tiles Icons List — controls how operation icons look
Refresh — refreshes the main program window
Help
Help — allows you to invoke help and get information about Acronis True Image
Acronis Secure Zone
Acronis Secure Zone is a special, hidden system partition for storing disk and partition images. Ordinary applications can't access it, for image security purposes. Acronis Secure Zone can be located on any local disk. It is created at the expense of unallocated space, if available, or at the expense of partition free space. A PC can have only one secure zone. To create a zone on another disk, you must first delete any existing zone. You can store a disk (partition) image on the same disk (partition) if there's enough space for it, but you should not keep your primary images on the same partition or disk.
You should burn images to removable media, such as a CD, DVD or Zip disks, another hard disk or a network drive. The only reason to create an image on the same partition (except for creating an image in the Acronis Secure Zone) is to use the image as a local, secondary backup. This backup could be used to restore damaged files. Remember, if your disk becomes physically damaged, an image stored on the same partition will be inaccessible.
Acronis Startup Recovery Manager
Acronis True Image provides Acronis Startup Recovery Manager to run the program without loading the operating system. This feature is useful if Windows won't load for some reason. Using it, you can run Acronis True Image by itself to restore damaged partitions from images. To use Acronis Startup Recovery Manager (it must be activated), turn on your PC and press F11, when you see the "Press F11 for Acronis Startup Recovery Manager" message. This will run a standalone version of Acronis True Image that only slightly differs from the complete version.
To activate the program, click "Activate Acronis Startup Recovery Manager". This boot manager is required for Acronis Secure Zone to work. If the boot manager is absent, the zone creation wizard will be run (see above). The restoration manager will be installed during this procedure as well. If there is Acronis Secure Zone on your PC, the boot manager will be activated immediately.
When Acronis Startup Recovery Manager is activated it overwrites the Master Boot Record (MBR) with its own boot code. If you have any third party boot managers installed, then you will have to reactivate them after activating the Startup Recovery Manager. For Linux loaders (e.g. LILO and GRUB) you might consider installing them to a Linux root (or boot) partition boot record instead of MBR before activating Acronis Startup Recovery Manager.
Cloning or Transferring to a PC with Different Hardware
Before you clone or transfer Windows to another PC, you must prepare it with the Microsoft System Preparation Tool (sysprep). The reasons to do this are described in article 298491 in the Microsoft Knowledge Base: "One problem from duplicating an installation of Windows 2000 is that each cloned computer has the same security identifier (SID) and computer name. This may prevent the cloned computers from functioning correctly in a workgroup or a domain. To work around this problem, administrators use the System Preparation Tool (Sysprep.exe) to remove configuration settings that are unique to the computer, such as the computer name and SID." This problem also relates to Windows NT 4.0 and Windows XP, so you should prepare these OS in a similar way.
Burning Images to DVD Disks
Acronis True Image can burn images to DVD disks under Windows if you have DVD UDF recording software installed. The DVD disk must be formatted. The following software has been tested by Acronis and shown to work with Acronis True Image:
Roxio DirectCD
Ahead InCD
Veritas DLA and all its OEM versions
Pinnacle InstantCD/DVD
To enable image recording to DVD in Acronis True Image, you should do the following:
Install DVD UDF recording software
Format DVD disks. DVD+RW and DVD-RW disks can be formatted in any of the aforementioned applications, while DVD-R and DVD+R formatting is currently supported by Roxio DirectCD only.
Run Acronis True Image, insert a formatted DVD disk into your DVD+RW or DVD-RW drive and create an image. No other special actions are required.
Images stored on DVD disks can be restored under Windows and when Acronis True Image is loaded from its boot disk.
There is another way to burn an image to a DVD disk. Using Acronis True Image, you can create an image on your hard disk and burn it using the installed DVD recording application to a DVD disk afterwards. You will be able to restore images from such disks under Windows and when Acronis True Image is loaded from the bootable media. I should also state that the "Explore Image" feature does not allow for viewing images spanning multiple CD's or DVD's. This is best accomplished by copying the image from this media to your hard drive.
Benchmarks
While benchmarks and imaging software aren't necessarily synonymous; I felt it might be interesting to do a comparison between the time versions 7 and 8 took to image my system. Many readers may be looking for hard data before upgrading from version 7 of Acronis True Image or other imaging software.
Test System
Motherboard: DFI 875B Pro Lanparty Revision B1
Processor: Intel 2.8C Northwood (800 MHz)
Memory: 1 Gigabyte (2 x 512) Mushkin PC 3500 DDR Revision 2
Hard Drives: 2 &3151; Seagate 7200.7 120 Gb SATA Drives (non RAID)
System Size: 10.2 Gigabytes
Acronis True Image Version 7.0 ... 3.5 minutes
Acronis True Image Version 8.0 ... 2.0 minutes
Acronis True Image Version 8.0 ... 42.86% faster*
*It should be noted for the record that the primary speed increase is due to the fact that Acronis True Image version 8.0 does not image hibernation or paging files.
Issues
While most of my experience with Acronis True Image has been stellar, there are a few issues I am aware of that I believe every reader should be aware of before purchasing:
Free technical support is only provided through email which guarantees a reply within 48 hours excluding holidays and weekends. A free support forum has also been created that is manned much of the time by an Acronis support technician. Telephone technical support is available, but this service is not free.
Acronis True Image has some issues with some of the software components of: 1) Earlier versions of EasyCD Creator; 2) Symantec's Norton Go Back; and 3) Roxio's Easy Media Creator 7 will not allow a rescue disk for Acronis True Image to be created while running. I should note that a workaround for each of these issues has been posted in the Acronis True Image FAQ on the Acronis website.
I have recently learned from readers that have built systems utilizing the new Intel ICH6 and ICH6-R controllers that Acronis True Image has failed to recognize their disks. This recognition failure is specific to the Rescue Disk only. This significantly limits the user's options in situations where their Windows operating system has been corrupted and will not boot and precludes image restoration in these circumstances. Several iterations of version 8.0 have been released and each so far exhibits this problem of not recognizing disks attached to the ICH6 and ICH6-R controller.
This issue prompted me to write Steven Lawton, Director of Marketing, Acronis, Inc. within two business days I had a complete reply from the Director of Acronis Support which I found quite impressive. It seems that several of the Linux drivers that are copied to the Rescue Disk and function to allow the user to create images of their Linux system while using the Rescue Disk have issues with the ICH6-R and ICH-6 controller. These issues cause the disks attached to either of these controllers to be unable to be viewed. I have been assured that correcting this issue is an extremely high priority for the Acronis support team. I experienced a similar issue when Intel initially released the ICH5 and ICH5-R controllers with version 7.0 of Acronis True Image except that it applied to both the installed version and the Rescue disk. Acronis corrected the problem in the next update of their software which was only a matter of days.
Conclusion
Acronis has done another superb job with Acronis True Image version 8.0. It is by far in this reviewer's opinion the best imaging software available for use today. I can truthfully profess to our readers that since some initial problems which were corrected with a quick software update; I never experienced another issue with Version 7.0. My last few days of testing Version 8.0 have led me to be equally as confident in its success. I can say with confidence that even given the few issues I have mentioned Acronis True Image is one of the few pieces of software out of the hundreds that I own that I plan never to be without. It is therefore my pleasure to award Acronis True Image the "BleedinEdge Golden Blade Award" which signifies an excellent product, which excels in all areas, and has very limited negatives.
I must also sincerely thank Stephen Lawton, Director of Marketing, Acronis, Inc. for his help in providing not only Acronis True Image Version 8.0, but the entire Acronis workstation product line along with technical literature for review by the BleedinEdge. Consider this as installment one of a three part serial review with the next segment, Acronis Disk Director Suite 9.0, to come very soon.