Acronis

Cyber Protect Cloud
For a long time, March 31 was World Backup Day: an annual event created to raise awareness of the importance of backup best practices. In 2020, we celebrated the final World Backup Day and, with a vision for bigger things, launched Cyber Protection Week with a survey and report that dove into the cybersecurity and data protection experiences and concerns of IT users and professionals around the world.
Now entering its third year, Cyber Protection Week is an annual opportunity for personal and professional IT users to take a deeper look at how they approach their digital defenses. To do that, we conducted our largest-ever research report to review some of the critical shortcomings appearing in cyber protection today, determine why they're appearing and offer guidance on how they can be fixed.
The Acronis Cyber Protection Week 2022 Report
This year's Cyber Protection Week Global Report includes responses from over 6,200 personal IT users and IT managers from organizations ranging in size from small businesses to enterprises in 22 countries.
Key takeaways from our newest report are below. Interested in seeing all of our findings for yourself? Download your copy here.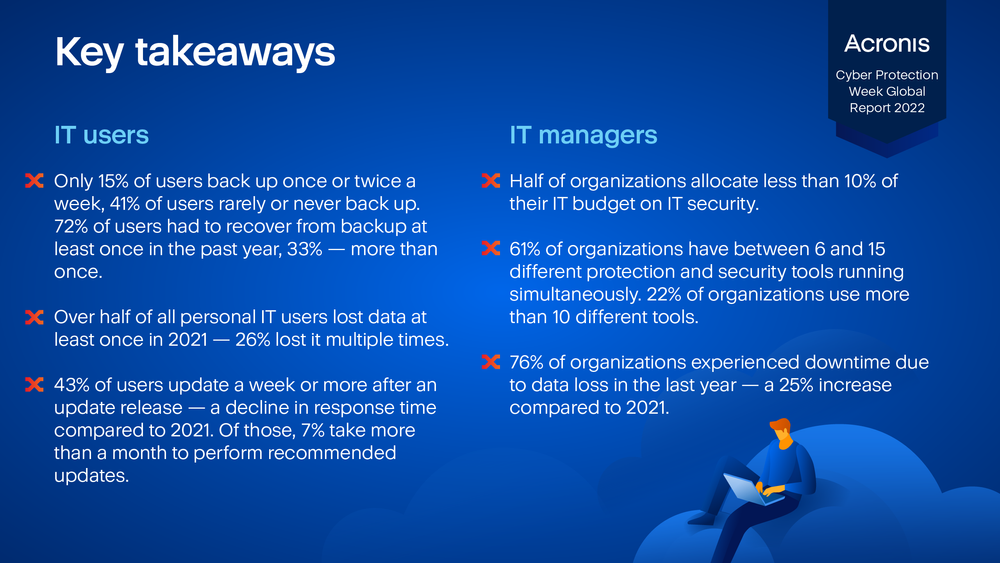 For a deep dive into the cyber protection experiences of organizations and people in your country, be sure to get a copy of our regional deep dive reports:
· Acronis Cyber Protection Week Americas Deep Dive
· Acronis Cyber Protection Week EMEA Deep Dive
· Acronis Cyber Protection Week APAC Deep Dive
· Acronis Cyber Protection Week Japan Deep Dive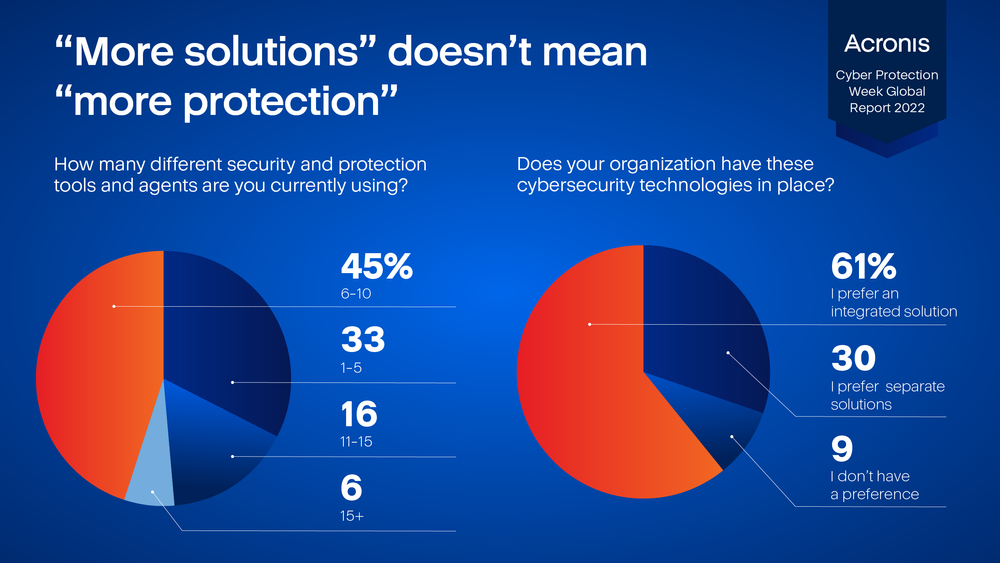 Data loss is on the rise, despite complex IT stacks
78% of organizations are now running as many as 10 different security and protection solutions simultaneously, similar to last year's 80% of respondents. These solutions include everything from ransomware protection, anti-malware with zero-day threat prevention capabilities, automated patch management, vulnerability assessments and six other key defenses. Yet, despite having all of these solutions in place, 76% of organizations experienced downtime and data loss in 2021. That's a 25% increase over last year's findings.
This downtime was the result of a number of common issues including system crashes (52%), human error (42%), cyberattacks (36%) and insider attacks (20%).
As a result, 61% of global organizations' IT teams now report a preference for integrated solutions that replace their complicated stacks of cybersecurity and data protection tools with a single, unified console.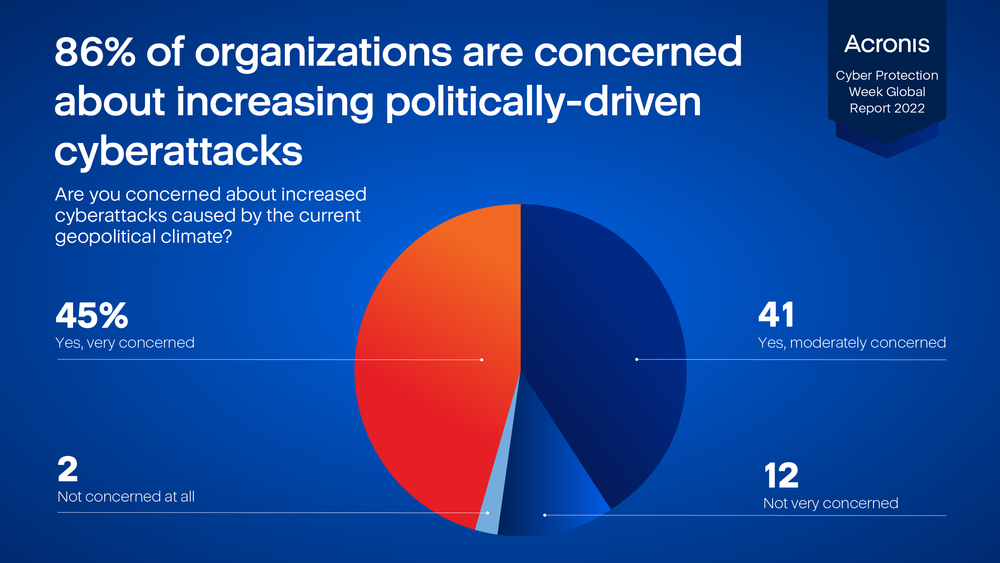 The cyberthreats keeping IT pros up at night
Given the alarming jump in data loss we discovered in this year's report, it makes sense that cybersecurity is top-of-mind for many IT teams. Respondents from around the globe reported the cyberthreats that they were most concerned about were:
· Malware (virus, etc.) attacks ­— 68%
· Phishing attacks — 65%
· Business data theft / breach — 65%
· Denial of service (DoS or DDoS) attacks — 61%
· Internet of Things (IoT) attacks — 59%
· Ransomware — 59%
Worse yet, 86% of IT managers are concerned that the current geopolitical climate will only lead to an increase in cyberattacks.
To confront all of these challenges, organizations are investing across the board in terms of IT improvements and enhancements. Their top priorities include: data privacy and compliance; modernizing cybersecurity stacks to reduce risk; supporting improved remote-work environments and bridging the IT skills gap.
Of course, as a cyber protection company, we commend investing in security, but it's important to spend wisely — instead of just building a stack of unintegrated, outdated solutions. As 2022 will continue to prove further, the best way to utilize this budget is with integrated cyber protection solutions.
For a look at all of the findings in the Acronis Cyber Protection Week Global Report 2022 and advice on how you can evolve the way you're protecting your data, applications and systems, download the full report here.
About Acronis
Acronis is a Swiss company, founded in Singapore. Celebrating two decades of innovation, Acronis has more than 2,000 employees in 45 locations. Acronis Cyber Protect solution is available in 26 languages in over 150 countries and is used by 20,000 service providers to protect over 750,000 businesses.