Acronis

Disk Director Business
Acronis Disk Director 12 is a partition management software package that can easily alter, add and merge partitions, and manage partitions located on internally and externally connected drives. The program has a reputation as one of the most prolific partition manager programs on the market today.
Acronis Disk Director 12 brings forward an excellent disk and boot management system, with comprehensive partition recovery tools and data protection features. On Windows, the program hosts a whole library of disk management tools suitable for both novices and advanced users.
Acronis is a powerful and easy-to-use tool for managing disks and volumes with multiple operating systems. With a comprehensive set of operations, you can organize your hard disk and volume configuration for optimal performance, while keeping your data safe. By using the simple user interface of Acronis Disk Director 12, you can:
Merge, split, move, and resize partitions – You can automatically resize, copy, move and split partitions without altering or losing your current data (even if the file systems are different).

Recover Deleted or Lost Partitions – Recover deleted or lost partitions in the event of any software failure or malicious damage

Format drives - Users can format their drives with a range of file systems, such as FAT16, FAT32, NTFS, Exts, Ext3, Reiser 3, Linux, SWAP

HEX Acronis Disk Editor Recovery Tool – HEX scans through physical sectors of disks to recover your files in the event of a system malfunction or power failure.

Linux Compatible – Acronis stands as a Linux partition manager with full compatibility allowing you to resize partitions with ease.

Backup and restore segments of your hard drive
Acronis Disk Director 12 also has some new features, including:
UEFI Compatibility – Acronis can now work with bios-based and UEFI-based hardware

Supports Windows 10 – Acronis Disk Director 12 now works with all Windows operating systems up to Windows 10
Windows 10 Compatible
Updated to support the latest Windows 10 operating system
UEFI PC Support
Acronis supports computers that use BIOS and UEFI
Flexible disk and volume management
Easy to resize, copy, split or move volumes without data loss or destruction
Dynamic Disk Support
Improved functions on dynamic disks which can be spread across multiple disks
GPT Disk Support
Compatible with GPT disks bolstering strength against potential data damage
Edit Mirrored Volumes
Add, remove, break or add mirrors to make your volume fault-tolerant
Place Volume across multiple physical disks
You can combine free space on different HDD's to get larger volumes
Convert basic disks and Dynamic Disks
You can convert basic disks to dynamic disks to improve their data storage
Convert MBR disks to GPT
You can convert MBR disks to GPT if you to need to make a volume over 2TB
Acronis Recovery Expert
With Acronis Recovery Expert you can recover lost or deleted volumes on MBR disks
Clone Disks
Clone disks to additional HDD's without reinstalling applications and operating systems
Acronis Feature Breakdown
Acronis Disk Director 12 makes it easy to manipulate and manage your data, with a whole range of tools to help you split, resize, convert and merge volumes together. Volumes can be created and converted as often as needed by the user. The process is relatively simple due to the simple user interface.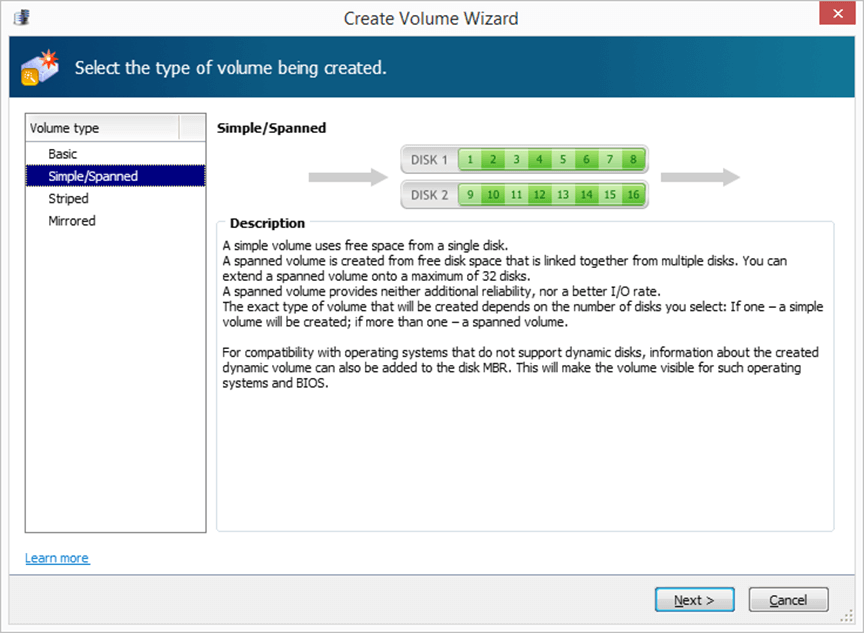 Users can easily select the volume they want to create and are supported each step of the way by a comprehensive description of how the disk space is made and the operating systems it is compatible with. The linear structure of the processing bar makes it clear how much of the project is left to complete.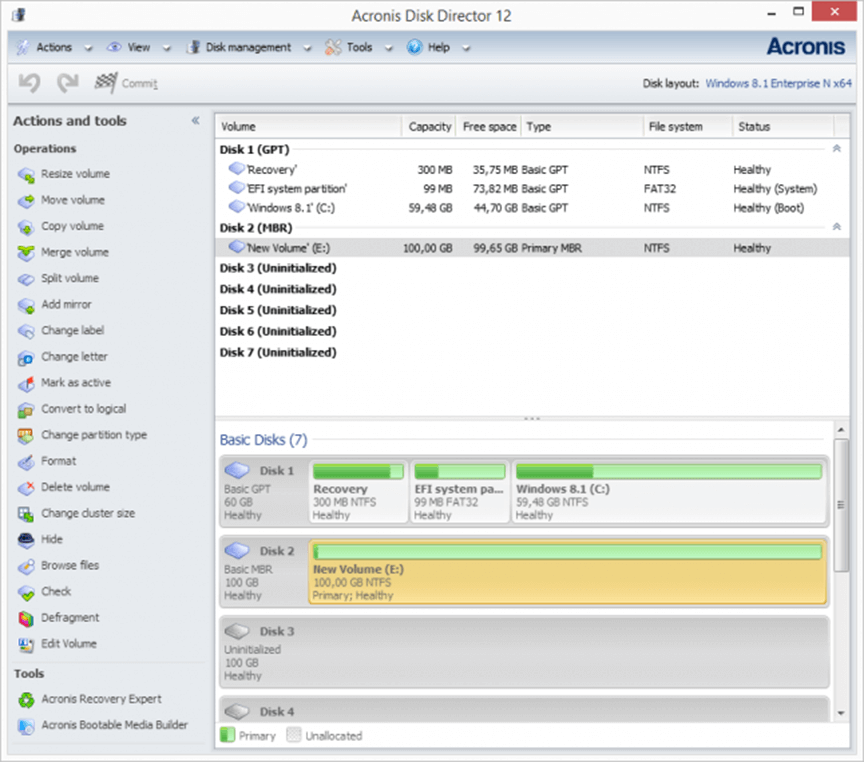 On the main screen, a comprehensive list of controls is kept on the left-hand side. Users can simply select an operation they wish to perform such as "Merge volume", and then track their progress in the central part of the screen. This is particularly handy when mapping hard drives and creating partitions as you'll be able to create more, in much less time with much better oversight. In one burst you can label and format your partitions so that they become active faster. The user interface is more complete than other software packages on the market like MiniTool Partition Wizard. Many programs are capable of resizing, splitting, copying, and merging partitions. While MiniTool can recover lost or deleted partitions, it cannot manipulate dynamic disks the way Acronis Disk Director 12 can. Compared to MiniTool, Acronis Disk Director 12 makes it easy to convert between basic and dynamic disks promptly.
For users looking to use Acronis as a recovery tool, Acronis Disk Director 12 is adept at allowing the user to recover volumes that have been damaged, deleted or corrupted. The wizard interface gives users two ways to recover deleted partitions: Automatic Recovery Mode and Manual Recovery Mode. In Automatic recovery mode, users don't have to select any partitions, as the onboard Recovery Expert searches through for deleted partitions and recovers them where they are found. With manual recovery mode, Acronis runs a fast search checking the beginning of each side of every cylinder of every hard disk. Once deleted or lost partitions are found, the user can then select which partitions are to be recovered. This is a great way to ensure that you only recover the data that you need, as opposed to recovering masses of data that you don't.
Acronis Disk Director 12 allows users to clone disks to replacement hard drives with speed and efficiency. You can clone your data to a new disk in a matter of minutes. This is good news for users looking for prompt disk cloning facilities, but this comes at a price. Acronis Disk Director 12 is only capable of cloning basic MBR disks. Dynamic and GPT disks can't be cloned, and you can't clone a single position.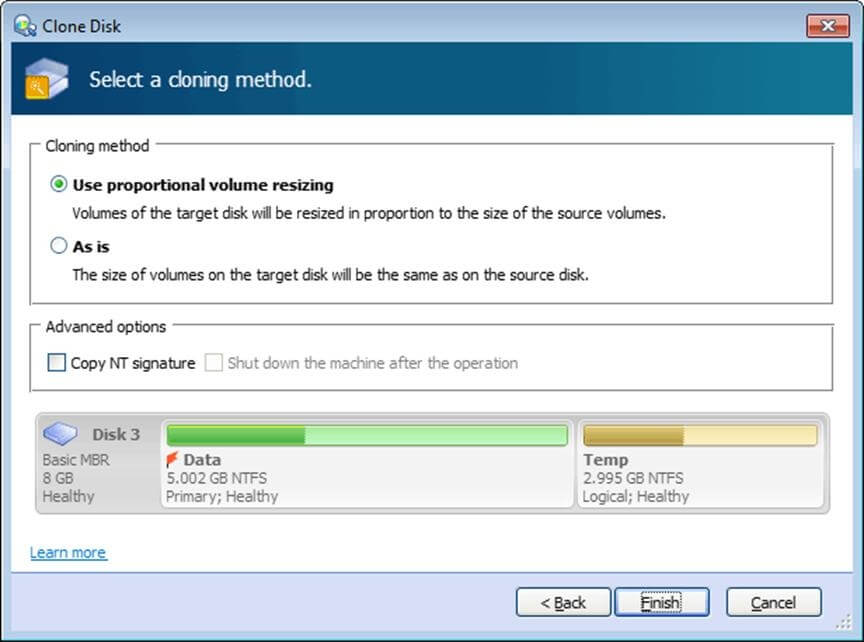 Advantages of Acronis Disk Director 12
When compared to other programs on the market, Acronis Disk Director 12 allows the user to boot up from CDs or DVDs. This is particularly useful if your PC fails to boot up. In the event of any technical issues, Acronis provides telephone, email and live chat support (Although these come with extra charges after the first 30 days. The ability to edit hard drive sectors helps to set this package apart from most other competitors on the market. It's simple to edit hard disks and partitions through one screen. Likewise, pending execution allows you to editor sector contents before saving or discarding them. This is particularly useful when dealing with a large volume of data and ensuring that you manage your data without any mistakes. Finally, Acronis Disk Director's facility to optimize disk space usage is extremely useful. You can look through detailed information about all the hard disks and their partitions. Before you apply any changes to disk you can preview them in the partition layout to ensure that you don't make any unwanted mistakes.
EaseUS and Acronis Comparison
One of the main competitors to Acronis is EaseUS. EaseUS offers a free disk and volume management tool with hard disk organization and volume configuration features that rival those of Acronis Disk Director 12. However, Acronis remains the go-to partition manager on the market for a number of reasons. Mainly because it's user interface is extremely fast, and makes it easy to keep watch over merges and partitions. It's easy to optimize disk usage without having to trail through lots of disparate windows. Where Acronis falls short is its financial cost. As a free program, EaseUS performs extremely well against Acronis Disk Director 12. As a partition manager, you can carry out all of the main functions of Acronis, including creating, deleting, resizing, merging and splitting partitions. With EaseUS you can upgrade your system disk with one click as well as converting MBR's to GPT's and vice versa. However, Acronis's reliability makes it the better choice for established IT departments looking for diverse partition management features, disk optimization and conversions that aren't as accessible through EaseUS. For home users, EaseUS provides an entry-level package that could be useful for consumers looking for an introduction to the nuances of partition management.
Conclusion: Acronis Disk Director 12
Acronis Disk Director 12 offers comprehensive partition management features that guide you through the process of managing and optimizing your data. For enterprises that want to add and merge partitions on a range of different hard drives, Acronis Disk Director 12 is the most established program on the market today. In the event of data loss or damage, the data protection features and partition recovery capabilities of Acronis will ensure that data is fully protected. In Acronis Disk Director 12, automatic recovery mode, and manual recovery mode make sure that you only bring back the data you want, which saves users from wasting time recovering data they are just going to delete. For casual use, Acronis's alerts system makes it easy to keep track of the progress of any merges or conversions underway. For newer users who want to make sure they don't make any mistakes, this feature is incredibly useful. Likewise, the help file and additional support can minimize any unwanted mistakes. This is essential when mistakes can result in massive data loss and unbootable operating systems. Compared to other partition managers on the market, Acronis Disk Director 12 remains the most comprehensive and easy to use the package on the market today.
About Acronis
Acronis is a Swiss company, founded in Singapore. Celebrating two decades of innovation, Acronis has more than 1,800 employees in 45 locations. The Acronis Cyber Protect Cloud solution is available in 26 languages in over 150 countries and is used by 20,000 service providers to protect over 750,000 businesses.