Acronis

Cyber Protect Home Office
formerly Acronis True Image
Nearly 18 years after being introduced to the public, Acronis True Image is getting a new name. Beginning today, the world's best personal cyber protection solution will be known as Acronis Cyber Protect Home Office.
Changing such a well-known product name is never an easy decision for a business. After all, in the nearly two decades since it launched, Acronis True Image has gained a lot of brand equity and goodwill among users.
So why change the name of such an iconic and well-established product? There is a good reason.
Acronis was the first software solution to make enterprise-grade full disk imaging available to home users. So, when it came to naming our innovative new product, we wanted to clearly explain what users were getting with their purchase. We landed on Acronis True Image to ensure people knew they would get a true image of their data, which they could use to restore their computer.
We know that the home users, prosumers, and freelancers who rely on our personal solution want to know what they are getting. That's the approach we've always taken – and maintaining that practice given the changes we've in recent years required us to examine the name Acronis True Image.
Changing protection needs
During the past several years, the challenges of protecting data have evolved. Most notably, the proliferation of ransomware has changed the protection landscape.
When ransomware first appeared, a backup solution was enough to protect data. If you were targeted by ransomware, you could simply recover your files and avoid paying the ransom.
To ensure users had to pay, attackers changed their ransomware. A few years ago, we saw new ransomware strains that first target backup files and backup software, denying users that traditional safe harbor. In response, Acronis hired cybersecurity experts to build an anti-ransomware defense that could be integrated into our backup solution. Acronis True Image then became the only personal backup solution with integrated anti-ransomware. Acronis Active Protection launched in 2017 – and its name reflects the fact the behavior-based detection actively monitors your system and stops ransomware attacks in real-time.
As the cyberthreat landscape continues to evolve, we've enhancing those cybersecurity capabilities – adding a cryptomining blocker, antivirus, and next-generation anti-malware that's powered by machine intelligence.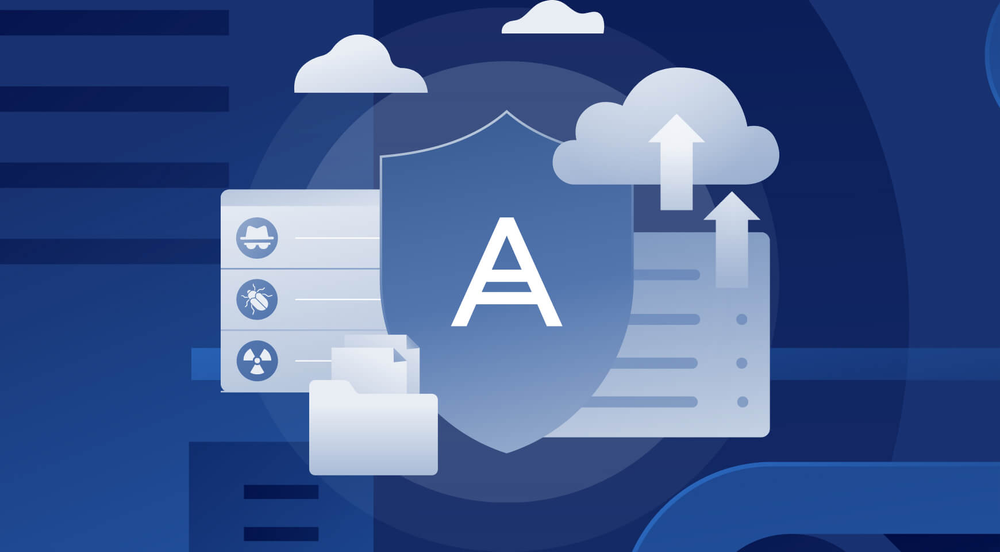 More than backup, it's cyber protection
Then, last year's release marked the beginning of a new era. Acronis True Image made the leap from backup to a complete cyber protection solution – combatting the full scope of data threats, from accidents and hardware failure to device theft and cyberattack. It enhanced our best-of-breed personal backup with integrated advanced anti-malware technology, including real-time protection, on-demand antivirus scans, web filtering, and videoconference app protection.
That evolution of means Acronis True Image now does so much more than simply create a true image backup – and, as a result, the name no longer provides an accurate description of the product.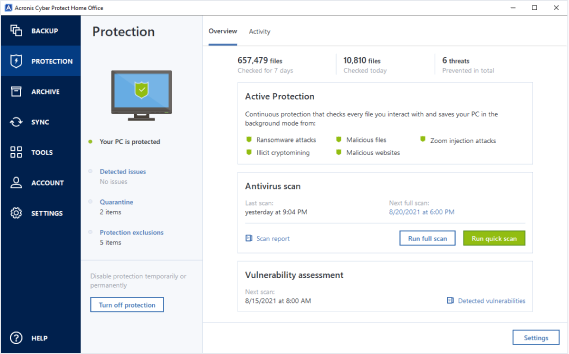 Acronis Cyber Protect Home Office is here
To better reflect what users get from our solution, we've renamed it Acronis Cyber Protect Home Office. This new name catches up with what we build and who we build it for – comprehensive cyber protection for the work-from-home parent, the IT expert, the remote student, the freelancer who works from anywhere, and other home office users.
Acronis Cyber Protect Home Office is still the same high-performing, easy-to-use solution that is already trusted by more than 5.5 million individuals worldwide – and our commitment to keeping your data, applications, and systems safe remains. The only difference is the name.
Want to learn more about all of the cybersecurity and data protection capabilities that are available to you? Acronis Cyber Protect Home Office has you covered.
Acronis Cyber Protect Home Office
For Home Office
Formerly True Image

About Acronis
Acronis is a Swiss company, founded in Singapore. Celebrating two decades of innovation, Acronis has more than 1,800 employees in 45 locations. The Acronis Cyber Protect Cloud solution is available in 26 languages in over 150 countries and is used by 20,000 service providers to protect over 750,000 businesses.