Cyber Protect Home Office
formerly Acronis True Image
"Why is a backup company developing anti-ransomware technology?" Since launching our first iteration of Acronis Active Protection earlier this year, we've probably been asked that question more than any other. While previewing the new artificial intelligence-based version with analysts and the media in advance of Acronis True Image 2018, we heard the question more frequently.
It's a fair question. Stopping online threats such as ransomware – malicious code that infects your computer and denies you access unless you pay a ransom – is typically handled by security companies that make anti-virus and anti-malware software. As a backup software company, Acronis is not in the security business.
So why is Acronis investing resources to create cutting-edge ransomware protection software? And how can the AI and machine learning technology developed by a backup software company make data protection even more effective? Let's take a look.
Ransomware targeting backup
As the originators of full-image backup for home use, we've always stressed the importance of reliable system backups. Having a proper backup will help you recover your system quickly and easily in case something happens – like a ransomware attack.
This simple solution frustrates cybercriminals who make their living off of ransomware: if their target has a reliable system backup, the criminals don't get paid. So they are targeting backup files to eliminate that escape route. No backup means no recovery, so the victim has to fork over the ransom to get their data back.
Our goal is to ensure everyone has a reliable, easy and secure backup. Developing a way to protect all your data – both original files and backup files – is part of how we can meet that goal.
That's exactly what Acronis Active Protection does. Here's how.
Putting artificial intelligence to work
At the heart of Acronis Active Protection is its ability to recognize unusual patterns of file access. It does this using machine learning (ML) models that are generated in Acronis' dedicated Cloud AI infrastructure.
To build those models, the Cloud AI processes data from hundreds of thousands of malicious and legitimate processes. The models are then incorporated directly into Acronis Active Protection, so Acronis True Image 2018 can protect your system's data independently, even when you are not connected to the internet.
This AI-based technology is not only extremely effective in preventing ransomware from affecting original data files, its unique self-defense also ensures that backup files also remain untouched.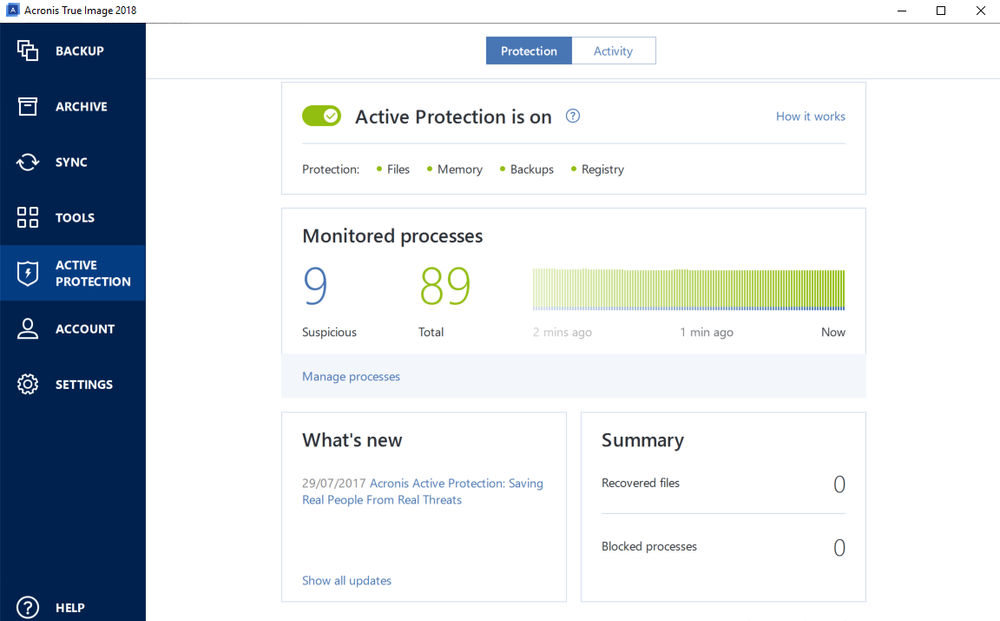 Acronis Active Protection is part of the new Acronis True Image 2018
Stopping suspicious activity
When Active Protection detects unusual activity, it checks the suspicious process using both heuristics analysis and ML models of expected and unexpected behavior. If the process is identified as potentially malicious, Acronis True Image 2018 alerts the user of the suspicious activity.
Acronis Active Protection also monitors and verifies all processes in real-time, which allows approved activities to run as normal while potentially dangerous behavior is detected and stopped.
And if any files are encrypted during a ransomware attack, Acronis True Image 2018 automatically restores those files from your local backup.
A new Security Dashboard gives complete visibility into what Acronis Active Protection is doing, so you know your data is protected. Through the dashboard you can track the number of processes that have been flagged as potentially dangerous, see which ones were blocked, and manage a whitelist of approved applications to make sure your trusted programs work without being flagged as malicious.
While cybercriminals increasingly target backup files to keep users from restoring their system without paying the ransom, Acronis' AI-based technology is designed to beat them to the punch. The result is the most secure and comprehensive data protection solution that combines both security and backup, which you can't find in any other product.
Download and try Acronis True Image 2018 today to keep your system safe.
About Acronis
Acronis is a Swiss company, founded in Singapore. Celebrating two decades of innovation, Acronis has more than 2,000 employees in 45 locations. Acronis Cyber Protect solution is available in 26 languages in over 150 countries and is used by 18,000 service providers to protect over 750,000 businesses.