Acronis

Cyber Protect Cloud
Disaster recovery-as-a-service (DRaaS) is a dedicated solution that third-party providers offer to small and large businesses to ensure data protection, limit downtime, and shorten Recovery Point Objectives (RPOs) when a disaster happens. DRaaS is provided through a contract or as a pay-per-use model, with payment based on any combination of storage resources, bandwidth, RAM, compute cost, and licensing fees for the backup software, depending on the disaster recovery solution provider. Service Level Agreements (SLAs) can impact costs and document all services the contract provides. Thanks to the Service Level Agreement, both the provider and the client know exactly what to expect from the project.
With DRaaS solutions, an organization's systems and data are replicated to a public or private cloud infrastructure or a secondary (physical) site. If a disaster strikes the primary site, the primary systems will fail over to the recovery service, and the organization can continue operations. The DRaaS providers or vendors are responsible for the failover process.

How does disaster recovery as a service (DRaaS) work?
Cloud computing enables disaster recovery as a service, or the third-party replication and hosting of physical or virtual servers, which offers backup services and failover in the event of a business disruption or outage. Here are the primary steps involved in the process:
Data residing in a primary site is duplicated and sent to a disaster recovery service provider who hosts the environment remotely. It is essential that replication includes virtual and physical servers or delivers a "hybrid" solution since most organizations have infrastructure that relies on both. When data is frequently added or altered, the DRaaS solution should allow regular snapshots to avoid data loss during failover.
End-user access moves to a secondary site hosted by the disaster recovery service provider during a catastrophe. Speed is paramount for DRaaS solutions, as any downtime can harm the business.
Data moves from the DRaaS provider's environment back to the original site. Restarting replication processes as soon as failback is complete is important to ensure continuous protection.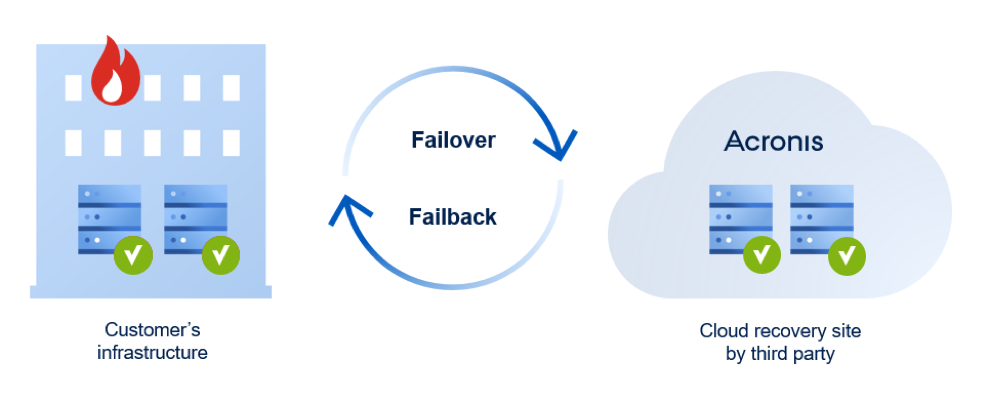 Is disaster recovery as a service right for you?
Organizations choose DRaaS heavily due to the 3-2-1 backup rule. This rule stipulates that to ensure total data protection in the event of a disaster, you need to have the following:
Three copies of your data, one production version, and two backups

Two formats for your backup, e.g., network drive, external hard drive, cloud, etc.

With one of those backups stored off-site, like in the cloud.
The cloud makes it easy to meet the third requirement, eliminating the need for organizations to create disaster recovery data centers and backup systems and send data to offsite virtual machines (VMs) or disks and tapes stored off-site. Since backups are stored in the cloud, you can quickly recover your systems and data.
When considering a DRaaS solution, you have three different types to choose from:
Self-Service DRaaS. Buy the solution and have your in-house IT team run it.

Assisted DRaaS. Buy a solution supported by a DRaaS vendor who can offer advice or assistance.

Managed DRaas Model. Outsource your DRaaS to experts who can devise your plan and manage failover and failback for you.
Choosing the right disaster recovery software or service could mean the difference between success and failure following a business disruption. Ensure your business continuity by safeguarding your data, systems, and applications – no matter what happens.
DRaaS for small business and enterprise
No organization is immune to a disaster. Whether your organization is a small-to-medium-size business (SMB) or international enterprise, losing critical data or customer information can cause severe damage. If you are a smaller business, the risks are more significant because your organization may lack the personnel and budget to protect against threats – potentially putting you out of business.
You cannot function without access to your most critical data for an extended period. Whether the cause is human error, a ransomware attack, or an unforeseen natural disaster, the results can be devastating.
Choosing the right DRaaS provider
There isn't a one-size-fits-all DR solution. By combining backup computer software technology with a reliable DR strategy, you can stay up and running. But the disaster recovery solution requirements are as unique as your business.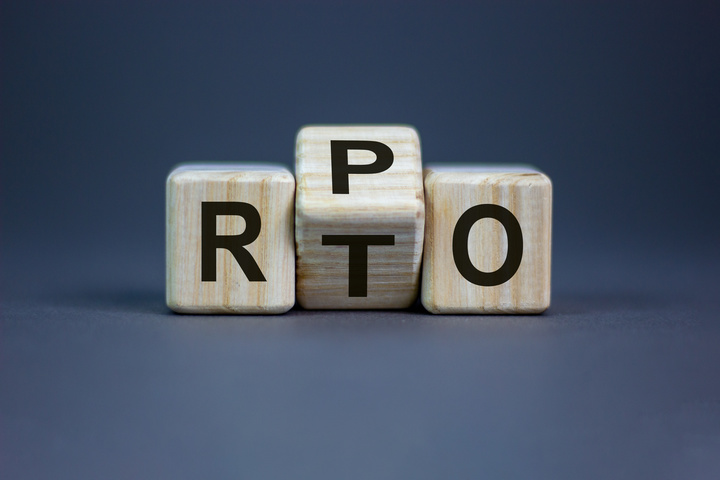 RTO (Recovery Time Objective) vs RPO (Recovery Point Objective)
Make decisions based on the following to determine which course of action is right for you.
Recovery Point Objective (RPO). The maximum amount of data (measured by time) that you are willing to lose on your systems because of an event.
Recovery Time Objective (RTO). How fast you can recover from a disaster to resume normal operations.
You can use three destination options to back up and restore business-critical data: a local data center, in the cloud, or a hybrid approach.
With this approach, business-critical data is stored off-site physically, but recovering from a disaster can take days or weeks. This is also the most expensive option, as additional facilities, systems, and staff are required.
Cloud-based disaster recovery is the most cost-effective and scalable option. With this option, a cloud data center stores critical systems (whether physical or virtual), data, and applications. Cloud disaster recovery allows an organization to keep entire virtual environments ready, reducing the recovery time from a business disruption or outage to minutes or even seconds.
Companies can rely either on a private or public cloud to counter physical equipment failures.
Hybrid cloud disaster recovery
The hybrid cloud disaster recovery (Hybrid DR) method uses a public cloud and a private data center (physical or cloud). This option provides the most significant flexibility, keeps costs down, and meets regulatory and compliance needs.
With all three methods, you must evaluate the pros and cons of each against individual business requirements.
What are the key benefits of DRaaS for business continuity?
Businesses today have no tolerance for downtime, so DRaaS provides a critical bridge, allowing companies to operate remotely while normal processes are restored. While natural disasters are commonly associated with the need for DRaaS, five of the most common reasons an organization uses DRaaS are:
On-premises power outages

Hardware appliance and network failures

Software, IT systems errors

On-premises data center failures (not due to power outage)

Security-related attacks
Faster recovery is vital to avoid costly downtime – both in terms of financial and reputational damage – and ensures your business remains competitive and compliant. By outsourcing disaster recovery to a DRaaS vendor, your organization can avoid complex, time-consuming DR orchestration.
What is the difference between Backup as a service (BaaS) and Disaster recovery as a service (DRaaS)?
Backup-as-a-service (BaaS) and Disaster recovery-as-a-service (DRaaS) are often used interchangeably. However, they are a few key differences between the two terms.
Let's explore them below.
BaaS and DRaaS aim to minimize data loss in a disaster event. However, BaaS focuses solely on long-term data retention. On the other hand, DRaaS emphasizes short-term data retention.
Essentially, BaaS is concerned with providing complete and secure data backups, while DRaaS providers preserve the infrastructure, security models, and system state for the company's datasets. They also focus on the speed at which critical workloads can resume following an incident.
As DRaaS comprises infrastructure, applications, security models, systems, and rapid recovery, it is often more expensive than BaaS.
BaaS protects your data via local and offsite backups. When disaster strikes, company data can be restored by copying specific sets from the backup data and restoring them to the primary or secondary cloud environment.
BaaS' primary focus is reducing the long-term costs of retaining data. Therefore, the restoration process is often more lengthy. (and can also be more expensive, depending on the disaster)
DRaaS focuses on speedy recovery reliant on data replication. The DRaaS service provider continuously copies data changes from the primary production environment to cloud storage, so organizations can recover the latest version of critical data, maintain security, and fortify their system state to resume business operations unhindered.
During an outage or a data loss event, you can failover to the disaster recovery site while your IT teams get your primary location up and running again. All DRaaS functions require different mechanics, protocols, and orchestration than BaaS data backup retention services.
Recovery speeds and costs
BaaS and DRaaS can benefit from a service provider's cloud to hasten recovery speeds. Nonetheless, BaaS recovery is typically slower than DRaaS.
Most businesses use BaaS to safeguard their least important datasets (e.g., archival data), while DRaaS covers their most critical datasets. This way, they ensure the fastest possible recovery of crucial business information. Moreover, as DRaaS providers do the heavy lifting, your IT teams can focus on pressing company projects instead of managing your own disaster recovery infrastructure.
Different disaster recovery plans
Disaster recovery planning is essential for all businesses handling sensitive data. Your disaster recovery plan should be tailored to your specific RTO and RPO targets, infrastructure, and resource optimization guidelines to restore data quickly in a disaster.
Network disaster recovery
This disaster recovery plan depends on the complexity of your network. It requires a comprehensive, step-by-step recovery procedure, including specifics like networking functions, performance, and staff.
After you outline the plan, you should test it continuously and keep it updated.
Virtualized disaster recovery
Virtualization enables more efficient and simplified DR implementation. Virtual servers can provide new virtual machines (VMs) and ensure application recovery via high availability. (e.g., Microsoft Azure Site Recovery)
Testing such an environment is easier. Nonetheless, DR planning should validate that company apps can be run in DR mode and restored to normal operations according to your set RPO and RTO.
Cloud DRaaS services range from a simple file backup to synchronous replication. Using a cloud service provider is often cost-, time-, and space efficient. However, maintaining your DR plan requires adequate management.
The person(s) in charge must know the location of the physical or virtual servers. They should also address cybersecurity and test out DR guidelines continuously.
This plan focuses solely on your data centers and infrastructure. The three-phase process for DRP here should comprise operational risk assessment, critical components analysis, and infrastructure management. If you lack in-house experts, you can outsource infrastructure management to your DRaaS provider.
Note: This approach requires more careful planning to maintain business continuity. Since the method doesn't utilize cloud DR, you must ensure that if a disaster affected physical servers in your primary environment, the same natural disaster wouldn't affect your backup site.
How does DRaaS protect the end-user?
With the future of remote work, end-user devices need DRaaS protection more than ever. Devices will continue to remain outside of the office firewall and are susceptible to malware and ransomware on an almost daily basis.
While business applications and servers may be secure in a data center or the cloud, end-users working on laptops from home offices are not. Since remote work is now the norm, these devices are more vulnerable and may also have more unique, recent copies of data.
A great DRaaS provider covers all endpoints. If there is an internet connection, the device can be protected. For example, IT can use a disaster recovery solution to create a virtual instance of a laptop until new equipment is delivered to the end user.
Cost of disaster recovery services and downtime
Disaster recovery is often seen as a burdensome cost when it should be considered an investment. Calculating the return on investment (ROI) of keeping data, systems, and applications secure is essential. You can get the necessary information by reviewing your budget to capture costs, such as infrastructure expenses (from staff to IT hardware), and calculate revenue losses. Your costs depend on your DR approach - a self-service, assisted, or managed DRaaS solution.
Disaster recovery-as-a-service is cost-effective. Your business can access DRaaS for a predictable, flat monthly fee. On the other hand, by not opting in, your organization can lose over $300,000 per hour of downtime, the average loss reported by 91% of enterprises. Non-enterprise businesses report an average loss of $54,000 per hour of downtime; for SMBs, the average hourly downtime costs are between $8,000 and $25,000.
Staying open for business just got easier
Given the wide range of accidents, malicious threats, and natural disasters that can impact your business continuity, having a modern DRaaS solution is vital to ensuring your organization's ability to withstand any catastrophe.
An easy-to-deploy and managed disaster recovery solution like Acronis Cyber Protect Cloud Advanced Disaster Recovery delivers quick failover of your critical workloads to the cloud, improving your capabilities. Ensure instant data availability of all critical workloads making your infrastructure more resilient and cost-efficient – no matter what disaster strikes.
About Acronis
Acronis is a Swiss company, founded in Singapore. Celebrating two decades of innovation, Acronis has more than 1,800 employees in 45 locations. The Acronis Cyber Protect Cloud solution is available in 26 languages in over 150 countries and is used by 20,000 service providers to protect over 750,000 businesses.