formerly Acronis Cyber Backup
Customer satisfaction is the single most important aspect of any business as it leads to additional sales, reputational growth, and "word of mouth" recommendations. That's why Acronis is honored to be named an October 2019 Gartner Peer Insights Customers' Choice for its Disaster Recovery as a Service (DRaaS) offering.
Moreover, in the corresponding "Voice of the Customer" report that synthesizes these results, Acronis is the only company listed in the Customers' Choice Quadrant among all companies profiled. (Download a complimentary copy of the Gartner report).
We think this recognition from actual users of our solution is particularly noteworthy considering Acronis was not included in Gartner's Magic Quadrant for Disaster Recovery as a Service this past June.
Gartner Peer Insights and Customers' Choice Distinction
Gartner Peer Insights is a free peer-review and rating platform designed for enterprise software and services decision makers. Nearly every category of IT software and service is listed, each with a dedicated page where the leading vendors are displayed and can be reviewed and rated.
On a frequent basis, Gartner Peer Insights presents a Customers' Choice distinction to vendors that:
have their overall rating (out of 5 stars) equal to or higher than the mean rating for that market

receive 50 or more eligible customer reviews published during the previous one-year period
Customer reviews go through a strict validation and moderation process in an effort to ensure they're authentic. Reviews must also be representative of a broad mix of enterprise clients from different industries, company sizes, and deployment regions.
Additionally, for these awards, Gartner excludes reviews from companies with less than $50 million in annual revenue.
Ranking Disaster Recovery as a Service Solutions
In the DRaaS market, Gartner Peer Insights published 378 reviews and ratings in the 12-month period ending on September 30, 2019. With 80 reviews at an overall rating of 4.5 stars out of 5 stars, Acronis received an October 2019 Customers' Choice for Acronis Disaster Recovery as a Service.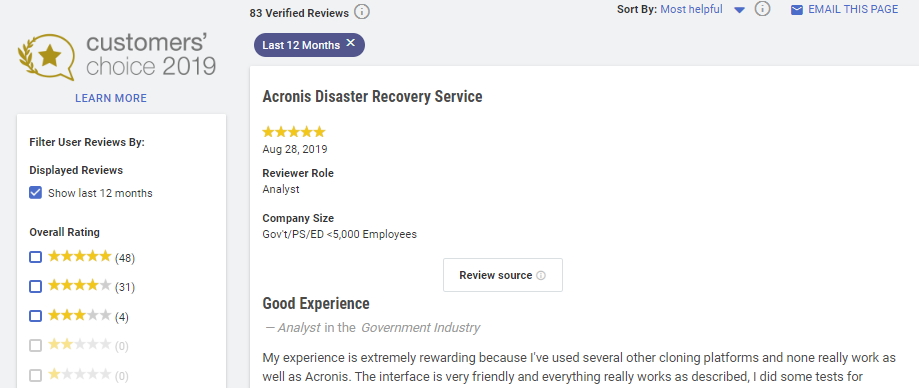 This marks the second time in two years that Acronis has earned a Gartner Peer Insights Customers' Choice honor. Acronis Disaster Recovery Service, Acronis Cyber Backup, and Acronis Cyber Backup Cloud were also recognized in the Data Center Backup and Recovery Solutions category in November 2018.
Gartner Peer Insights "Voice of the Customer" Report
Gartner's "Voice of the Customer" Report synthesizes Gartner Peer Insights' reviews for the previous year into insights for IT decision makers. The report complements any analyst research — particularly the Gartner Magic Quadrant — for a given sector, focusing on direct end-user experiences of implementing and operating a solution.
In addition to receiving the Customers' Choice distinction, Acronis earned the unique distinction of being the only company listed in the Customers' Choice Quadrant in this DRaaS Voice of the Customer report.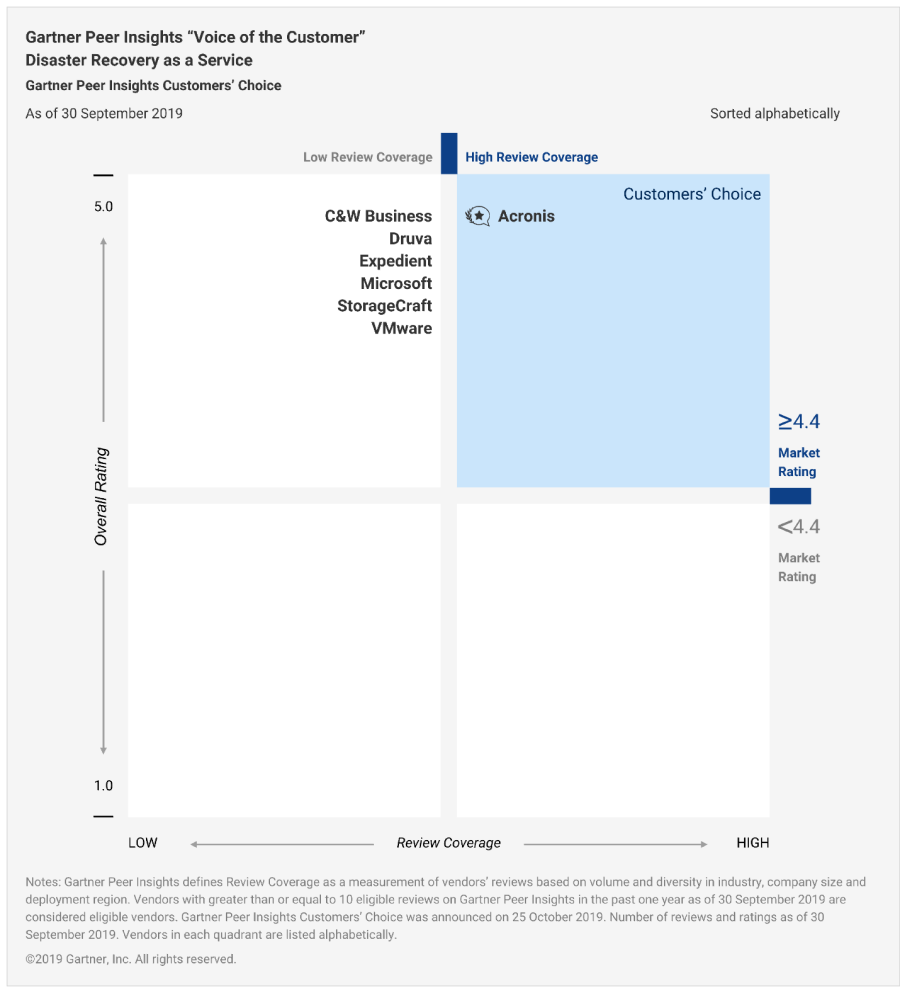 We think customers reveal the real story about Acronis. Acronis is honored and humbled by this customer recognition and is committed to delivering a DRaaS solution that our customers highly regard – one that is easy to use, cost-efficient, and offers complete cyber protection.
This graphic was published by Gartner, Inc. as part of a larger research document and should be evaluated in the context of the entire document. The Gartner document is available upon request from Acronis.
The GARTNER PEER INSIGHTS CUSTOMERS' CHOICE badge is a trademark and service mark of Gartner, Inc., and/or its affiliates, and is used herein with permission. All rights reserved. Gartner Peer Insights Customers' Choice constitute the subjective opinions of individual end-user reviews, ratings, and data applied against a documented methodology; they neither represent the views of, nor constitute an endorsement by, Gartner or its affiliates.
About Acronis
Acronis is a Swiss company, founded in Singapore. Celebrating two decades of innovation, Acronis has more than 1,800 employees in 45 locations. The Acronis Cyber Protect Cloud solution is available in 26 languages in over 150 countries and is used by 20,000 service providers to protect over 750,000 businesses.