para proveedores de servicios
The Google Cloud Platform (GCP) is a platform that delivers over 90 information technology services (aka products), which businesses, IT professionals, and developers can leverage to work more efficiently, gain more flexibility, and/or enable a strategic advantage.
How does the Google Cloud Platform work?
Cloud computing today allows hardware and software products to co-exist remotely (in data centers) and at-scale. Together these products work to deliver specific services. Users typically can access, manage, and use the tools they require via a web-interface – and that's true for Google Cloud Platform services as well.
In addition to service accessibility, users also gain flexibility and choice when working with Google Cloud Platform: Each service is available 'a la carte' so that users can leverage different resources to develop the infrastructure they need.
Once they have identified the Google Cloud Platform services that would benefit them, users simply create a "project" via the intuitive, web-based GCP Console. Better still, project owners can manage which team members or admins have access to which services.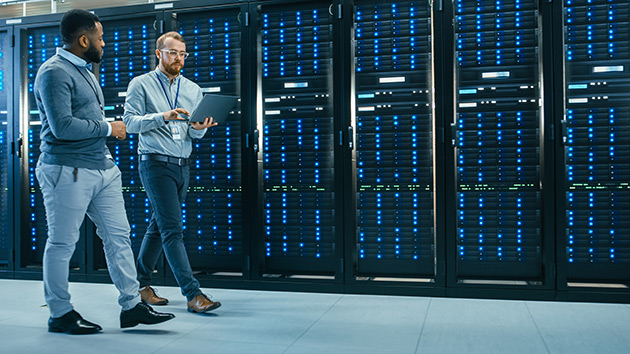 What types of tools are available via the Google Cloud Platform?
Google Cloud Platform services are robust. One way to navigate them is to consider which solutions are available based on your primary computing needs: infrastructure as a service (IaaS), platform as a service (PaaS), and software-as-a-service (SaaS).
• IaaS enables IT to run virtual machines without having to invest in or manage this computing infrastructure themselves. Often IT will opt for an IaaS solution when the workload is temporary, experimental, or subject to unexpected changes (e.g. sandbox projects).
• PaaS is the next step, building on the IaaS model. Customers opt for all of the benefits of IaaS, plus they get underlying infrastructure – like operating systems and middleware. Their vendor hosts and manages all of these elements.
• SaaS goes one more step – everything is available via the web: the provider hosts, manages, and delivers the entire infrastructure including applications. Users simply log in to access the resources the specific solution delivers, e.g. backup and recovery tools.
Another way to navigate Google Cloud Platform is by service-offering type. Core service categories include:
Compute

Networking

Storage and Databases

Artificial Intelligence (AI) / Machine Learning (ML)

Big Data

Identity and Security

Management Tools
Within these categories, top services include: