Acronis

Cyber Protect Cloud
The Google Cloud Platform (GCP) is a platform that delivers over 90 information technology services (aka products), which businesses, IT professionals, and developers can leverage to work more efficiently, gain more flexibility, and/or enable a strategic advantage.
How does the Google Cloud Platform work?
Cloud computing today allows hardware and software products to co-exist remotely (in data centers) and at-scale. Together these products work to deliver specific services. Users typically can access, manage, and use the tools they require via a web-interface – and that's true for Google Cloud Platform services as well.
In addition to service accessibility, users also gain flexibility and choice when working with Google Cloud Platform: Each service is available 'a la carte' so that users can leverage different resources to develop the infrastructure they need.
Once they have identified the Google Cloud Platform services that would benefit them, users simply create a "project" via the intuitive, web-based GCP Console. Better still, project owners can manage which team members or admins have access to which services.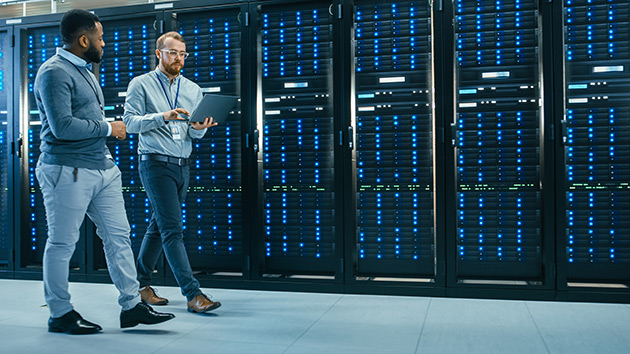 What types of tools are available via the Google Cloud Platform?
Google Cloud Platform services are robust. One way to navigate them is to consider which solutions are available based on your primary computing needs: infrastructure as a service (IaaS), platform as a service (PaaS), and software-as-a-service (SaaS).
• IaaS enables IT to run virtual machines without having to invest in or manage this computing infrastructure themselves. Often IT will opt for an IaaS solution when the workload is temporary, experimental, or subject to unexpected changes (e.g. sandbox projects).
• PaaS is the next step, building on the IaaS model. Customers opt for all of the benefits of IaaS, plus they get underlying infrastructure – like operating systems and middleware. Their vendor hosts and manages all of these elements.
• SaaS goes one more step – everything is available via the web: the provider hosts, manages, and delivers the entire infrastructure including applications. Users simply log in to access the resources the specific solution delivers, e.g. backup and recovery tools.
Another way to navigate Google Cloud Platform is by service-offering type. Core service categories include:
Compute

Networking

Storage and Databases

Artificial Intelligence (AI) / Machine Learning (ML)

Big Data

Identity and Security

Management Tools
Can you use a Google Cloud Platform service, like Google Cloud Storage, while leveraging another solution?
Service integrations can make powerful tools even more robust. That's why niche vendors and hyperscalers like Google look to partner with each other – to expand their reach and deliver more value to their customers. Consider this Google Cloud Platform integration:
Leading cyber protection and hybrid cloud storage vendor, Acronis, delivers easy, reliable, efficient, secure, and private solutions to more than 5 million consumers and 500,000 businesses worldwide. Acronis' backup as a service solution – Acronis Cyber Backup Cloud – is integrated with Google Cloud Storage in order to deliver a truly flexible cloud infrastructure, which IT service providers require. By leveraging native Google Cloud Storage integrations with Acronis, customers can:
Comply with business requirements via improved office-to-cloud internet connectivity

Predict storage costs, with one per-GB fee that includes storage, solution management, egress, and backup and software licensing

Meet industry standards, like the EU's General Data Protection Regulation (GDPR) and vertical-specific requirements

Follow the 3-2-1 rule of backup, so data can always be recovered

Get lightning-fast recovery, by leveraging Google Cloud Platform's robust and extensive global network
In this way, Google Cloud Platform services can extend its impact and enrich other niche solutions that benefit customers.
Does Google Cloud Platform offer certifications?
While GCP is designed to be user-friendly, certain Google Cloud Platform certifications can help you work more efficiently, demonstrate technical expertise, and boost your career. There are three primary tracks:
Associate Certifications – This track is task-oriented and intended for cloud novices to get their feet wet with core Google Cloud Platform technology. This certification can open doors to new professional-level certifications and opportunities.

Professional Certifications – If you've been in the industry for a few years, you may want to consider hands-on Google Cloud Platform courses. You'll gain advanced design and implementation skills based on the job/role you have (or wish to have). Tracks include: cloud architecture, data engineering, cloud developer, cloud network engineering – and beyond.

Google Workspace Certification – With this track, Google Cloud Platform expands its reach to anyone using Google Workspace. For example, project managers and executive assistants who need to use the core Google Workspace tools and services regularly would benefit from this Google Cloud Platform certification.
Google Cloud Platform Pricing
Google boasts no up-front costs, pay-as-you-go services, and no fees for termination. In addition, Google offers pricing discounts and delivers innovations like rightsizing. Customers can also leverage a pricing calculator via their website. This tool helps customers anticipate costs. Meanwhile a total cost of ownership (TCO) tool is available to help estimate costs between Google Cloud Platform vs. AWS.
Pricing varies by individual service, so you'll also want to look across the platform at each respective offering and evaluate prices accordingly.
Comparing the big three: Google Cloud Platform vs. Microsoft Azure vs. AWS
Since Google Cloud Platform delivers so many different services, you want to be sure that when you're comparing popular services like Google Cloud Platform vs. Microsoft Azure, or Google Cloud Platform vs. AWS that you aren't comparing apples to oranges. Each organization has different priorities, and how big you are and how fast you are growing will have a tremendous impact on your IT needs and budget.
Here's a quick overview of some key differentiators between the leading cloud platform providers: Google Cloud Platform vs. Microsoft Azure vs. Amazon Web Services.
About Acronis
Acronis is a Swiss company, founded in Singapore. Celebrating two decades of innovation, Acronis has more than 1,800 employees in 45 locations. The Acronis Cyber Protect Cloud solution is available in 26 languages in over 150 countries and is used by 20,000 service providers to protect over 750,000 businesses.