pour les fournisseurs de services
We have come a long way with backup and data protection — from backing up to floppies, external drives, CDs, Blu-ray, flash drives, SSD drives, and now to the cloud. Today, online backup (often referred to as cloud backup) is a fast-growing way to protect your personal computers and mobile devices.
However, many consumers are unclear as to the benefits of online backup services and why they would choose them over local backups such as high-speed solid state (SSD) external USB disk drives. Let's start by defining what we mean by backup, and later explain how file sync and share solutions are not backup.
Backup software creates one or more copies of the data on your digital devices in case your original data is lost or damaged. Different backup solutions protect different kinds of data and different combinations of devices. For example, some solutions back up only certain devices, such as your PC and Mac, but do not protect your mobile devices. Other backup solutions can protect all your devices. Some backup solutions for PCs and Macs only back up your files and folders, while other solutions back up everything by taking a snapshot of the entire hard disk. This is called a full-image backup.
Before we can describe online or cloud backup, let's explain the cloud. The cloud is a catch-all phrase used to describe a physical infrastructure — a network of secure computers and storage located in a data center that is owned and operated by a cloud provider. There are many clouds – both publicly and privately owned. And, there are many cloud providers — both large and small companies — which include cloud giants such as Amazon and Google, mid-sized providers such as Acronis, and small organizations that provide cloud services to companies or individuals in specific regional or local geographies. Regardless of size, a cloud provider's infrastructure can be made available for a fee to other companies and individuals to securely run applications, back up data, and store data. These services are variously described by the industry as Infrastructure as a Service (IaaS), Software as a Service (SaaS), or Platform as a Service (PaaS). One advantage to using these cloud services is that companies and individuals do not need to invest in their own hardware or manage technical issues — such as configuring hardware, loading software, securing data. Consequently, time commitment and costs are lower. With online backup, you do not need to buy an external hard drive or flash drive to store your backups, but instead store your backups in a cloud infrastructure over a network connection.
What Online Backup is NOT
Dropbox, OneDrive, and Google Drive have been widely adopted by both businesses and individuals. These are file sync and share solutions (FSS) that let you centrally manage, share, and collaborate on documents or files in a cloud environment using any device and browser. FSS solutions are useful if you want to collaborate and share a document for others to view or edit. FSS is also a more practical way to send files that are too large for email. While valuable in many circumstances, FSS solutions such as Dropbox, OneDrive, and Google Drive are not backup solutions. While you can place files in Dropbox cloud storage, for example, and they will remain there until you remove them, these solutions do not have any of the functionality you need to easily and safely back up your computer. FSS solutions do not back up your data on a user-defined schedule, do not continuously update the files you store in FSS as changes are made to your live data, and do not offer any "must-have" features for online backup protection in 2021 that we discuss below.
The Benefits of Online Backup
In addition to eliminating costs associated with additional hardware, online backup is safe, convenient, and provides "anywhere access." Online backups are safe because your backups are not stored in a location close to your computer. If a flood or fire destroys your computer, chances are your local backups could be destroyed too. Online backup is also convenient because you can back up your data automatically whenever you have internet access — and recover it too. This eliminates the "OMG moment" when you wonder when you backed up last. With online backup, data can be backed up to a safe, remote location as it is saved to your computer. Finally, you can backup, have access to, and recover your data anywhere you have an internet connection. For example, you are on vacation and your laptop fails. Instead of waiting to get home to access your data stored on a local backup drive, you can use another computer to view your data or even download your data to your repaired or replacement laptop.
However, there is one important caveat with online backup. While online backup is less expensive, safer, and more convenient that backing up to a local drive, it is just one backup copy. One backup copy does not guarantee total protection. Most data protection experts recommend the 3-2-1 rule of backup:
3 Maintain three copies of your data
2 across two media
1 with one backup copy located offsite
The best "all-in-one" backup software provides both on-line backup and local backup capabilities. This is known as "hybrid backup" or "dual-protection."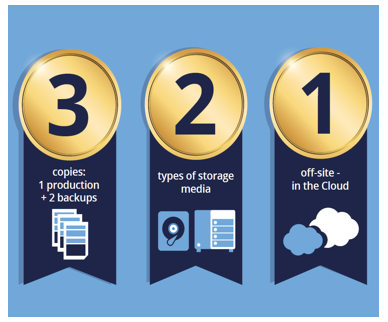 Cloud backup software comes in all shapes and sizes. Some providers simply offer online backup while other providers offer both online and local but you must purchase separate products. Not only does hybrid backup help you meet the 3-2-1 rule of backup to guarantee protection of your data, it also simplifies data recovery. For example, if you only need to recover one file that you accidentally deleted, it may be faster to recover that file from the cloud rather than waiting until you can physically access a backup drive located elsewhere. However, if you need to recover a lot of data — even all your data — it may be better to recover that from your local backup. Having the flexibility for both kinds of backup keeps things convenient and safe. Acronis True Image provides the best of both worlds — a hybrid of local and online backup that absolutely ensures your data is not only fully protected, but always accessible.
Acronis True Image – 12 Critical Online Backup Features
Acronis Cyber Protect Home Office is the most advanced data protection software that you can purchase and it also includes these 12 critical online backup features to ensure your backup is fast, easy, and complete.
Protect All Family Devices
Most households have multiple devices — more than one computer — a combination of device types — a computer, laptop, iPhone, etc. — and a combination of different brands — a Mac and a PC, an iPhone and an Android. Acronis True Image protects all these device types and brands.
Web Access from Any Device
Always have access to the files you back up to the cloud from any device. Never again will you need to return to your home or office to pick up a device to get access to your files, folders, photos, or other data.
Full-Image Backup and Recovery
Acronis True Image is the only backup and recovery software that offers full-image backup. This means that your operating system, applications, history, preferences, photos, files, videos, bookmarks, all settings and customizations including license keys and passwords — everything — is backed up. This makes it easy to recover if your computer fails, is stolen, or if you are a victim of malware or ransomware. Since everything is backed up, you can quickly and easily recover to bare metal and a fully bootable state.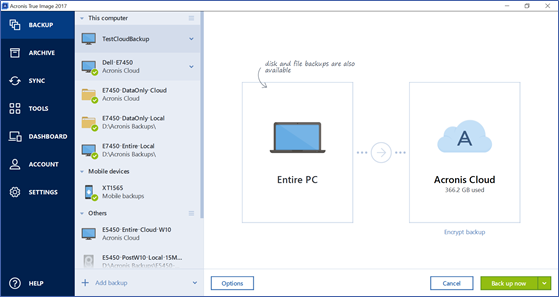 File and Folder Backup and Recovery
Even though Acronis True Image backs up your entire disk, you can still recover a single file or folder. Can't remember where you stored a file? Acronis lets you search in local and cloud backups to quickly find and recover exactly what you need — no more and no less!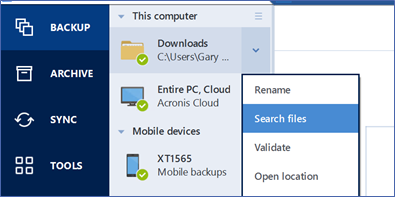 Search a Backup on a Local Drive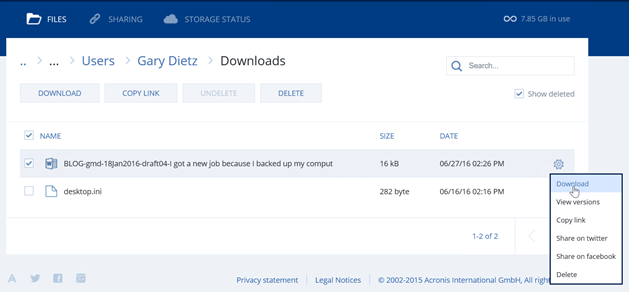 Search a Backup in the Cloud
Wireless Mobile Device Backup to Windows
When your mobile device is in the same Wi-Fi network as your PC, the backup starts automatically. Just scan a QR code from Acronis True Image on a computer screen and you are all set.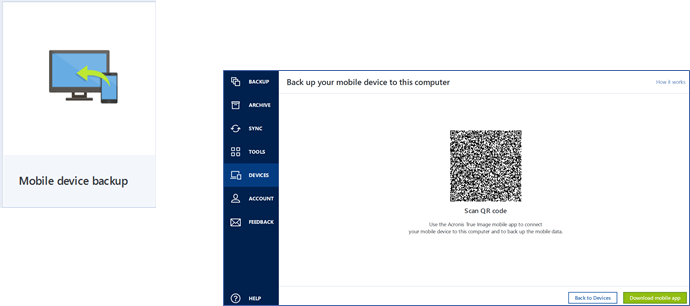 Configure backups and review status for any computer or mobile device from any location at any time.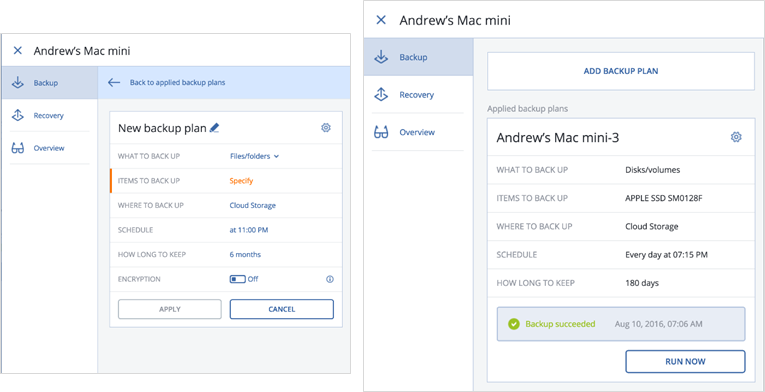 Acronis True Image makes your life easier because you can save space by securely archiving older files to the cloud (and to local drives too). Once archived, you can still easily access these files via Windows Explorer, Mac Finder, or a web browser.
Acronis True Image performs backup operations in the background while your system is running. It does not affect performance so you can continue to work during backups.
Schedule as many different backup plans as you need. Schedule full backups on a daily or weekly basis, while backing up certain folders more frequently — or even continuously. Configure backups to multiple destinations for better protection.
Encryptions and Passwords
It is important to encrypt your data on your computer before sending it to the secure cloud. This ensures maximum privacy and keeps your data safe.
Acronis True Image provides the ability to select how many versions of files you want to keep and for how long you want to keep them. (The default is 6 months and 20 versions.) Other solutions limit your versions or retention time.
Why You Need Online AND Local Backup
Gone are the days of local backup only. To make sure your computers and mobile devices — and that of your family or small office team — are fully protected, you need the combination of local and online backup, a hybrid backup solution such as Acronis True Image, the fastest, easiest, and most complete data protection solution you can buy. Interested in trying Acronis True Image yourself? Buy now or click here for a free trial.