Other languages available:
日本語
When Acronis developed the concept of cyber protection — the integration of data protection and cybersecurity — it was in response to a rapid increase in both the sophistication and volume of cyberthreats. Today's attack campaigns deliberately target data backups and disable backup agents, placing MSPs and their clients at considerable risk. Incorporating comprehensive security at every stage is no longer optional.
This summer, Acronis commissioned AV-TEST — the renowned independent evaluator of antivirus and security solutions — to conduct a private comparison of popular endpoint security solutions that primarily focus on the MSP market. The results showed that Acronis remains a top-tier choice for service providers, with unparalleled threat detection/prevention capabilities and a minimal false-positive rate.
AV-TEST performed an evaluation of comparable security offerings from Acronis (Acronis Cyber Protect 15), Fortinet (Forticlient 7), N-able (Managed Antivirus 6.6), and Webroot (SecureAnywhere Business 9). The test was carried out on Windows 10 Professional (English), 64-bit. All tests were performed with an active internet connection and the latest available solution updates installed.
The two test categories used in this evaluation, Protection and Usability, are both part of AV-TEST's standard certification assessments. Together, they describe each solution's capacity to identify and block modern cyberthreats, as well as their ability to do so without incorrectly flagging or impairing benign processes.
The best real-world protection
During the Protection test, each solution's ability to detect and block cyberthreats is evaluated. The best gauge of an endpoint security solution's efficacy is how it performs in a real-world setting.
Each product had to first defend a Windows-based system against 173 dangerous URLs accessed through a web browser. Modern cyberthreats are often delivered through malicious links, spread across websites and via email.
Acronis performed very well here, detecting and stopping every test case from doing harm to the system. Only two threats were not completely eliminated, with some malware fragments remaining present — still, the danger was neutralized even in these cases.
Acronis achieved a score of 98.84%. The software from Fortinet and N-able scored acceptably with 97.11%; each failed to protect against five test cases. Webroot's solution only managed to protect against 155 of the 173 malicious URLs, earning a detection rate of 89.66%.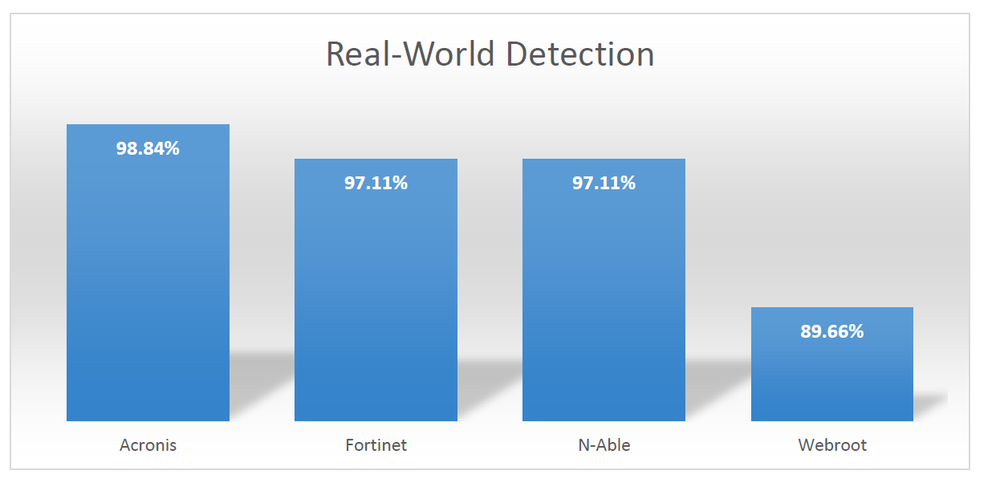 On-demand prevalent malware detection is also important because it uses malicious portable executable (PE) files that are not older than two weeks. These represent active threats that could easily infect your system right now.
During the second portion of the test, 4,577 malicious files — all of which had been reported as widespread and prevalent — were automatically scanned to determine each solution's static detection rate. AV-TEST specialists then collected all undetected files and executed them to test for dynamic detection. Finally, the scan was repeated to ensure no file was missed initially.
Acronis and N-able each achieved a perfect 100% score, successfully detecting all 4,557 files. Fortinet and Webroot had lower detection rates of 99.98% and 99.82%, respectively.
A minimal false-positive rate
The Usability assessment determines whether these endpoint security solutions set off any false alarms. This test is divided into different parts — a static false-positive evaluation against predetermined test sets, and a dynamic false-positive evaluation that simulates real-world user behavior.
For the static test, three different filesets are used:
1. Clean files from Windows and Office installations (575,717 files)
2. Clean files from typical business software installations (24,912 files)
3. Clean files from third-party software (318,120 files)
Any false positives occurring from the first fileset would be hugely problematic, as this behavior could harm the overall stability of the system in a real-world setting. False positives from the other two sets, while not ideal, are typically not a critical issue.
Each solutions tested here had a strong showing across the first two filesets, with no false positives detected. In the (less-critical) set of third-party software, Acronis flagged one file incorrectly, while Fortinet and Webroot had five and seven false positives, respectively.
In the dynamic test, typical user interactions are simulated by downloading clean software from the internet, installing it, and using it. During these actions, the solution is monitored to determine whether it issues any false alarms — or even blocks certain legitimate actions.
Two different test sets are used here:
1. "High Priority" set containing widespread software such as Adobe Reader, Google Chrome or Java (total was 19 different programs)
2. "Standard Priority" set containing any other software (44 different programs)
Acronis, N-able, and Webroot scored perfectly here, with absolutely no false warnings or other problems encountered. Fortinet incorrectly detected one installer.
A clear leader in cyber protection
Acronis Cyber Protect 15 scored best in the Protection and Usability tests. These results are outstanding — and according to the tester, would undoubtedly be sufficient to earn the coveted AV-TEST CERTIFIED seal of approval in an official assessment.
Threat detection and prevention rates should be a primary concern for any MSP. To use any solution that fails to identify numerous modern cyberthreats is to play with fire — it only takes one such compromising event to devastate a business. If that successful attack is against the service provider themselves, it can cascade into severe trouble for each of their clients downstream.
For more information on this evaluation by AV-TEST, read the full report. To get started with the leading choice in comprehensive endpoint security for service providers, sign up for your 30-day free trial of Acronis Cyber Protect Cloud.
About Acronis
Acronis is a Swiss company, founded in Singapore. Celebrating two decades of innovation, Acronis has more than 2,000 employees in 45 locations. Acronis Cyber Protect solution is available in 26 languages in over 150 countries and is used by 18,000 service providers to protect over 750,000 businesses.