Protect your data from any threat with a single solution

Easy, efficient and secure cyber protection
Deliver easy, efficient and secure cyber protection as a service
By running Acronis Cyber Protect in the Acronis Cloud, you can deliver advanced cyber protection to every endpoint in any location – making it ideal for today's mobile and remote work environments.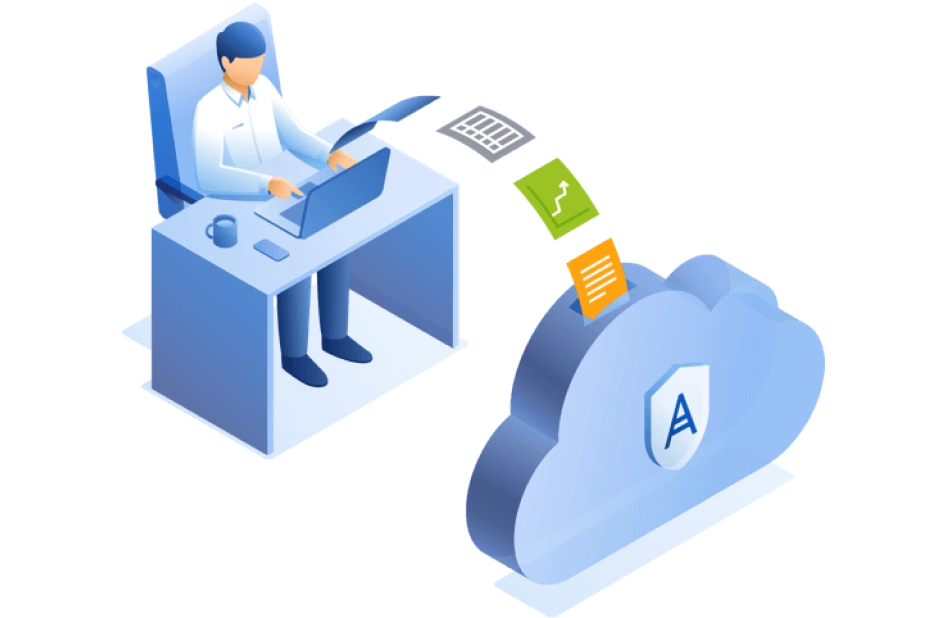 Business continuity with cloud disaster recovery

Cloud-to-cloud backup of Microsoft 365 data

Secure offsite copies in Acronis Cloud Storage
Learn more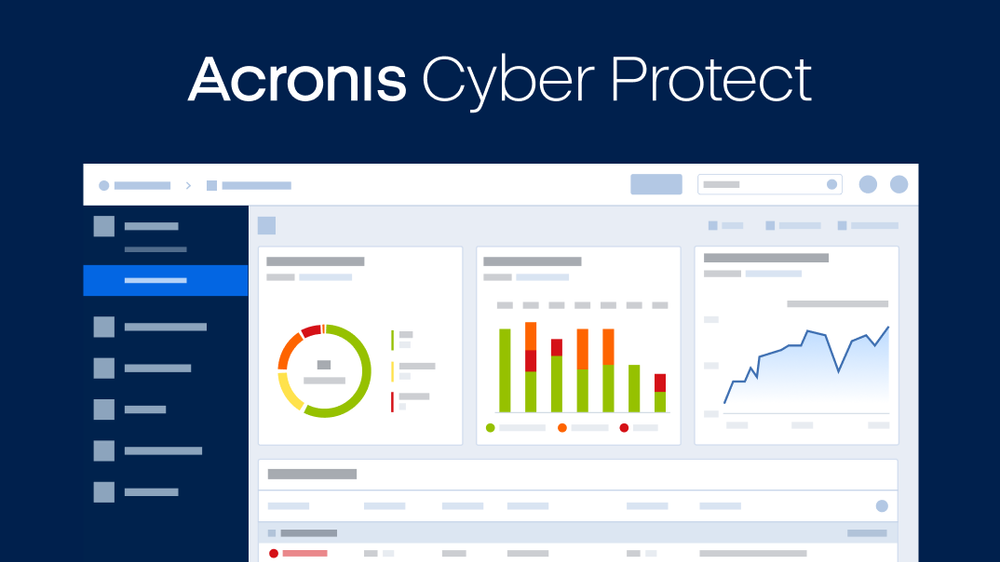 See Acronis Cyber Protect in action
Explore how integrated cyber protection eliminates complexity challenges, delivers better protection against today's cyberthreats and maximizes efficiency by saving you time and money.
Live demo webinar
June 15, 2023 at 11:00 a.m. CEST

Close vulnerabilities and protect your data

Join the webinar to explore how the integration of next-generation cybersecurity, reliable backup, recovery and enterprise protection management can increase the security of your data, improve team pr ...

June 28, 2023 at 16:00 p.m. CEST

Maximize OT Server Uptime in Factory Floor Environments

Learn how to defend your factory floor uptime with the latest strategies for quickly restoring failed OT servers to online operation and defend them against modern cyberthreats like ransomware.

July 13, Thursday, at 11 a.m. CET

Discover the power of integration

Traditional strategies and solutions weren't designed to combat today's cyberthreats. Acronis has a new approach that protects your company and keeps your team productive.
More webinars
Complete protection for modern-day threats
Anti-malware and antivirus

Proactively protect your data, applications and systems from advanced cyberattacks. With Acronis Cyber Protect, you gain real-time protection with MI-based static and behavioral heuristic antivirus, anti-malware, anti-ransomware and anti-cryptojacking technologies.

Fail-safe patching

Eliminate the risk of bad patches rendering a system unusable. Before patches are implemented, an image backup is automatically performed – enabling you to easily restore and roll back to a working state if there is an issue with a patch.

Forensic backup

Simplify future analysis by collecting digital evidence – like memory dumps and process information – from disk-level backups. With Acronis Cyber Protect's Forensic Mode, you'll manage compliance requirements and run faster internal investigations.

Safe recovery

Prevent reinfection via integrated anti-malware scanning and malware removal during the recovery process.

Continuous data protection

Safeguard new data as it's created. Acronis' agent monitors every change made in the listed applications and continuously backs them up so recent changes aren't lost if the machine needs to be reimaged.

Global threat monitoring and smart alerts

Benefit from the global network of Acronis Cyber Protection Operation Centers (CPOC) by receiving real-time alerts on malware, vulnerabilities, natural disasters and other global events that may affect data protection.

Data compliance reporting and data protection map

Ensure compliance reporting by getting detailed information about stored data and use automatic data classification to track the protection status of important files.

Global and local allowlists from backups

Scan backups with advanced anti-malware technologies (MI, behavioral heuristics, etc.) and allowlist your organization's unique applications to avoid future false positives.
Industry-proven protection
Anti-Malware Testing Standards Organization member

VirusTotal member

Cloud Security Alliance member

Anti-Phishing Working Group member

Microsoft Virus Initiative member
100% detection rate

In the VB100 certification test, Acronis detected 100% of malware and had 0% false-positives.

0% false positives

In the AV-Comparatives test, Acronis was one of only four solutions with zero false-positives.

100% high performance

In all eight performance categories for AV-TEST, Acronis demonstrated either a Very Fast or Fast performance rating.
Cyber Protect
Protect your data from any threat
Why Acronis Cyber Protect? Hear it from our customers
Case study

BinHexS achieved an overall saving of 30% by implementing Acronis Cyber Protect

Acronis Cyber Protect enables BinHexS to concentrate the protection of its infrastructure through a single integrated platform.

Case study

Manchester City Football Club has all data, applications, and systems efficiently backed up and ready to be restored with Acronis Cyber Protect

Acronis is Manchester City Football Club's cyber protection partner, providing data backup, protection, and storage capabilities.

Case study

BDR Pharmaceuticals reduces CapEx by 30% and OpEx by 12% with Acronis Cyber Protect

The pharmaceutical company dramatically improves RPO and RTO metrics while reducing bandwidth requirements by 10%.
Sorry, your browser is not supported.
It seems that our new website is incompatible with your current browser's version. Don't worry, this is easily fixed! To view our complete website, simply update your browser now or continue anyway.