Cyber Protect Home Office
formerly Acronis True Image
We all know that certain photos are irreplaceable and priceless. That moment you captured will never come again, so whether you're a proud parent with precious family memories, an amateur shutterbug building a portfolio, or a professional photographer caring for client projects, you need online photo storage that you can rely on.
While many people turn to the iCloud Photo Library for their online photo storage solution due to convenience, it has several shortcomings. Unfortunately, too many people discover those limitations when it's too late. If you're serious about online photo storage, you need to know the five reasons the iCloud Photo Library is not the best choice.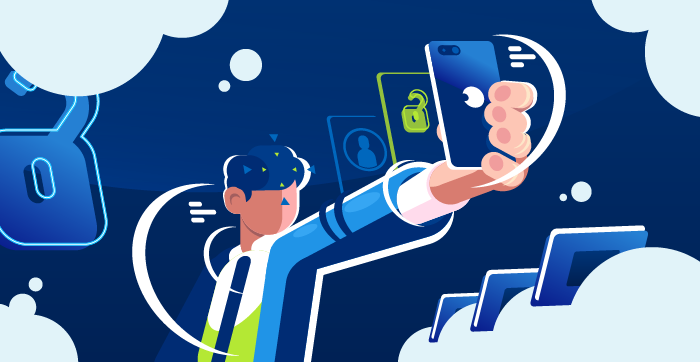 5 Reasons iCloud Photo May Not Be The Best Choice For Your Online Photo Storage
Security of the online photo library. When it comes to discussing how secure and private the iCloud Photo Library is, look no further than the experiences of Jennifer Lawrence and Scarlet Johansson. They were two of the celebrities whose personal (and several risqué) photos were hacked in 2014. The iCloud leaked photos found their way into the tabloids, and demonstrated the vulnerability of the iCloud. And while those hacks might be newsworthy, the greater concern lies behind the headlines. Apple has been lauded recently by some privacy experts for fighting government attempts to unlock individual iPhones. At the same time, the company has kept the ability to access any iCloud content … and has occasionally provided those files to government officials. If privacy and security is a strong consideration when thinking about how to backup iPhone content, Apple's willingness to decrypt what is in an iCloud backup – including iCloud photos, texts, emails, etc. – should concern you.

Switching from iPhone to Android. If you're thinking of moving to Windows or an Android device and you have concerns about accessing your iCloud photos, you are not alone. With different hardware and software underpinning each platform, it is understandable there are questions about accessing an iCloud photo library when changing platforms. In fact, two of the most common questions are how to view photos on iCloud via an Android or and how to move iCloud photos to Android devices. The best – and easiest – option is to have a cloud-based online photo storage that supports platforms of all types.

Control of content on new devices. Have you ever been preparing for a move, started packing and realized you've collected too much stuff? Moving to a new house is a great time to jettison old things you no longer need. Changing devices gives you a similar opportunity to simplify. While you might want a lot of the pictures stored in your iCloud Photo Library, you may not want to recover everything to your new smartphone or tablet. During a new device installation, iCloud includes everything from your online photo storage.

The hassle of multiple devices. Most households today have an average of 5.2 devices, which typically means families use multiple operating systems. A native backup service like Apple's iCloud is built for that specific platform, which makes incorporating other devices more difficult. That is why native programs often require the user to pay for cloud backup of each device platform separately. For a family storing pictures taken on multiple devices, that can become very expensive very quickly.

You get what you pay for. There can be additional limits to native backup programs like iCloud, including the costs and quality of the backup. When it comes to online photo storage, you want more space … not less. Yet the free plan for iCloud photo storage is limited to 5GB. In a more realistic scenario, a family with five mobile devices would likely need iCloud subscriptions with 200GB of storage for each. That would cost nearly $180 per year.
Clearly, just because you have easy access to something doesn't mean it necessarily fits your needs. For things that are irreplaceable, like the memories that you've captured throughout your life, it's more important to keep them safe and secure … especially when there's an affordable way to do so.
Acronis Cyber Protect Home Office: Complete Online Photo Backup
If you want a complete, secure and reliable photo library, you should consider Acronis Cyber Protect Home Office, the number one personal backup software. For around 25% of Time Capsule's initial cost, one Acronis Cyber Protect Home Office license covers that same family's needs, including backup of unlimited mobile devices and access to the secure Acronis Cloud. Because it's not platform-specific software, Acronis Cyber Protect Home Office supports Mac, Windows, iPhone and Android (and soon Windows smartphones).
What does all that mean in the real world? Not only do you get top-quality protection of your pictures, you have quick, convenient access to your photo library at all times. Want to use your smartphone to show a picture that's on your home PC? No problem.
Keep in mind, Acronis Cyber Protect Home Office backs up more than just your photos. So instead of using multiple backup solutions for your important documents, operating system and photos, Acronis True Image provides an easy-to-use, consolidated way to back up, manage and access your digital life.
Whether you are preserving your family's pictures or looking for online photo storage for your growing portfolio, you'll want a backup solution that will keep your digital files safe, secure and accessible. Knowing the limitations of a native backup program like iCloud and understanding there are flexible options like Acronis Cyber Protect Home Office available, you can consider your personal needs to find the online photo storage solution that works best for you.
About Acronis
Acronis is a Swiss company, founded in Singapore. Celebrating two decades of innovation, Acronis has more than 2,000 employees in 45 locations. Acronis Cyber Protect solution is available in 26 languages in over 150 countries and is used by 18,000 service providers to protect over 750,000 businesses.