formerly Acronis Cyber Backup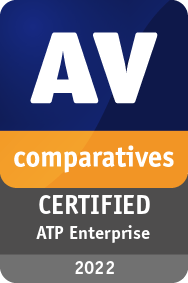 Acronis Cyber Protect with the Advanced Security pack successfully passed the rigorous test criteria established by AV-Comparatives for their Advanced Threat Protection test, and was certified as an advanced threat prevention solution recommended for use by any business, including enterprise-level companies.
The AV-Comparatives certification for Advanced Threat Protection is given to enterprise products that block at least half of attacks used in the Advanced Threat Protection Test, without blocking non-malicious operations.
We are pleased to receive this certification. However, some parts of the methodology are questionable, as are the overall results for Acronis, and we would like to comment on these.
The AV-Comparatives ATP test focuses only on the initial stage of the cyberattack (until a remote connection is established with the attacker's server), but not simulating real impact on the system (e.g. data encryption or exfiltration).
From our point of view, this doesn't reflect the product value to the actual user. The most important thing for companies is that their data is not encrypted or stolen, nor other harmful actions executed. Simply establishing a connection to the command-and-control center doesn't mean that actual harm has been suffered.
AV-TEST, another renowned evaluator, uses much more realistic and complete attack scenarios. They simulate eight MITRE ATT&CK tactics, while AV-Comparatives simulated five tactics only.
Acronis has great results in other tests
Apart from the AV-Comparatives evaluation, Acronis Cyber Protect received top results in the Advanced Threat Protection test earlier this year, scoring 40 out of 40 possible points.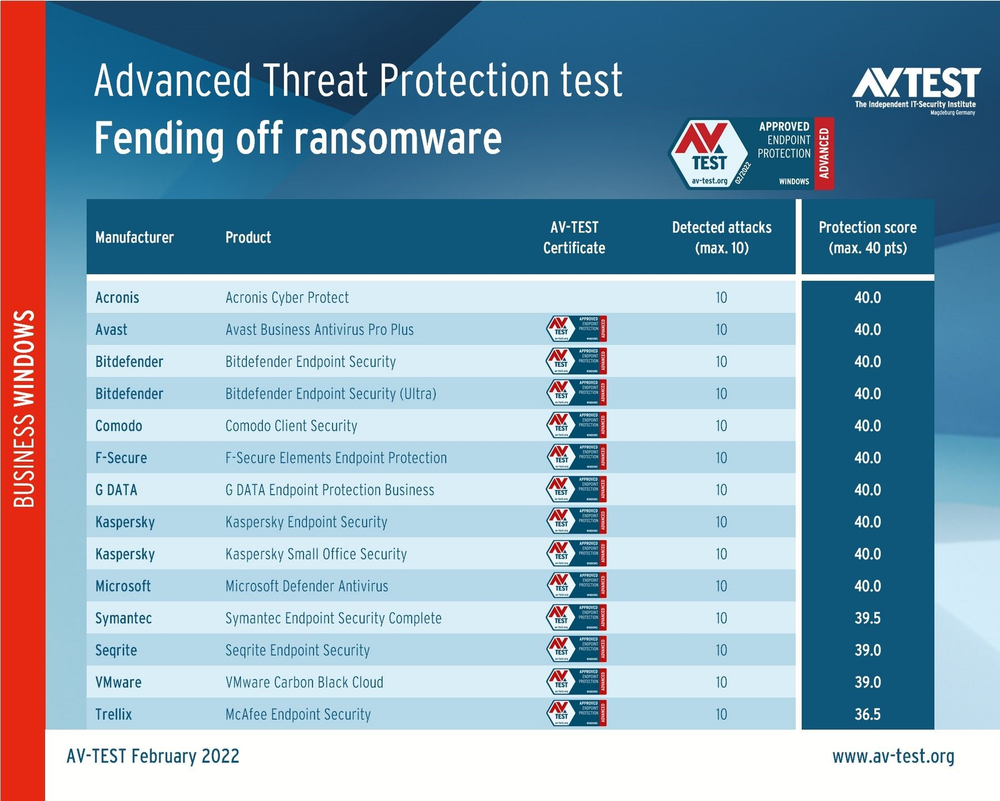 Acronis Cyber Protect is continuously certified and has passed tests including Virus Bulletin's VB100 and ICSA Labs' Anti-malware assessment, along with others.
Another test on Advanced Protection is expected to be published in a couple of weeks — we will update this article accordingly as soon as it's published.
About Acronis
Acronis is a Swiss company, founded in Singapore. Celebrating two decades of innovation, Acronis has more than 1,800 employees in 45 locations. The Acronis Cyber Protect Cloud solution is available in 26 languages in over 150 countries and is used by 20,000 service providers to protect over 750,000 businesses.