Cyber Protect Home Office
formerly Acronis True Image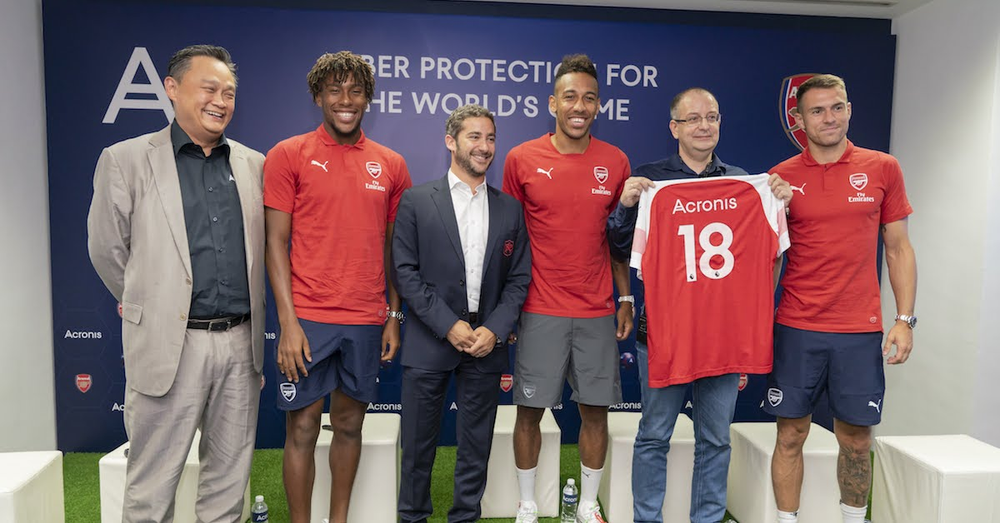 Acronis is thrilled to begin a new partnership with one of the most successful and recognized teams in the world of sport: Arsenal Football Club.
We've talked frequently about how, at the highest levels of competition, data can be the difference between winning and losing. That's why teams in data-intensive sports like Formula 1 and Formula E racing rely on Acronis' solutions.
But the advantage of data extends beyond motorsports, and Arsenal is at the cutting-edge of its use in soccer (aka football to everyone overseas).
In this ever-advancing digital age, analysis of your own team and your competitors is more important than ever in order to gain the upper hand. This is particularly true in soccer. To develop a winning game plan, teams record and examine a variety of details, including the number of passes within certain areas of the pitch, touches in the opponent's box, and goals scored off set pieces – all of which must be meticulously studied before, during and after every match.
In professional soccer, Arsenal Football Club stands at the forefront of data use, using data to improve its performance both on and off the pitch. Club leaders know that data needs to be protected, and that is where the partnership with Acronis comes in.
Protecting valuable digital assets
As Arsenal's Official Data Backup Partner, Acronis will provide data protection to the club's growing IT infrastructure – helping the club deal with growing volumes of data while ensuring the continuity of their operations.
With technologies and strategies that have been perfected during its 15-year history, the Swiss-Singaporean company will deliver easy, efficient, and secure data protection for all of Arsenal's data, applications and systems, including the team's Microsoft OneDrive and Office 365 accounts.
"We're delighted to welcome Acronis into our family of official partners," said Vinai Venkatesham, Arsenal's Chief Commercial Officer. "Acronis are world leaders in data backup services and their advanced technology will ensure the club's data is safe and secure. We look forward to working with Acronis and supporting them in their business growth plans."
Easy, efficient, and secure protection
Acronis' solutions deliver the superior performance that highly competitive teams seek because they are designed to protect files, apps and systems in any data-intensive environment. Earning the trust and respect of elite teams like Arsenal in soccer, Williams Racing in Formula 1, or the NIO Formula E Team is always a rewarding way to stress test those solutions in real-life situations.
"Arsenal FC has been a leader in data use," said John Zanni, President of Acronis, "which is why we are proud to be partnering with them. It shows that Acronis' technology is perfectly suited to high-pressure, digitally intensive environments – even those that are always on the road. We are confident this partnership will benefit Arsenal, Acronis, and all our partners and customers."
More than data protection: cyber protection
While Arsenal FC named Acronis its official data protection partner, the club will also have access to the anti-ransomware defense that Acronis integrates into all of its solutions.
As modern online threats continue to evolve, it is clear that cybercriminals are targeting backup files, backup software and backup agents – the tools that traditionally ensure the integrity of an organization's data. Acronis has fought back against this assault to ensure that all of its solutions – and the data they protect – are safe from cyberattacks. An artificial intelligence-based defense called Acronis Active Protection is built-in to its solutions, which actively monitors systems in real time for suspicious and malicious behavior to automatically detect and stop attacks.
This added level of protection transforms Acronis' innovative backup and recovery solutions, delivering total cyber protection.
An added benefit of the partnership
Both organizations will benefit from the new partnership, but so will many children in underserved communities around the world. That's because as part of the agreement, Arsenal Football Club will support the Acronis Foundation in its efforts to provide equitable education around the world by building schools in developing countries.
The Acronis Foundation was created earlier this year in honor of the company's 15-year anniversary. Because the company's mission is to collect, create and protect knowledge, the Foundation was established to support initiatives that stimulate education and protect knowledge around the world.
Dedicated to the future of data
The partnership with Arsenal is a clear win-win for the two organizations, one of many more Acronis hopes to establish moving forward. After all, a company that is committed to protecting all data, apps and systems needs to reach as many teams and groups as possible.
About Acronis
Acronis is a Swiss company, founded in Singapore. Celebrating two decades of innovation, Acronis has more than 2,000 employees in 45 locations. Acronis Cyber Protect solution is available in 26 languages in over 150 countries and is used by 18,000 service providers to protect over 750,000 businesses.