formerly Acronis Cyber Backup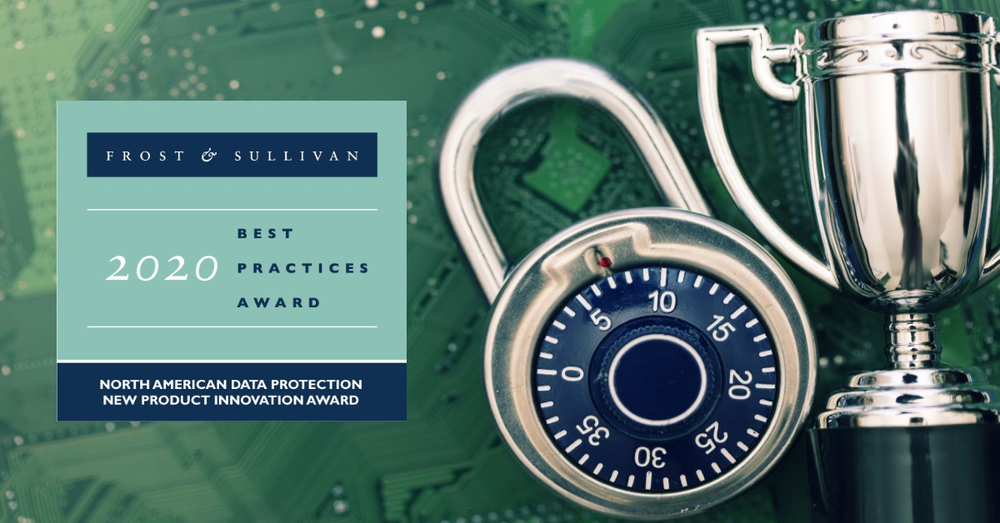 While Acronis develops its solutions to meet the needs of our partners and customers, given our organization's focus on innovation, it is nice to be recognized for our technological and industry advances too. That is why Acronis is honored that Acronis Cyber Protect recently earned Frost & Sullivan's 2020 New Product Innovation Award for Data Protection in North America.
Making that recognition even more satisfying is that our game-changing service provider solution scored a perfect 10 out of 10 on the benchmarking criteria of new product attributes and customer impact.
Frost & Sullivan's judging criteria
As detailed in the corresponding report, in considering Acronis Cyber Protect for the award, Frost & Sullivan looked at the challenges facing the industry. Acronis Cyber Protect was then assessed along seven criteria:
Criterion 1: Match to Needs
Criterion 2: Quality
Criterion 3: Innovations
Criterion 4: Positioning
Criterion 5: Customer Purchase Experience
Criterion 6: Customer Service Experience
Criterion 7: Brand Equity

Prime player in data management and endpoint protection
When looking at the market and Acronis overall, Frost & Sullivan explains, "Cloud-based cyber protection services that integrate backup and recovery, migration capabilities, security, and compliance into a single platform are an optimal way for businesses to safeguard data across more endpoints and locations than have ever been protected before. Acronis is quickly showing itself as a prime player in the data management and endpoint protection markets, with innovative products that integrate key features necessary to ensure the protection and leverage of corporate data."
Innovative data protection
Among the considered criteria, the third category of Innovations stood out, with the judges calling out eight separate capabilities that are integrated into Acronis Cyber Protect.
When analyzing Acronis Cyber Protect, Frost & Sullivan first comments that "[it is] one of the first integrated data protection and cybersecurity solutions on the market that combines data backup, disaster recovery, and restoration with AI-powered anti-malware, cybersecurity and endpoint management features such as vulnerability assessment and patch management, URL filtering, drive health control, and forensics capabilities for a single comprehensive cyber protection tool. In a time when many customers want a single pane of glass to manage their data, Acronis delivers an easy, efficient and secure integrated solution unlike others in the market. "
The reports continues, "Acronis Cyber Protect is a well-planned, well-engineered service that guarantees high levels of cyber protection for customers. The company has factored in several aspects of data protection, cybersecurity, and IT management currently unavailable within a single platform from competitors in the market. The result is a high-quality product that gives users a streamlined and efficient interaction with the service … integrating multiple service types within a single platform and providing functionality previously only available through separate services."
For more than 16 years, Acronis has earned its reputation as a market innovator by constantly delivering cutting-edge and forward-thinking solutions to our customers and partners. By consistently providing the cyber protection solutions they need, we know we are succeeding in our mission to safeguard their data, applications, and systems.
Yet it is tremendously validating to receive this award and read such comments from a prestigious research firm like Frost & Sullivan considering all of the effort and expertise that was invested in developing Acronis Cyber Protect.
To read Frost & Sullivan's full commentary on the award and Acronis Cyber Protect, you can download the full report here.
About Acronis
Acronis is a Swiss company, founded in Singapore. Celebrating two decades of innovation, Acronis has more than 2,000 employees in 45 locations. Acronis Cyber Protect solution is available in 26 languages in over 150 countries and is used by 18,000 service providers to protect over 750,000 businesses.