By Jeffrey J. Hardy, Global Solutions Marketing Manager, Acronis
No business is safe from ransomware
There was a time when small to midsized businesses (SMBs) were not a priority target for cybercriminals. For the most part, they focused on targeting larger enterprises because that is where the money was. These larger businesses could afford to pay a significant ransom to get their data back, whereas successful attacks on SMBs just didn't have the larger payouts.
Unfortunately, with cybercriminals using artificial intelligence (AI), machine learning (ML) and automation, the move SMBs have made to remote work, and the growth of endpoints that need to be managed, cybercriminals are targeting SMBs either directly or through supply-chain attacks.
In the previous blog post, we discussed the components of ransomware protection that are available on the market today. In this post, we will discuss why SMB clients can now afford ransomware protection.
SMBs need service providers to help them get safe
SMBs have limited IT budgets and cannot afford the set of solutions to fight ransomware, such as endpoint detection and response (EDR), data loss prevention (DLP) and disaster recovery (DR) and the in-house technical staff who have robust cybersecurity expertise. Moreover, these businesses need to focus their efforts and budget on their critical mission of delivering products and services, not fighting cyberattacks.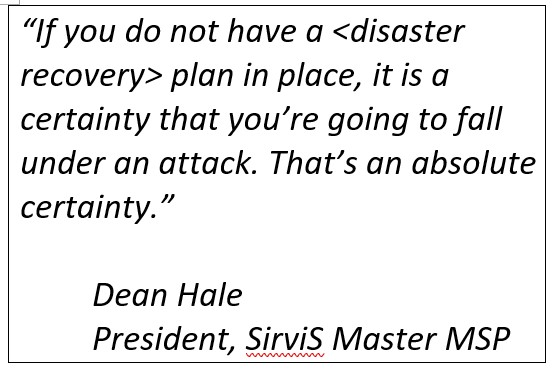 Staying protected is a complex and expensive process for smaller businesses because they need to use a plethora of tools to fight the cybersecurity battle. For example, 70% of businesses that utilize in-house cybersecurity staff have invested in more than five technologies in the last year alone, while 53% admit that the number of security tools is so burdensome that it adversely impacts security and increases risk.
But there is good news. As a service provider, you can offer your clients data protection services at an affordable price that is within their budget.
How MSPs can sell cybersecurity services that SMBs can afford
Offer attractive prices and reap improved margins
An MSP-optimized cyber protection platform like Acronis Cyber Protect Cloud delivers profitable backup, defense and recovery services. For example, you can provision and manage the solution via a single endpoint agent and console. Compared to point solutions, you can onboard new clients 20% faster. You can also realize up to a 25% better return on investment (ROI), faster time to value, and have fewer support tickets to manage. You will also see a noticeably improved performance of endpoints.
With Acronis Cyber Protect Cloud, you can also offer essential ransomware protection at no additional cost. The Active Protection component of the solution performs the behavioral-based detection of ransomware followed by termination and recovery and is included in the basic package. It's not an added-cost option.
You can also land one service with a client and then expand with additional services, such as anti-malware, email security, EDR, DLP and disaster recovery that is pre-integrated with best-of-breed data protection and endpoint management.
Leverage scalable pricing
Since Acronis is an MSP-focused vendor, you can also leverage scalable pricing resulting from economies of scale — the more workloads or seats you protect in total for all your clients, the less expensive it is per workload, making the software more affordable and providing you with higher margins.
Acronis designs their product packaging so that SPs can put together ransomware protection strategies that are profitable and affordable. But how you price and package your services is the key to success. For example, you can bill based on an hourly fee or flat fee. You can also implement an a la carte, per user or bundled pricing model.
According to experts, the most effective pricing model for cybersecurity services is the bundled pricing model, which includes a series of features, services and added benefits presented as a package. In fact, experts recommend that you offer a three-tier bundle strategy — a basic bundle, an intermediate bundle and an advanced bundle. See example below.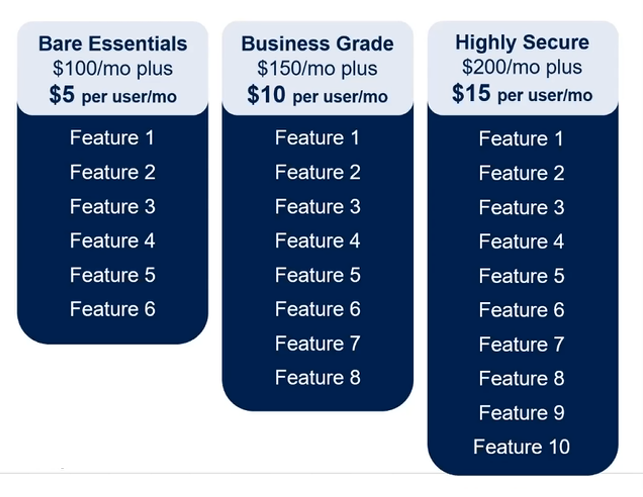 For example, the basic bundle can include backup, behavioral and signature-based detection and cache-based recovery while the business grade can include everything in the basic bundle plus email security and EDR. The highly secure bundle includes everything in the business grade bundle plus disaster recovery and DLP. Higher tiers support more devices per user, more support tickets and other additional services and features. This is, in essence, a hybrid of "per user" and "bundled" pricing models. This pricing strategy is a win-win for both the MSP and the SMB. It provides the SMB with an affordable cybersecurity service that can lessen sales resistance and make negotiating contracts easier because the client has a feeling of control.
More about Acronis Cyber Protect Cloud
Acronis Cyber Protect Cloud is an MSP-optimized cyber protection platform that empowers service providers like you to deliver all the necessary ransomware services your clients need at an affordable price while still providing high margins. It unites backup and disaster recovery, next-generation anti-malware enhanced with machine intelligence, and endpoint protection management in one solution. Integration and automation provide unmatched ease for service providers — reducing complexity while increasing productivity and decreasing operating costs.
All of the topics mentioned in this article — along with a discussion on decoy pricing — are examined in further detail in the on-demand webinar, Ransomware protection MSP clients want. If you are an MSP that is currently offering cybersecurity services or are planning to do so, this webinar is a must-watch. You can also get more information on Acronis offerings here.
Other references:
35 Alarming Small Business Cybersecurity Statistics for 2023
About Acronis
Acronis is a Swiss company, founded in Singapore. Celebrating two decades of innovation, Acronis has more than 2,000 employees in 45 locations. Acronis Cyber Protect solution is available in 26 languages in over 150 countries and is used by 18,000 service providers to protect over 750,000 businesses.