The managed service provider (MSP) market is at a record high and that growth shows no sign of slowing. In fact, the market will reach a global value of $282 billion by 2023. Of course, with this explosion of growth comes an explosion of competition. It's critical to differentiate your MSP business from your competitors. Fortunately, managed online backup services offer a simple, highly impactful way to stand out.
MSPs who make managed backup services a core part of their service offerings are better equipped to meet the needs of their current and future customers. Just as important – managed online backup services offer a number of benefits for MSPs too. These services help expand brand recognition, customer base, customer satisfaction, and revenue.
Still not sure if you should add managed backup services to your organization's services? Here are the top three reasons why your MSP business should sell managed online backup services.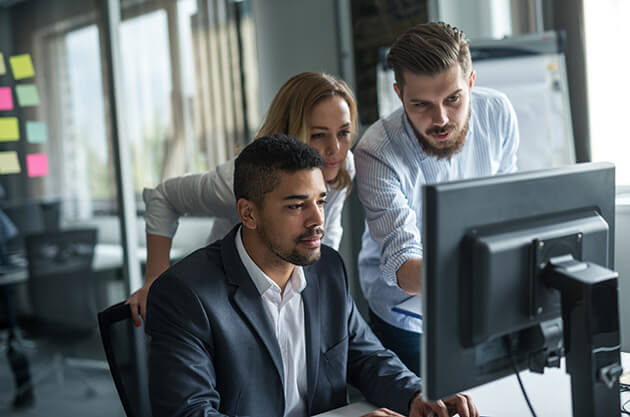 The modern world is digital. The businesses you serve depend on IT services that keep their data safe, accessible, private, authentic, and secure so that they can keep their doors open. Given how vital data is to business continuity and growth a single hour of downtime can cost a business anywhere from $100,000 to $300,000 it only makes sense that customers want the peace of mind that comes from an expert MSP handling their IT infrastructure.
In fact, improved security, better uptime, and greater peace of mind are top factors that drive businesses to adopt managed services. Managed online backup services help you to deliver on all of these fronts - especially the need for security improvements.
Managed Backup Services Mitigate Modern Cyber Threats
Cyber threats are growing in frequency, scale, and sophistication. As a result, there's more demand than ever for managed cloud backup services. What's more, with an endless stream of ransomware attacks filling the news, there's an emerging trend of managed backup services that converge backup and cyber security capabilities. This movement has gained such momentum that customers looking to work with an MSP are now beginning to expect this support from the managed backup services they select.
MSPs have clearly taken this to heart. Research from Kaseya indicates that cloud managed services are seeing rapid adoption growth: In 2018, 75% of MSPs offered onsite-to-cloud backup services – a 26% growth rate globally in a single year – with many of these services beginning to incorporate cyber security features. In response, there's a growing trend of solutions that combine backup and cyber security capabilities. Acronis Cyber Backup Cloud leads this movement with its built-in proactive cyber threat defense, Acronis Active Protection. These expanded managed cloud backup services provide customers with an extra layer of data protection.
MSPs offering this convergence of backup and cyber security are able to attract new customers by addressing one of their largest pain points. The managed backup services (and managed cloud backup services) you offer help to ensure the data safety and security that your prospective customers demand.
For your existing customers, managed backup services with cyber security capabilities serve as a clear demonstration of your organization's value. With these managed online backup services in place, your team is able to effectively, proactively defend against data loss – a critical concern for any modern business. In a recent Acronis survey nearly 30% of businesses reported data loss that led to downtime, a costly event that can severely impact your customers and your MSP business.
Managed backup services ensure that when – not if – your customers experience data loss, you can respond quickly with a complete copy of the data that was lost, from a single file to an entire server. Providing this level of reliable protection through managed backup services and managed cloud backup services lets your customers see the value you provide. That's crucial for a modern MSP business, considering that failing to demonstrate value and failing to be prepared for data loss events are two of the main reasons customers abandon their MSPs.
Standing out with managed backup services
Delivering the reliability and safety that managed backup services offer to your customers can be a key advantage in the modern MSP market. With them, you're able to deliver easy, efficient, and secure backup and recovery services that will highlight your service as a valuable asset that earns a dedicated portion of your customers IT budget year over year.
With the best managed online backup services, you're equipped with the flexibility needed to protect a wide variety of platforms, data volumes, and unique recovery requests while keeping recovery times low and productivity high. As a result, managed backup services not only help to improve your business' reputation – and potentially attract new clients – but also help to reduce customer churn through clear, demonstrated value.
What's more, given that acquiring a new customer is anywhere from five to 25 times more expensive than retaining an existing one, reducing customer churn through managed backup services and managed cloud backup services can quickly lead to significant savings for your MSP business.
Managed online backup services add tremendous value to your MSP business' service offering, whether you offer them as a separate value-add service or bundled together. Managed cloud backup services are highly in-demand and business customers recognize the value. This dynamic makes services easier to sell, renew, and build from year-to-year.
Moreover, because hybrid local and cloud managed services enable you to outsource much of your storage costs, many managed online backup services come with no upfront costs and very low total costs of ownership (TCO) over the lifetime of your license. These reduced expenses alongside your team's reduced need for management hours – plus your ability to customize managed backup service sale packages – result in a highly profitable addition to your MSP's portfolio.
How to Package (and Profit with) Managed Online Backup Services
As with any new service, convincing customers to add managed online backup services may come with some hesitation. While almost all businesses now recognize backup as a vital part of their data protection plan, there's still a possibility that your customers won't be interested in adding extra services.
That said there are several ways to effectively introduce managed backup services to your customers while ensuring your managed backup services remain profitable. Educating customers is an easy way to begin. Customers are very aware of the IT pain points they're experiencing, including slow backup and recovery speeds, unreliable security, and poor technical support. All of these issues can be directly addressed by managed cloud backup services. By making this connection clear, you make a compelling case for managed online backup services as an add-on service feature.
What's more, by offering managed online backup services or managed cloud backup services as part of an existing pay-as-you-go payment model, managed backup services pricing is immediately more palatable. Alternately, some MSPs integrate managed backup services into their service offer bundle, which can be expanded to include extra storage or cloud managed services.
Choosing Acronis Cyber Protect Cloud as your managed online backup service
Managed online backup services offer many benefits to MSPs interested in growing their client base, service capabilities and revenue. That said, as with all the IT services you provide, there will be a major difference between the vendors offering managed backup services. Finding one that offers comprehensive support, rapid recovery, cyber protection and cost-efficient pricing will ensure that your experience with managed online backup services is positive and profitable.
Acronis Cyber Protect Cloud unites backup and disaster recovery, next-generation anti-malware enhanced with machine intelligence, and endpoint protection management in one solution. Integration and automation provide unmatched ease for service providers — reducing complexity while increasing productivity and decreasing operating costs. With Acronis Cyber Protect Cloud, you can provide your clients with:
The world's best backup and recovery — Full-image and file-level backup and recovery safeguards workloads with near-zero recovery point objectives (RPOs) and recovery time objectives (RTOs).

Essential cyber protection at no cost — An advanced machine intelligence (MI)-based behavioral detection engine stops malware, ransomware, and zero-day attacks on your clients' endpoints and systems.

Protection management built for MSPs — The integration of data protection, cybersecurity and endpoint management into a single solution with centralized management and seamless integration with Remote Monitoring and Management (RMM) and Professional Services Automation (PSA) systems provides MSPs with an easy-to-use, cost-effective solution.
Paired with Acronis Cyber Protect Cloud, the Advanced Backup pack enables you to extend the cloud backup capabilities your clients need to proactively protect their data. With the Advanced Backup pack, you can:
Increase automation and productivity — Scheduled backup reports, paired with cloud backup enhancements – like continuous data protection — helps you save time while saving your clients from data loss.

Deliver the most secure backup — Acronis delivers a unique approach by combining cloud backup with cyber protection features, such as anti-malware and antivirus – helping you keep clients' data secure.

Protect more workload on more platforms — From a single console, you can protect more than 20 platforms, including Microsoft Exchange, Microsoft SQL Server, Oracle DBMS Real Application clusters, and SAP HANA.