formerly Acronis Cyber Backup
Around the world, IT has grown in importance for many years – and with the COVID-19 outbreak, it instantly became mission-critical. Almost overnight, it's become impossible to get essential work done without a reliable remote workplace infrastructure. Today, every person and business depends on IT and reliable IT requires cyber protection.
The inability to protect IT often leads to senior managers losing jobs over the data breaches and companies going out of business after the data loss. Meanwhile, companies that are able to protect their IT infrastructure and use data gain a significant competitive advantage – jumping ahead of the competition, saving on costs, generating new business, and creating job opportunities for employees.
Acronis provides a complete set of infrastructure, platform, and services to enable cyber protection.
The modern digital world requires strategies and solutions that address the Five Vectors of Cyber Protection:
Safety – nothing is lost: there is always a copy for recovery
Accessibility – access from anywhere at any time
Privacy – control over visibility and access
Authenticity – proof a copy is an exact replica of the original
Security – protection against malicious actors
On-premises protection with Acronis Cyber Protect
Now Acronis delivers Acronis Cyber Protect, a unique set of innovations that balance all five vectors to provide modern protection in an easy, efficient, and secure way. Easy and efficient protection is made possible due to the deep integration of technologies for data protection, security, and authenticity, and hybrid cloud architecture designed for privacy.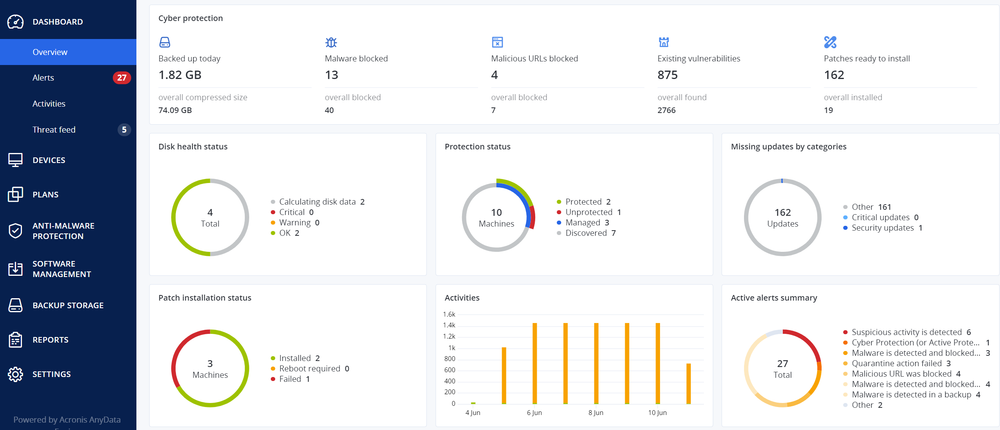 Acronis Cyber Protect is better and more secure than backup alone. This integrated solution is:
Proactive – Avoid downtime using vulnerability assessments and patch management, removal of malware from backups, hard drive health checks, and patching on recovery to prevent reoccurring infections.
Active – Keep operations running with continuous data protection, real-time defenses against viruses, ransomware, and crypto-jacking, and self-defense capabilities that guard the agent and backup storage.
Reactive – Respond to incidents with integrated disaster recovery, metadata storage for the forensic investigation of incidents, and the ability to co-exist with other security solutions.
Plus, you get better endpoint security that's VB100 Certified and proven to have a 100% detection rate with zero false positives by both Virus Bulletin and independent security lab AV-Test.

Be among the first to test our real-time anti-malware; anti-ransomware protection; on-demand scanning and malware removal; AI-based pre-execution analysis; behavioral analysis; and dynamic detection rules.
By joining the beta, you will personally see how the innovative capabilities offered by Acronis Cyber Protect address many of today's backup and security challenges:
Simplified administration. Discover all of the devices that require protection and remotely install a single agent for anti-malware, backup, remote desktop, patch, etc.
Remote work protection. Keep remote workers productive and protected with a VPN, remote wipe, secure file sync and share, protection for remote work tools, etc.
Zero-day malware and ransomware protection. Get the industry-leading, AI-based Acronis Active Protection, which has been extended with a static analyzer and behavioral analysis.
Compliance and forensic investigations. You're equipped with image-based backups and the vital forensic data that's needed for post-incident investigations.
Protection for all key files. See what data is covered at a glance via Acronis' comprehensive Data Protection Map.
Real-time protection of important documents. Continuous Data Protection immediately saves all changes to critical files, even between backups, for near-zero RPOs.
Post-malware-attack recovery. Lower risk of reinfection and ensure safe, fast recoveries with anti-malware scans and patch updates of backups. (Not available in beta)
Auto-response to emerging threats. Adjust the scope and the schedule of backups or anti-malware scans based on real-time alerts from Acronis Cyber Protection Operation Centers. (Not available in beta)
To try the Acronis Cyber Protect Beta, simply click here.
SPECIAL OFFER: Any customer who purchases an Acronis Cyber Backup subscription now will receive a free Acronis Cyber Protect subscription as soon the final production version becomes generally available. Don't delay, this is a limited time offer.
Acronis Cyber Protect Presentation
About Acronis
Acronis is a Swiss company, founded in Singapore. Celebrating two decades of innovation, Acronis has more than 2,000 employees in 45 locations. Acronis Cyber Protect solution is available in 26 languages in over 150 countries and is used by 18,000 service providers to protect over 750,000 businesses.