Scale-out, cost-efficient and multi-purpose infrastructure solution for cyber protection
All the features you need to elevate your business
Discover all of the use-cases addressed and features included in Acronis' easy, efficient and secure cyber protection infrastructure solution. Acronis Cyber Infrastructure's capabilities are optimally integrated with the Acronis Cyber Protect Cloud services, increasing efficiency while reducing your total cost of ownership (TCO).
Disaster recovery infrastructure

Enterprise-grade, high-performance virtualization serves as an underlying technology for Acronis Cyber Disaster Recovery. High availability enables the automatic restoration of workloads in the event of node failure. Operations are seamless with key performance and storage policies, live migration and easy resource scheduling.

Software-defined storage

Universal, cost-efficient, easy-to-use and scalable software-defined storage that leverages industry-standard hardware and combines block, file and object storage workloads. Full support of RDMA, All-Flash configurations and manageable data redundancy prevents data loss from hardware failure.

Software-defined networking

Establish private and isolated networking for the protected workloads of different tenants with software-defined networking. Gain the advantage of virtual networking enabled by VXLAN encapsulation as well as virtually distributed switching and routing.

Advanced monitoring

Manage systems easily with built-in monitoring tools, including: an integrated Prometheus engine and pre-configured Grafana dashboards that show service state, availability and performance, network bandwidth, migration/replication backlog, memory and CPU usage.

Advanced management

Handle deployment, configuration, integration and orchestrated management of all services in the cluster with ease. Automate repetitive tasks such as cluster provisioning, high-availability, storage services (backup storage, block storage, object storage, file storage), networking tasks, updates and more.

Support for third-party identity providers

Meet strict security requirements when providing access to the Acronis Cyber Infrastructure platform by defining and configuring one or more third-party identity providers to grant it. Assign specific roles and permissions to federated users and ensure granular access control.
Advanced Security and Data Protection
Work with a trusted IT infrastructure solution
UNIQUE

Acronis CloudRAID

Solve any data-rebuild problems and get better protection and performance with managed overhead and load balancing. Acronis CloudRAID replaces traditional RAID systems, SAN, and NAS, providing high-performance erasure encoding, even for hot data.

UNIQUE

High availability

Work confidently with a fault-tolerant architecture that has automatic, self-healing of storage and data scrubbing. ReadyKernel technology enables live patching of a running Linux kernel to prevent service downtime. With Acronis Cyber Infrastructure, you can patch any live system without rebooting, and automatically rollback if the patch is unsuccessful.

UNIQUE

Best secure backup destination

Back up your data easily, efficiently, and securely. The Acronis Backup Gateway makes integration with Acronis Cyber Protection Solutions seamless. The Acronis Backup protocol is optimized both for local and long-distance networks, so it can be used for branch office backup scenarios. Replicate backup data to cloud services like Google Cloud, Microsoft Azure and AWS S3, and store backups on NAS.
Universal and Scalable Infrastructure
Cover all use-cases and storage types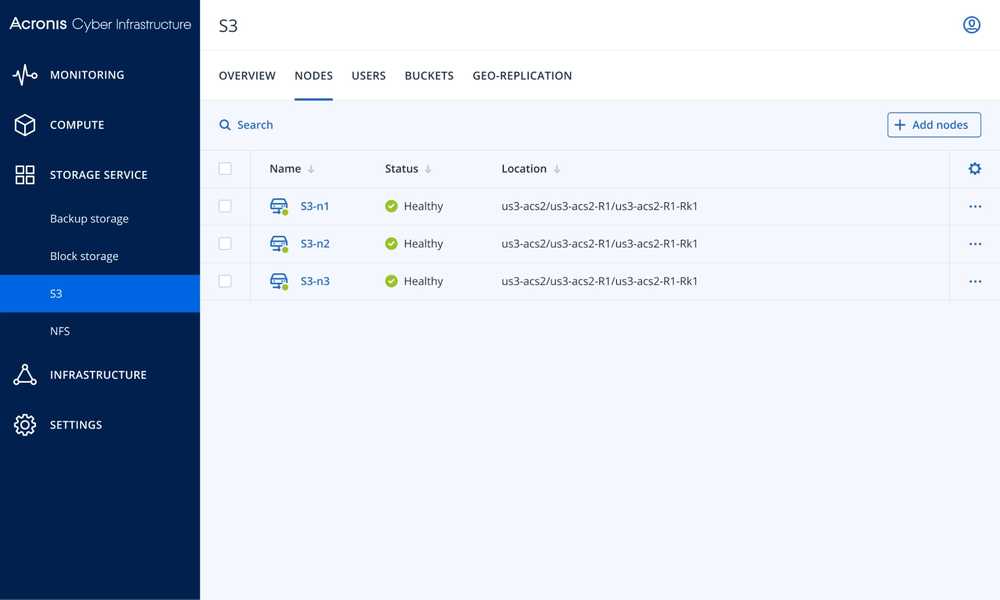 Object S3 Storage

Build custom object storage that suits your unique needs. Acronis Cyber Infrastructure is compatible with any S3 applications and clients, scales to billions of objects, and provides active-active geo-replication for S3 data between data centers, with full data consistency and collision resolution.

Block storage

Unlock high-performance block storage for hot data and virtual machines. Acronis Cyber Infrastructure is natively integrated with compute services and offers highly available and secure iSCSI access. Included SSD caching, load balancing, and fast path support for All-Flash systems boost performance. Support for RDMA/InfiniBand also provides lower latency and decreases CPU load.

General purpose storage

Enhance system performance with optimized file storage through Acronis Cyber Infrastructure's partial file updates. You can store any type of corporate data and scale to petabytes should you require billions of entities in storage. Acronis Cyber Infrastructure also includes an organized file archive to store older files. It supports all modern NFS standards, including NFS v4 and NFS v4.1.

Scale-Up and Scale-out

Gain greater performance with lower hardware-resource consumption. Acronis' solution allows your business IT to scale-up on live production systems. As you grow and add additional hyper-converged nodes, you'll see improved performance and capacity as well as recovery reliability and recovery speed. With Acronis Cyber Infrastructure it is possible to have near-linear scalability for dozens of nodes in the cluster.
Sorry, your browser is not supported.
It seems that our new website is incompatible with your current browser's version. Don't worry, this is easily fixed! To view our complete website, simply update your browser now or continue anyway.