formerly Acronis Cyber Backup
As businesses around the world reacted to the COVID-19 pandemic, many had to address new risks to their infrastructure, endpoints, and mission-critical data. The shift to remote work alone introduced a range of new challenges – from closing security gaps with new technology to educating now-remote employees to avoid phishing attacks to strengthening the protection of third-party apps needed to work from home.
The newly released Acronis Cyber Readiness Report takes a close look at how prepared organizations were to adapt to the pandemic's impact on their IT operations and cybersecurity posture. In preparing the report, Acronis surveyed 3,400 companies and remote workers from around the world during June and July 2020.
In the end, the findings showed that organizations continue to struggle to protect their data and infrastructure against the new challenges of the remote work landscape.
The report also underscored how new solutions are required – with 92% of surveyed companies reporting they had to adopt new technologies to enable remote work, including workplace collaboration tools, privacy solutions, and endpoint cybersecurity.
That revelation that modern cyber protection solutions are needed comes on the same day that Acronis Cyber Protect 15, which addresses the concerns revealed in the report and which has been available in beta since June, is released for general availability.
The Acronis Cyber Readiness Report reveals that as hackers target remote workers, phishing, distributed denial of service (DDoS), and videoconferencing attacks are the most common tactics used.
31% of companies reporting daily cyberattacks
Malware attacks such as ransomware also have increased during the pandemic, with half (50%) of all surveyed companies reporting they are targeted at least once a week. This includes small companies as well as large, such as the leading GPS manufacturer that allegedly paid $10 million in a WastedLocker ransomware attack.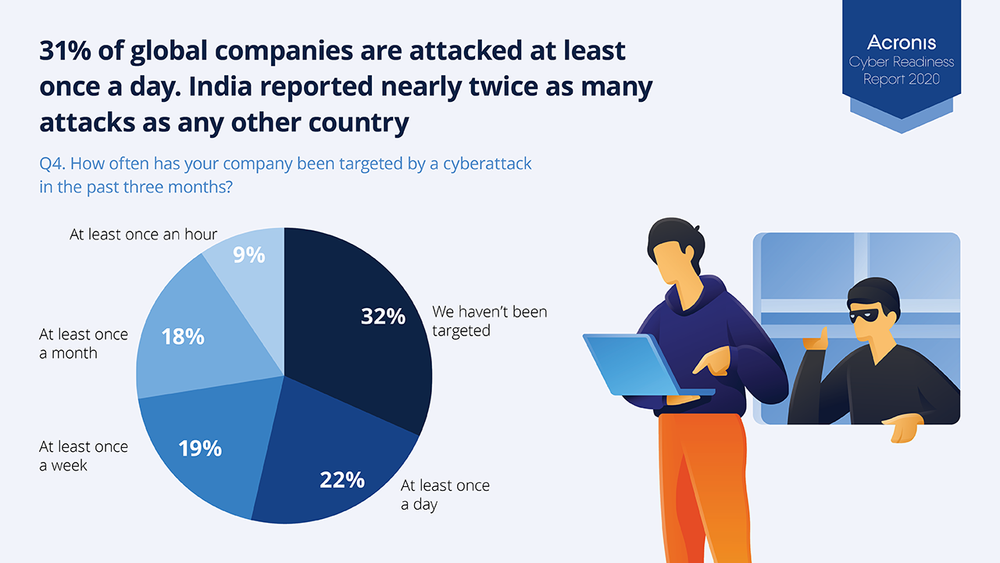 What's stunning is how many cyberattacks have been getting past outdated solutions. Our global network of Acronis Cyber Protection Operating Centers (CPOCs) found that 35% of customer endpoints were exposed to malware attacks that were still getting through before the deployment of Acronis Cyber Protect.
The good news for organizations is that testing by independent cybersecurity labs such as AV-Test and Virus Bulletin shows that Acronis Cyber Protect's antimalware detects 100% of malware attacks with zero false positives. If the GPS manufacturer had Acronis Cyber Protect, it would never have paid a $10 million ransom.
In fact, based on the current cyberattack rate, the unique integration of backup and cybersecurity enables Acronis Cyber Protect to prevent an estimated $150 million in direct losses for its customers each year.
39% of companies experienced videoconferencing attacks
As a result of the pandemic lockdown, 69% remote workers necessarily rely on apps like Zoom, Cisco Webex, and Microsoft Teams to collaborate with colleagues, communicate with partners and vendors, or to meet with customers and prospects. Cybercriminals have been taking advantage of that reliance: 39% of companies experienced videoconferencing attacks in the past three months
In fact, Cisco recently revealed a vulnerability in its Webex app that could allow attackers to open, read, and steal potentially valuable or damaging content.
Closing the vulnerabilities and potential exploits in these necessary third-party apps is critical. Thankfully, Acronis Cyber Protect 15 strengthens the cybersecurity of these apps. In fact, Acronis Cyber Protect prevented code execution exploits in Webex before it was patched by Cisco.
2% of companies consider URL filtering
Phishing attacks are occurring at historic levels, which is not surprising since the report found that only 2% of companies consider URL filtering when evaluating a cybersecurity solution.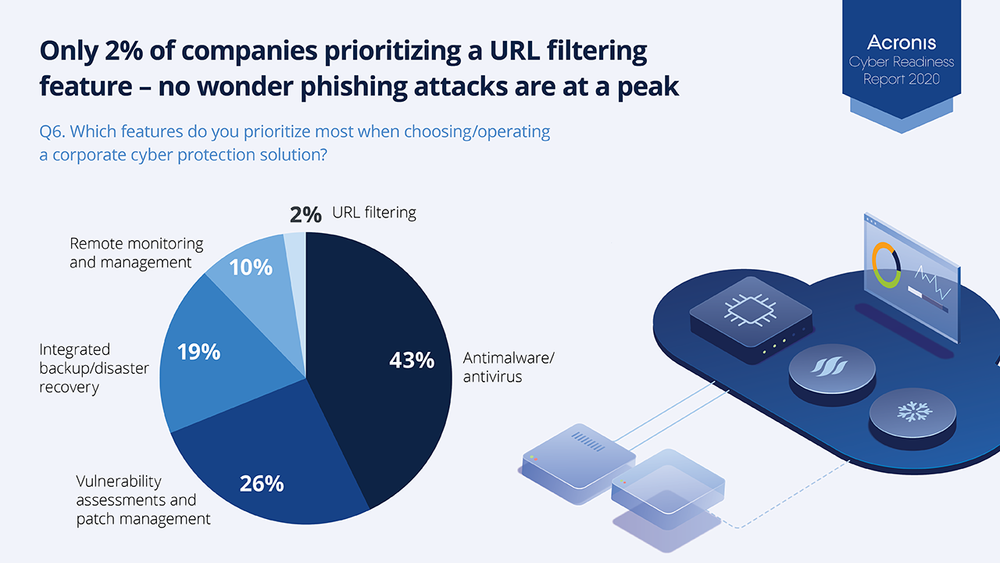 That oversight leaves remote workers vulnerable to phishing sites – Acronis CPOCs discovered that approximately 10% of users clicked on malicious websites in May, June, and July.
Modern requirements for cyber protection
These Acronis findings and external research illustrate why organizations need a cyber protection solution that reduces complexity and improves security to support remote work environments, and the solution must be cost-effective to address the scale of remote workers.
"The cyberthreat landscape has changed dramatically during the past few years, and in the last six months in particular. Traditional stand-alone antivirus and backup solutions are unable to protect against modern cyberthreats," said Serg "SB" Bell, founder and CEO of Acronis. "Organizations that modernize their stack with integrated data protection and cybersecurity not only gain greater security, they lower their costs and improve efficiencies. The automation and streamlined management of Acronis Cyber Protect 15 means any business can decrease their risk, avoid downtime, and increase their IT team's productivity."
With Acronis Cyber Protect 15's unique integration of data protection and next-generation cybersecurity capabilities – including AI-based behavioral detection that stops zero-day attacks, URL filtering, vulnerability assessments, videoconference protection, and automated patch management – organizations protect against modern cyberthreats while ensuring they can recover their data and systems faster than any other solution.
The integration and automation of Acronis Cyber Protect 15 provide unique performance benefits as well. By leveraging backup data, the AI-based threat detection engine improves its detection rates and avoids false-positives. This enables Acronis' next-gen antimalware technology to deliver a 100% detection rate with zero false positives in testing by independent cybersecurity labs such as AV-Test and Virus Bulletin, and earned the solution Frost & Sullivan's 2020 New Product Innovation Award for Data Protection in North America.
Benefits of cyber protection
The single solution approach of Acronis Cyber Protect removes the complexity and risks associated with non-integrated solutions. There is one agent, which improves systems performance, eliminates conflicts, and increases stability; one management interface, which streamlines administration and reporting tasks; and one license to manage.
The ability to unify multiple protection technologies into one solution also decreases the time an IT team needs to learn, deploy, and maintain the solution. With Acronis Cyber Protect, everything is managed via a single pane of glass, which enables the organization to streamline management, cut unnecessary administrative time, and lower the total cost of ownership (TCO).
The Acronis Cyber Readiness Report includes tremendous insights from both the IT managers trying to secure their organizations and the remote workers who are on the frontlines of these challenges. To read all of the findings, download the Acronis Cyber Readiness Report.
With 88% of the remote workers surveyed by Acronis expecting to work from home to some extent even after the pandemic ends, ensuring their protection and cybersecurity will require the kind of integration and automation only found in Acronis Cyber Protect 15.
Organizations that are looking to eliminate the complexity while increasing their cybersecurity posture can learn more about Acronis Cyber Protect 15 here. They can also test drive the solution for 30 days as well.
About Acronis
Acronis is a Swiss company, founded in Singapore. Celebrating two decades of innovation, Acronis has more than 2,000 employees in 45 locations. Acronis Cyber Protect solution is available in 26 languages in over 150 countries and is used by 18,000 service providers to protect over 750,000 businesses.