Increase efficiency with out-of-the-box scripting

Automate routine tasks
Use self-defense-secured, ready-to-use and customizable scripts

Prevent client downtime with automated patching

Assess vulnerabilities
Keep systems running and secure across 270+ applications.

Offer comprehensive endpoint management

Report on software inventory collection
Monitor multivendor drive health
Use pre-integrated backup and security features

Troubleshoot in real time using Remote Desktop support

Just updated

New support for MacOs and Linux
New admin and user initiation
Increases in security
Better support for slow networks

Monitor automatically using machine intelligence

Arriving: Q1 2023

Automated threshold setting
Anomaly detection based on profiling
Predictive health monitoring
Manage your clients workloads and protection with all-in-one cyber protection solution
Centralize your protection management with a single solution that integrates backup, cybersecurity and workload monitoring and management: Acronis Cyber Protect Cloud. With the Advanced Management pack, you're able to automate your routine tasks via scripting, proactively patch vulnerabilities, improve clients uptime in case of failed patches and disk drives issues, and remotely access managed workloads.
Acronis Cyber Protect Cloud
| | | |
| --- | --- | --- |
| Centralized and group management | | |
| Auto-discovery and remote agent installation | | |
| Security gaps and vulnerability assessments | | |
| Hardware inventory collection | | |
| Remote desktop and remote assistance | | |
| Report scheduling: Demonstrate the value of your MSP business and simplify renewals, while reducing time spent on reporting | | |
| Cyber scripting: automate and streamline routine tasks | | |
| Automated patch management: close vulnerabilities before they're exploited | | |
| Software inventory collection: Save time and effort when preparing, planning, or tracking updates with a complete list of software used by clients | | |
| Drive health monitor: Proactively mitigate downtime caused by drive failure with predictive monitoring and alerts | | |
| Fail-safe patching: Recover from faulty patches quickly and easily with automatic system backups before patching | | |
Live demo for MSPs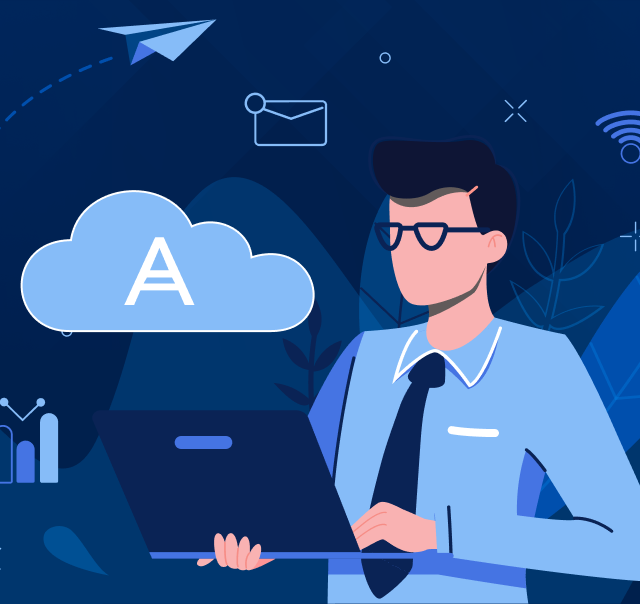 February 16, Thursday, at 11:00 a.m. CET
Your Engineer-led Guide to Disaster Recovery (DR) with Acronis Cyber Protect Cloud
Explore how a single, integrated cyber protection solution empowers your MSP business with options for enhanced protection and disaster recovery in this monthly demo series.
March 2, Thursday, at 11:00 a.m. CET
MSPs: Your Engineer-Led Guide to Acronis Cyber Protect Cloud
Help your MSP business achieve enhanced protection, improved SLAs, and streamlined management.
More webinars
Offer more services and reduce your management burden
The Advanced Management pack helps you expand your cyber protection services with integrated patch management and automate your routine tasks via scripting while reducing the time and effort needed to monitor, manage and maintain your clients' workloads.
Extend patch management to 200+ third-party applications
Keep Windows and third-party Windows software up-to-date with patch management for more than 200 supported products. Prioritized patching for collaboration apps minimizes remote work threats.
View all supported applications
Cyber Protect Cloud
Modernize your cybersecurity and backup with integrated cyber protection
Easily deliver up-to-date endpoint protection
Cyber Scripting

Automate daily tasks like provisioning and maintenance and manage more workloads with less efforts. Streamline your operations with out-of-the-box Acronis-verified scripts that you can easily customize, test, run, and schedule.

Centralized patch management

Secure your clients business environment and reduce the security risks by closing known vulnerabilities before they become issues. Schedule or manually deploy patches to keep clients safe and avoid issues with patching by automatically backing up workloads to revert to a known working state, in case of failure.

Software inventory collection

Ease tracking and work planning with deep visibility into the software inventory. Scan client machines automatically or on-demand to discover all of the software installed and track changes. Browse and filter software assets by multiple criteria, generate reports, and delete records once a machine is removed.

Unique

Drive health monitoring

Avoid unpredicted data loss and proactively improve uptime by monitoring drive health. Leverage our machine learning technology to predict disk issues and receive alerts to take the precautionary measures needed to protect client data.
All features
Expand your services with advanced protection packs
Add other powerful components to strengthen your services even further with advanced protection packs and unique cyber protection capabilities. Control your costs by paying only for the functionalities your clients need.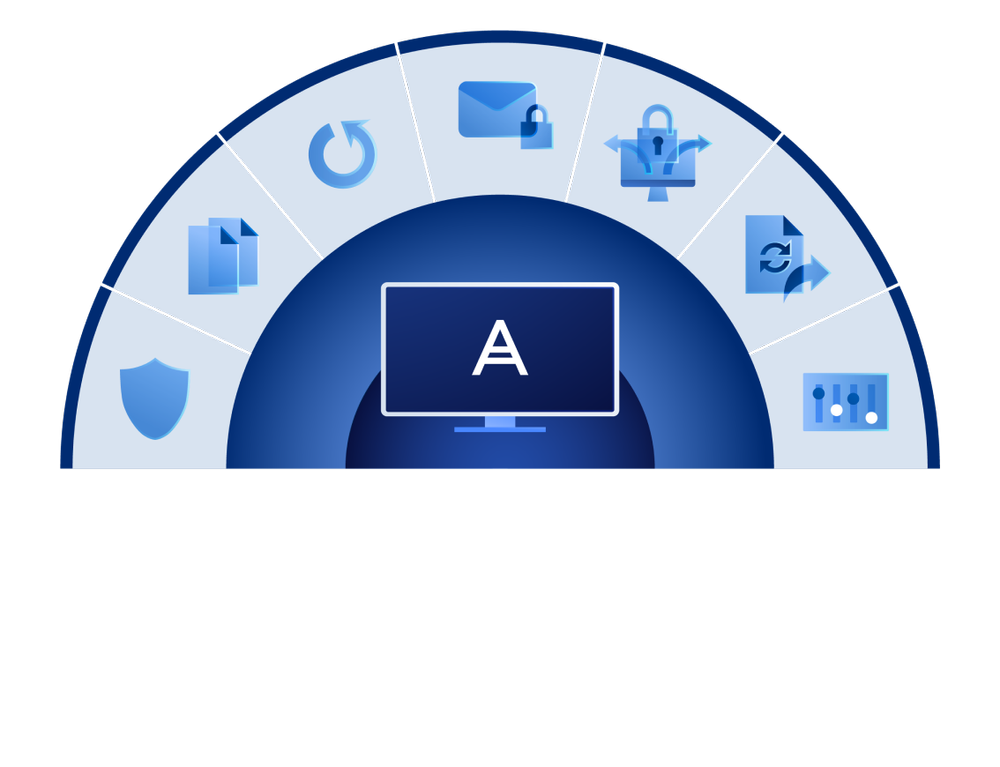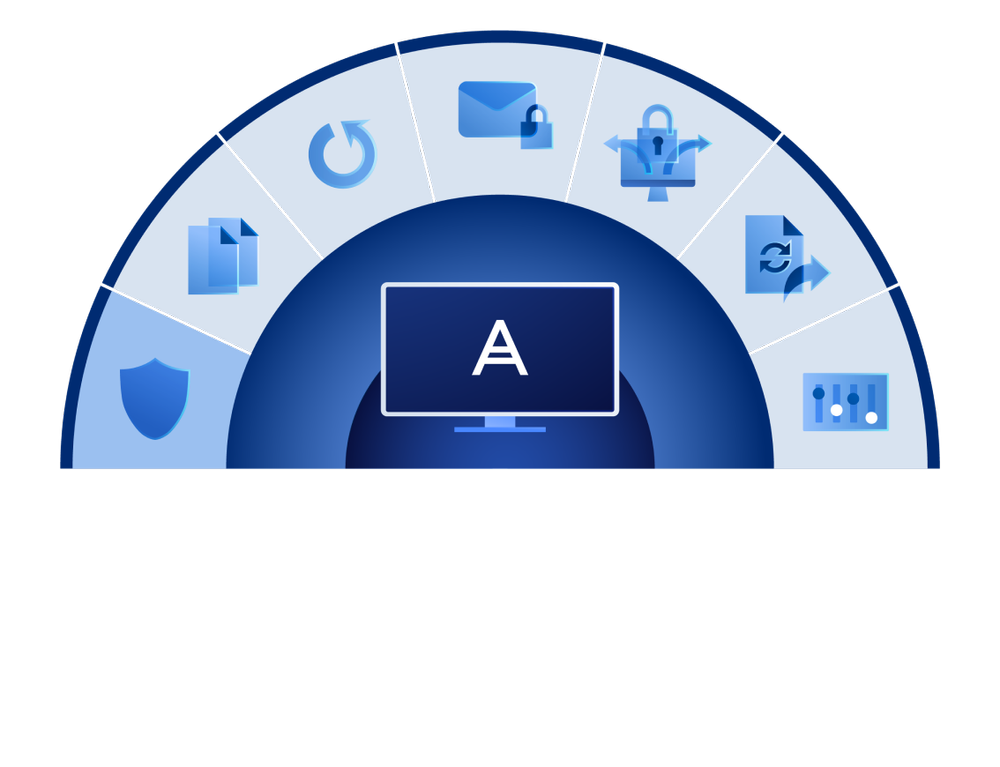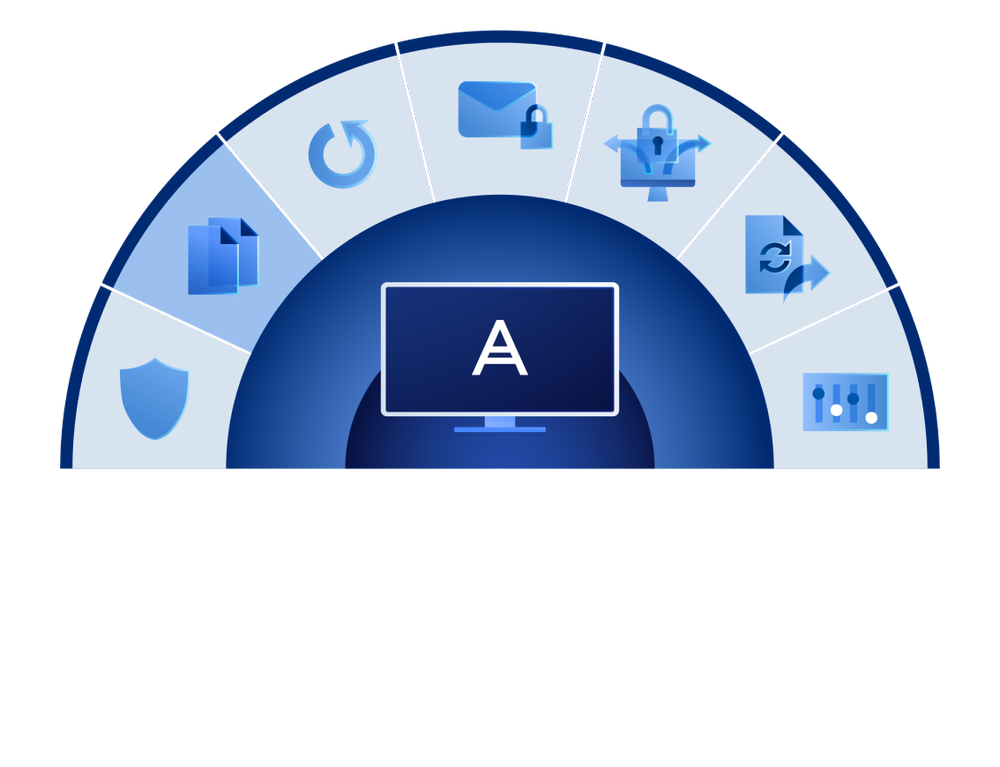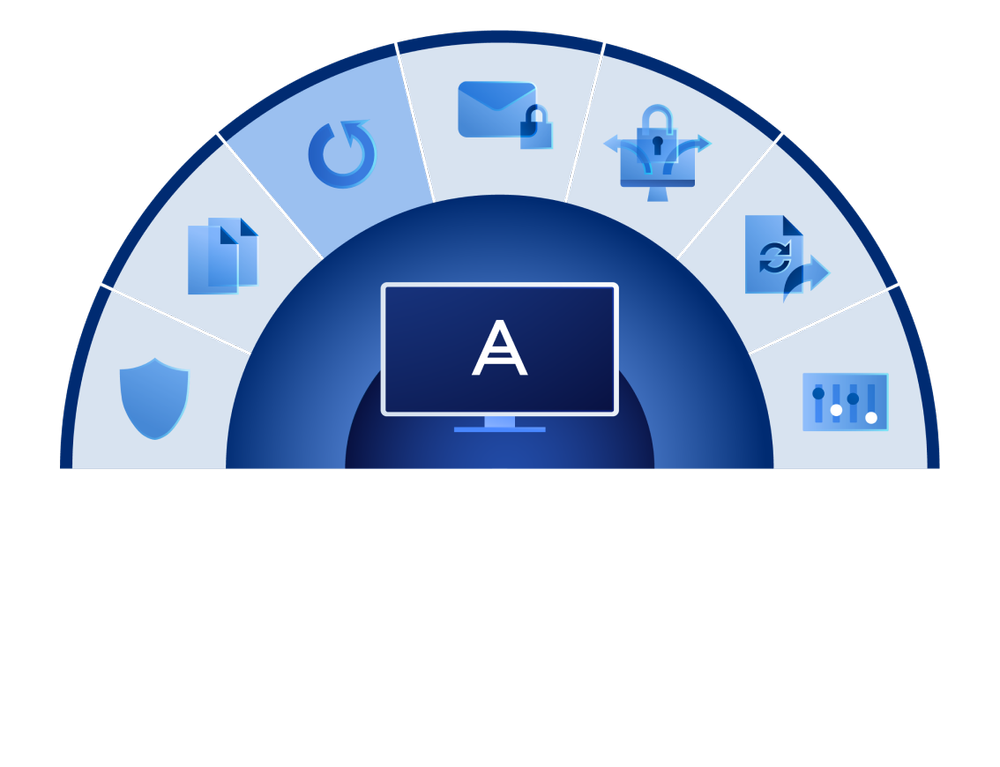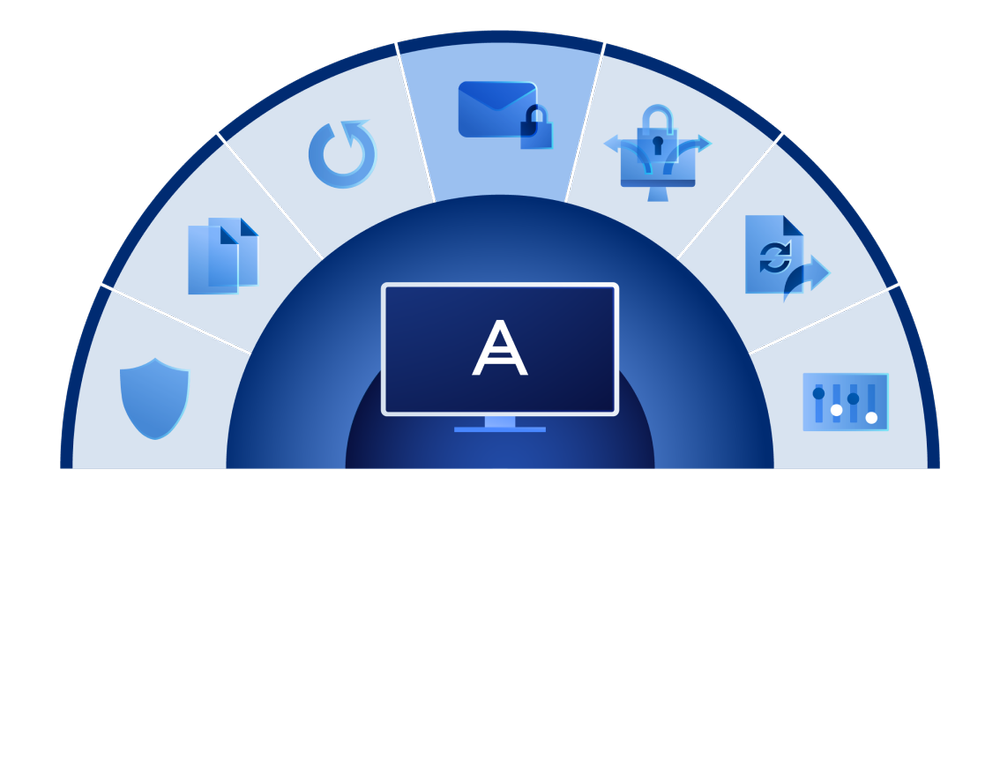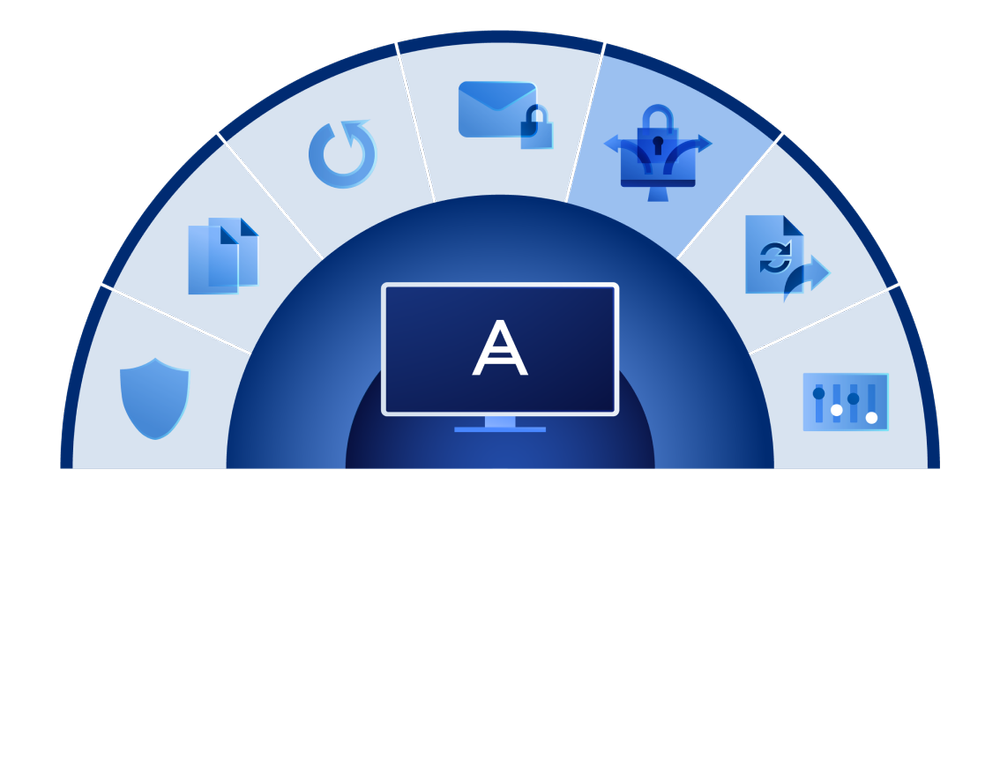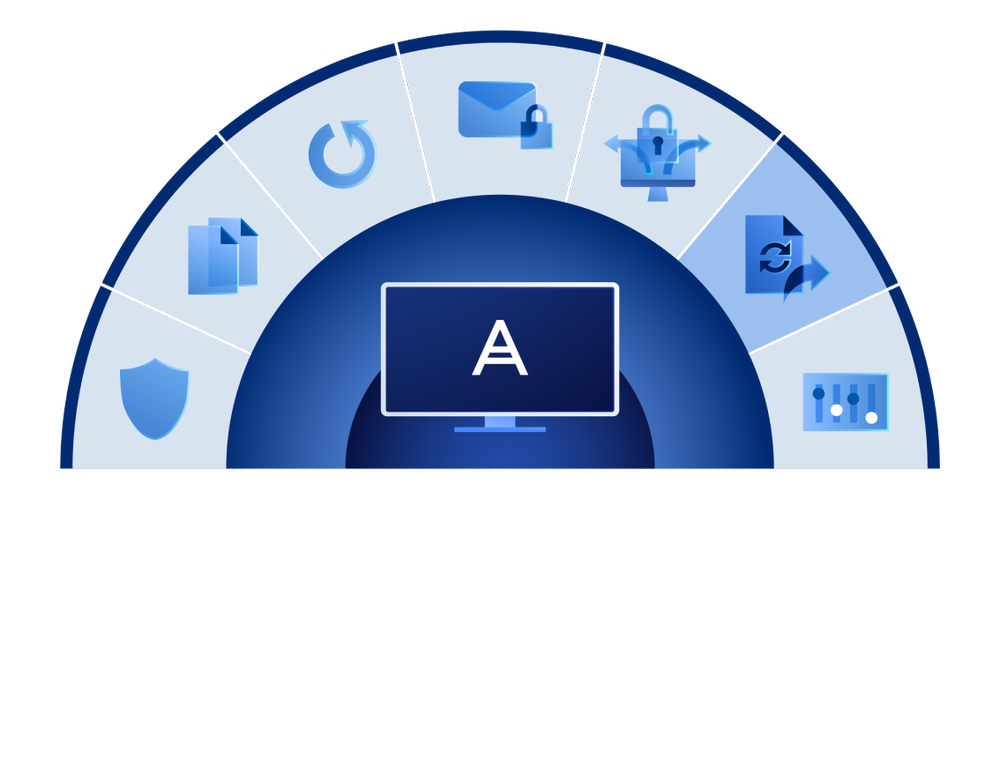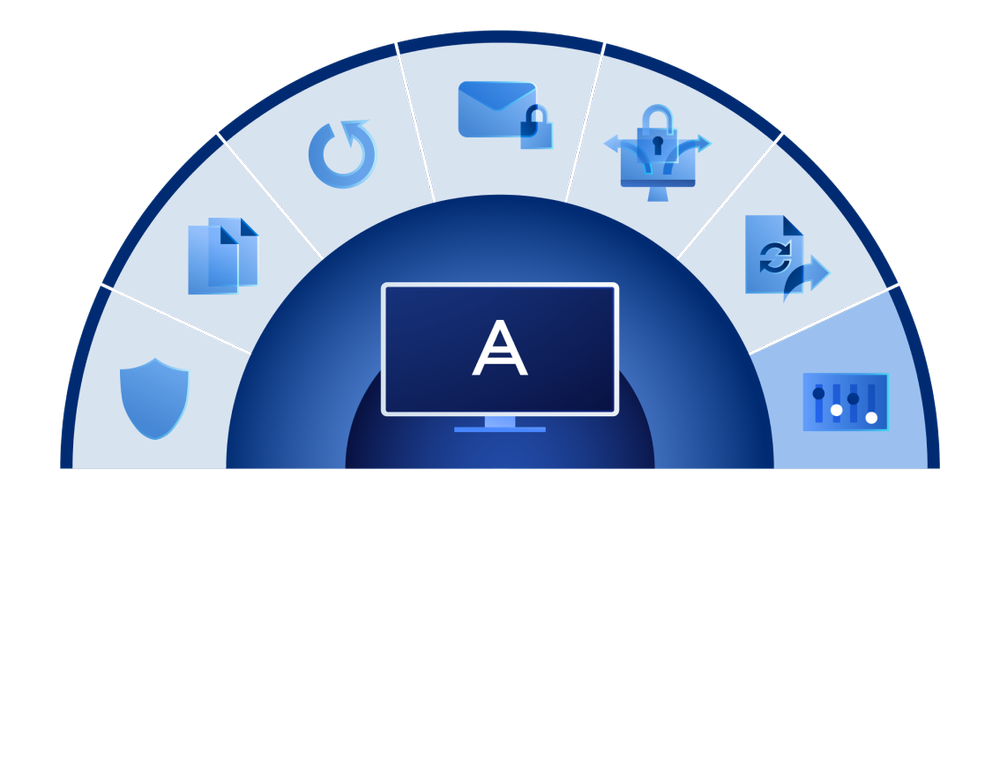 Looking for help?
Frequently Asked Questions
Does Acronis Cyber Protect Cloud with Advanced Management offer automated patch management?

The Advanced Management add-on adds extensive patch management capabilities, mapped directly to the vulnerability assessments for proper prioritization.

The solution also provides thorough visibility into endpoint protection through vulnerability and security gaps assessments.

Advanced Management's patch management capabilities can also be fully automated. Service providers can easily plan and automate their work with an ability to schedule patch deployment tasks. The solution's auto-approval capability also reduces the staff needed for patch testing and quality control.

As part of the process, an integrated fail-safe patching technology backs up the system before a patch is applied to enable fast recovery in case a faulty patch renders the system unstable.

How does Advanced Management integrate data protection management?

The Advanced Management add-on extends the capabilities of Acronis Cyber Protect Cloud to deliver comprehensive data protection management, encompassing multiple defense layers.

With Advanced Management, service providers can map vulnerability assessments with a patch management service to prioritize the closing of security gaps based on their severity.

For thorough visibility over protected assets, the add-on collects information about hardware and software assets to provide a common view for easy planning, preparation, and tracking of updates and replacements to ensure no data loss.

Moreover, systems are protected against downtime and data loss due to patch failures, since Acronis Cyber Protect Cloud's agent automatically makes a full-image backup of the machine before applying a patch, enabling immediate recovery.

How can the vulnerability management capabilities help reduce management work?

Acronis Cyber Protect Cloud assesses system vulnerabilities and lists them based on criticality within the Management Console. This helps ease patch prioritization efforts, providing visibility over vulnerabilities with information on their criticality.

Patch management can also be automated, deploying patches on a schedule. Advanced Management also reduces the personnel needed to operate patch testing and quality control with auto-approval capabilities. To minimize planned downtime, flexible reboot and maintenance window options are provided.

Software inventory collection helps service providers maintain a full list of software used by clients and includes change tracking to properly prepare, plan, and track updates.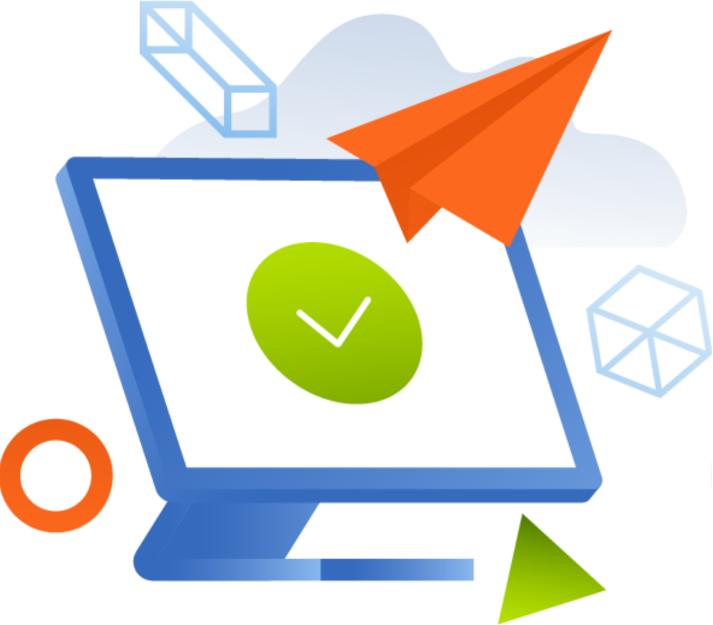 Subscribe for tips, news and occasional promotional offers from Acronis
Sorry, your browser is not supported.
It seems that our new website is incompatible with your current browser's version. Don't worry, this is easily fixed! To view our complete website, simply update your browser now or continue anyway.