Increase automation and productivity

Deliver near-zero RPOs and downtime with cloud backup enhancements – like continuous data protection. Save time while preventing client data loss.

The most secure managed cloud backup

Acronis delivers a unique approach by combining cloud backup with cyber protection features, such as anti-malware and antivirus – helping you keep clients' data secure.

Protect more workload types

Protect more than 20 workload types from a single console, including Microsoft Exchange, Microsoft SQL Server, MariaDB, MySQL, Oracle DBMS Real Application clusters, and SAP HANA.
More than your average cloud backup – a complete cyber protection solution
Benefit from backup capabilities enhanced with cyber protection – with protection with more than 20 workload types, you can protect your clients' data confidently. Discover what backup and data protection capabilities you gain with Acronis Cyber Protect Cloud. Harness the power of one solution, one agent, and one console to deliver the comprehensive cyber protection your clients seek.
Acronis Cyber Protect Cloud
| | | |
| --- | --- | --- |
| File-level, disk-level, image and application backups | | |
| Backup popular workloads like Mac, Windows, Linux, Microsoft 365, Google Workspace, Hyper-V, VMware, and much more | | |
| Hybrid storage options – Acronis-hosted storage, public clouds such as Microsoft Azure, or MSP local storage | | |
| Flexible recovery options from full systems to granular files | | |
| Cloud-Physical-Virtual migrations | | |
| | | |
| Incremental and differential backups | | |
| Group management for Microsoft 365 and Google Workspace: Create static or dynamic groups based on your Azure AD data and simplify protection management for multiple seats by eliminating the need to configure protection for each individual seat | | |
| Adjustable backup frequency for Microsoft 365 and Google Workspace: Reduce RPO and improve business continuity by backing up your seats data up to 6 times per day | | |
| Extended backup support: Covers Microsoft SQL clusters, Microsoft Exchange clusters, MariaDB, MySQL, Oracle DB, and SAP HANA | | |
| Data protection map and compliance reporting: Scan clients' environments to ensure their workloads, files, applications, and users are protected | | |
| Continuous data protection (CDP): Acronis' agent monitors and backs up changes in real time with near-zero RPOs, ensuring no data is lost | | |
| Off-host data processing: Reduce the CPU/RAM consumption and achieve near-zero RTO of a protected workload | | |
On-demand trainings
Acronis Cloud Tech Associate Advanced Backup

Get the skills needed to maximize data protection and ensure business continuity for clients. Learn to plan and perform Acronis Cyber Protect Cloud backups, recovery and operations. Start protecting c ...

For Partners: Cloud Sales Associate Advanced Backup 2023

Gain the advantage of Acronis Cyber Protect Cloud's backup features with this sales course! Learn the value proposition, sales tactics and go-to-market strategies for backup services. Unlock the power ...

For Partners: Cloud Tech Associate Advanced Backup 2023

Get the skills needed to maximize data protection and ensure business continuity for clients. Learn to plan and perform Acronis Cyber Protect Cloud backups, recovery and operations. Start protecting c ...
Explore more
Significantly enhance your clients' data protection
Safeguard client data, even between scheduled backups. Extend backup capabilities to SAP HANA, Oracle DB, MariaDB, MySQL, and application clusters. You'll also have greater visibility into the protection status of all data across your clients' infrastructure.
Upcoming online events
Live-Webinar | Fortify your Microsoft stack – without adding complexity

Join us for our upcoming webinar to learn how to increase protection and reduce complexity for Microsoft 365, Azure and Hyper-V.

Discover how to integrate cloud applications quickly with the Acronis Cyber Protect Cloud platform without a single line of code!

With the Acronis Cyber Protect Cloud platform without a single line of code! Watch this year's most exciting launch event — Acronis CyberApp Build! Learn from ISVs, SPs, SIs and Acronis technical expe ...

MSPs: How to control the complex IT environment

Discover how service provider partners and their customers control increasingly complex IT environments while bolstering cyber resilience.
More webinars
Innovative leader in the data protection industry
Acronis Cyber Protect Cloud
Modernize your cybersecurity and backup with integrated cyber protection
Expand client protection with advanced capabilities
Hybrid Cloud Backup and Recovery
Get a seamless hybrid experience and ensure ultimate data safety and accessibility by backing up and recovering customers' systems, applications, and data via both local and cloud storage. Oversee all clients from a single pane of glass with management components centrally located in the Acronis Cloud.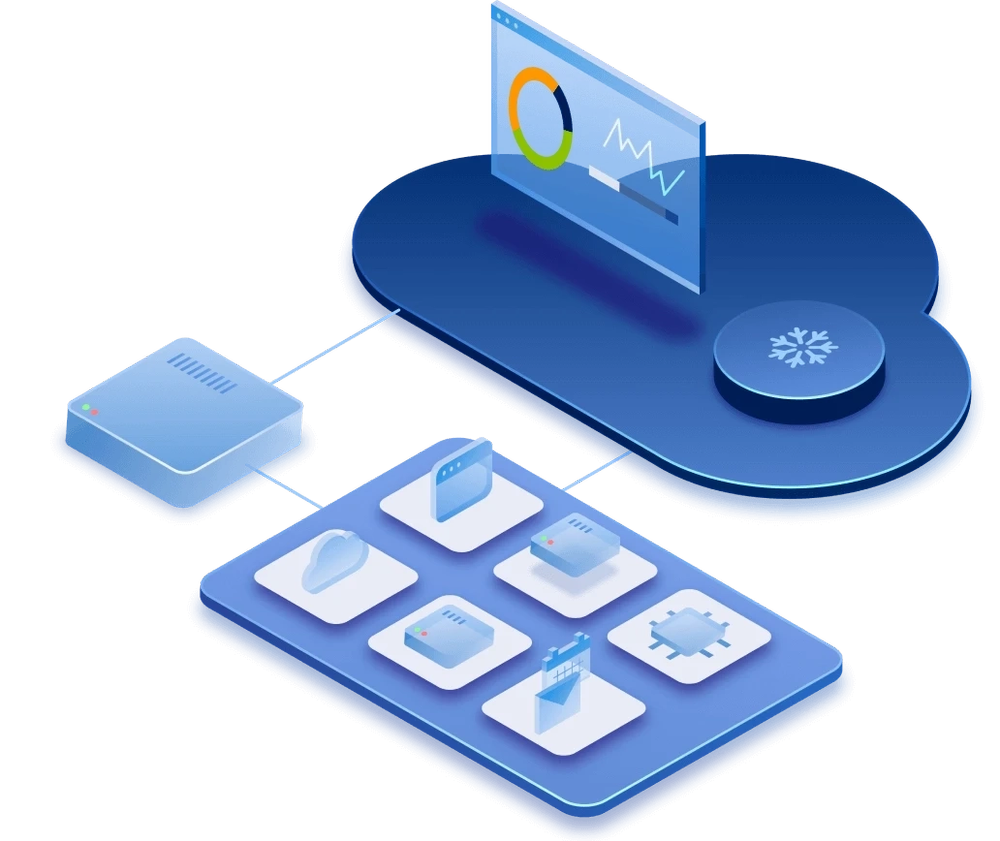 Enhanced protection for workloads
Unique

Data protection map and compliance reporting

Guarantee that critical data is protected for compliance reporting, with the data protection map. Use the automatic data classification to track the protection status of important files, folders, and workstations. If they are not protected, an alert is created so you can protect your clients' critical data.

Unique

Application cluster backup and restore

Ease the IT administrative burden with built-in capabilities to easily backup and restore Microsoft Exchange, Microsoft SQL Server, and Oracle DBMS Real Application clusters. This easy to preform backup for service providers helps you quickly and easily protect multiple workload with one solution.

SAP HANA backup

Strengthen SAP HANA database protection with consistent, script-based, disk-level backups that simplify management and do not require any SAP HANA expertise. If a recovery is needed, you can perform image-based backup for your clients' SAP HANA database and all the data associated with it, including application configurations.
Expand your services with advanced protection packs
Add other powerful components to strengthen your services even further with advanced protection packs and unique cyber protection capabilities. Control your costs by paying only for the functionalities your clients need.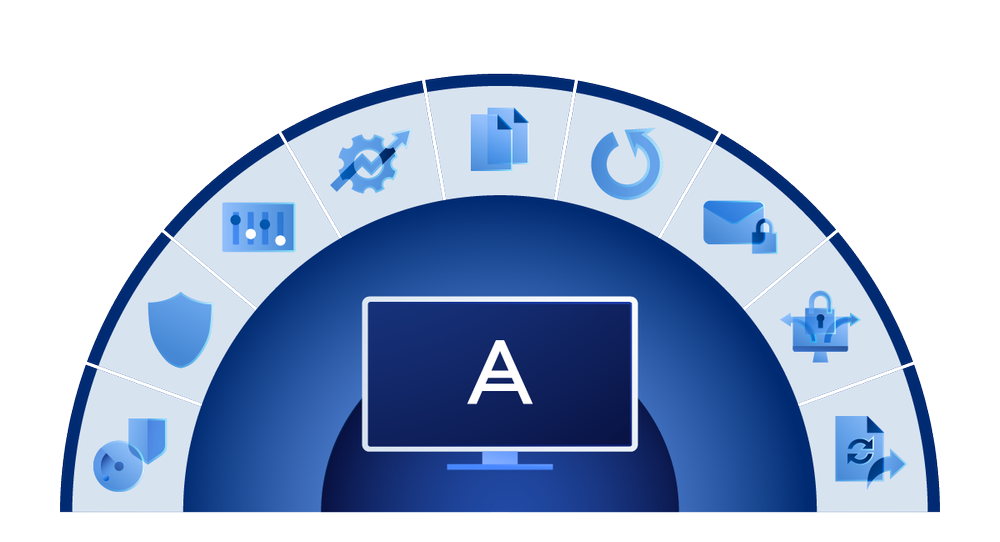 Related stories
Want to learn more? Read the latest stories featuring this solution on our blog.
Acronis Blog
Looking for help?
Frequently Asked Questions
I signed up for a trial. Where can I download the backup agents?

You first need to create a customer and an account for them. Once that is done, you can either log in as that customer or, in the Account management console, select the customer to manage their backups. This will bring you to the Backup management console where you can download the backup agent.

How much system resource usage will it take to back up?

1. Resource usage is relative to the system specifications and a number of other factors, such as disk speed, disk size, available bandwidth, etc. By default, the Acronis backup process runs on low priority, with the operating system dynamically throttling its resources.

2. On modern servers and workstations, the CPU usage is typically around 3-4% and RAM consumption will be up to 500 MB with CPU spikes during the snapshot phase.

Can you integrate with my storage solution?

Acronis provides a hardware-independent software solution that can work with almost any hardware on industry-standard protocols like SMB and NFS. Acronis can also support any block-based storage, as long as it's supported by the operating system.

How can I set up a backup to a network drive?

In the backups section of the backup portal:

Select Add Location
Select a Network folder and enter the network path

We also have online documentation

How frequently can I back up (RPO)?

This will depend on the size and performance of the hard disk, the amount of data changed, and the available bandwidth. Testing needs to be done, but the minimum threshold is 10 minutes.

What are the best practices to back up Hyper-V?

We recommended you perform agentless backup for Hyper-V guest VMs, unless the VM needs to have ransomware protection and application-aware backups. Then, installing a Windows application agent is required.

Does Acronis support deduplication?

1. Acronis backup agents support deduplication, in archives, for a single machine. Any new duplicated files will be skipped and not backed up.

2. Acronis Cyber Protect Cloud does not use a centralized deduplication server as the client's data can be encrypted and containerized for security purposes.

What is the compression rate?

Compression rates vary depending on the type of data but generally, you can expect around 30-40% compression unless the data is exclusively media files.

Does Acronis support encryption?

Yes, Acronis Cyber Protect Cloud and its services use encryption on all levels.

How does ransomware protection work?

Acronis Active Protection is an advanced anti-ransomware technology. Completely compatible with the most common anti-malware solutions, our artificial-intelligence-based technology actively protects all of the data on your systems, including documents, media files, programs, Acronis Cyber Protect Cloud files, and more. It can detect and deflect attacks, and restore impacted data. For more information, review this guide in the Knowledge Base.

How granular is Exchange/Microsoft 365 recovery?

Granular recovery can restore individual items from the mailbox: a single email, contact, or calendar item.

How do I do a bare metal restore?

How can I restore a VM to Azure/Google/Amazon?

The destination VM needs to have an OS pre-installed with the Acronis agent. The restoration will then be done using either P2V or V2V. It's not possible to use bootable media in Azure/Google/Amazon.

Can I restore from a smaller disk to a larger disk and vice versa?

Yes. It's possible to restore a disk image to a smaller drive if the smaller drive has enough space to accommodate the occupied space of the larger disk (e.g. if you have a 200 GB disk with 100 GB of space used, you can transfer an image of this disk to a 150 GB drive, but not to an 80 GB disk).

My customer has low bandwidth. How can I upload the initial backup?

This process is done in two stages:

Creation of the initial backup on external media, please refer to the online documentation.
Sending the data, which can be done through physical shipment, also described in this Knowledge Base article, or upload via WAN from an alternative location using a special tool.

What is an MSP backup solution?

MSP backup solutions enable managed service providers to deliver backup services to their clients.

Is Acronis Advanced Backup pack for MSPs?

Yes, the Advanced Backup pack is available to managed service partners using Acronis Cyber Protect Cloud. The Advanced Backup pack enables service providers to extend the cloud backup capabilities their clients need to proactively protect their data, including continuous data protection, extended backup support, one-click recovery, and more.

Why are cloud backup services important for MSPs?

Cloud storage is the most flexible and cost-effective way to back up critical files and programs. Cloud backup solutions help isolate data from local device failures, malware attacks or natural disasters. However, experts recommend that you follow the 3-2-1 rule: make three copies of every piece of important data; store that data in two different formats; and keep one off-site copy.
Sorry, your browser is not supported.
It seems that our new website is incompatible with your current browser's version. Don't worry, this is easily fixed! To view our complete website, simply update your browser now or continue anyway.