Acronis Cyber Protect Cloud
Modernize your clients' security and backup with integrated cyber protection
Includes all features of Acronis Cyber Backup Cloud

The world's best backup and recovery

Full-image and file-level backup and recovery to safeguard workloads on more than 20 platforms – with near-zero RPOs and RTOs.

Enhanced with essential cyber protection at no cost

Аdvanced AI-based behavioral detection engine stops malware, ransomware, and zero-day attacks on client workloads.

With protection management built for MSPs

Integrates data protection, cybersecurity, and endpoint management into a single solution with centralized management. Seamless integration with RMM and PSA systems.
Strengthen your security services and increase profitability
Expand your services with advanced protection packs
Add other powerful components to strengthen your services even further with advanced protection packs and unique cyber protection capabilities. Control your costs by paying only for the functionalities your clients need.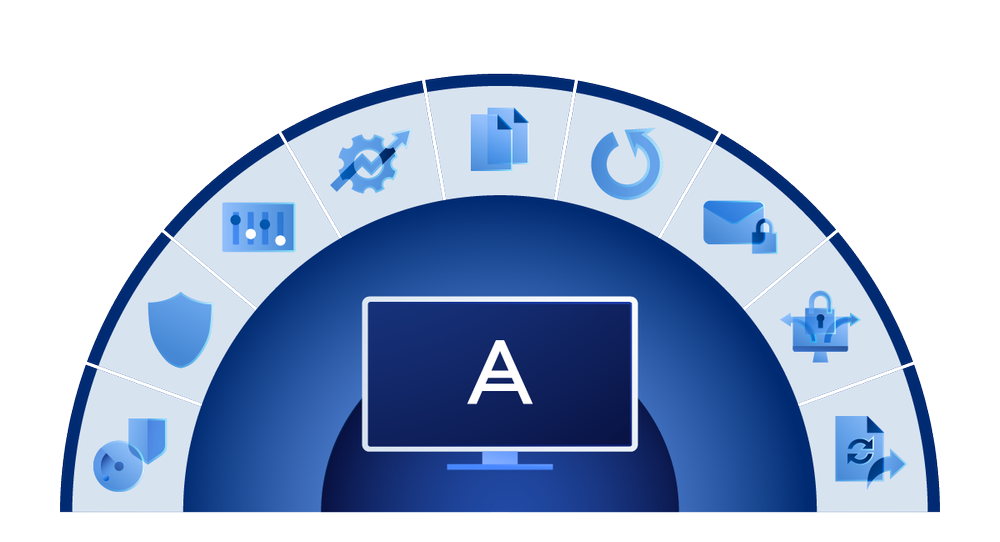 Upcoming online events
Live-Webinar | Fortify your Microsoft stack – without adding complexity

Join us for our upcoming webinar to learn how to increase protection and reduce complexity for Microsoft 365, Azure and Hyper-V.

Discover how to integrate cloud applications quickly with the Acronis Cyber Protect Cloud platform without a single line of code!

With the Acronis Cyber Protect Cloud platform without a single line of code! Watch this year's most exciting launch event — Acronis CyberApp Build! Learn from ISVs, SPs, SIs and Acronis technical expe ...

MSPs: How to control the complex IT environment

Discover how service provider partners and their customers control increasingly complex IT environments while bolstering cyber resilience.
More webinars
Recognized member of the cybersecurity industry










Ensure faster growth with Acronis
Cybersecurity

Stay ahead of modern cyberthreats with award-winning anti-ransomware enhanced with anti-malware capabilities that complement your clients' antivirus. Prevent data leaks via local channels.

Backup and recovery

Minimize data loss across your clients' infrastructure and workloads with the best backup and recovery technology, available in consumption-based or per-workload licensing models.

Management

Centralize your protection management and provision endpoints in minutes. Remotely assist clients and assess system vulnerabilities and security gaps. Increase visibility with built-in monitoring and reporting.

Disaster recovery (DR)

Allow clients on DR-enabled tenants to establish secure connection to the corporate network with their personal devices, or test failover in an isolated network environment.

File sync and share

Increase productivity by enabling your clients to create and securely share corporate content from anywhere, at any time, and on any device. Only get charged for the storage you use.

Notary

Ensure the integrity of data, while achieving regulatory transparency and decreasing security risks with a blockchain-based service for file notarization, eSigning, and file verification.
Acronis Cyber Protect Cloud
Modernize your cybersecurity and backup with integrated cyber protection
Includes all features of Acronis Cyber Backup Cloud
Compare Acronis Cyber Protect Cloud to other solutions
Why do MSPs choose Acronis Cyber Protect Cloud over other solutions? It's an all-in-one data protection and cybersecurity platform that enables MSPs to offer more client services at less cost.
Business Resilience System (BRS) appliance for MSPs by Scale Computing
Purpose-built for Acronis Cyber Protect Cloud, MSPs can skyrocket how they deliver client operations resiliency and end-to-end data protection with the BRS.
Leverage a flexible, hybrid cloud approach

Allow data and applications to interoperate across boundaries (for example, cloud versus on‐premises) with a hybrid cloud approach.

Gain unparalleled data protection and cybersecurity

Minimize data loss across clients' infrastructure and workloads with active ransomware protection, granular-file level backups, long-term archiving and the ability to instantly spin up workloads on-premises.

Convert to a VM – any VM

Back up physical workloads, VMware and Hyper-V and instantly power them on as VMs on the local BRS appliance at a moment's notice.

Boost your efficiency and bottom line

Eliminate confusion and time-consuming management tasks during the recovery process, when time is of the essence. Increase revenue with a higher level of service, plus new cyber protection services.
Learn more
Unique capabilities designed for modern cyber protection
Gain advantage over competitors with industry-unique cyber protection capabilities, minimizing security risks and reducing management burdens.
Anti-malware: Proactively protect your clients' systems from advanced cyberattacks in real-time with AI-based static and behavioral heuristic antivirus, anti-malware, and anti-ransomware technologies

Fail-safe patching: Eliminate the risk of bad patches rendering a system unusable. Before a patch is applied, an image backup is automatically created, enabling you to easily restore to a working state

Forensic backup: Simplify future analysis by collecting digital evidence from disk-level backups. Enables clients' to manage their compliance requirements and run faster internal investigations

Safe recovery: Avoid malware reinfection by automatically patching the machine and then scanning your system and backup images using the latest anti-malware definitions

Continuous data protection: Safeguard critical data. Acronis' agent continuously backs up listed applications so recent changes aren't lost if the machine needs to be reimaged

Smart protection plans: Leverage the expertise of our global network of Acronis Cyber Protection Operation Centers (CPOC) by receiving real-time alerts that inform you of emerging threats and automatically adjust client protection plans

Data protection map: Ensure compliance reporting by getting detailed information about stored data and use automatic data classification to track the protection status of important files

Global and local allowlists from backups: Scan backups with advanced anti-malware technologies to create allowlists of your organization's unique applications to avoid future false positives.
All Features
Acronis Cyber Protect Cloud
Modernize your cybersecurity and backup with integrated cyber protection
Includes all features of Acronis Cyber Backup Cloud
Supported systems
Operating systems and environments
Windows
Windows 7 and later
Windows 2008 R2 and later
Linux
Linux with kernel from 2.6.9 to 5.1 and glibc 2.3.4 or later
MacOS
OS X Mavericks 10.9, OS X Yosemite 10.10, OS X El Capitan 10.1, macOS Sierra 10.12, macOS High Sierra 10.13, macOS Mojave 10.14, macOS Catalina 10.15
Mobile
Android 4.1 or later
iOS 8 or later
Infrastructure-as-a-Service
Microsoft applications
Microsoft SQL Server 2019, 2017, 2016, 2014, 2012, 2008 R2, 2008, 2005
Microsoft Exchange Server 2019, 2016, 2013, 2010, 2007 Microsoft SharePoint 2013
Microsoft SharePoint Server 2010 SP1, Microsoft SharePoint Foundation 2010 SP1, Microsoft Office SharePoint Server 2007 SP2, Microsoft Windows SharePoint Services 3.0 SP2
Hypervisors
VMware vSphere 7.0, 6.7, 6.5, 6.0, 5.5, 5.1, 5.0, 4.1
Microsoft Hyper-V Server 2019, 2016, 2012/2012 R2, 2008/2008 R2
Microsoft Windows Server 2022, 2019, 2016, 2012/2012 R2,2008/2008 R2 with Hyper-V
Microsoft Windows 10, 8/8.1 (x64) with Hyper-V
Citrix XenServer 7.6-4.1.5
RHEV 3.6-2.2, RHV 4.1, 4.0
Oracle VM Server 3.4, 3.3, 3.0, Oracle VM VirtualBox 4.x
Nutanix AHV 20180425.x-20160925.x
Linux KVM 5.3 - 8
Proxmox virtual environment 5.3 - 8
Virtuozzo 6.0.10, 6.0.11, 6.0.12, 7.0.13, 7.0.14
Virtuozzo Infrastructure Platform 3.5
Related stories
Want to learn more? Read the latest stories featuring this solution on our blog.
Acronis Blog
Stages of modern cyber protection
To deliver thorough protection for our partners' clients, Acronis' vision and products are based on a multi-stage process rather than simply detecting and blocking threats, leaving other risks uncovered.
Prevention

Don't wait for threats to hit, proactively protect your clients and limit their attack surface.

Detection

Detect issues and threats in real-time before they pose risk to the IT environment.

Response

Enable quick actions that immediately mitigate the risk.

Recovery

Restore client data quickly and safely so no data is lost, with near-instant availability, in case of compromise.

Forensics

Mitigate future risks and enable easy investigations by collecting forensics information.
Learn more
Global data center presence
Help your clients meet their unique needs by storing their data where they choose. With multiple data centers worldwide, Acronis enables you to meet the compliance, data sovereignty, and performance requirements of all your clients.
Looking for help?
Frequently Asked Questions
Sorry, your browser is not supported.
It seems that our new website is incompatible with your current browser's version. Don't worry, this is easily fixed! To view our complete website, simply update your browser now or continue anyway.