Technology
Anti Malware Advanced Protection
Acronis Cyber Protection Solutions deliver outstanding defense in depth (DiD) threat protection via a set of smartly integrated technologies, each of which works to prevent possible threats along dedicated stages.
Full stack protection technologies

Contains AI-, behavior- and signature-based detection and response

Security against any threat

Protects against known/unknown malware and ransomware, and fileless attacks

Combat emerging threats

Uses behavioral heuristics and dynamic detection rules to combat emerging threats

Detect any kind of malware

Scans files for trojans, viruses, backdoors, worms, keyloggers, spyware, and others
What is malware?
Malware is malicious software that is intentionally designed to damage a system or steal data. Malware is most often used by cybercriminals for financial gain, but can also be distributed as a form of protest or as an offensive weapon in the state-sponsored attacks that have become increasingly popular. Common forms of malware include viruses, trojans, worms, spyware, ransomware, botnets and any other type of potentially unwanted application.
Damages a system or steals data
Used by cybercriminals for financial gain
Includes viruses, trojans, worms, spyware, ransomware, etc.
Effectiveness proven by independent testing laboratories
Product Report

Acronis scored a 98.0% detection rate in a real-world test, but more importantly, it caused zero false positives – a distinction held by only three other vendors in the test.

Product Report

Virus Bulletin extends their congratulations to Acronis who are newcomers to the VB100 certification, achieving their first certification at 100% malware detection + 0% false-positive rate on our certification sets.

Product Report

Both the Protection and Usability tests showed very good results. Protection was flawless and in case of Usability there was only one false positive detection which can be considered a minor issue

Product Report

Acronis's endpoint anti-malware product provided very good real-time protection against malware known to exist on systems worldwide. Acronis Cyber Protect Cloud had no false positives on any of the thousands of innocuous files used in testing.
Stops drive-by downloads

Intercepts HTTP/HTTPS requests and stops attempts to silently download malware

Blocks malicious websites

Protects against any phishing sites and blocks sites that distribute malware

Focus on current cyber threats

Identifies scams using themes that leverage actual threats, such as COVID-19

Extensive threat intelligence

Integrates intelligence from industry partners into Acronis' detection technologies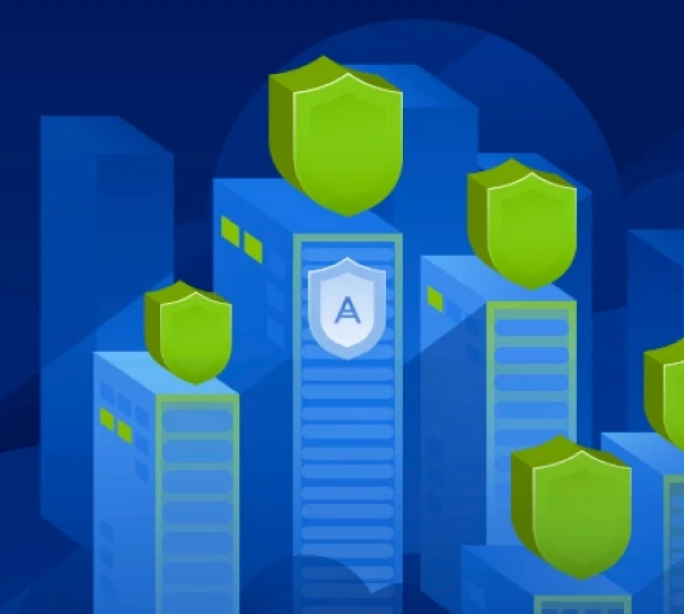 White paper
Acronis multilayered cybersecurity
Understand how Acronis uses multiple defense layers to prevent, detect, and respond to modern cyber threats.
Vulnerability patching

Covers unpatched vulnerabilities so dangerous malware can't exploit them

Protection against any exploit

Is effective against every known exploit technique, including memory exploits

Behavior-based exploit prevention

A special set of behavioral heuristics that's constantly updated by Acronis experts

Prevent fileless exploits

Works well against fileless attacks, that signature-based techniques can't detect
Globally updated signatures

Faster access in every region due to Acronis data centers located around the globe

Nearly-instantanenous updates

New detections are available for every customer within minutes of the first encounter

AI-enabled data processing

More effective detection models, thanks to AI-enabled data processing

Zero false positives

Increased accuracy of false free verdicts due to allowlisting, sandboxing, etc.
Machine learning

Helps confirm malicious processes and injections into legitimate ones

Static AI analyzer

Detect malware triggered without execution

Defense in depth

Different models are used to effectively detect different threats

Continous improvement

New models are tested every hour to improve efficiency and combat evolving threats
Protection against any malware

Powerful exploit prevention

Effectively deals with fileless attacks and various exploit prevention techniques

Dynamic detection rules

Protection against polymorphic and obfuscated malware

Smart protection plans

Can be updated at any moment to add protection against new, emerging threats
Improved detection rate

More aggressive behavioral heuristics for more effective detection of malware

Automatic allowlisting

Automatically allowlists applications for time-efficiency

Manual allowlisting

Supports manual allowlisting, if needed

Zero false positives

Proven zero false positives by independent third party tests
Sorry, your browser is not supported.
It seems that our new website is incompatible with your current browser's version. Don't worry, this is easily fixed! To view our complete website, simply update your browser now or continue anyway.