If you just Googled "outsourced backup" you are already on to something, having at least heard that backup and recovery are essential to protect your organization's most precious asset – your data. Of course, the topic is a minefield for businesses to investigate: Each organization's needs and budget are different. Meanwhile, the speed with which technology and threats evolve makes it even harder to figure out the approach to cloud backup that will ensure business continuity today – no matter which inadvertent error or full-fledged disaster (like Mother Nature or ransomware) might hit.
But don't worry. We're here to simplify your search and make sure you find the best solution for your business. We'll start by answering some questions – what outsourced backup is and what some reasons are for outsourcing backup to a managed service provider, as opposed to handling your own cloud backup. Better still, if this is the route you choose, you'll find questions to ask a managed service provider to be sure they are using a modern cloud backup solution that will guarantee your business continuity.
Outsourced backup and why it's worth exploring
Outsourcing itself is not an unfamiliar idea to most business owners today. It provides a way to get work done without having to do it yourself (or without doing it quite as well or as economically). When it comes to an integral component of business IT, many organizations outsource to managed service providers because their needs are varied and nuanced. (You probably already know that cloud backup is just one piece of a much larger pie.) Contracting help from IT specialists allows organizations to focus on what they do best while getting access to the support, advice, and tools they need to succeed.
Outsourced backup, specifically, is a backup service delivered by a managed service provider (MSP). In fact, you may or may not be aware that backup is just the first step toward recovery. All MSPs should know this, and be knowledgeable about the ins and outs of data protection – including local versus cloud backup, recovery, and disaster recovery – as well as the latest technologies to ensure what's really needed today: cyber protection.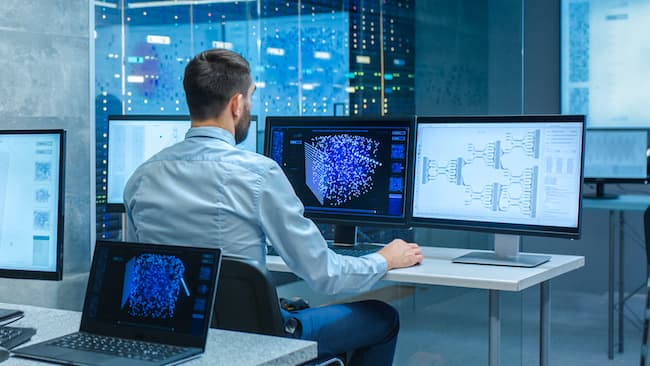 With the help of an MSP, you have the opportunity to get educated about – and invest in – the IT solutions that make sense for your organization.
Pro Tip: Reputable MSPs are aware that traditional backup is no longer enough to meet your outsourced backup needs, given today's threat landscape. Cyber protection combines data protection with cybersecurity to ensure organizations have complete, integrated protection.
Do-it-yourself versus outsourced backup
It may be tempting to go the DIY route rather than choosing an outsourced backup approach, especially if you already handle some IT in-house. Keep these points in mind to help decide whether a DIY approach or a managed service provider is right for you given this use-case.
Weighing costs – time and money
When it comes to expenses, a managed service provider has a definitive price tag associated with it. That can be good news or it can be intimidating. So what's the trade-off for the time and money your organization would invest in a managed service provider?
Here are the core components you need to evaluate:
Salary/ies of whomever orchestrates the solution for you in-house

The trade-off in staff time spent otherwise, doing other tasks

Training time and costs associated with managing backup in-house (from deploying the solution to managing it)

Technology and infrastructure investments needed to support your backup plan (e.g. the backup solution itself, associated cloud backup storage costs, servers needed, etc.)
Weighing control – safety, security, and compliance
Many organizations are regulated – from healthcare to legal and accounting firms and beyond. Don't forget that data protection and data privacy are separate but linked entities. That means newer regulations (like the EU's GDPR) and older ones (like HIPAA) can impact how easy (or difficult) it is to stay compliant and avoid penalties.
When it comes to data protection specifically, where your data is stored is an important concern. When you employ a DIY approach, you maintain complete control – working with a managed service provider you naturally engage a third party. On the other hand, MSPs have better cybersecurity expertise; they can design a more secure system for your organization, or at least help you identify a more secure backup solution vendor.
Pro Tip: If you engage an MSP, be sure you know how and where your data is stored and what security measures will be implemented, like data encryption, two-factor authentication, and protection against ransomware and malware.
Weighing expertise – IT generalists and specialists
Many organizations have small, effective IT teams but still choose outsourced backup because managing an effective backup plan today is incredibly complex. Consider whether your in-house team's data protection expertise is sufficient – or worth the risk.
With outsourced backup, you can rely on reputable managed service providers to have the expertise and resources needed to help you avoid a data loss incident outright, or recover quickly in the event of one. They take the time to analyze your business continuity needs up front, so your organization can put an appropriate backup plan in place. This approach means they can recognize when a data loss event is a minor blip versus a major catastrophe – and know which action to take to minimize the impact on your bottom line.
Securing modern outsourced backup – questions to ask your MSP
If you opt for outsourced backup, the next step is to identify a managed service provider to help. Not all MSPs are created equal and you need to choose one that works with an advanced solution to ensure business continuity through all of today's threats. Here's a list of questions you can use to make an informed decision about the MSP you engage.
How much time do you invest in training each year?

What kinds of topics are you getting trained in?

Which certifications do you hold?

Is cloud backup a core managed service you offer?

Which cloud backup deployment options are available? (Cloud deployment minimizes billable resources – it reduces the load locally.)

Do you offer disaster recovery as a service?
Safety, security and compliance
Does your solution offer protection for any workload? What about cloud backup for Microsoft 365, Google Workspace, etc.?

What are the solution's backup retention policies?

What type of encryption is used at-rest and to transfer data (in the case of cloud backup)?

What storage options are available? E.g. Can backups be stored on-premises as well as in the cloud? If in the cloud, which public or private cloud is available?
Does your solution ensure data safety, accessibility, privacy, authenticity, and security (SAPAS) – upholding all Five Vectors of Cyber Protection? If so, which advanced technologies does the solution use to ensure these characteristics? Does it have built-in, AI-based anti-ransomware protection to add an extra layer of protection and thwart known and unknown (zero-day) threats outright?
How quickly does the solution back up data?

Will the backup process interrupt normal or critical IT operations?

How fast can you recover data? What does that process entail?

Can you retrieve data granularly, if I just need one email, document, or spreadsheet, for example?

What if your business grows, or your data needs change during a busy season – does the solution scale easily and cost-effectively?
How do you price your managed service? E.g. Are backup, cloud backup, disaster recovery, and/or storage costs separate or are they bundled?

What about any infrastructure-related expenses?

Are there any hidden fees?
Pro Tip: MSPs that discuss rising cyberthreats and the need to stay up to date on the latest insights about cybersecurity, privacy, and data authenticity challenges are good indicators the MSP has the expertise you require. Modern data protection requires a comprehensive approach, so don't settle for an MSP that doesn't offer cyber protection – you'll leave your business exposed.
As they say, "chance favors the prepared". Whether you choose outsourced backup or DIY, the cost of a data loss event is crippling and can put you out of business. If you do opt for outsourced backup, you are now armed with key questions to assess different managed service providers and the quality of the solution they offer.
Case in point: Acronis Cyber Backup Cloud is one cyber protection solution that promises outsourced backup success.
With protection for more than 20 systems, Acronis keeps your business running by easily and efficiently giving MSPs a single turn-key solution that delivers the most secure, hybrid-cloud backup available – without jeopardizing your organization's system performance.
Acronis Cyber Backup Cloud integrates layers of security, including the backup industry's most advanced AI-based anti-ransomware technology and delivers unprecedented flexibility when choosing backup storage so you can control your data and easily comply with any regulation. Better still, quick, reliable recovery are ensured, disaster recovery services are easy to enable, and you won't need to invest in infrastructure or additional hardware or software.
Ask your MSP whether they work with Acronis Cyber Backup Cloud – if they do, you can work without worry, without breaking the bank on outsourced backup.