formerly Acronis Cyber Backup
Other languages available:
日本語
It was a watershed moment for Acronis earlier this year when Canalys added us to their endpoint security performance index, and then followed that up by naming us a Grower in the Global Cybersecurity Leadership Matrix for 2021 — as illustrated in the chart below. As I noted at the time, this was a special moment because it was the first time the analyst community had acknowledged Acronis' robust growth in the cybersecurity arena — and not just simply backup or disaster recovery.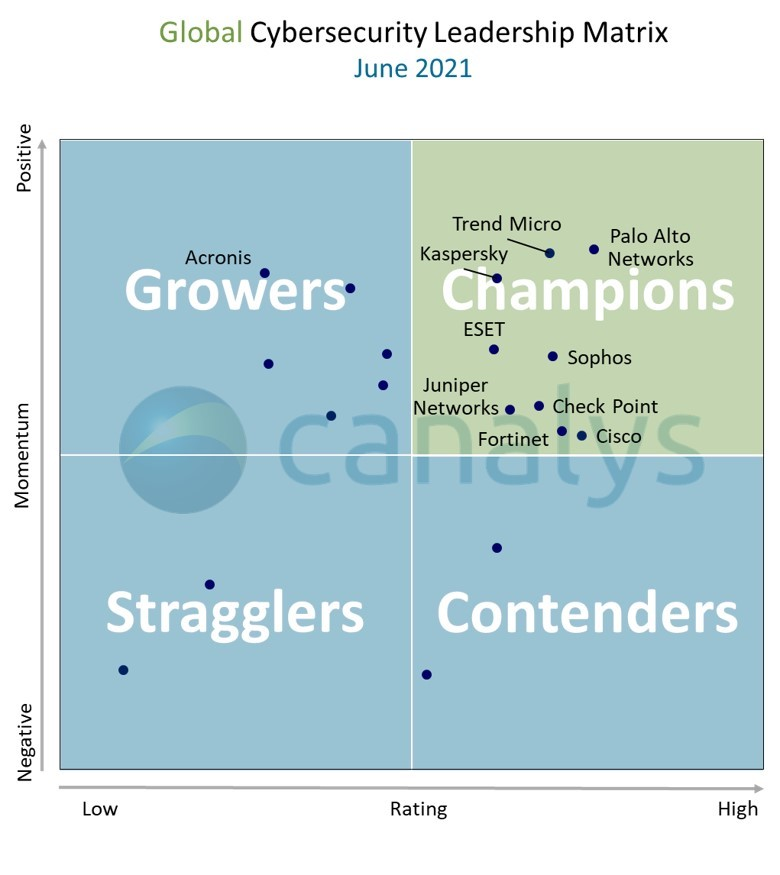 And in the few short months that have followed, Acronis has been prominently featured in three additional endpoint protection reports by analyst firms Info-Tech Research Group, Radicati Research, and Analysys Mason.
SoftwareReviews.com places Acronis Cyber Protect in "Leader" quadrant
The Info-Tech report is actually from their end-user research arm, SoftwareReviews.com, which puts Acronis Cyber Protect in the "Leader" quadrant, and in second place overall among endpoint protection solutions, according to end-user reviews. Additionally, Acronis had the highest scores among all vendors when it came to "likeliness to recommend" and "planning to renew" attributes from end-users.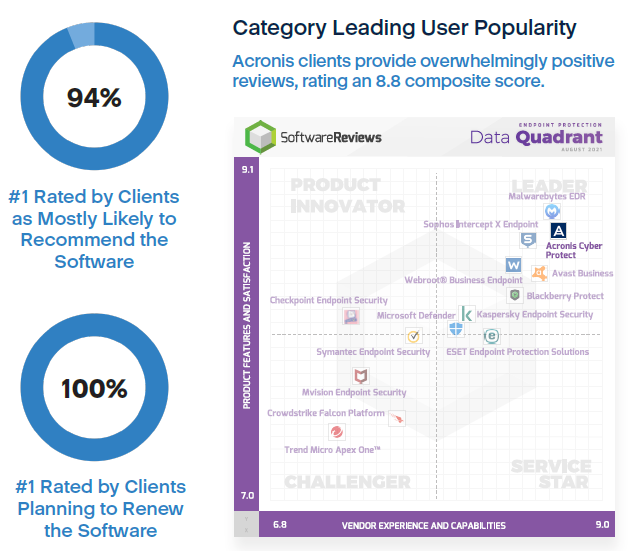 Moreover, this recognition by end-users in the endpoint protection category comes on the heels of Acronis Cyber Backup winning a gold medal in the backup and recovery category in 2020. Having gold medals in both endpoint protection and backup/recovery truly epitomizes the Acronis mission to deliver cyber protection, and it certainly appears that end users are starting to realize that.
You can download a customized market impact report about Acronis being a leader in the endpoint protection category and can see what else end users have to say about Acronis Cyber Protect here.
Radicati Group names Acronis a "Trail Blazer"
Additionally, hot off the press, the Radicati Group has published their Endpoint Security Market Report for 2021, in which Acronis was featured as a "Trail Blazer." Due to our strong scores in "Strategic Vision," we outperformed the likes of Sophos, McAfee, SentinelOne, Trend Micro, and CrowdStrike — all of whom appear in the report's "Specialists" quadrant.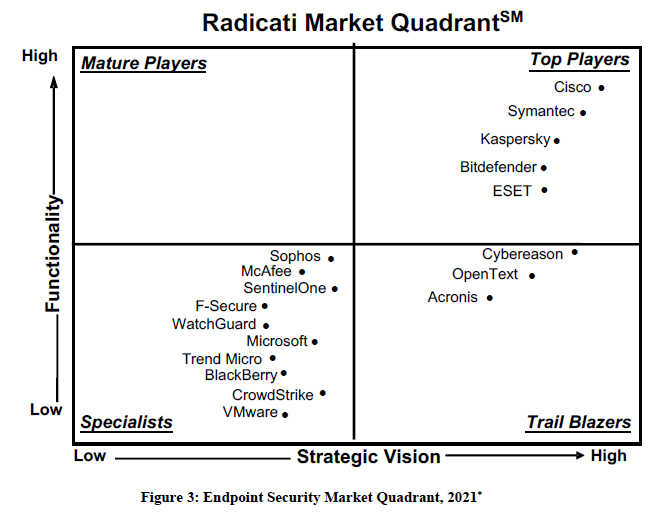 The full report — which has detailed vendor profiles for every company included — is available for download here.
Acronis dubbed a "Strong Performer" by Analysys Mason
Finally, Acronis was also just featured as a "Strong Performer" in a new report just published by Analysys Mason, titled SMB Endpoint Security Vendor Scorecard 2021. The key criteria used by Analysys Mason to evaluate vendors' strategies, ambitions, and execution in the SMB market were: 1) focus on the SMB market; 2) strategy and vision; 3) partner network; 4) portfolio of solutions; 5) operating scale and ambition; 6) complementary capabilities; and 7) brand recognition.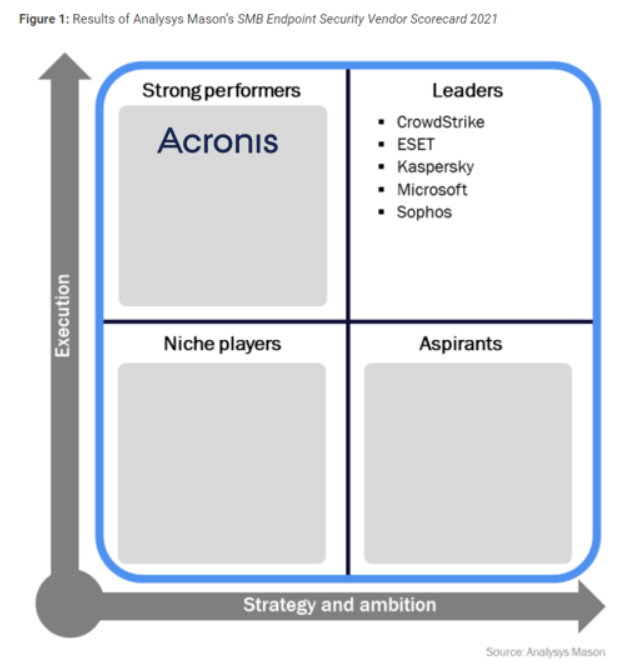 In conclusion, skeptics may have called the initial coverage of Acronis by Canalys in the early part of 2021 a fluke. However, throughout the rest of 2021, we have heard from the end-user community via Info-Tech Group's SoftwareReviews.com, as well as analysts at the Radicati Group and Analysys Mason. It is quite clear that as of 2021, Acronis has meaningfully begun to shed its reputation as "just a backup company" and is nowadays truly being viewed by analysts and end-users as a formidable force in cyber protection.
About Acronis
Acronis is a Swiss company, founded in Singapore. Celebrating two decades of innovation, Acronis has more than 1,800 employees in 45 locations. The Acronis Cyber Protect Cloud solution is available in 26 languages in over 150 countries and is used by 20,000 service providers to protect over 750,000 businesses.