Acronis

Cyber Protect Cloud
With the launch of Acronis Cyber Protect in 2020, we began to compete in other sectors above and beyond backup and recovery. Truth be told, we started those moves during the past several years with Acronis Active Protection but this feature was found within our backup solutions, not a product itself.
Yet with our integrated features like anti-malware, vulnerability assessments, and URL filtering, Acronis started to look more and more like an endpoint protection solution – and it seems the analyst community took notice.
Most notably, the market research firm Canalys recently began including Acronis in their Endpoint Security Vendor Performance Index.
Acronis and endpoint security
Canalys' index is a quarterly research service that covers market share and trends within the endpoint protection sector. Not only does this mark the first time that an analyst firm has officially classified Acronis as an endpoint protection platform (EPP) provider, but we "hit the ground running."
In our first appearance, Acronis earned a position in the upper right quadrant in the Canalys graphic which plots vendor performance in the last quarter versus the medium term. Canalys also estimated Acronis to have a 2.7% market share, tied for 12th place overall with SentinelOne.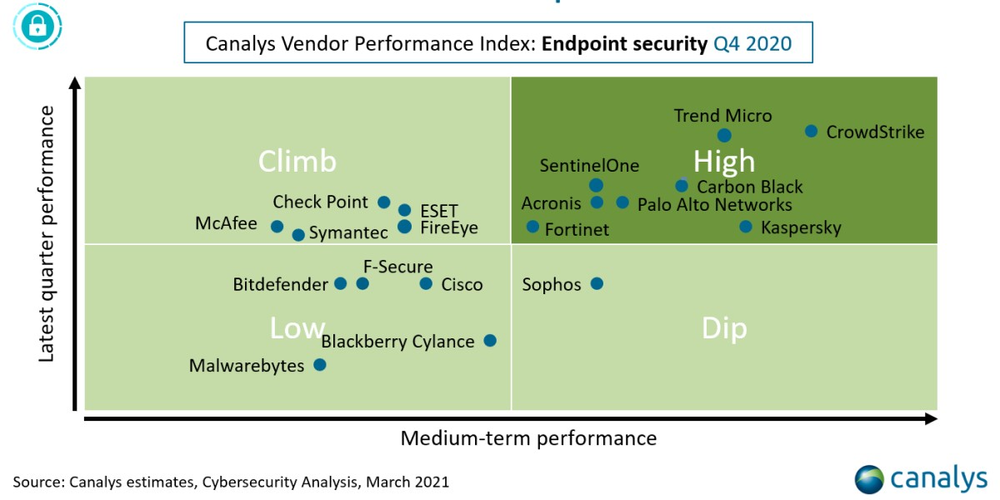 This may be the first time Acronis has been classified as an EPP provider by the analyst community, but we are confident it will not be the last.
As we continue to share our vision of how traditional backup is no longer sufficient given modern-day threats and how the answer is cyber protection (the fusion of data protection and cybersecurity), more analyst firms will recognize Acronis competing in both markets.
Hopefully, one day, analyst firms will have cyber protection as an IT section in its own right.
About Acronis
Acronis is a Swiss company, founded in Singapore. Celebrating two decades of innovation, Acronis has more than 1,800 employees in 45 locations. The Acronis Cyber Protect Cloud solution is available in 26 languages in over 150 countries and is used by 20,000 service providers to protect over 750,000 businesses.