Making money is the number one business objective no matter who you are or what you do. And with the global managed services market expected to hit $282 billion by 2021, it's no surprise IT consultants and technology resellers are wondering: What are managed IT services really? Could it be a way to expand my business and get a piece of that pie?
Today there are many ways that cloud solutions make it easier for IT businesses to grow by delivering managed IT services to customers. To start, let's take a look at what managed IT services are as well as the advantages they offer when compared against more traditional one-off project-based work. Then we can explore how you can market and sell managed IT services.
Understanding the break/fix model versus managed IT services
If you're an IT consultant or IT vendor – whether you're fixing broken down hardware, replacing / upgrading it, or writing custom code – you're plugging in and out of a customer's business. You show up (perhaps virtually), do the work, and leave until the next opportunity arises. That means you're working on a project basis, with no real control over your revenue. Sure, hardware only lasts so long and you may have insight into when something might be coming due for a refresh. But breakdowns and upgrades don't happen every month, just as new code doesn't need to be written every day.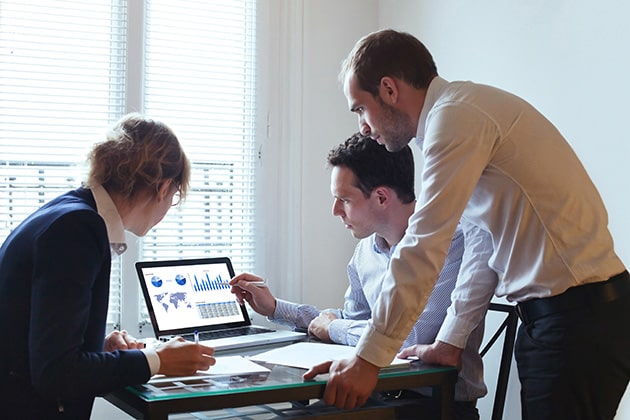 With managed IT services, customers are billed regularly (e.g. at a flat monthly rate, with additional fees for ad-hoc work) rather than per hour for project-based work. Such predictability benefits both IT managed services providers and their customers – service providers enjoy recurring revenues while their customers can better manage their IT budgets. Meanwhile, some extras (like hardware that will need to be replaced and anticipated software updates) can be vetted with a pro and budgeted for in advance.
From a marketing and sales perspective, the managed IT services model is also valuable. That's because providers engage regularly with customers, which means that you are always working to stay ahead of problems. You also gain a vantage point to spot new opportunities, deliver additional services, and profit. Last but not least, such regular engagement keeps your managed IT service provider business top of mind, builds trust, and boosts referrals.
Get started selling managed IT services
William Wordsworth said, "To begin, begin". For those looking to become IT managed services providers, this means you should start by considering the needs of your existing customer base. If you focus first on offering services that are relevant to customers with whom you already have a relationship – services that are geared towards customer pain points and help solve pressing issues – you don't waste time or money investing in services that don't have a ready-market. This strategy makes it easier to start selling IT managed services.
Pro Tip: Remember, you're the IT guru – customers may not understand what the real problem is or how to solve it, but you have a birds-eye view into what they're struggling with. Leverage that insight when considering which managed IT services you want to offer first.
Identify key managed service provider tools
There are many managed service provider tools available today to help make your job easier – from delivering services to running your business.
Delivering services as efficiently as possible is key to maximizing your potential revenue. For example, you'll want to work with solutions that make it easy to avoid hiring new or specialized staff. Or, if you're solo for a while, you need to be able to deliver services with ease. You can increase productivity and minimize errors with managed IT service provider solutions that allow you to manage services from one screen, without switching between per-use-case tools, for instance.
Software that has centralized administration will also help keep your business running smoothly. This is particularly important as you grow and need to manage and monitor multiple customers at once. You'll want to look for software solutions that make it easy and efficient to deliver services (i.e. to more than one customer, with different use-cases).
Of course, it's not just about the quality of services that you deliver, but how easy you are to work with. This attribute is essential to marketing and sales – it affects your reputation and the chance for referrals. Put managed service provider tools that have benefits like unified management, streamlined billing, and easy integrations high on your list.
Maximize the value of one customer
As hinted above, sales and marketing are two big managed IT service provider challenges. That's in part because it's easier to focus on what you know – IT service provisioning – than what you may not: selling.
When it comes to marketing, it can be easy to bridge a skills gap: Simply keep existing customers buying to maximize the value of the IT services you already provide. After all, a mere 5% increase in customer retention can increase profits up to 95%, according to a Bain & Co. study. If you have a captive audience – customers that trust you – you can reduce churn by leveraging anchor products. This means that you attach additional services to solutions your customers already rely on, or use cross-sell and up-sell techniques.
As an example, consider the opportunities available when it comes to backup software: Customers require a backup solution that allows them to keep running. While customers may be using Google Workspace or Microsoft 365 (anchor products), these solutions do not include traditional backup – that responsibility falls to customers, or to you as their managed IT service provider. Since many companies are reliant on these solutions, it's easy (and important) to talk to customers about the risks to their data. By attaching backup to them (an add-on), you deliver a necessary solution while boosting your bottom line with a higher average revenue per customer.
Speed up your sales cycle
Another common challenge that IT managed services providers face is lengthy sales cycles. You may have a customer that's interested in a particular solution, but you need time to vet fit for their organization and troubleshoot it given their use-case. Solutions that enable a short proof of concept stage are essential to managed IT service provider sales success – you avoid resource draining investments to get a solution off the ground and can move on to closing the next sale. Look for managed IT service solutions that help you enable a managed IT service quickly.
Be smart about your managed IT services pricing
Selling IT services is easier if you're smart about how you design your managed IT services pricing. Typically, service providers initially engage customers with a flat rate. From there, specific IT services (outlined in service level agreements, or SLAs) are maintained on a monthly basis for a specified rate. These monthly rates are determined in one of the following ways:
- Per-device. Customers are billed a flat fee for each device their service provider manages. - Per-user. Customers pay a flat fee for each user their service provider manages. - All-inclusive. Customers pay a flat fee for all services delivered.
This traditional approach is rather straightforward and well vetted. Where you have a real opportunity to hit the ground running is by making it easy for customers to buy. Remember, IT budgets typically remain flat. By offering gateway pricing for a key service, for example, customers can engage help at a reduced rate (or sometimes even free/on a trial basis). Known as the "bait and hook approach", this managed IT service pricing strategy helps launch new services (i.e. sell them) and solidifies loyalty.
Another way to kick-off a successful business is to streamline decision-making for customers. IT managed services providers can do so by bundling services – or offering services "in-a-box". Customers can easily see the value of a given bundle and are inclined to buy more services. (Remember, it's important to charge more for individual services; this enhances the value of the bundle and also increases your margins on any service sold separately.)
Finally, when it comes to managed IT services pricing, savvy providers tie certain SLAs to fees based on a tiered structure. Customized or more labor-intensive services should command a higher rate than basic services covered in a lower-tiered SLA.
Managed IT services today can offer a big opportunity for IT consultants and vendors looking to expand their reach and grow. With key insight into the problems customers are trying to solve, providers are well-positioned to deliver needed solutions. Getting started simply requires leveraging key IT managed services provider tools and developing your managed IT pricing strategy. Once you take care of these pieces, you'll be up and running in no time.
Discover how managed IT service tools like Acronis Cyber Cloud check all of the right boxes so delivering essential, in-demand data protection services is easy, efficient, secure – and profitable.