Let's face it. Whether managed internally or outsourced to a managed service provider (MSP), maintaining efficient IT operations in the brave new cloud world often feels like mission impossible.
Traditional, centralized IT approaches break down in the face of highly decentralized, on-demand, self-provisioning service models, as well as complex hybrid infrastructures. Digital transformation has also introduced many complexities, such as shadow IT and insufficiently governed tool sprawl. IT operations have become inefficient, and dangerous security gaps may open up.
AIOps is a next-generation approach to IT management that emerged in response to the challenges described above. By applying artificial intelligence and advanced analytics to the huge volumes of diverse data being continuously generated, IT teams can identify and implement automation opportunities that improve both efficiency and governance. Teams get the visibility and insight they need to resolve incidents quickly — and often to preempt unplanned downtime altogether. The same goes for vulnerability remediation and other cyber-hygiene programs.
According to Gartner, only 5% of enterprises had fully embraced AIOps as their IT strategy in 2018. However, Gartner predicts that by 2023, 30% of enterprises will be AIOps shops, and organizations that do not have the in-house resources or skills to develop their own AIOps framework will adopt third-party AIOps platforms. Hence, market research forecasts that the global AIOps market will grow from $3 billion in 2021 to $9.4 billion by 2026, at a compound annual growth rate of 26%.
What does this mean for MSPs? As dedicated IT organizations, MSPs have a lot to gain from AIOps: reduced costs, superior service delivery, and better cybersecurity. This blog post explores the benefits that AIOps brings to MSPs and how Acronis Cyber Protect Cloud delivers AIOps as part and parcel of its products and solutions.
Today's IT stacks and infrastructures are highly complex and diverse. Aside from the risk of throwing away money on redundant tools, for example, getting everything to work together requires a lot of API integrations or middleware. These kinds of integrations are tedious to implement and maintain, and a change in just one third-party tool can cause an entire system to collapse.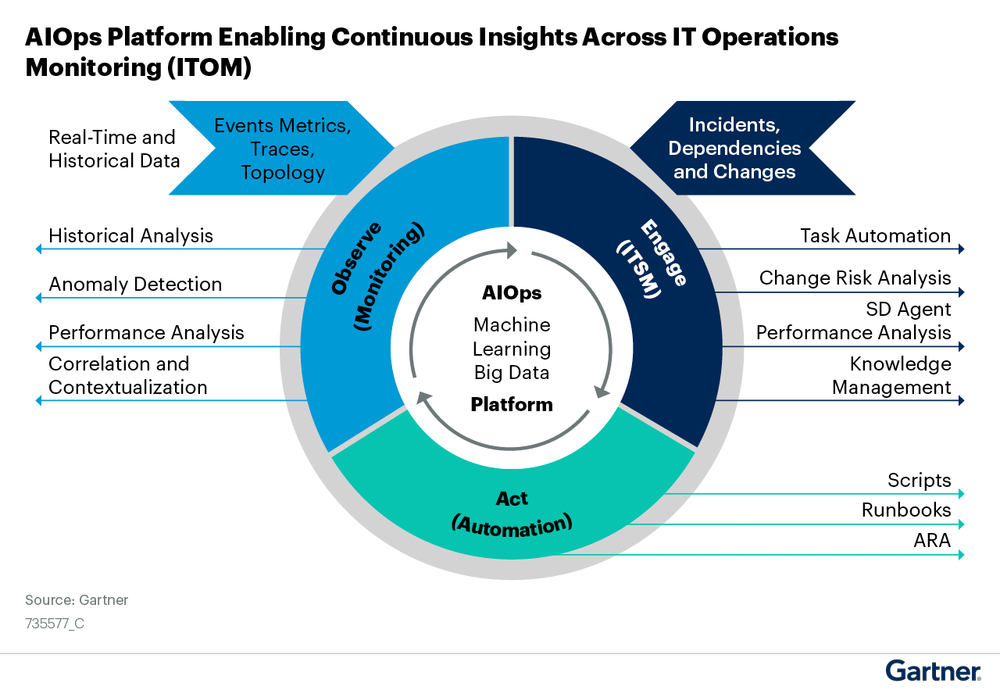 AIOps goes beyond tool sprawl and API-based integrations to create a unified, centralized IT operations framework. The key features and benefits include:
● Continuous auto-discovery of assets and network topology: AIOps gives you a comprehensive and real-time inventory of all assets, accounts, and systems, including the dependencies among them.
● End-to-end visibility: AIOps offers a single source of IT operations truth that is shared by all stakeholders and serves as a platform for cross-team collaboration. It allows you to discover opportunities for automating processes and tasks in order to boost efficiency and reduce human error.
● Insightful analytics and visualizations: AIOps aggregates data from numerous monitors and scanners and normalizes their diverse metrics into a unified data model. It then applies advanced analytic and visualization methodologies to deliver insights into system performance and health, as well as to quickly troubleshoot incidents.
Why AIOps for MSPs: Efficient service delivery
Efficient service delivery is a business-critical goal for MSPs — and is key to both maintaining healthy profit margins and retaining happy customers. Here are just a few of the many efficiency benefits that AIOps brings to MSPs and their customers:
● Reduced IT complexity by design: The AIOps framework delivers integrated metrics, processes, policies, and workflows across even the most fragmented IT stacks and most complex IT infrastructures. It opens up IT bottlenecks and provides a hub around which IT and operations teams can collaborate seamlessly. Imagine the power of correlated metrics and a deep knowledge of environmental context when troubleshooting a system slowdown or disruption.
● Automated workflows and process-automation solutions: As the AIOps framework gains more knowledge about the system, it can identify tasks, processes, and workflows that are repetitive, and thus good candidates for the framework's process-automation capability. This is true not only for internal MSP processes and workflows, but for customer business workflows as well. In addition, AIOps implementations usually aggregate and analyze the various log files generated by diverse IT systems, often significantly shortening the time needed to issue detection and remediation.
● Real-time visibility into your organization's IT architecture: The AIOps framework continuously and automatically maintains an end-to-end and real-time view of the entire infrastructure — on-premises, multiple clouds, data repositories, applications, services, and more. Intuitive dashboards and other visualizations make the IT architecture transparent to all levels of stakeholders, from the newly onboarded system admin to the Chief Information Security Officer (CISO).
● Enhanced business continuity and productivity: The AIOps framework allows MSPs to commit to stringent uptime service-level agreements (SLAs). AIOps creates a baseline of system performance and health, and alerts immediately to anomalous behavior or out-of-threshold metrics. In this way, many issues can be anticipated and fixed before the end user is even aware. If an incident does occur, the framework supports rapid troubleshooting and remediation, with near-zero recovery point objective (RPO) and recovery time objective (RTO).
● Accelerated time to value: The AIOps framework streamlines IT operations and maintains high availability. This allows MSPs and their end users to focus on strategic business goals, such as rolling out new applications and services, enhancing customer service and support, and reaching out to new target audiences. Instead of struggling with routine management activities, IT becomes a business enabler.
● Differentiation: AIOps is still not mainstream, so MSPs that embrace an AIOps framework can differentiate themselves from the competition. End users will undoubtedly note the superior responsiveness, performance, and innovation that comes with AIOps. In fact, the "proactive" nature of AIOps drives better service delivery and less downtime. The cost savings can be shared with customers, enabling more competitive pricing.
Why use AIOps for MSPs: Happier employees
The longstanding gap between the demand for qualified, experienced IT personnel and the availability of candidates is well documented. In a recent survey, MSPs cited staffing and training as their greatest challenges. However, MSPs that adopt AIOps reap significant HR benefits, including:
● Faster employee onboarding: Rather than having to climb the steep and tedious learning curve of a complex and obscure IT environment, new employees — no matter what their level of experience — can quickly get oriented through the AIOps framework interface. New recruits will soon be ready to contribute their skills to moving the business forward.
● Elimination of tedious tasks: High levels of AIOps automation free up IT personnel from many of the routine tasks that are tedious and prone to error when carried out manually. The AIOps framework can automatically orchestrate workflows such as service ticket management, vulnerability remediation programs, and security posture compliance and reporting, to name a few.
● More time for innovative, business-critical tasks: Although salary and work conditions are important for motivation, it's likely that your best employees thrive when they feel they are valued contributors to good business outcomes. An AIOps shop can free up time for IT personnel to work on business-critical tasks, such as more personalized service delivery, taking on a consultative role with customers, or deploying novel IT products and services that accelerate customer business results.
Why AIOps for MSPs: Better cybersecurity
Even if an MSP does not explicitly offer a cybersecurity package, customers expect all MSPs to implement cybersecurity best practices across the entire service delivery chain. For more details on MSP liability related to cybersecurity, see our recent guest article on ChannelE2E. Here are just a few of the cybersecurity benefits AIOps offers MSPs and their customers:
● Data classification and monitoring: Not all data is created equal. Personal data, for example, is considered highly sensitive, and companies are under increasingly greater scrutiny from end users and regulators to protect personal data with the best cybersecurity practices out there. The AIOps framework can help an organization continuously classify data resources so that the appropriate cybersecurity measures are applied based on internal and external governance criteria.
● Early detection of fraud or other threats: AIOps automatically builds a profile of baseline system performance and then uses advanced analytics on real-time monitoring and scanning data to quickly detect anomalous user or system behavior.
● Contextual threat intelligence: Suspicious system signals can be correlated with other data sources, such as the organization's own asset knowledge base and external threat intelligence feeds, in order to quickly identify the threats that pose a real risk. This allows IT teams to focus their finite resources on remediating high-risk vulnerabilities.
● Enhanced incident response and management: The AIOps platform uses automated workflows to alert the right personnel to a detected threat, including a description of its severity, the assets (and their dependencies) that are affected, and perhaps even remediation guidelines. The platform continues to automatically orchestrate the incident response protocol, including verification that the incident has been satisfactorily resolved.
Acronis Cyber Protect Cloud: AIOps at work
Acronis Cyber Protect Cloud was designed from the ground up with AIOps best practices in mind. It provides a centrally managed and highly automated cybersecurity solution in which backup/recovery and next-generation anti-malware, antivirus, and endpoint protection features work together seamlessly to protect data, networks, and endpoints.
With Acronis Cyber Protect Cloud, antivirus and other protection systems know there's a backup, and they scan it automatically for threats to ensure that the data is clean should there be a recovery operation. In addition, patches are automatically applied to backups, as well as to live systems, so that restore procedures do not undermine the security posture of host or client machines.
Acronis Cyber Protect Cloud reduces complexity and risk while increasing productivity and profitability. MSPs using it can cut their cyber protection costs by as much as 50% by consolidating vendors, simplifying management, and improving workflow automation. They can also differentiate themselves with superior cybersecurity protection of their customers' workloads.
Learn more about how Acronis can help you secure your assets — and those of your customers. Request a demo or try us out to get an inside look.
About Acronis
Acronis is a Swiss company, founded in Singapore. Celebrating two decades of innovation, Acronis has more than 2,000 employees in 45 locations. Acronis Cyber Protect solution is available in 26 languages in over 150 countries and is used by 18,000 service providers to protect over 750,000 businesses.