Acronis

Cyber Protect Cloud
What is Microsoft Azure Site Recovery?
Site Recovery is an Azure disaster recovery (DR) solution that replicates workloads running on your Windows/Linux servers or VMware/Hyper-V virtual machines (VMs) into Azure and orchestrates failover and failback events when a disaster happens. Replicating to Azure eliminates the costs and complexity of maintaining a secondary data center and includes the ability to:
Replicate on-premises Windows, Linux and/or Azure VMs to Azure or a different Azure region.

Replicate to Azure or a DR site via site-to-site replication (e.g., the traffic does not go through Azure).

Achieve near-continuous replication to minimize your Recovery Point Objectives (RPOs) with agent-based replication for physical machines and VMware VM and agent-less replication for Hyper-V and Azure VMs.

Capture application-consistent snapshots as often as every hour.

Integrate ASR with your enterprise applications to provide data integrity inside the replication machine and ensure proper work after failover. These applications include Active Directory, DNS, Exchange, SQL, SharePoint, Oracle, and SAP.

Test production failover and failback, including testing in isolated networks and assessment for in-guest applications.

Replicate on-premises VMware VMs, Hyper-V VMs managed by System Center VMM, and physical servers to a secondary site.
Azure site recovery comparison to Acronis Disaster Recovery
ASR is a good solution if you only use Azure and native Microsoft solutions. If you need local backup or the ability to back up to other cloud infrastructures, Acronis Disaster Recovery is a better option. When comparing ASR to Acronis Disaster Recovery, there are other limitations as well. For example,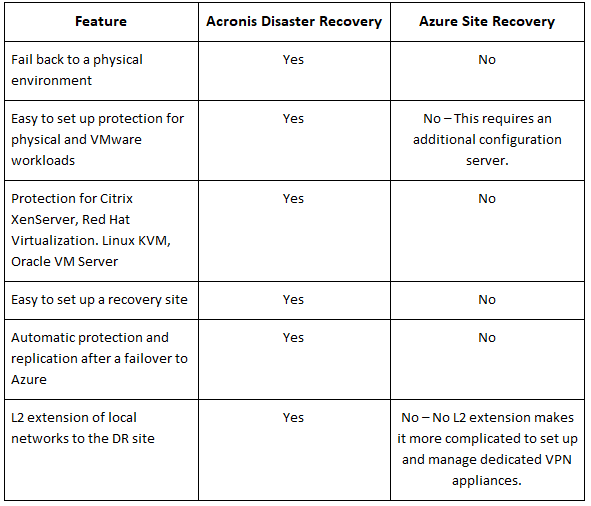 Acronis Solution as an Alternative to Azure disaster recovery
It is important to choose the right DR solution for your business and this decision must be based on both your needs and budget. If your organization is not a Microsoft shop or you have a heterogeneous IT environment that consists of more than Microsoft applications, Azure DRaaS (Disaster recovery as a service) may not be the right solution for you.
If your organization has IT resources and budget to manage DR in-house, consider using a comprehensive solution like Acronis Cyber Disaster Recovery. Easy to deploy and manage, it ensures all workloads – whether they are on-premises or cloud-based – are instantly available when disaster strikes. It also includes an isolated testing environment so IT teams can ensure the system will keep the business running no matter what happens.
If your organization is a small-to-medium-sized business (SMB), you may not have the IT staff and budget to manage your own DR strategy. That is why many SMBs rely on managed service providers (MSPs) for their IT needs, including managed disaster recovery services. With a cyber protection platform such as Acronis Cyber Cloud, MSPs can provide multiple layers of protection, including backup and disaster recovery as a service to ensure your data, applications, and systems are always available and protected.
That flexibility means that any organization, regardless of its size, can deploy an appropriate disaster recovery strategy so they can weather whatever challenges they face.
About Acronis
Acronis is a Swiss company, founded in Singapore. Celebrating two decades of innovation, Acronis has more than 1,800 employees in 45 locations. The Acronis Cyber Protect Cloud solution is available in 26 languages in over 150 countries and is used by 20,000 service providers to protect over 750,000 businesses.