Acronis

Cyber Protect Cloud
Cloud hosting has evolved over the years to be a powerful way to host websites and online services requiring greater levels of performance, reliability and scalability.
What are cloud hosting services?
Cloud hosting services give you access to powerful, scalable and reliable hosting, deployed on an Infrastructure as a Service (IaaS) model of load-balanced servers, often decentralized across multiple data centers across the country or even the world.
They are offered by cloud hosting service providers and managed service providers to businesses of all sizes.
Cloud hosting services are often used by large companies, educational institutions, medical services, government services or other organizations, with cloud hosting companies able to provide a suite of services with utility-style "pay as you go" billing.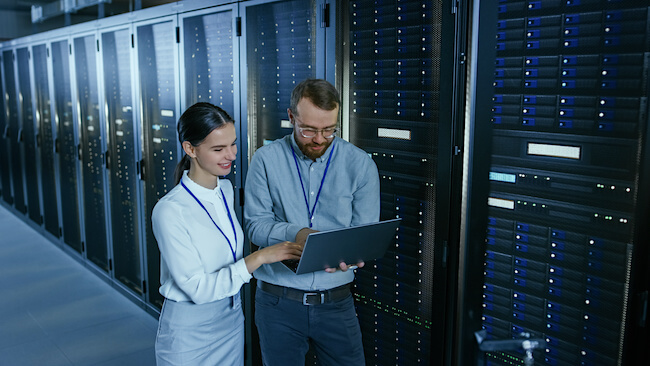 Cloud hosted services can be configured to provide the level of performance, security, redundancy and control that the customer desires. They can manage peak loads more easily and are more resilient if one part of the cloud hosting service has a hardware, software or power-related outage.
As always, the quality of the hardware being used in the data centers your cloud hosting service uses will determine of the overall quality of your cloud hosting service, but it also depends on the level of service you need.
Cheaper server hardware won't be as powerful as enterprise-grade physical and virtual servers powering your cloud hosting service, but this will be reflected in the pricing, with your cloud hosting service provider able to guide you to the service that suits you best.
How does this differ from traditional hosting?
Traditional hosting is generally deployed on a single server. While that server within a data center can still be hosting a range of websites separate to your own via virtual servers running on a single piece of hardware, a single server means a single point of failure.
What is an example of a cloud hosted site and service?
Web-based cloud applications built are to operate across and access the functionality of multiple servers, some of which can be dedicated to particular parts of the application.
A great example is Google, which runs on servers and data centers widely distributed across the planet, with Google service interruptions rare, and Google's speed consistently fast. Other obvious examples are Facebook, Twitter, Medium, Instagram, Spotify, Netflix and similar online services.
That said, you don't need to be serving millions or billions of users to gain the advantages of a cloud hosting service, you'll just make better use of one if your business or organization has a website and/or online service that caters to a large number of users.
What are some of the key hosting control panels and billing systems that are offered by cloud hosting service and managed service providers?
cPanel has been trusted worldwide for over 20 years as an industry leading platform with world-class support that creates an exceptional hosting experience.
Plesk is a leading WebOps hosting platform to run, automate and grow applications, websites and hosting businesses, and is an OS agnostic platform.
WHMCS is a leading web host billing automation platform powering tens of thousands of web hosting companies, with a mission to simply and automate all aspects of their operations.
Hostbill is a powerful, flexible, all-in-one automation, billing, client management and support platform for online businesses.
CloudBlue is a hyperscale digital platform with a huge ecosystem, proven go-to-market services and a platform that helps customers streamline cloud operations, save time, money and revolutionize businesses overnight.
Racknap is a billing and provisioning platform which provides cloud billing and provisioning services for direct CSPs, indirect providers and indirect resellers.
Interworks.cloud is a CSP automation platform for provisioning, selling and billing Microsoft 365, Microsoft Azure, Acronis Backup, Google Workspace and more.
Resello's platform helps VARs, MSPs, telcos, webhosters and ISVs run a successful cloud business, and enables partners to manage customers and provision products and usage all in one place.
The list continues, and Acronis works with all the major players that matter.
How can Acronis Cyber Cloud help cloud hosting service and managed service providers protect their hosting infrastructure and offer data protection services?
Acronis Cyber Cloud offers native integrations with 29 apps from major partners, all designed to make cyber protection of your services easy, efficient and secure. Here are the details on how managed service cloud hosting and cloud hosting service providers can benefit.
Here we have eight integrations that provide service automation capabilities in Acronis and third party platforms with various parts of the Acronis Cyber Protection solution.
The interworks.cloud integration with Acronis Cyber Cloud provides a risk-free, cost-effective, time-efficient and user-friendly cloud backup, disaster recovery and file access, sync and share selling experience for service providers and distributors.
Allows you to expand your service portfolio and increase customer value by offering cloud backup as a service, as it is a comprehensive, yet simple, complete and cost-effective hybrid backup and recovery solution. Acronis Backup Cloud is a best-in-class data protection solution, ideal for creating new revenue streams - with zero entry costs.
ActivePlatform is a full-service automated cloud brokerage solution for cloud service providers and government clouds that makes it easier to manage and control cloud delivery and business profitability.
Automates billing and provisioning of Acronis Cyber Protection services, including backup, files sync and share, notary, disaster recovery services, through WHMCS, a web host billing and automation platform.
A comprehensive platform that gives you the ability to sell any type of first- or third-party products, on any device, through any channel. AppDirect is an end-to-end commerce platform for succeeding in the digital economy.
The Acronis module for HostBill gives you the opportunity to sell and automatically provision and manage (activate, suspend, unsuspend, terminate) both Acronis BaaS End-User and Reseller accounts with flexible packages.
Acronis Cyber Cloud supports the Application Packaging Standard (APS) and enables extensive integration to automate Data Protection, Multiple Storage Options, and the ability to meter agent deployments across workstations, servers and virtual machines.
RackNap is a cloud services delivery, billing and provisioning automation platform for cloud providers to deliver Acronis cybersecurity solutions and cloud services from Microsoft and AWS, and works with selling cloud and non-cloud services. It enables cloud service providers (CSPs) to offer cloud services with seamless automation and powerful management.
Acronis and third party support for additional data sources that can benefit from Acronis Cyber Protection solutions.
The Acronis Backup extension for Plesk enables reliable cloud and local backup for Plesk web hosting servers, as well as granular, self-service recovery of files, databases and mailboxes.
The Acronis Backup plugin for WHM and cPanel enables reliable cloud and local backup for cPanel web hosting servers, as well as granular, self-service recovery of cPanel accounts, files, databases and mailboxes.
CloudLinux OS is the super-platform for stability and efficiency in shared hosting, developed to address the unique needs of web hosts and is designed for shared hosting providers. It isolates each customer into a separate "Lightweight Virtualized Environment" (LVE), which partitions, allocates, and limits server resources, like memory, CPU, and connections, for each tenant.
Easy-to-use and secure cloud-to-cloud backup puts your Microsoft data under your own control. The Acronis solution ensures compliance, quick access to backup Microsoft 365 data and a greatly improved RTO (recovery time objective).
Leverage easy to use, efficient and secure cloud backup to protect Google Workspace data stored in Gmail, Drive, Contacts and Calendar from a wide range of threats.
Integrations and tools that enable deeper integration of events, ticketing and management in popular RMM and PSA systems with Acronis Cyber Protection solutions. RMM is remote monitoring management and PSA is professional services automation.
The Acronis Cyber Cloud plugin for ConnectWise Automate enables users to set up backup protection, protect devices from data loss, ransomware and more with Acronis Cyber Protection. You can also monitor activities and alerts for all data sources, develop pre-defined backup reports, and provision all cloud services through the ConnectWise Automate interface.
Acronis Cyber Cloud integration with ConnectWise Manage enables users to provision services to both new and existing customers, automate billing, monitor and automatically create tickets for failed backup and recovery operations.
Acronis Cyber Cloud integration with Autotask PSA enables users to provision services to both new and existing customers, automate billing, monitor and automatically create tickets for failed backup and recovery operations and quote-related issues, monitor backup statuses, and more.
The integration of ConnectWise Control and Acronis Cyber Cloud enables fast, reliable and secure cyber protection solutions. With ConnectWise Control, service providers can streamline and scale their services with remote installs, update backup agents on individual machines or groups of machines, apply backup plans and active protection plans to customer machines, with integrated monitor statuses and alerts.
COMING SOON - Atera is billed as the ultimate all-in-one RMM software suite for MSPs & IT Professionals. With the Atera and Acronis integration, the backoffice operations of your Cyber Protection solutions can be automated. This includes the workflows for backup provisioning, backup status, and backup tickets across endpoints managed by Atera.
Support for data storage at additional data destinations for data managed by Acronis Cyber Protection solutions.
Whether it is Microsoft Azure, Google Cloud, AWS, Alibaba Cloud, IBM Cloud, IIJ, Softlayer,
Cloudian or Wasabi storage, you can use the pre-built integrations and your subscription to one or more of these services to deploy and configure Acronis Backup Gateway.
Create your own public, private and hybrid cloud services using your infrastructure, hyperscale infrastructure and customer datacenters, with secure role-based access control, intuitive self-service, flexible billing, and easy integration with Acronis backup and other third party solutions.
Imunify360 is an automated security solution, powered by AI and Proactive Defense, that will protect your web servers from infections, maintain secure kernels, and keep you in the know with relevant information. It is billed as a next-generation security solution built for Linux VPS, Dedicated, and Shared servers. It uses herd immunity and the unique, proactive approach to provide total protection against known and unknown attacks.
Acronis Cyber Cloud Solutions are mature and are what managed service and cloud hosting providers need to deliver a wide range of next-generation cyber protection services to their customers globally.
About Acronis
Acronis is a Swiss company, founded in Singapore. Celebrating two decades of innovation, Acronis has more than 1,800 employees in 45 locations. The Acronis Cyber Protect Cloud solution is available in 26 languages in over 150 countries and is used by 20,000 service providers to protect over 750,000 businesses.