formerly Acronis Cyber Backup
Positioning by G2 Crowd is based on independent, authenticated user reviews and strictly prohibits paid placements of any sort.
The G2 Crowd review platform leverages more than 500,000 independent, authenticated user reviews to help businesses make better buying decisions. This is done through the collection and reporting of unbiased user reviews along with strict rules against paid placements in any ratings, rankings or reports. Based on aggregated user reviews, other online sources and social networks, G2 applies a proprietary algorithm to calculate and visually compare Satisfaction and Market Presence scores for products and vendors. Details of its scoring methodology can be found here.
Acronis is honored to have its flagship product, Acronis Cyber Backup, now part of Acronis Cyber Protect, ranked in the most desirable spot in the upper-right "Leaders" quadrant of the G2 Crowd Grid for Server Backup Software. Based on the reviews of actual business users (and not the subjective opinion of a single analyst at a firm like Gartner or Forrester), Acronis sits at the apex of the data protection software category, significantly outscoring competitors like IBM, EMC, and Veritas.
Among the very best vendors when it comes to overall ratings, Acronis Cyber Backup has received 556 reviews to date, garnering a 4.5 star rating and an overall score of 4.7 out of 5.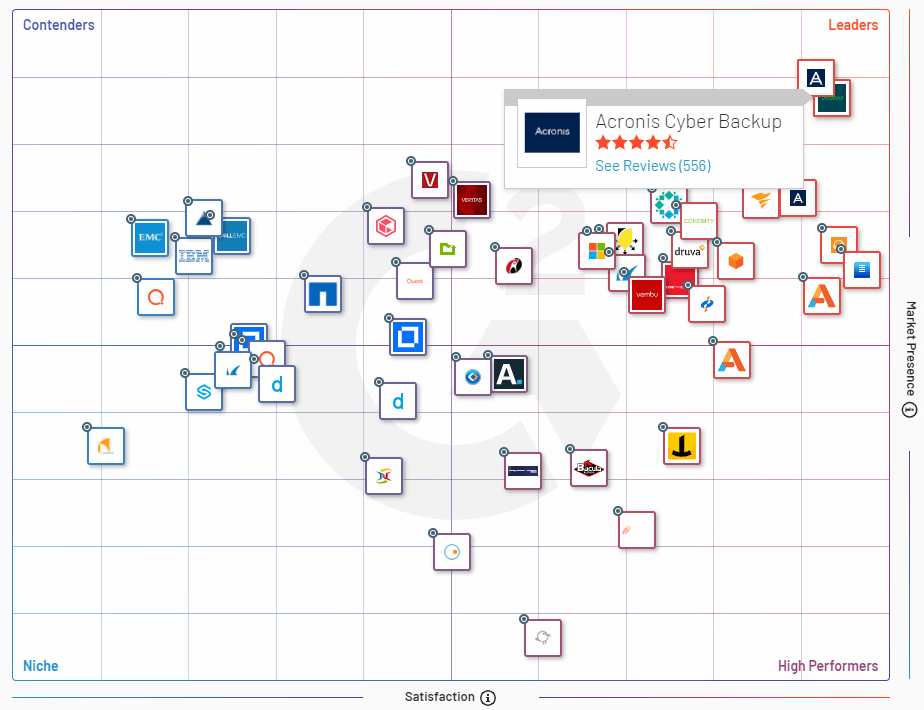 About Acronis
Acronis is a Swiss company, founded in Singapore. Celebrating two decades of innovation, Acronis has more than 2,000 employees in 45 locations. Acronis Cyber Protect solution is available in 26 languages in over 150 countries and is used by 18,000 service providers to protect over 750,000 businesses.