Acronis

Cyber Protect Cloud
Acronis has transitioned thousands of organizations from VMware to Hyper-V. Learn how Acronis can reduce your virtualization costs without impacting migration, management or security.
Microsoft's Best Kept Secret
Microsoft Hyper-V offers nearly the same capabilities as VMware ESXi but comes 100% free with Windows Server. Organizations who've switched to Hyper-V from VMware have reported savings upwards of approximately $90,000 annually in unnecessary licensing fees.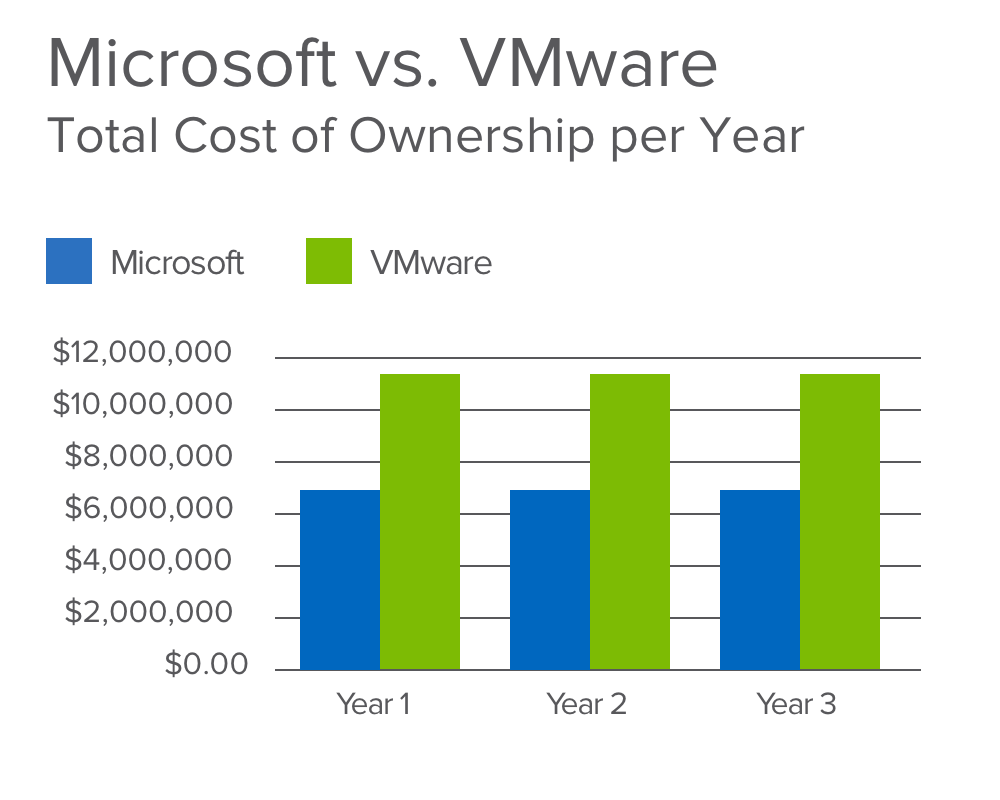 The Clear Path to Public Cloud
Not only is Hyper-V the more economical choice, it's the only virtualization platform with a clear path to the public cloud. The native interoperability between Hyper-V and Azure enables the agility and scale of public cloud while maintaining the security and compliance of private cloud. Acronis is the only Unified Cloud Management and Security Platform equipped to manage the balance between private, public and hybrid cloud.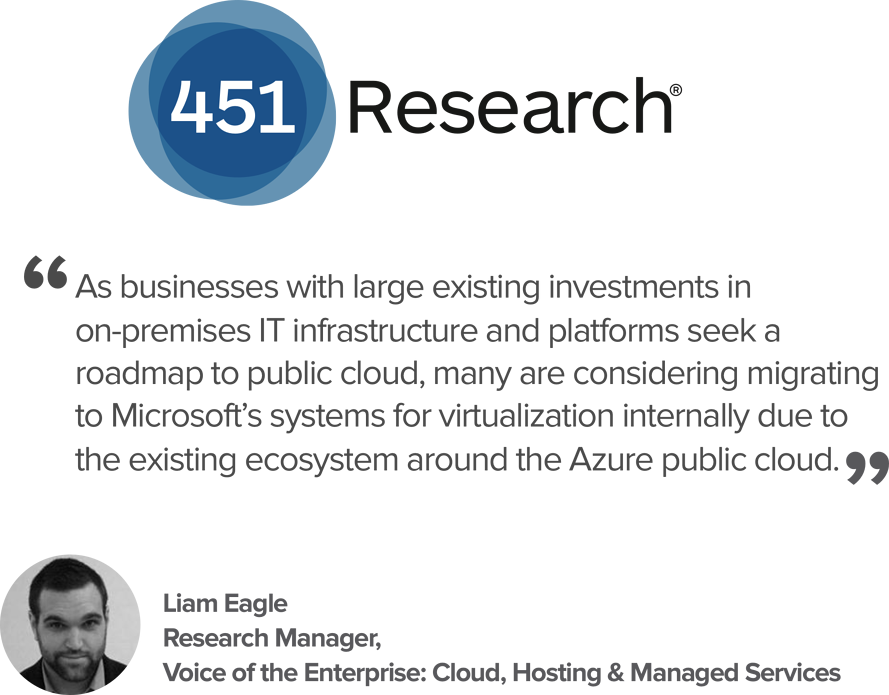 The Solution to All Your Hyper-V Challenges
Acronis Makes it Fast and Easy to Migrate to, Manage and Secure Hyper-V The Acronis Unified Cloud Management and Security Platform has helped thousands of organizations, including AIG, Alstom and Konica Minolta transition to Hyper-V. Acronis accelerates migration, simplifies management, centralizes monitoring, automates backup and strengthens security.
Migrate to Hyper-V 5X Faster
Accelerate your timeline to higher ROI Acronis seamlessly migrates data and applications from VMware to Hyper-V. Using advanced automation and agentless design, Acronis converts VMs and their configuration settings, regardless of guest operating system, including Linux and Unix. What's more, it's 100% free to get started. Sign up now and get a jump start on your migration.
Start Migrating to Hyper-V Free
Centrally Manage Datacenters
Automate tedious tasks like cloning and provisioning Acronis simplifies, centralizes and automates Hyper-V management – your days of tedious management, multiple tools and complex interfaces are over. Acronis enables you to manage multiple private cloud tenants from the convenience of a single, unified interface – from individual VMs and hosts - to multiple clusters - and even entire datacenters. It's 100% free to get started, so simplify your Hyper-V tasks today.
One Place to Monitor Every VM
Never toggle between consoles again Acronis Cloud Manager centrally monitors cloud workloads for performance issues. Why sift through thousands of event logs across hundreds of servers when Acronis provides real-time line-of-sight into KPIs like memory, disk and CPU usage? When capacity exceeds your threshold, Acronis automatically migrates VMs to a new host to prevent downtime. It's 100% free to start, so centrally monitor VMs, hosts, clusters, and more today.
Hyper-V Backup at No Extra Cost
Acronis Hyper-V Backup Could Save You Thousands There's no need to purchase a separate Hyper-V backup and recovery solution, because Acronis Cloud Manager has everything you need: automation, replication, scheduling, restore-to-Azure, file-level restore and more. Plus, it's baked right into Acronis's elegant interface – you won't have to worry about procuring, learning, configuring and managing an entirely different toolset. Sign up now and start saving thousands on backup licensing fees.
Automatic Agentless Security
Prevent, Detect and Remediate Malware and Hackers Acronis Cloud Security automatically and immediately secures every virtual machine added to the network – both from inbound and lateral traffic. With Acronis, your security posture is completely covered: agentless antivirus, virtual firewall and anomaly detection protects you from any threat that comes your way. Plus, Acronis is 100% agentless – your applications will run up to 10X faster than with antiquated, agent-based approaches. It's 100% free to get started, so see for yourself how Acronis can increase security and improve performance.
About Acronis
Acronis is a Swiss company, founded in Singapore. Celebrating two decades of innovation, Acronis has more than 1,800 employees in 45 locations. The Acronis Cyber Protect Cloud solution is available in 26 languages in over 150 countries and is used by 20,000 service providers to protect over 750,000 businesses.