Today's businesses and organizations are increasingly relying on web applications and corresponding IT infrastructures to streamline their operations, and engage their customers. However, the complex digital environment, comprising of a diversity of networks, devices and technologies may prevent delivery of a meaningful user experience.
by Alexey Sotnikov
Organizations should therefore continuously monitor and test their networks, servers, applications as well as business logic to ensure that they provide the best user experience to keep their customers satisfied.
Today's monitoring market is highly fragmented. Most businesses across the whole spectrum combine at least two or three different tools to monitor and run their IT infrastructure. The tools are usually available in three distribution models: software-as-a-service (SaaS), open-source software, and closed source or proprietary solutions. In this article we've gathered 10 top server and application monitoring tools for different organizational requirements:
SaaS
Acronis Monitoring Service

New Relic

LogicMonitor
Open-source
Proprietary
Paessler

SolarWinds

ManageEngine
Software-as-a-Service (SaaS) monitoring tools
This is a delivery model where a third party provider hosts the monitoring software and makes it available to the client on a subscription basis over the Internet. The SaaS delivery model has many potential benefits such as cost savings, scalability, accessibility, upgradability and resilience. It allows business to move from heavy capital investments required to install, maintain and upgrade IT infrastructure, to a low subscription-based operational cost. As the business grows, you can upgrade to the suitable SaaS subscription that allows you to add more users, as opposed to investing on more servers and network capacity.
The scalability makes it ideal for service providers since they can easily upgrade the subscriptions based on their number of clients and sites, without acquiring expensive hardware and resources.
According to a recent survey on monitoring tools, more people are increasingly turning to SaaS-based monitoring tools in conjunction with other complimentary open-source tools such as Nagios and Zabbix.
Acronis Monitoring Service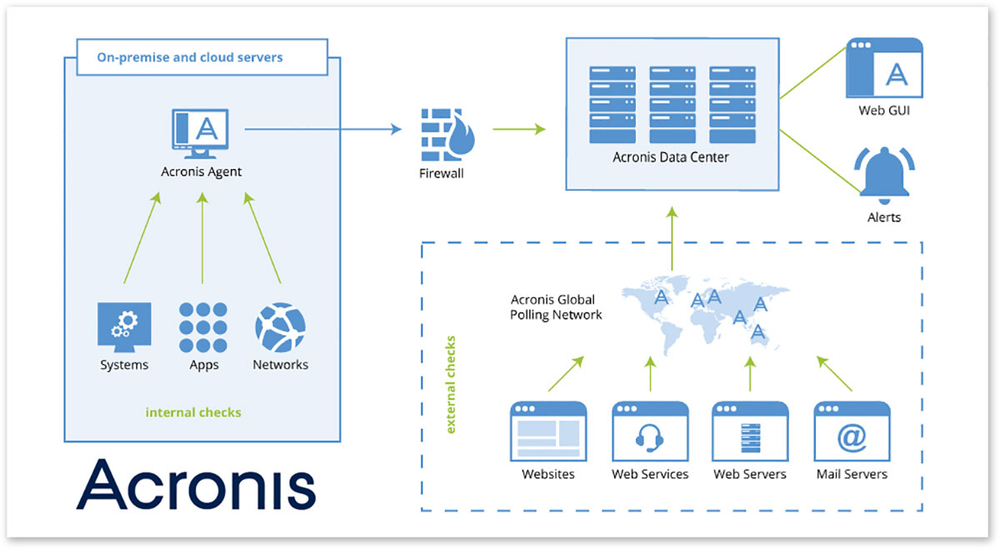 Web: https://www.acronis.com/en-us/business/monitoring-service/
Price: from $10 per month
Best suited for those who need an affordable and easy-to-deploy IT infrastructure and server monitoring solution for on-premise and IaaS-based systems.
Acronis Monitor Service combines seamless deployment (smart hassle-free agent installers, GUI-based configurations, ready-to-use managed solution) and readiness for both small and medium-sized environments (multiple infrastructures support, single-pane-of-glass view of all IT assets, responsibilities assignment). The tool is capable of monitoring the full stack: networks, server and OS performance, applications and services, and synthetic web checks.
The Acronis Monitoring Service supports both external and internal checks. The external monitoring uses Acronis public agents that remotely check the network via the worldwide polling network. This determines the availability and uptime of the web services when accessed externally from various locations. The internal monitoring uses private agents installed on a cloud-based or on-premise server behind a firewall, to check the systems, application and network metrics in the IT infrastructure.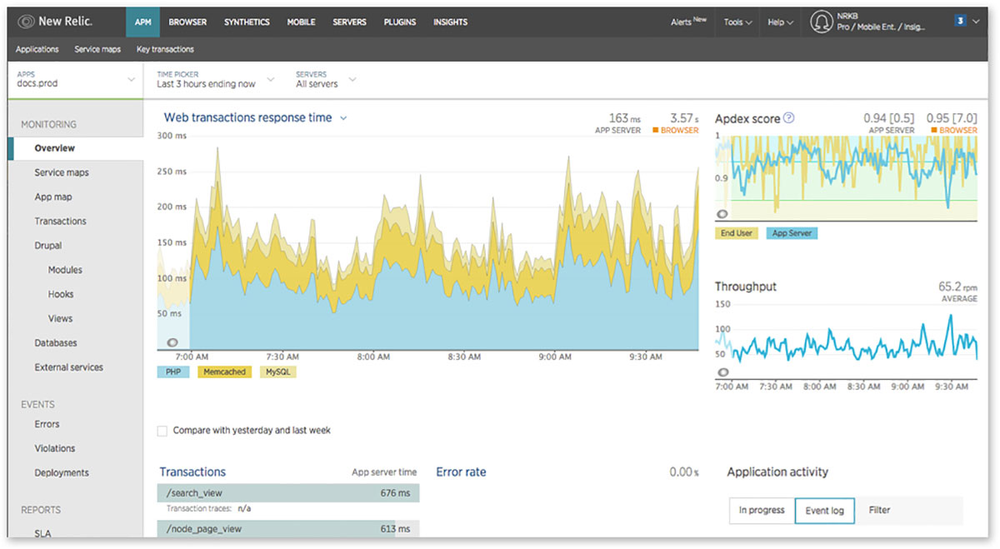 Price: from $75 per month
Best suited for those who need a SaaS-based in-depth application performance monitoring for cloud and on-premise environments.
The New Relic is a comprehensive, end-to end, application performance monitoring tool. It provides a software analytics platform for synthetic testing, real user monitoring, and application performance management for web applications deployed in data centers and cloud environments. It monitors a variety of parameters, including the server, applications, end-user experience as well as performing analytics on the monitored data.
The APM tool provides real-time, detailed performance metrics and has the ability to identify slow code, errors and areas where customers are experiencing problems. You can use New relic's java agent to track and collect the performance data such as performance and transaction issues, or other errors within the code. The agent supports technologies such as Java, Python, .Net, PHP, Node.js.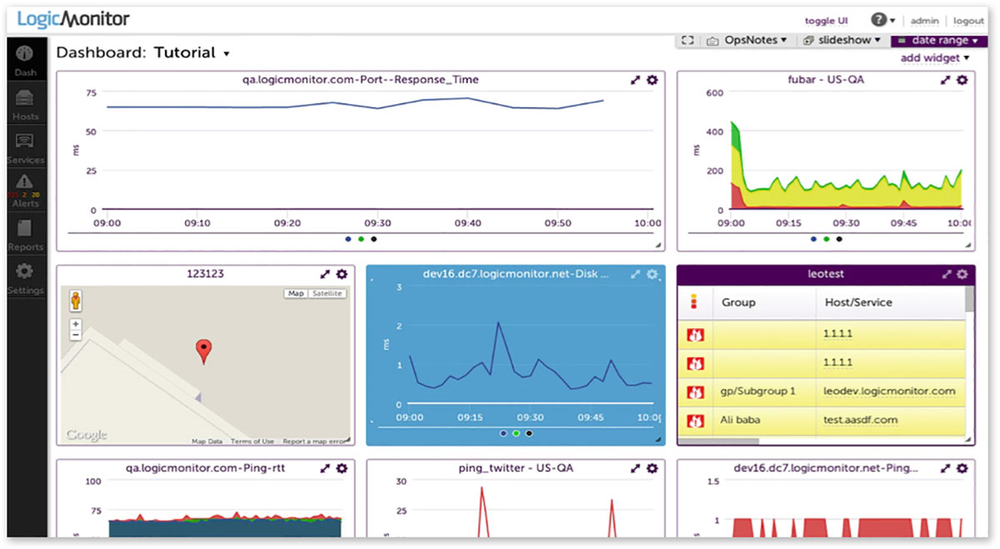 Web: https://www.logicmonitor.com/
Price: from $4,500 per year (approx.)
Best suited for those who need an advanced SaaS-based network monitoring solution for medium and large size infrastructures.
LogicMonitor uses a set of Java based collectors or software agents to monitor a wide variety of network hardware and software resources. It supports over 1000 technologies and is usually installed within the client's network to discover and poll the network devices, and then forward the data to the LogicMonitor cloud computing platform.
The tool has a powerful site monitoring capabilities, prediction and reporting that enable network engineers to monitor capacity, uptime, availability, network traffic, data and user transactions, as well as creating custom reports. It makes it is possible for the IT teams to consolidate their tools into a single platform where they can access the same data and ease the work of troubleshooting.
Open-source monitoring tools
Open-source monitoring solutions are free and highly customizable to suit almost any type of monitoring. However, they lack professional support and the business deploying such a solution must be ready to train its team or pay for support from other providers.
Security is also a challenge with some of the open-source software and this makes some IT admins to avoid the solutions. However, for companies willing to do some research and sort out any issues, they can go for the open-source.
Nagios is probably the most mature and oldest Open-source monitoring tool that is widely used. However, there are other upcoming alternative tools as Sensu and Icinga, which are less complex, more user-friendly and able to address some of the areas Nagios does not. These are increasingly becoming popular and have support with for most of the Nagios plugins.
Cloud storage is less expensive than some local storage options, which can require large capital investments. It also plays a key role in the 3-2-1 data protection strategy, where at least one copy of your backup should be stored off-site.
When selecting a cloud storage vendor, reliability and security are paramount. Make sure the vendor:
Has a strong record of consistent uptime

Offers data encryption to protect your data

Uses data centers that are physically secure and meet industry standards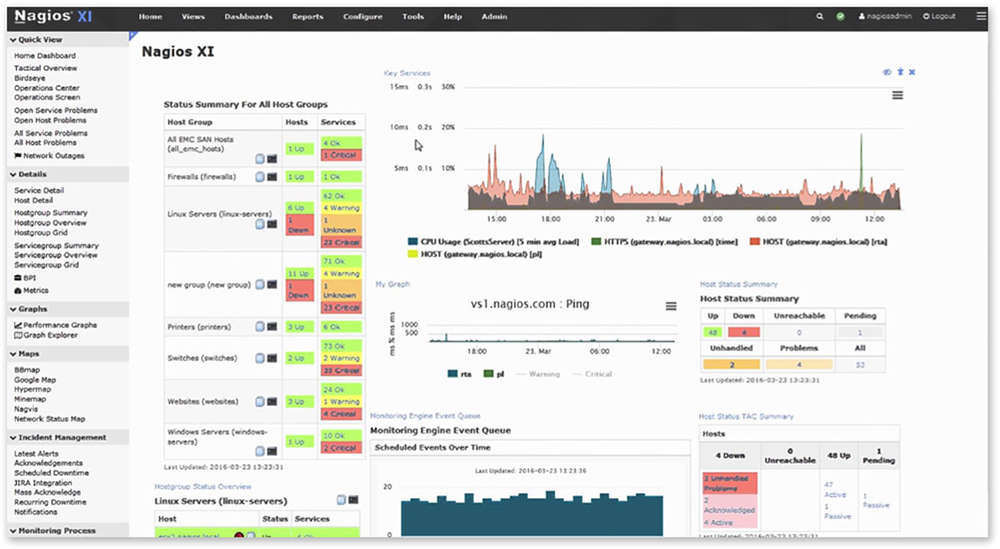 Price: free (Nagios Core), from $1,995 (Nagios XI)
Best suited for those who are ready to invest time and efforts into building a highly-customized in-house monitoring solution.
Nagios is a powerful, flexible and scalable, open-source network monitoring tool that enables IT teams to identify infrastructure problems and resolve them in good time before they affect the business processes. The customizable options allow it to monitor a wide variety of metrics and provide alerts via detailed reports, custom scripts, emails or SMSs.
It is one of the best known tools and widely used in financial, healthcare and education industries. Being one of the pioneering network monitoring tools, Nagios is one of the widely used tools. However, there are other upcoming tools that are equally becoming popular, especially when those which are easier to install and use, have more capabilities and better user interfaces.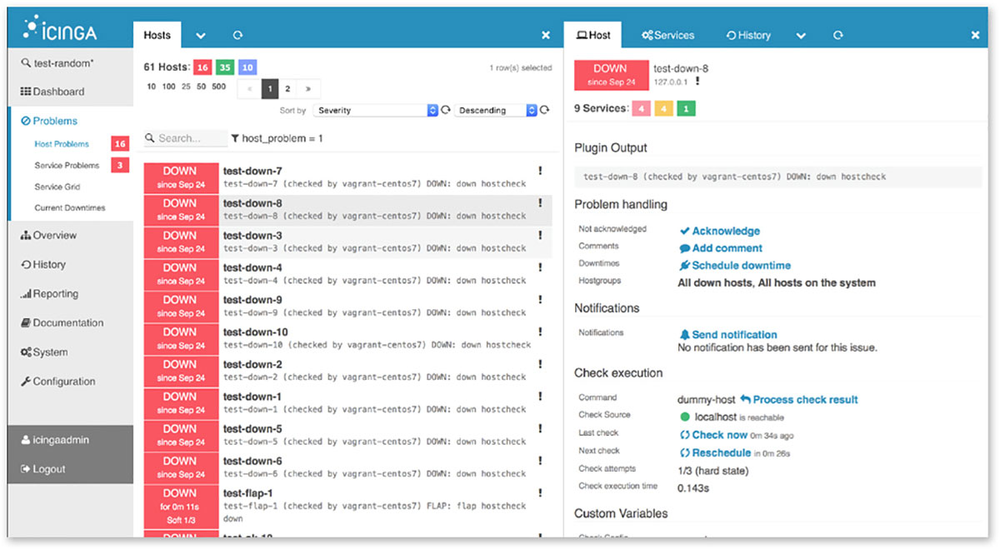 Price: free
Best suited for those who need an open-source monitoring solution for distributed systems that has a nice-looking built-in user interface.
Icinga is a scalable and extensible open-source monitoring solution for checking the availability of network services and resources, generate performance data, and notify relevant people of outages or other issues. The tool, which works on a wide range of environments ranging from small to large and complex IT infrastructures, has the ability to check networks, components or resources in different geographical locations.
Icinga has a great user interface, and user-friendly, rule-driven configuration templates that are easy to apply - it takes only a few minutes to install and start the monitoring. It has a wide range of capabilities and a fast modern monitoring interface. The Icinga basic tool provides everything required to start monitoring your IT infrastructure, but also comes with additional modules in case you want to extend the functionalities.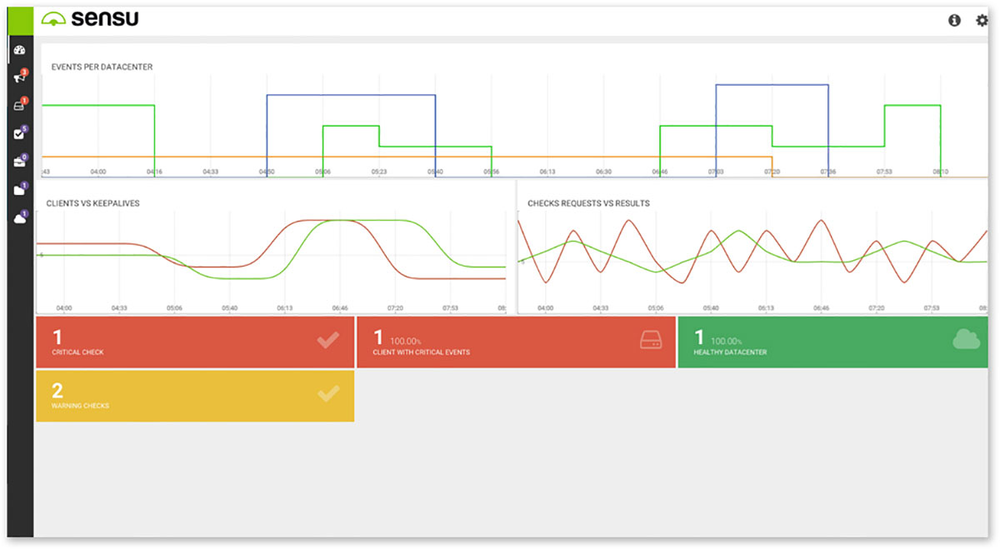 Web: https://sensu.io/
Price: free (Sensu Core), from $50 per month (Sensu Enterprise)
Best suited for those who need a lightweight, scalable monitoring framework with a nice GUI.
The single monitoring platform can be used for several servers, including the bare metal, virtual and cloud based servers, services such as web servers and databases, web applications, third party resources and network devices such as routers and switches.
The architecture of sensu, which comprises of a monitoring agent, event processor, RESTful API, a data store, secure transport, and a Check Execution Scheduler, enables it to execute service checks, process events and collect metric data at scale. Additionally, the Sensu client has a TCP and UDP socket capable of accepting external JSON data, enabling applications to use the interface to send application-specific metric data, or report errors to Sensu.
While the Sensu Core is free, the Sensu Enterprise edition, based on the Sensu core open framework, is delivered on a per a monthly subscription basis due to its enhanced features and technical support.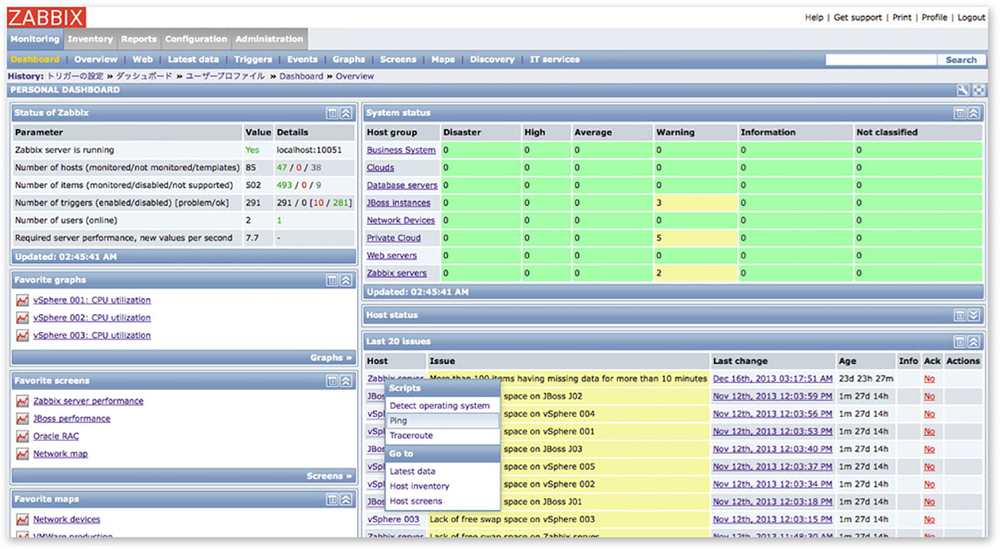 Price: free
Best suited for those who need a powerful open-source monitoring solution with a web-based configuration user interface and built-in dashboards.
Zabbix has an easy to use web interface with a secure user authentication. In addition, it has several visualization options, including overviews, graphs, maps, screens, and more it provides several flexible methods of analyzing the data as well as alerting.
Zabbix supports polling and trapping, agent-less monitoring as well native performance agents to collect data from a majority of the commonly used operating systems.
The software is supplied free of charge, however, Zabbix provides a subscription based technical support arrangement to ensure trouble free deployments. This is available in 5 different levels that range from simple, per incident technical support, to complex support that may entail on-site consulting and on-site training, system upgrades, remote troubleshooting, ensuring that every company can find the support that meets its requirements.
Proprietary monitoring tools
Comparing to open-source proprietary software has a better, complete and more accessible after-sale support and training. The acquisition fee is usually higher since it includes full rights to the purchased product and an understanding that the vendor will supply the customer with bug fixes, updates and revised documentation whenever there are new releases.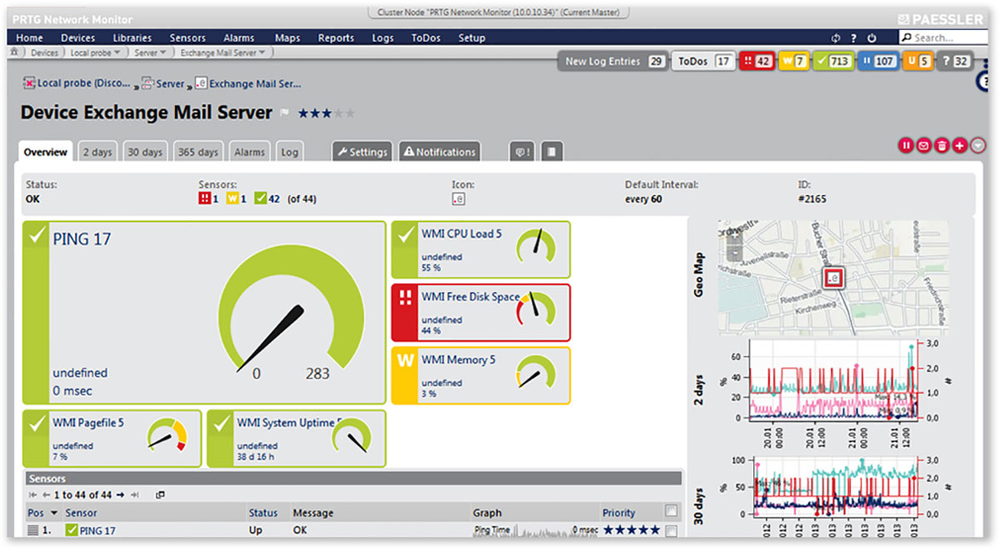 Web: https://www.paessler.com/
Price: free (100 sensors), from $1,600 paid version
Best suited for those who need a powerful, yet affordable network monitoring system installed on the premises.
Paessler is a flexible, all-in-one network monitoring software. The unified monitoring solution has over 200 sensor types and capable of monitoring most components of an IT infrastructure including network devices, servers, virtual environments, applications, remote systems, bandwidth, IoT VPN, etc. The powerful tool has a web interface and a fast, built-in alert feature.
It can automatically discover and map your wired and wireless network devices, and retrieve or display the performance metrics on wireless clients. In addition, the tool is capable of automatically detecting and adding virtual servers into the monitoring scheme.
The PRTG is available as a free version for up to 100 sensors, suitable for small businesses; and a premium version with unlimited number of sensors.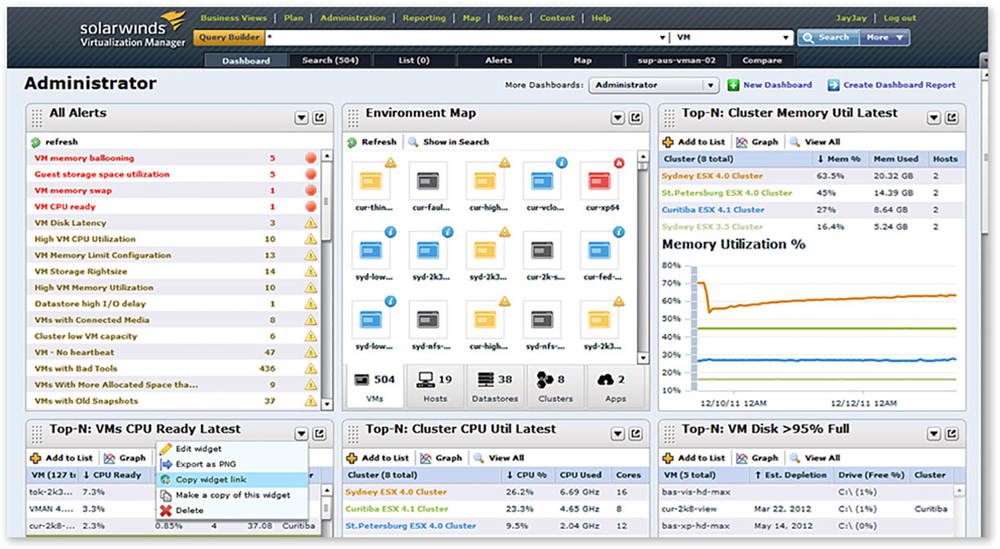 Web: https://www.solarwinds.com/
Price: from $2,995
Best suited for medium and large organizations that need an extendable enterprise-grade on-premise monitoring platform.
SolarWinds is a monitoring platform that provides an end-to-end visibility of commercial and custom applications running on private, public and hybrid environments. It comprises of performance and fault management features as well as compliance, configuration and network tools for engineers. It can be deployed on physical or virtual environments, to provide detailed metrics about the availability, health, and performance of your applications.
The tool has an agentless technology for monitoring your on-premise applications, and an optional agent technology for cloud based services. It has an automatic application discovery and dependency mapping that enables you to simply download, install, discover the components, and start monitoring. You can customize the monitoring by creating or modifying the inbuilt templates, or importing custom scripts to enable you to monitor enterprise applications as well as custom or in-house applications.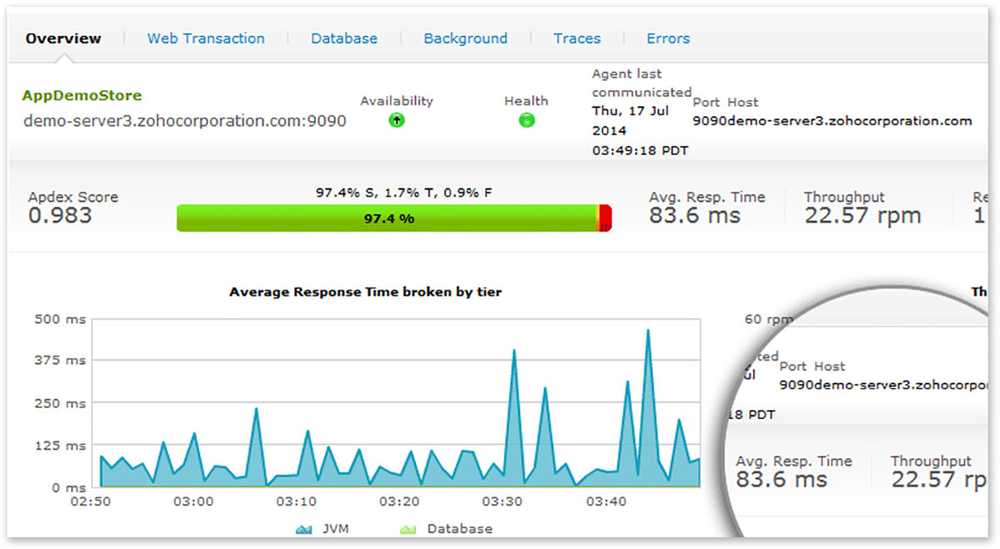 Web: https://www.manageengine.com/
Price: from $795 per month
Best suited for those who search for an affordable end-to-end monitoring platform installed and managed in-house.
ManageEngine Applications Manager is a business application monitoring software that provides an out-of-the-box support for more than 80 applications and servers. The Application Manager supports a wide variety of technologies and can be used to monitor applications, database, servers, ERP, virtualization, web server and services, cloud, web transactions, and other custom monitoring services.
ManageEngine Applications Manager has an Application Discovery and Dependency Mapping (ADDM) feature, which allows you to discover all your applications and the map their relationship, enabling you to gain a comprehensive insight into your IT systems.
(All trademarks, product names, screenshots are property of their respective owners.)
If you would like to find out more about Acronis Monitoring Services, visit www.acronis.com/en-us/business/monitoring-service/ Sign up for a free trial and see what it can do for your business. Start tracking your IT systems' metrics in minutes with no training or complicated setups. Receive customizable alerts, and analyze historical and real-time data to identify performance optimization opportunities.
About Acronis
Acronis is a Swiss company, founded in Singapore. Celebrating two decades of innovation, Acronis has more than 2,000 employees in 45 locations. Acronis Cyber Protect solution is available in 26 languages in over 150 countries and is used by 18,000 service providers to protect over 750,000 businesses.