Acronis Active Protection technology

Acronis Active Protection technology, enhanced with exploit prevention, URL filtering, anti-ransomware and anti-malware detection for backed-up data and improved detection rates, catch more threats, faster.

Cyber Security automation

Smart, easy protection policy management, auto-allowlist custom apps, automatic malware scans and AV definitions updates as part of recovery process to deliver services more effortlessly.

Efficient forensics

Collect digital evidence and save it in a secure central repository to enable thorough post-incident investigations and proper remediation, while keeping costs down.
Built on AI-powered, next gen cyber protection
Minimize the risk for clients with Acronis Cyber Protect Cloud, the single cyber protection solution that integrates best-of-breed backup and recovery, endpoint protection management, and cybersecurity – with anti-malware technology that counters ransomware and zero-day attacks and complements your clients' current antivirus. Enhance their protection with Advanced Security's full-stack anti-malware – replacing their antivirus with our proven, integrated cyber protection.
Acronis Cyber Protect Cloud
| | | |
| --- | --- | --- |
| Next gen, behavior-based technology built to proactively stop cyberthreats, with a focus on ransomware and zero-day attacks | | |
| Vulnerability assessments | | |
| Data loss prevention (DLP) with device control | | |
| | | |
| Automatic data recovery after a ransomware attack | | |
| Security gap identification with #CyberFit Score | | |
| Full-stack anti-malware protection: Real-time protection covering all attack vectors with multiple defense layers | | |
| URL filtering: Block malicious URLs, web-based attacks, and COVID-19 scams | | |
| Exploit prevention: Behavior-based detection heuristics prevent the exploitation of unknown vulnerabilities, including memory exploits and injections | | |
| Anti-malware scans of data in the Acronis Cloud: Offload client endpoints to enable more aggressive scans and ensure malware-free backups | | |
| Forensics data in backups: Collect digital evidence to faster and reduce the cost of remediation | | |
| CPOC threat feed: Increase reactiveness to emerging threats and get remediation suggestions | | |
| Automatic allowlisting: Reduce false positives and enable more aggressive scanning | | |
| Malware reinfection prevention: Scan for malware and update AV definitions during recovery to prevent a threat from reoccurring | | |
Live webinars for MSPs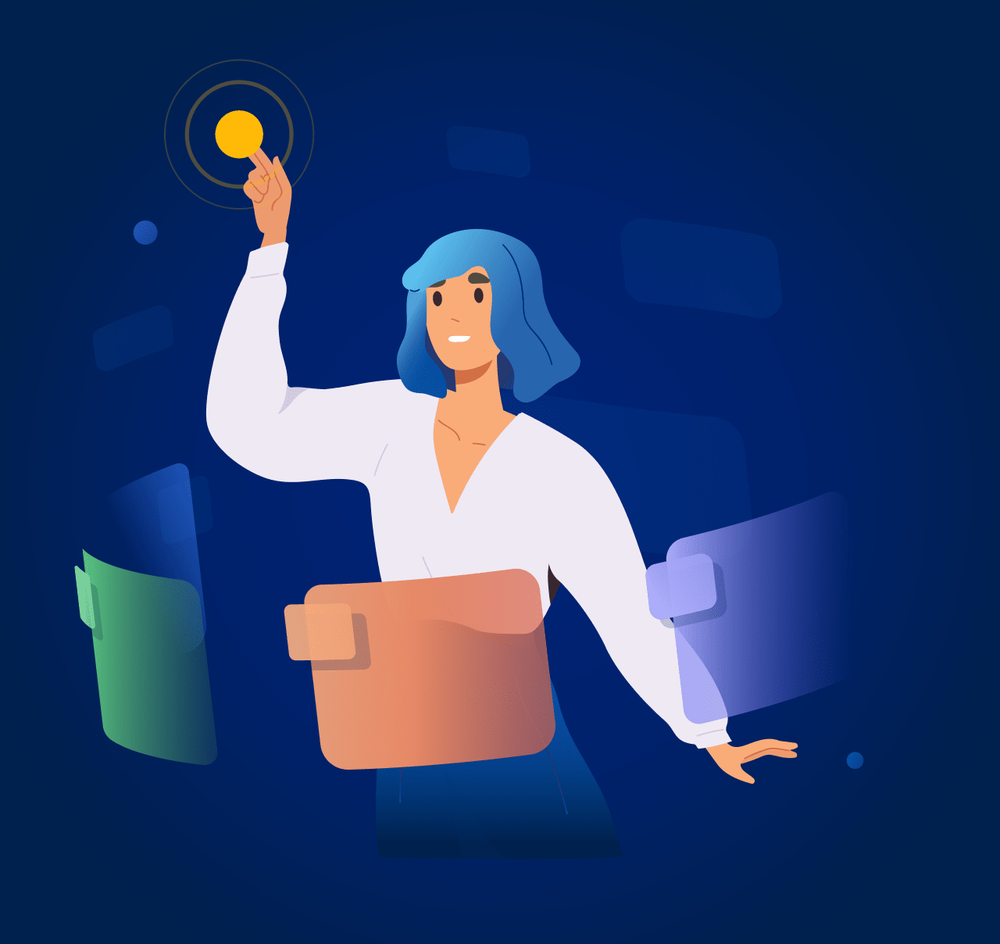 March 29, 2023, 15:00 CEST
Business boosting M365 protection packages for MSPs
Reserve your spot today! You'll discover how to differentiate your MSP business by offering Microsoft 365 data protection for your clients. Plus, learn how to quickly implement data recovery, even aft ...
April 4, Thursday, at 11:00 a.m. CET
MSPs: Your Engineer-Led Guide to Acronis Cyber Protect Cloud
Help your MSP business achieve enhanced protection, improved SLAs, and streamlined management.
Your Engineer-led Guide to Security with Acronis Cyber Protect Cloud
Explore how a single, integrated cyber protection solution empowers your MSP business with enhanced protection and safe recovery options.
More webinars
Enhance your cybersecurity services with advanced endpoint protection
Advanced Security enables you to offer more cybersecurity services with less management burden, replacing non-integrated antivirus tools with complete endpoint security that's integrated with data protection.
Powered by industry-recognized, award-winning endpoint protection
Anti-Malware Testing Standards Organization member

VirusTotal member

Cloud Security Alliance member

Microsoft Virus Initiative member
Cyber Protect Cloud
Modernize your cybersecurity and backup with integrated cyber protection
Full-stack, advanced malware protection
Replace non-integrated antivirus tools and protect clients with a single, integrated cyber protection solution that stops today's sophisticated cyberthreats and ensures seamless remediation while eliminating the need to juggle multiple solutions.
Anti-malware technology

Leverage power AI-, signature-, and behavior-based detection and URL filtering to stop malware in real time.

Exploit prevention

Prevent zero-day vulnerabilities and exploits, including memory exploits.

Protection of data in backups

Leverage more aggressive scans of backed up data in Acronis Cloud, reducing load on clients' endpoints and ensuring recovery of clean data.
Stop modern cyberthreats with advanced endpoint protection
Full-stack anti-malware

Minimize the attack surface on client systems with enhanced anti-malware technologies. Improve the speed and accuracy of your detection rate with an upgraded set of malware signatures. Counter zero-day attacks and memory exploits in real-time. Scan backed-up data for malware.

Unique

Safe recovery

Prevent dangerous infections from reoccurring with Acronis' unique safe recovery technology. During the recovery process, the integrated solution scans the backup for malware, installs the latest security patches, and updates its antivirus databases.

Unique

Forensics data in backups

Reduce the costs of maintaining compliance and running future incident investigations by collecting digital evidence – like memory dumps and process information – and storing them in a secure, central repository.

Unique

Smart protection plans

Acronis Cyber Protection Operation Centers (CPOCs) continuously monitor the cybersecurity landscape, releasing alerts on emerging threats such as malware, vulnerabilities, or natural disasters. Protection plans are automatically adjusted to proactively address those threats.
All features
Expand your services with advanced protection packs
Add other powerful components to strengthen your services even further with advanced protection packs and unique cyber protection capabilities. Control your costs by paying only for the functionalities your clients need.
Advanced packs include:
Advanced Security

Enhance your security services with integrated cyber protection that includes full-stack anti-malware. Increase your detection rate and responsiveness to the latest cyberthreats. Extend cyber protection to web browsing, backed-up data, the recovery process, and exploit prevention. Enable investigations by capturing forensic data in backups.

Advanced Backup

Defend clients' data, even between scheduled backups. Extend backup capabilities to SAP HANA, Oracle DB, MariaDB, MySQL, and application clusters. You can also gain visibility into data-protection statuses across your clients' infrastructure.

Advanced Disaster Recovery

Get clients back to business in mere minutes when disaster strikes by spinning up their systems in the Acronis Cloud and restoring them anywhere, ensuring immediate data availability. Make disaster recovery painless and increase efficiency with orchestration, runbooks, and automatic failover.

Advanced Email Security

Block any email threat, including spam, phishing, business email compromise (BEC), account takeover (ATO), advanced persistent threats (APTs), and zero days in seconds before it reaches end users. Leverage Perception Point's next-generation technology for lightning-fast detection and easy deployment, configuration, and management.

Advanced Data Loss Prevention (DLP)

Prevent leakage of sensitive data from endpoints via more than 70 local and network channels and strengthen compliance with minimal effort and speed to value.

Advanced File Sync and Share

Get a full control over data location, management and privacy with a file sync and share service, including a transaction ledger to enable notarization and eSignature capabilities, across all platforms.

Advanced Management

Streamline and automate your routine tasks via scripting and promptly close security gaps in clients' infrastructure through patch management. Gain visibility into your clients' software assets and data protection to ease daily tracking and planning tasks, and improve clients' uptime by monitoring disk drives health.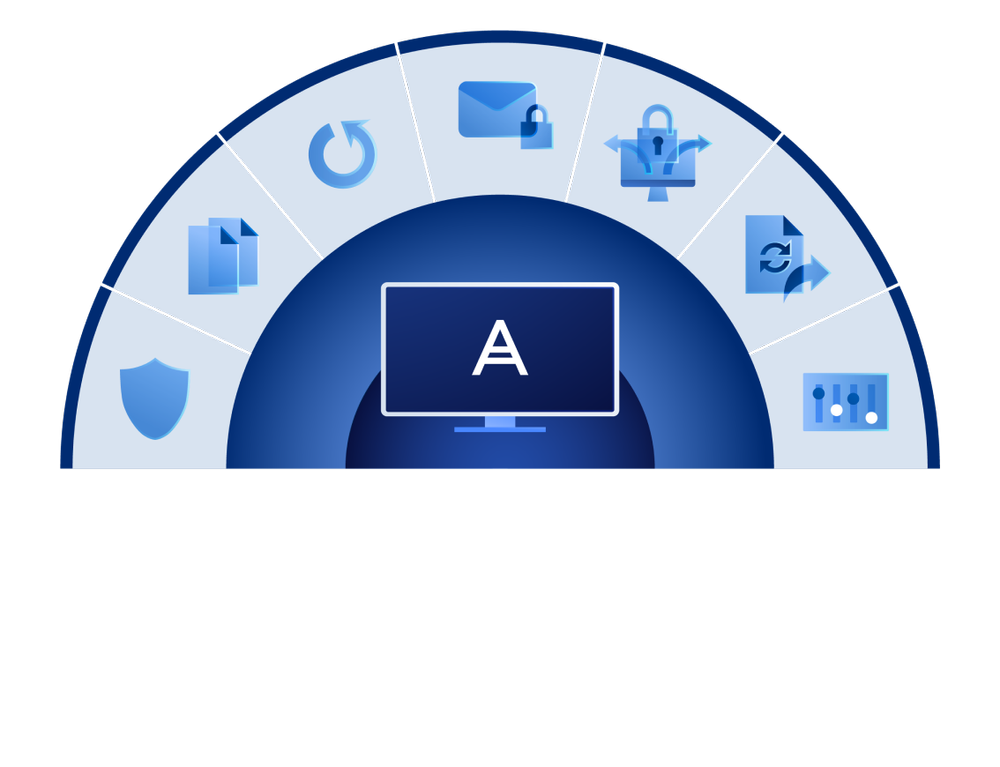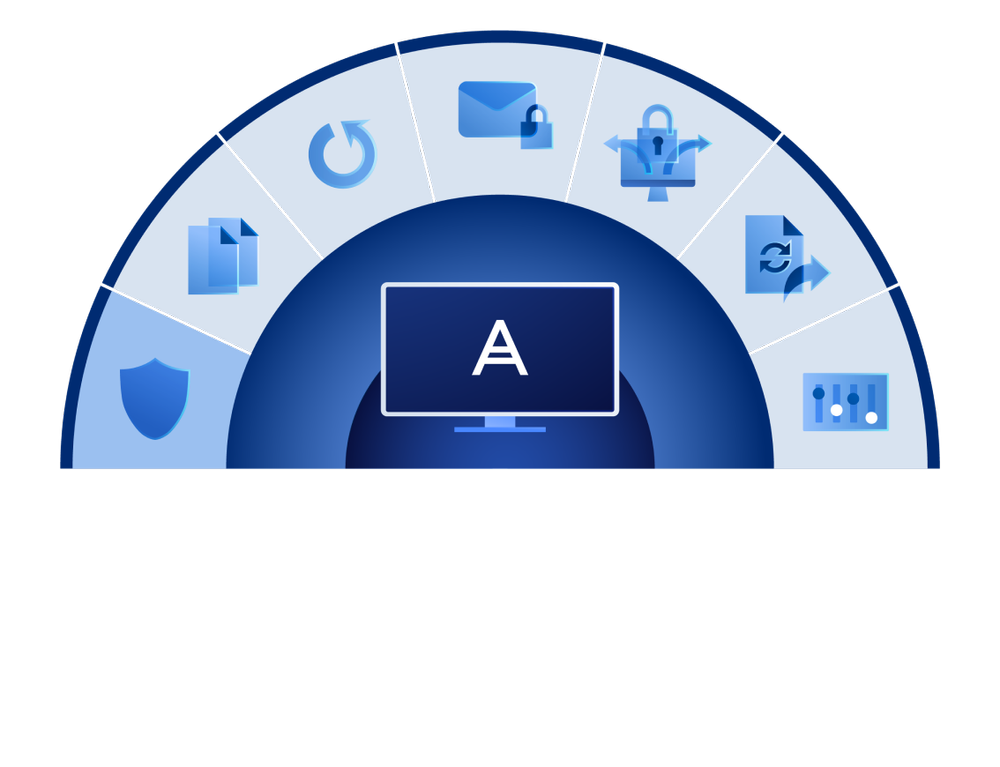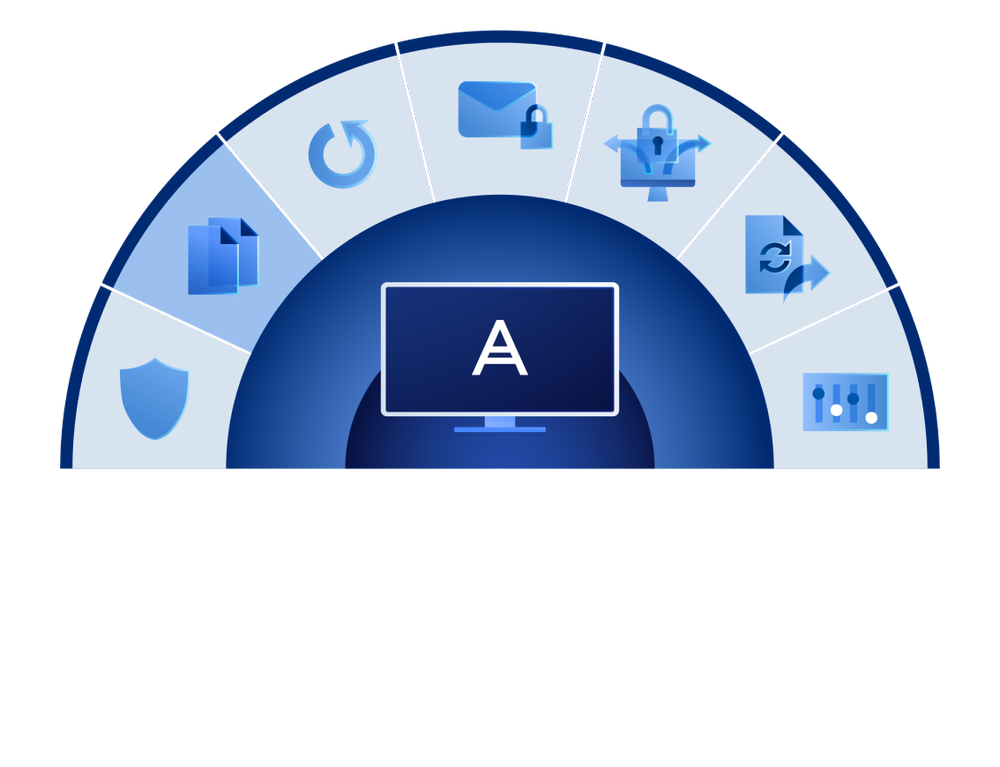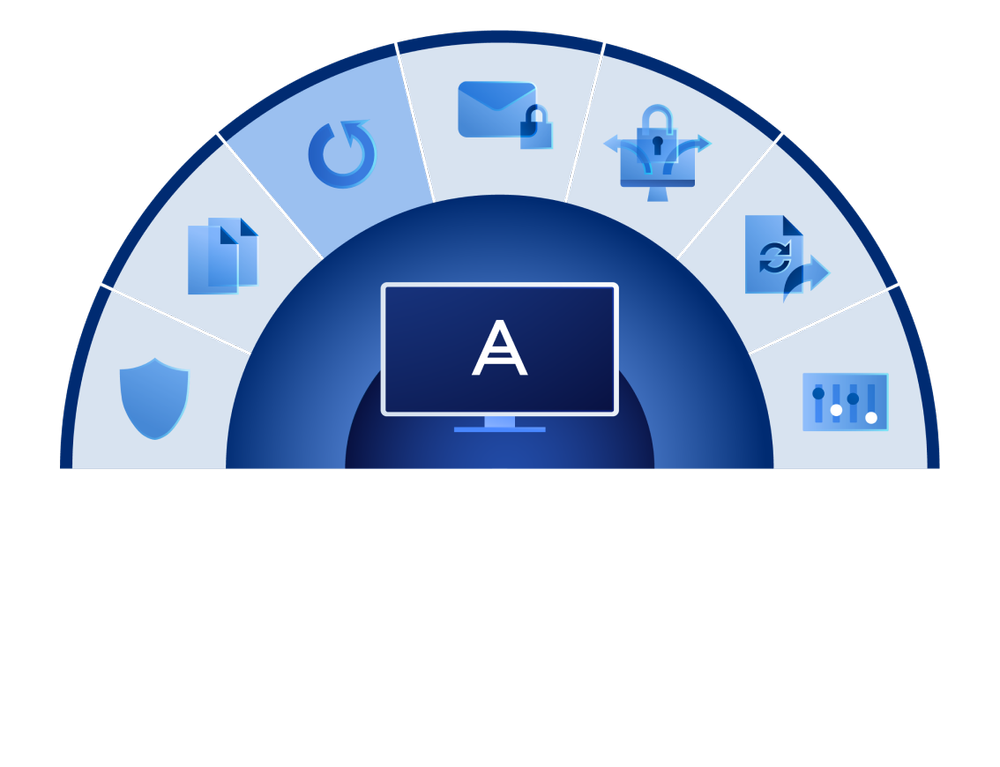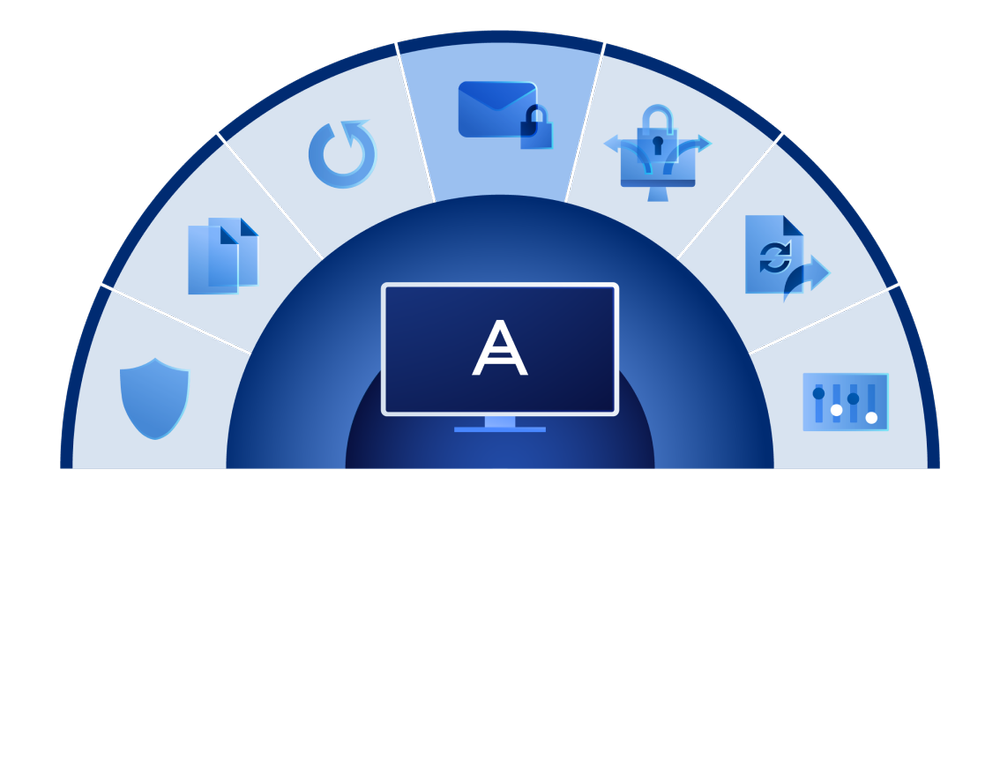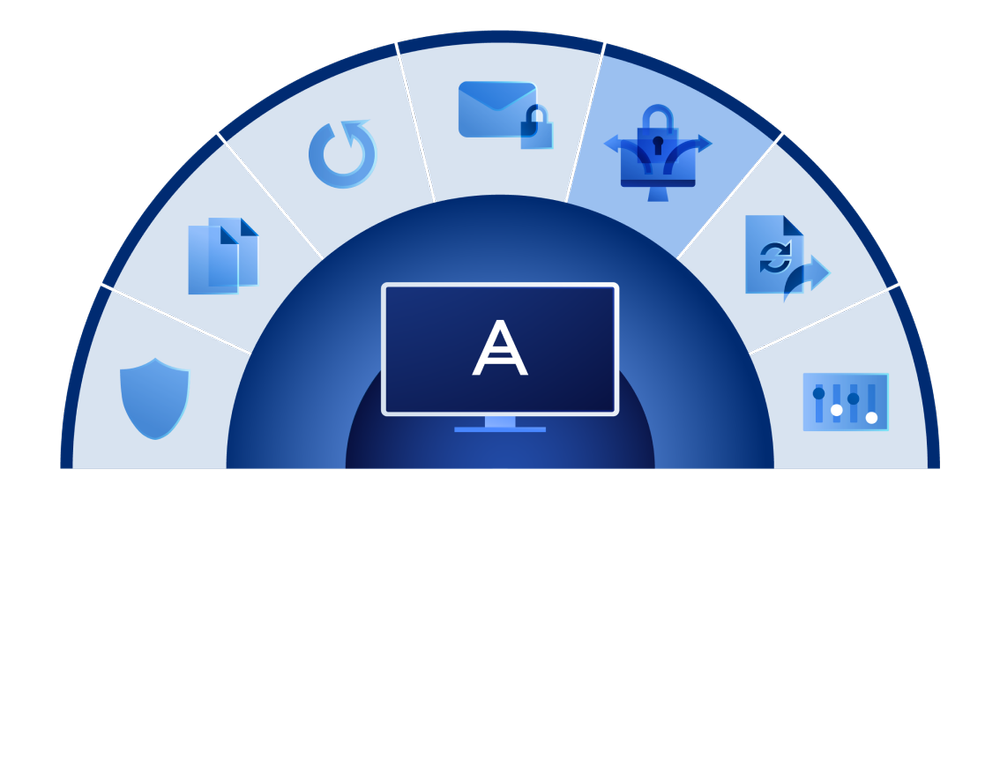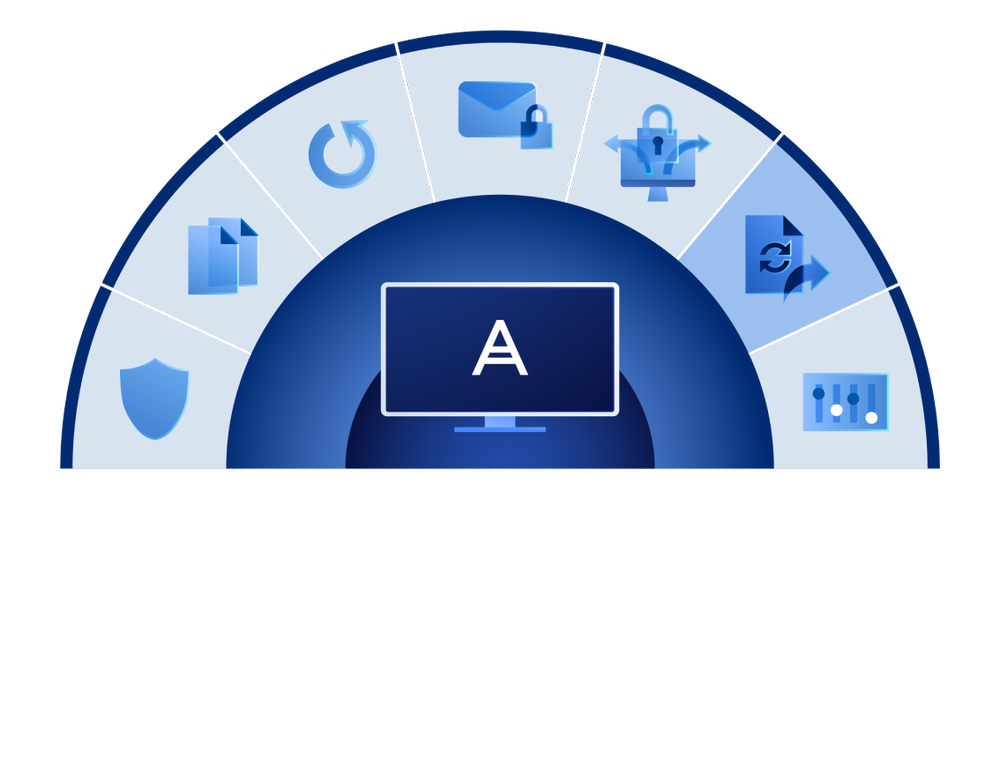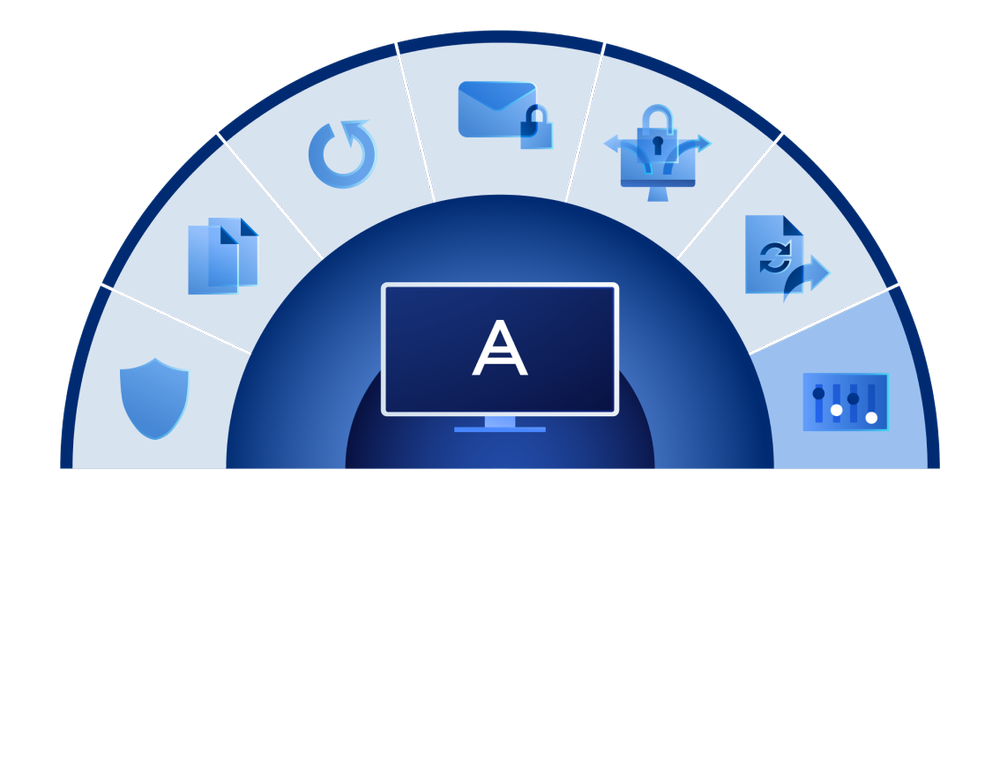 Looking for help?
Frequently Asked Questions
What cybersecurity features are included in Acronis Cyber Protect Cloud with Advanced Security?

Acronis Cyber Protect Cloud integrates cybersecurity, data protection, and security management in a single solution. It protects client data and endpoints with the award-winning Acronis Active Protection technology, which has been enhanced with AI- and behavior-based anti-malware detection. It also prevents data leakage through essential data loss prevention (DLP) via device control.

The solution also provides thorough visibility into endpoint protection through vulnerability and security gaps assessments.

Advanced Security expands the capabilities of the cybersecurity solution with URL filtering and exploit prevention to counter more threats such web-based attacks and exploitation attempts. It also increases the speed and accuracy of the detection rate for known malware with an enhanced virus signature database. The add-on package allows for more aggressive malware scans of backed up data in the Acronis Cloud, preventing threat recurrence.

With Advanced Security, service providers can also react to threats more effectively. Acronis Cyber Protection Operation Centers (CPOC) monitor the threat landscape and release alerts regarding emerging threats. The protection plans can automatically adjust to the emerging threat alerts, resulting in things like more frequent backups or more aggressive scans.

Does Acronis Cyber Protect Cloud with Advanced Security contain ransomware protection features?

Acronis Cyber Protect Cloud with Advanced Security includes the award-winning anti-ransomware protection technology of the baseline product. It enables service providers to deliver unmatched, real-time protection against ransomware and cryptomining processeses, targeting client data across endpoints, servers, network shares, and backups. Acronis' ransomware protection technology also includes entropy analysis to effectively cover advanced ransomware threats.

What makes our anti-ransomware technology truly unique is that it ensures no client data is lost since it automatically recovers any affected, encrypted data within seconds.

What is the advanced endpoint protection that Advanced Security adds?

Advanced Security improves the AI- and behavior-based anti-malware detection of Acronis Cyber Protect Cloud with enhanced virus signatures database that improve the speed and accuracy of detection even further.

The advanced endpoint protection capabilities also cover a wider scope of threats, including web-based attacks and software exploitation attempts, ensuring comprehensive active protection.

With the Advanced Security add-on, service providers can also offload clients' endpoints and provide more aggressive scans in the Acronis Cloud, ensuring backed up data is malware-free. The recovery process is similarly protected with built-in anti-malware scans and antivirus definitions updates.

Acronis Cyber Protection Operation Centers (CPOCs) monitor the threat landscape and release alerts about emerging threats such as malware, vulnerabilities, or natural disasters. Smart Protection Plans can be automatically adjusted to proactively cover those threats, greatly improving reaction times.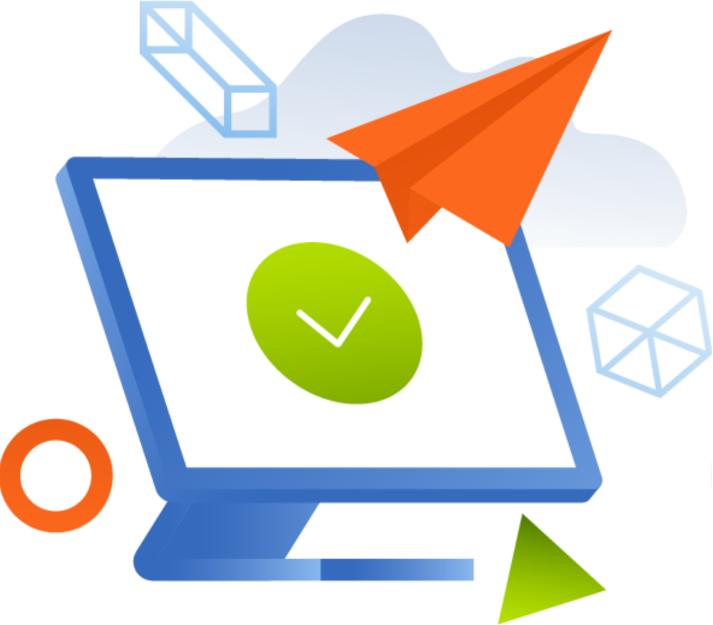 Subscribe for tips, news and occasional promotional offers from Acronis
Sorry, your browser is not supported.
It seems that our new website is incompatible with your current browser's version. Don't worry, this is easily fixed! To view our complete website, simply update your browser now or continue anyway.