for businesses (formerly Acronis Cyber Backup)
Backup software creates copies of the data on your system so you can recover in case your original data is lost or damaged. Different backup solutions protect different kinds of data and different combinations of devices.
For example, with Windows PCs and servers, some backup and restore solutions only back up your files and folders, while other solutions back up everything by taking a snapshot of the entire hard disk. This is called a disk-image or full-image backup and it allows you to recover your system to "bare metal", eliminating the time and effort to install and configure your operating systems (OS) and applications.
Why Having a Backup and Restore Plan is Important For Any Business
A wise man once said, "There are two kinds of computers — those that have failed and those that will."
Everyone experiences problems with their computer (especially hard drives). According to a Backblaze study, more than five percent of hard drives fail every year, and one in five hard drives will not survive more than four years.
This is just for hardware issues. There are also software failures – virus attacks, ransomware, botched updates and reconfigurations. A virus can leave a backdoor into your system so that ransomware can encrypt your documents.
If any of these events result in lost data and your organization does not have a backup and restore strategy, you risk losing the critical files your work or even your life depends on!
Back Up Before Upgrading Windows
If your organization still uses Windows 8 on PCs, or Windows Server 2008/2012 on servers, you will be upgrading to the latest version at some point. An operating system upgrade is invasive and the only way to ensure you can restore your data is to create a complete backup.
How To Back Up Windows with Acronis Cyber Backup
Accessing the Console
If you have installed the Acronis Cyber Backup Console in your environment on-premises, open the Acronis Cyber Backup web console on the system where you have it installed, or use the URL on any browser on any other system: https://[console machine name or IP address]:9877
On the console machine, enter "Administrator" and the password if requested, or use the credentials of any other user who is the member of Acronis Centralized Admins.
If you use Acronis Cyber Backup console in the Acronis Cloud, simply open https://backup.acronis.com/ and provide your Acronis Account email and password to log in.
Adding your System
Click All machines > Add.
Click Windows.

Specify the name or IP address of the machine or browse your network.

Enter the credentials of an account with administrative privileges on that machine.

Click ADD.
Now you will see your machine in the list of all machines.
Schedule your Backup
Select the desired machine in the list and click Backup.

Modify the backup plan name to make it easier to understand logs and notifications in the future.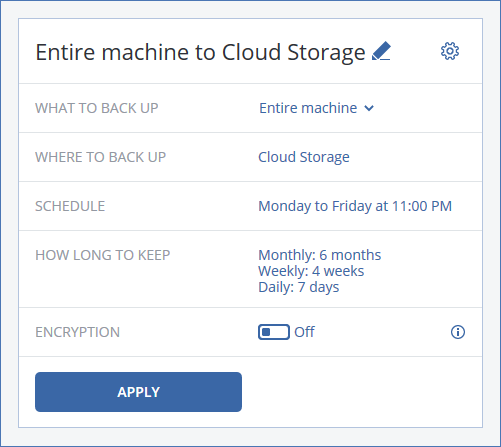 By default, the entire machine (all disks) will be backed up. Click the arrow, and select what you want to back up: Disks/volumes – Backup of everything on selected disks or partitions. This option allows you to exclude USBs and HDDs, or the temporary locations you don't want to back up. Alternatively, you could use this option to create different backup schedules for different drives. Files/folders – Backup of selected files and/or folders. This option is best to create a copy of your data. Note that this form of backup will not let you restore your OS or applications, so you could use this as a secondary backup – in addition to entire machine. System state – Backup of your Windows settings. This can help to restore the Windows configuration without overwriting your applications and data.

Select a destination. Acronis Cyber Backup supports a multitude of storage options:
Local Folders – Great for quick backup and recovery of the machine, as it does not require the backup to travel over the network or internet. However, this storage destination won't protect you from HDD failure (if you store to the same drive), or from major disasters, such as fires or floods. This storage option is also 1:1, — that is, you need to manage each machine separately. It is great for single machines, but is more complicated to manage in a larger environment.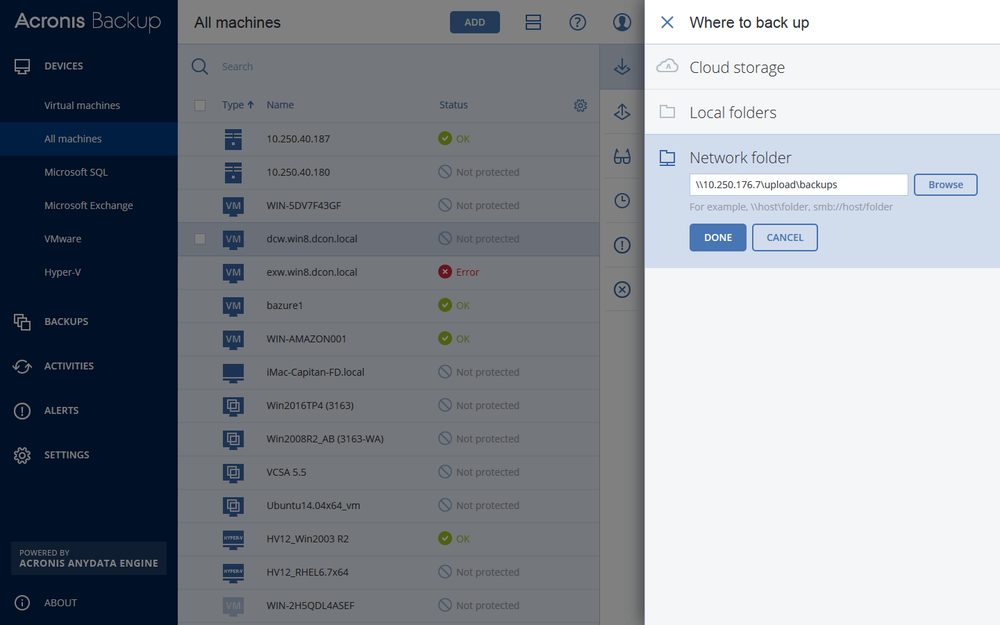 Network folder – Lets you store backups in File Servers or NAS. You can back up your entire environment, and you can restore quickly over your local network. It also protects from local disk failures, but is not a good option for recovery in the event of a major disaster.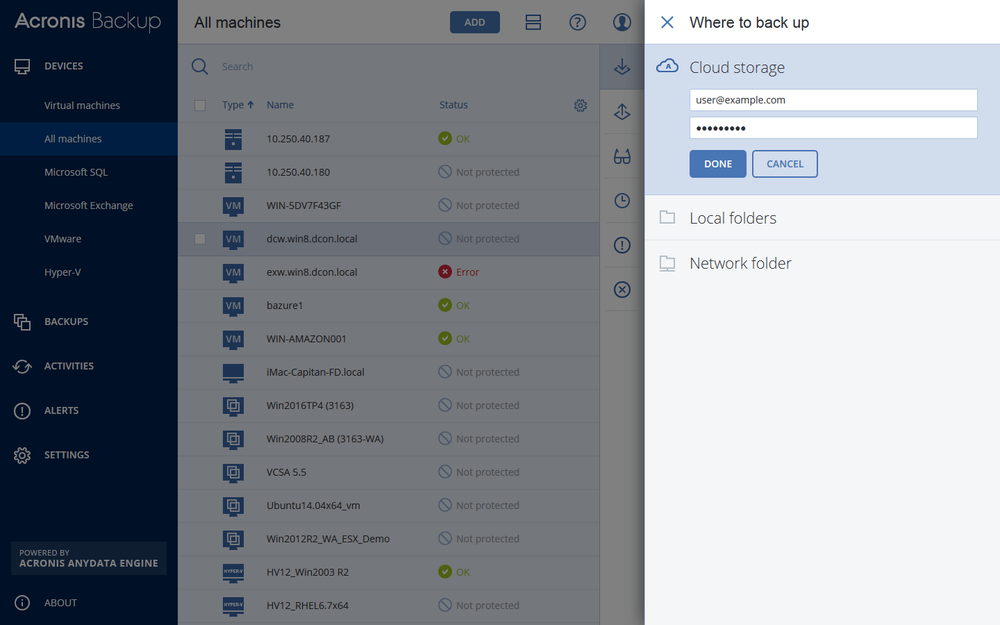 Cloud Storage – Reliable backup to secure Acronis Data Centers all around the globe. By storing backups off-site, you ensure protection from any major disaster, and can restore your data and your business in nearly any situation. Note, that cloud storage performance depends on your internet connectivity and bandwidth utilization.
Define a desired schedule. Acronis Cyber Backup has a broad selection of easy-to-configure scheduling options: The default backup schedule is daily Monday through Friday. You can drag a slider to change it to: Monthly – on select days (e.g., the 1st of the month) or a weekday of the month (e.g. the last Friday of the month) Weekly – on select weekdays Daily – every day or Monday-to-Friday Hourly – every so many hours (or even minutes) within a defined period If you are backing up to local or network folders, you can also define the backup scheme — the rules of combining full, incremental, and differential backups in your backup collection, called chain. Here is quick overview: Full Backup – Contains every piece of data you back up. These backups are the most reliable and independent, yet they are quite sizeable. The first backup ever created for the data is always a full backup. Incremental Backup – Contains only the difference from the last backup you created. Incremental backups are the fastest to create but require the entire chain to be present to be restored. Differential Backup – Contains the difference from the full backup you created. This backup is a bit larger than an incremental backup, but only requires the full backup for recovery. Choose one of the available schemes: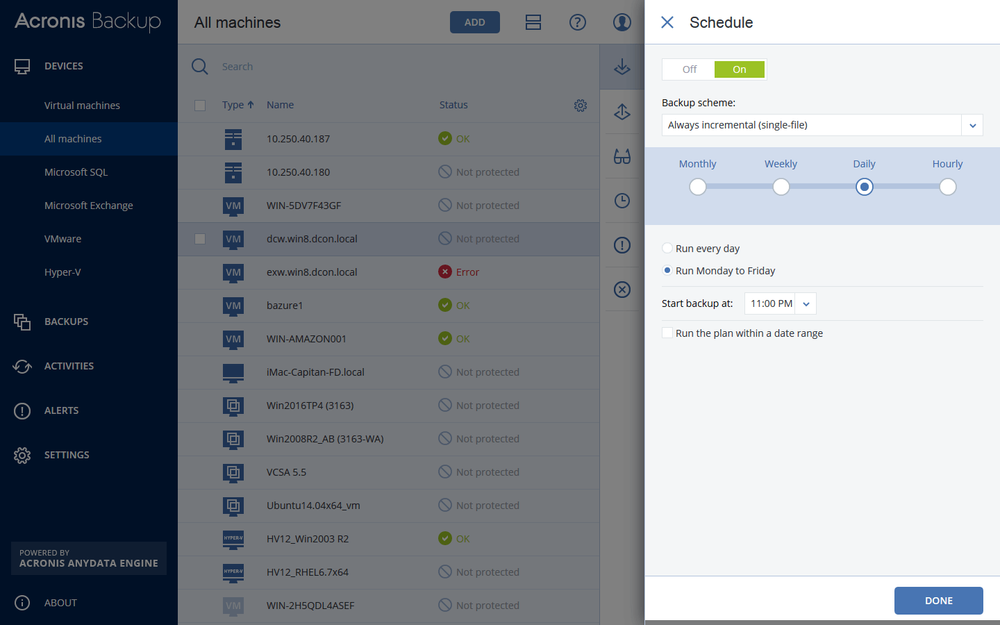 Always incremental (single-file) – This innovative and unique backup storage technology that allows all incremental backups to be stored within the same backup file. You can store as many incremental revisions as you want and there is no consolidation to worry about!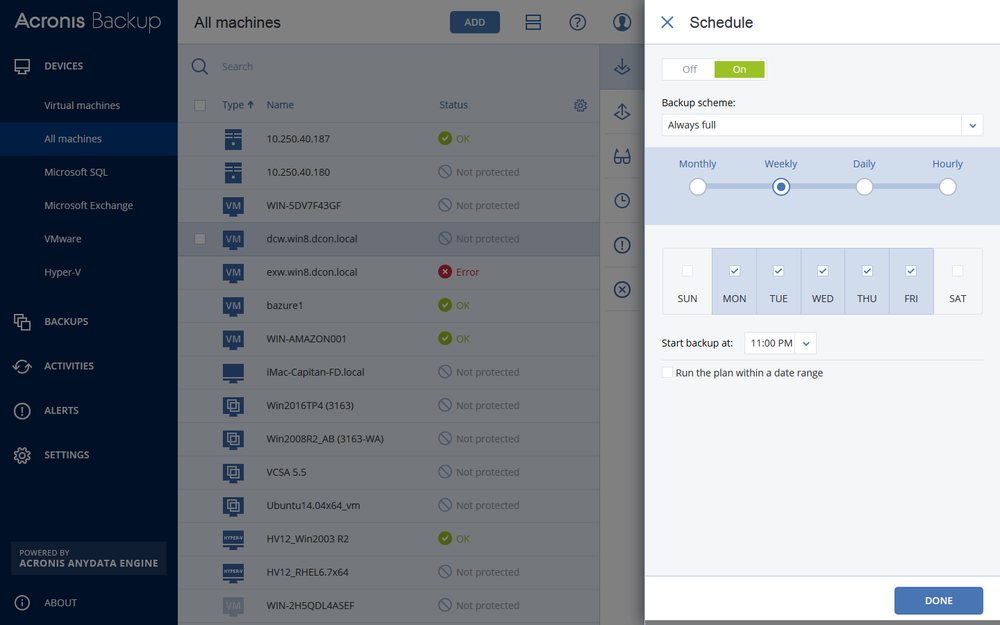 Always full – Very reliable complete copy every time, requiring the most storage capacity of all other schemes.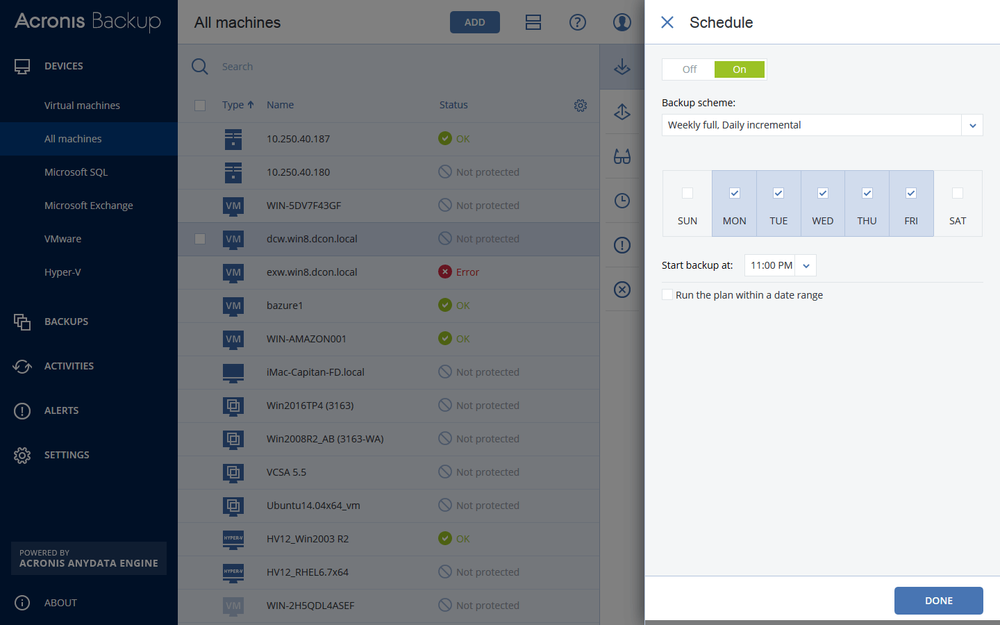 Weekly full, daily incremental – traditional backup scheme, a favorite for many IT professionals. Can be easily substituted with Always Incremental.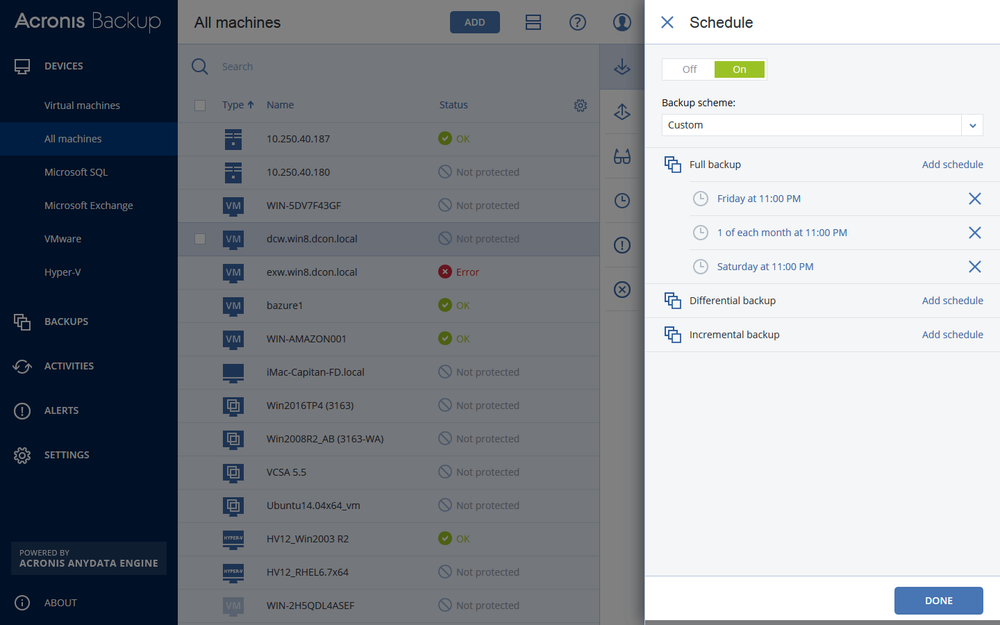 Custom – The most flexible to fit any requirement. You can set up multiple schedules for full, incremental, and differential backups.
Define the Retention scheme. You would like to keep all backups, but your storage is limited. Acronis Cyber Backup deletes old backups using very intelligent cleanup schemes: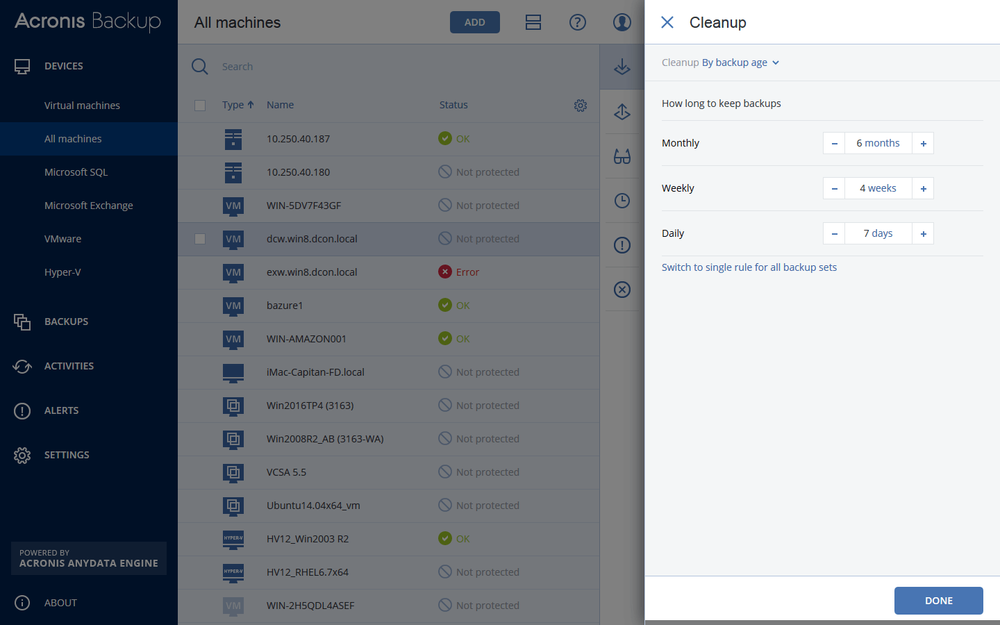 (Default) By backup age – The clean-up scheme in the example above keeps your monthly backups for six months, weekly for four weeks, and daily for seven days. This form of "shredding" allows you to go back in time and have date granularity for the last week, keeping a maximum of 17 backup revisions on your storage. You can switch it to a single rule, defining a single cut-off date.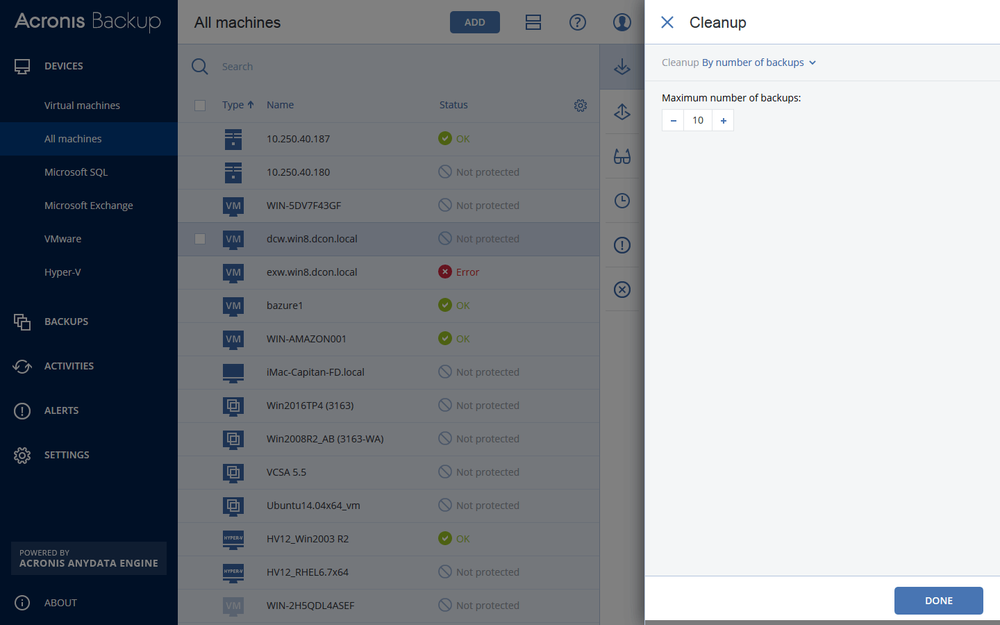 By number of backups – This will retain a fixed number of backups regardless of your schedule. This is best if you have limited storage capacity.
Keep backups indefinitely – just in case your storage is nearly unlimited, you can turn off the cleanup altogether.
If you want to copy your backups to another location, enable Replication. It is advisable to use the 3-2-1 backup rule — store data in three locations, on two types of media, one being off-site. With Acronis Cyber Backup, you can back up to your local drive or NAS and then replicate the copy of the backup to the Acronis Cloud.
For additional security, enable Encryption. All your backups, including metadata, are encrypted with strong AES-256, AES-192 or AES-128 encryption with the password you define. Nobody (including yourself) can restore your backups if the correct password is not provided.
If needed, set up additional backup options, described in the Acronis Cyber Backup Online Help.
Click Apply. Your backup has been scheduled.
How To Restore your Windows with Acronis Cyber Backup
Once your backup runs, you will see it in list of Backups in the Acronis Cyber Backup console. To see recovery and restore options, either:
Select a storage location, then the backup and you will see recovery options.

You can select a machine in the list of devices, and click Recovery.
Recovering the Entire Machine
If your target machine is operational, select Entire Machine, select all necessary options, and click Start Recovery.

If your target machine is empty — bare metal — boot it with Acronis Bootable Media and proceed with the recovery.

You can also restore to a new virtual machine (VM), or overwrite the existing VM.
You can find more details on full system recovery in the Acronis Cyber Backup Online Help.
Recovering Files and Folders
Click Recovery and select Files/Folders.

Browse and select the drive, folder, and/or file you want to recover.

Click Recover to restore the file to the original machine or Download to download a file via your browser.
You can find more details on file and folder recovery in the Acronis Cyber Backup Online Help.
Running the Machine as a VM
If you have a virtual environment running VMware vSphere or Microsoft Hyper- V, you can use Acronis Instant Restore to run a copy of your backup as a virtual machine directly from the backup storage without any data movement! This process is extremely fast — your system can start in 15 seconds or less. Simply click Run as VM in the recovery view, provide options, and click Run Now.
You can run backups of your physical systems and virtual machines that are running Windows or Linux.
You can find more details on Acronis Instant Restore in the Acronis Cyber Backup Online Help.
Acronis Cyber Backup offers you complete, flexible, yet easy-to-use options to back up any of your Windows machines and restore the entire systems to the same or dissimilar hardware, restore files and folders, and run backups as VMs.
Whether you run a small-business or an international enterprise, with Acronis Cyber Backup, you can protect all your Windows systems, whether they reside on-premises, in remote locations, or in private and public clouds.
Try Now!