As a managed IT service provider, you know that cyberthreats are constantly evolving, and that next-generation anti-malware services are crucial for protecting your clients' businesses.
Thanks to Acronis Cyber Protect Cloud's Advanced Security pack, delivering those services has never been easier.
Our industry-leading platform, Acronis Cyber Protect Cloud, comes standard with robust security features — like our proprietary Active Protection technology — to enhance client protection at no additional cost, fending off dangerous threats like malware and ransomware and ensuring that software vulnerabilities are patched as soon as possible. But you can extend that protection even further with Advanced Security, lowering risks to clients (and to your own business) with next-generation anti-malware protection—without adding to your management burden.
Here are five ways that you can boost defenses for your clients with Advanced Security.
Block web threats and malicious URLs
Web-based attacks and malicious websites are becoming increasingly common. Hackers use various techniques to trick users into visiting malicious websites, which can result in sensitive data theft, malware installation, or even a complete system takeover. Acronis Cyber Protect Cloud's Advanced Security pack includes URL filtering capabilities that can block malicious websites and prevent web-based attacks before they can reach your clients' systems.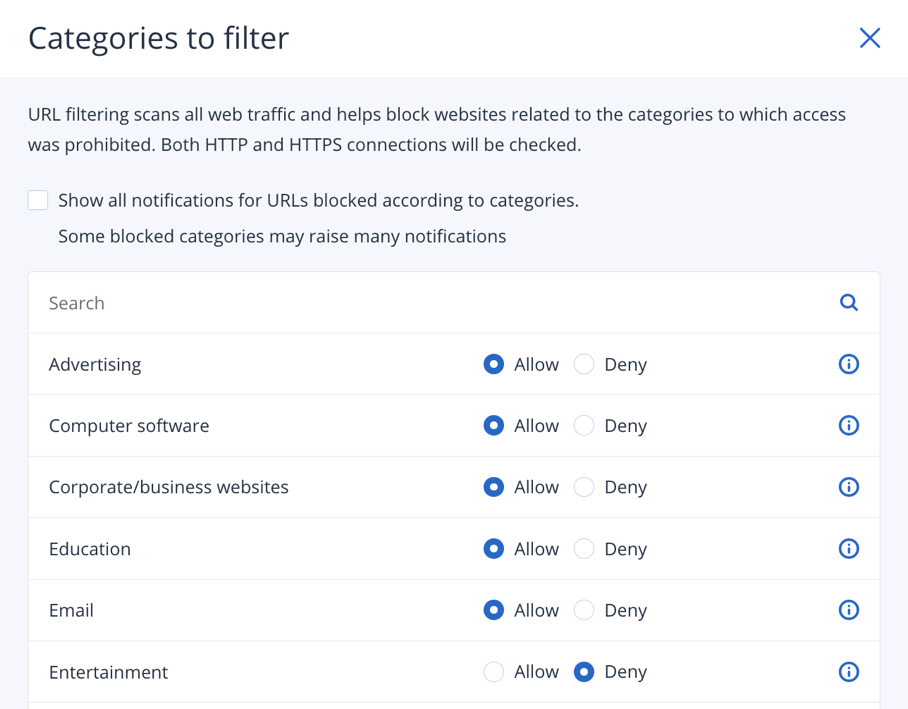 With URL filtering, you can block access to sites that are known to distribute malware, phishing pages, and other malicious content. The solution also enables granular policy management, allowing you to restrict access to specific categories of websites. For example, you can block social media sites during work hours to prevent employees from wasting time or restrict access to adult content to ensure compliance with company policies.
URL filtering is an essential component of any cybersecurity strategy, and Acronis Cyber Protect Cloud's Advanced Security pack makes it easy to implement.
Stop zero-day threats in their tracks with exploit prevention tools
Exploit prevention is a proactive approach to cybersecurity that aims to identify and block attempts to exploit vulnerabilities in software and systems. Cybercriminals take advantage of known flaws to gain unauthorized network access, steal sensitive data and install malware that enables future attacks.
Advances in AI and automation are helping criminals to generate thousands of new cyberthreats every day, and to launch attacks at incredible scale. While traditional, signature-based antivirus detection still has its place (as we'll discuss further on), it struggles to keep up with the sheer number of threats being pumped out. MSPs need a solution that identifies and blocks these threats based on the malicious behaviors that they exhibit.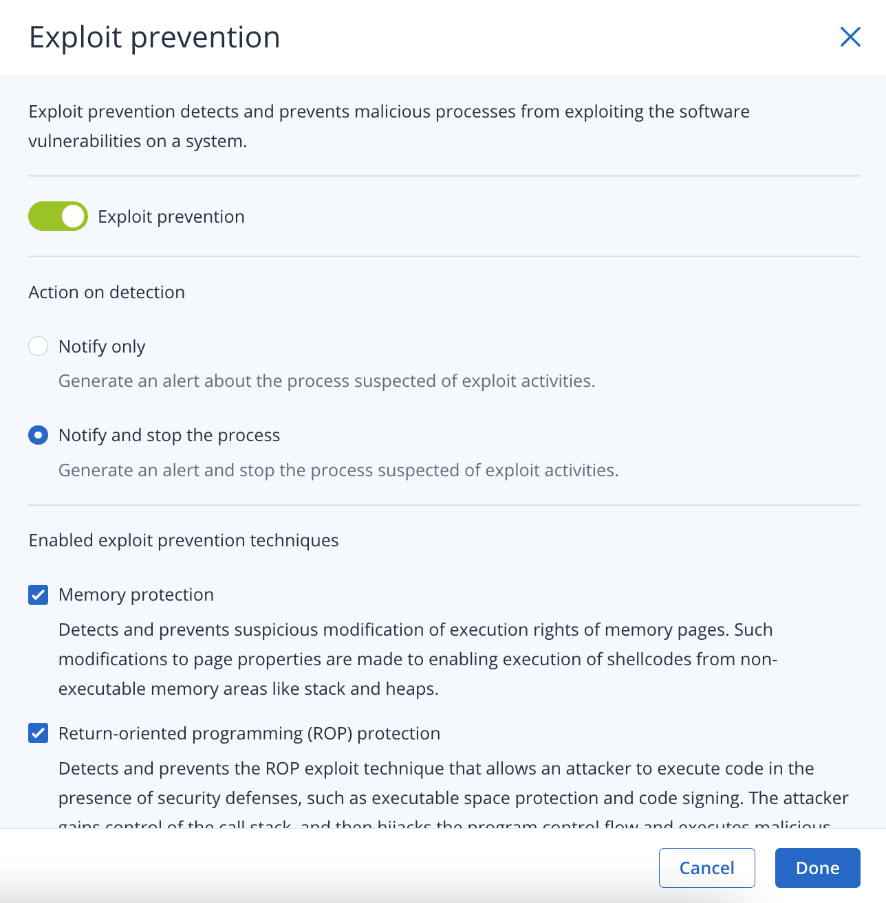 Acronis Cyber Protect Cloud's Advanced Security pack uses a combination of behavioral analysis, machine learning and artificial intelligence to detect and block zero-day threats and prevent exploitation. The solution includes:
Memory protection to stop suspicious modifications of execution rights
ROP protection to prevent attackers from hijacking program control flow to run code
Privilege escalation protection to halt attempts by malicious code to gain greater system access
Code injection protection to thwart attempts at injecting malicious code into remote processes

Increase the detection rate and speed for known threats
Even though hackers are constantly creating new malware, many attacks still use variations of existing malware families. That's why signature-based detection remains an important component of any modern cybersecurity strategy.
By comparing signatures from these malicious programs against lists of known threats, cyber protection solutions can immediately identify such variations and block them before they can cause harm (while minimizing false positives). The Advanced Security pack enables local signature-based detection, with enhanced signature databases to boost the efficiency of both quick and full anti-malware scans — just toggle Advanced anti-malware in the management interface.

With Acronis Cyber Protect Cloud and the Advanced Security pack, you and your clients will benefit from top-of-the-line signature engines and industry-leading detection rates and speed, ensuring seamless detection of all known threats within seconds and providing an extra layer of protection against dangerous cyberattacks.
Collect evidence with forensic backups
In the event of a breach, forensic backups can enable investigations by providing an accurate record of system changes and data access.
Forensic backups are useful for identifying the root cause of a security incident, and for complying with legal and regulatory requirements. Collecting this digital evidence helps you to determine — with increased speed and precision — what exactly happened during the attack, and how you can address the vulnerability going forward.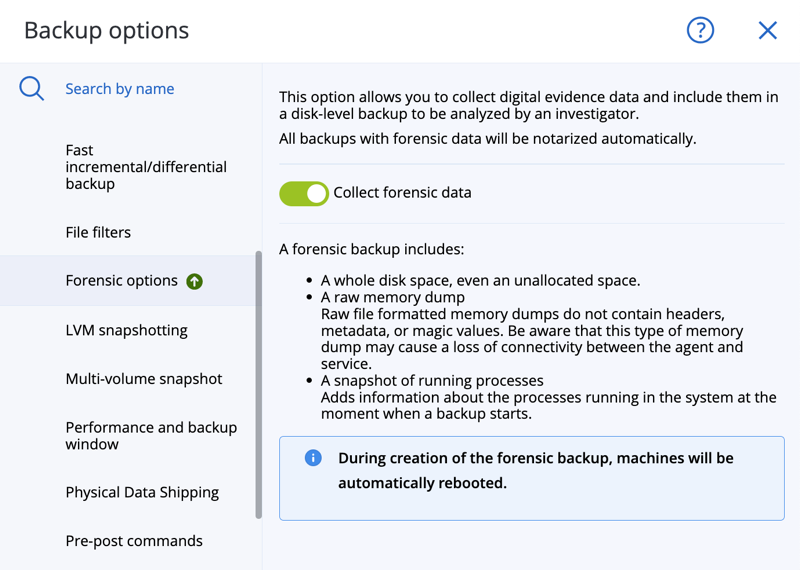 No matter how strong your cyber defenses are, the safest way to operate is to assume that sooner or later, a breach is inevitable — and to plan accordingly. With Acronis Cyber Protect Cloud's Advanced Security pack, you can ensure not only that your clients' data is more effectively protected, but also that they are able to respond effectively when disaster strikes.
Ensure business continuity and prevent infections from recurring
How do you recover data and systems after a security incident? The obvious answer is to restore from backup — but what if your backups themselves are infected?
Prevent dangerous infections from reoccurring with Acronis' unique safe recovery technology. During the recovery process, Acronis Cyber Protect Cloud's Advanced Security pack scans backups for malware and updates antivirus databases.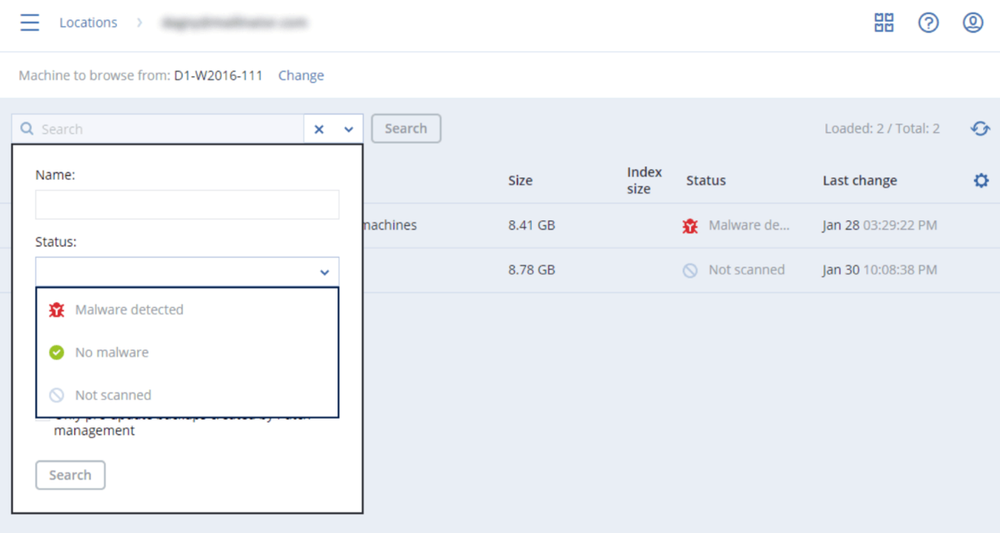 In the event of a cyberattack or data breach, it's critical that your clients' businesses are able to recover quickly and with minimal disruption. Safe recovery capabilities that help ensure business resilience and continuity — that's the power of integration.
Cyberthreats are becoming increasingly complex, and there are more channels than ever for delivering those threats. As a managed IT service provider, it's your responsibility to provide your clients with advanced cybersecurity services that can protect their businesses from these threats. Fortunately, Acronis Cyber Protect Cloud's Advanced Security pack offers a range of capabilities that can help you to deliver the protection your clients need.
Thanks to Acronis Cyber Protect Cloud's modular architecture, you can rapidly launch and scale your security practices, add new revenue streams, reduce operational expenses, streamline operations and eliminate protection gaps. All it takes is the click of a mouse.
Ready to get started? Get your 15-day free trial of Acronis Cyber Protect Cloud with Advanced Security today! Existing Acronis partners can quickly and easily activate Advanced Security through the Acronis Cyber Protect Cloud console.
About Acronis
Acronis is a Swiss company, founded in Singapore. Celebrating two decades of innovation, Acronis has more than 2,000 employees in 45 locations. Acronis Cyber Protect solution is available in 26 languages in over 150 countries and is used by 18,000 service providers to protect over 750,000 businesses.