This year's Acronis #CyberFit Summit is the largest conference Acronis has held, with 20% more sessions, more than 1,500 attendees — including MSPs and end-user clients — over 100 speakers and seven breakout tracks. Most exciting? The Acronis #CyberFit Summit 2022 is one of the top three MSP-focused events held in the U.S.
The theme for this year's Summit is "Cyber Protect the Future." Attendees had the opportunity to discover what's next in the cybersecurity space and how Acronis will meet these future requirements. The agenda also allowed attendees to network with peers, exchange ideas and learn ways to grow their business.
We kicked off the event Sunday evening with a bang by welcoming our international community and celebrating the cultural diversity of our partners and clients in the Glimmer Ballroom at the Fontainebleau Miami Beach. Oh … what a night! Our guests enjoyed refreshments, signature cocktails, great music, lively conversation and the opportunity to meet old friends and make new ones — including Acronis executives and Summit speakers.
Here are just a few highlights from Day One of the Summit.
#CyberFit Summit Keynotes
On Day One, the audience enjoyed three keynote sessions.
Keynote #1: Cyber Protect the Future with Acronis — The future starts now!
On tap first, four Acronis executives took to the main stage, including Patrick Pulvermueller, CEO; Candid Wüest, VP of Cyber Protection Research; Oleg Melnikov, CTO; and Katya Ivanova, the new Chief Sales Officer.
Patrick Pulvermueller shared his vision for the marketplace, emphasizing the technology shifts that have impacted MSPs and how Acronis continues to deliver value to address these challenges. He emphasized that MSPs need to consolidate their technology stack and simplify operations, citing that 75% of organizations are pursuing security vendor consolidation in 2022 — up from 29% in 2021. "The old IT models are obsolete," Pulvermueller said. "There is only one way to be a part of the transformation: consolidate around a set of purpose-built and integrated #CyberProtection technologies."
Candid Wüest then joined the main stage, asking, "What is 2.3 days?" The answer: 2.3 days is the average lifespan of malware that Acronis has seen this year. Wüest explained that the threat runway is getting shorter and shorter, which is why cybersecurity solutions need to incorporate machine learning (ML) and machine intelligence (MI). Wüest also discussed three real-life use cases to demonstrate that every company is at risk. He cited use cases from a single attorney to a dentist practice to a larger service company — all of which were victims of cybercrimes.
Oleg Melnikov then stepped onto the main stage and walked the audience through the Acronis history and the major 2022 product releases from DLP to Cyber Scripting to extended protection of Microsoft 365, one-click recovery to immutable storage to streamlined agent deployment and continued integration with third-party applications.
Finally, Katya Ivanova joined Pulvermueller on stage where he conducted a quick interview, asking Ivanova to summarize her resumé and experience with Acronis. Ivanova encouraged the audience to call on the more than 200 Acronis employees attending the Summit to share their feedback on both Acronis solutions and the Summit itself.
Key statistics from Keynote #1
· Acronis has more than 52 data centers around the globe.
· Acronis filed more than 72 patents in 2022 with over 200 patents pending/issued, three times more than Acronis competitors.
· Acronis created more than 1 billion backups in the year to date.
· During the time it took Pulvermueller to present his keynote, 25,000 new malware were created using machine learning.
· 22% of companies use more than 10 security solutions in parallel.
· Acronis delivered 60+ new features in 2022.
Keynote #2: Expanding the future of MSPs
Serg Bell, Acronis Founder and Chief Research Officer, was televised onto the main stage from Bremen, Germany, where he continues his work with the Acronis Cyber Foundation.
During Bell's illuminating session, he discussed the technology trends MSPs need to follow in 2022, including the continued competition for IT talent, the need for global localization and machine intelligence, the future of smart devices and edge computing and requirements that go beyond the cyber world.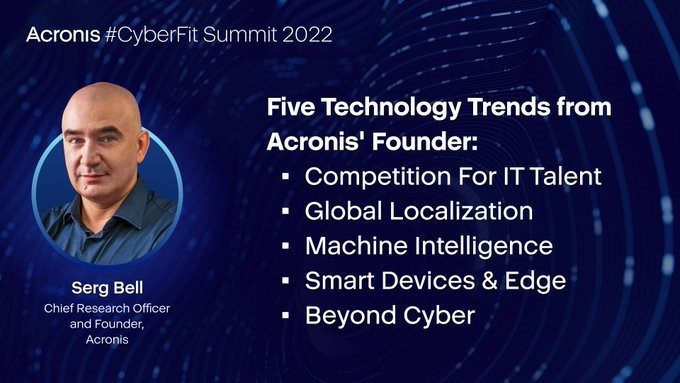 Bell also stepped through 10 mid- and long-term product development plans that Acronis will focus on over the coming year and ended his session with a call to action, asking the audience to provide feedback and exchange information about specific topics currently being researched by the Acronis team.
Keynote #3: From the mafia to ransomware gangs
Louis Freeh has been on the front lines of justice for 50 years, having been a prosecutor, federal judge, Director of the FBI, and now, an international consulting attorney. We were honored to have Judge Freeh take our stage and share his war stories and experiences chasing and fighting the mafioso bad guys, and his analysis of the cybersecurity risks businesses face today.
Roadmap 2023: A look into the future of cyber protection
Naturally, all our Summit attendees were looking forward to this session where Acronis CTO Oleg Melnikov shared an overview of the innovations and features planned by Acronis over the coming year. The highlights of what to expect include:
· Continued investment and focus on the platform and on our data center, compute, storage and network services
· More innovation into our backup, disaster recovery, security and management products
· A continued strong focus on quality and operational enablement for our partners
For more information on this topic, click here.
Acronis new product announcements
Yesterday, Acronis announced some big news from the Summit, including a couple of new products — Acronis Advanced Security + EDR and Acronis Advanced Automation — and the Acronis Cyber Scripting feature in Acronis Advanced Management. You can find more information about these new solutions and features here.
Cyber Scripting and beyond in Advanced Management
J.D. Perham of Acronis and Kevin Tegelaar, Microsoft MVP, introduced the latest advancements and coming innovations in Advanced Management and described for the audience how MSPs use Cyber Scripting in the real world.
The real edge is EDR: Protecting endpoints and the people who use them
In this session, James Erby and Gili Moller, both from Acronis, demonstrated how an MSP can protect clients all the way to the real edge of their network — the endpoint devices and people that access those systems every day.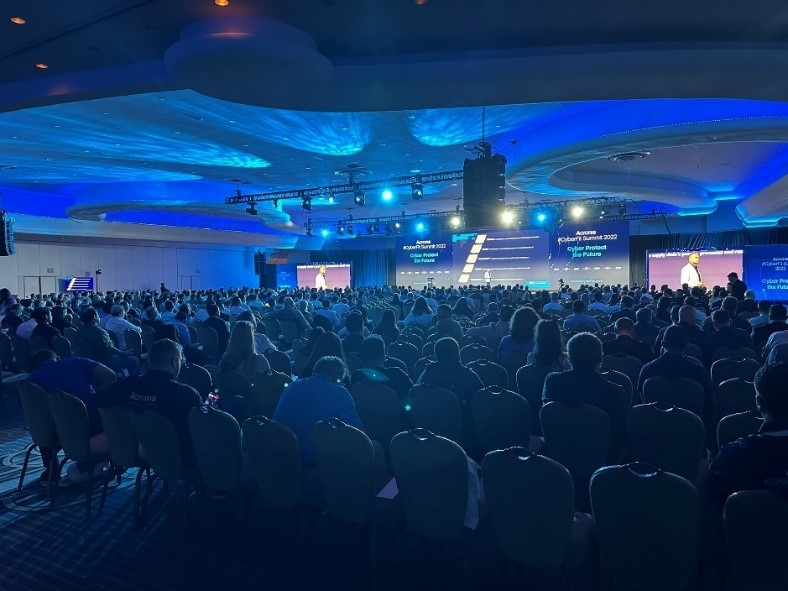 How MSPs are cyber protecting the future
Key sponsor Silvereye empowers enterprise MSPs through consolidation and commitment
Silvereye Technologies Chief Strategist Cameron May enlightened the audience on how his organization can empower enterprise MSPs. May shared his organization's strategy — one that empowers MSPs to expand their customer base and increase their Acronis annual recurring revenue (ARR) through consolidation and commitment. They do this by matching each client with the right MSP to ensure the client has access to the right advisory and managed services, while providing the MSP with fully qualified, happy clients and faster access to Acronis Market Develop Funds (MDF).
ConnectWise: The case for Blast Zone Engineering
Tony Thomas, VP of Strategy for ConnectWise, took the stage to share his views on how a business continuity mindset and a new disaster management discipline can be a strategic advantage across the entire MSP supply chain ecosystem. Quoting Sun Tzu — "In the midst of chaos, there is also opportunity" — Thomas explained how resilience is the antidote to cyberthreat chaos. He then made the case for Blast Zone Engineering, which helps providers manage the forces of chaos and connect the community to generate opportunity and solve for the ultimate end game — continuity. In his session, Thomas emphasized the three things that make you resilient: aligning your stack, creating transformative partnerships and joining communities.
Flagship sponsor Galactic Advisors creates a sales process that works
Jennifer Pierce, Security Advisor and Partner Success Manager at Galactic Advisors, introduced a sales process at her session that helps MSPs educate prospects, capture new clients and close new business 83% of the time and retain current clients, while increasing MRR through security services.
The Galactic Advisors cybersecurity audit analyzes MSP environments using penetration tests to both improve the MSP security posture and enable them to use these pen tests for their current clients and prospects. Pierce commented, "Always use an assessment before having a security conversation. An assessment allows the MSP to educate clients and prospects on the risks that exist, how those risks can impact their business and how the MSP can help the business owner solve a REAL problem — not a theoretical one."
Networking, networking, networking
Monday's lunch provided the perfect opportunity for attendees to roam the Expo Hall, visit the different booths and exhibits, network with colleagues and play the passport game. The first 250 people to collect stamps by visiting different booths won a pair of JBL Tune 510BT wireless headphones. Five winners were also selected to win either an iPhone 14 Pro or MacBook Air 13.
On Monday evening, Acronis sponsored a happy hour and the Cyber Networking Dinner Party, where attendees mingled and networked with old and new friends, met Acronis leadership and enjoyed amazing food, tasty drinks and fun games.
Broadcasting from the Summit
At this year's Summit, we showcased the Acronis Cyber Studio for the first time — in which the nine most influential podcasters in the MSP industry conducted live interviews with Acronis executives, Summit speakers and key MSPs in a glass production space where attendees could watch all the action. The Cyber Studio provided a great venue to increase attendee excitement and interest over the course of the Summit.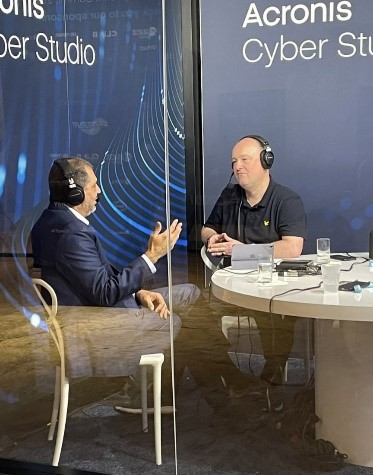 Stay tuned for tomorrow's blog post, which will showcase Day Two of the Acronis #CyberFit Summit 2022.