Acronis

Cyber Protect Cloud
While traditional malware protection relies on a classical signature-based approach, advanced malware protection utilizes a multi-layered approach that incorporates artificial intelligence (AI), machine learning (ML) and behavioral detection. Behavioral detection is a technique that determines whether an entity will attack by observing its behavior. Advanced malware protection solutions also use whitelisting or allowlisting – a technique that allows approved entities – and blocklisting – a list of entities that should be blocked.
How does advanced malware protection work?
The key to advanced malware protection is the multi-layered approach. This significantly reduces the chances of malware attacking a system because if it gets pass one layer of protection, another layer of detection has a greater chance of stopping it. For example:
The first level of detection can be an allowlist. If the file is on the allowlist, it will not pose a threat.

The next level of detection is the block list. If advanced malware protection initially identifies a specific piece of malware, the system adds that file hash to a block list. Once on a block list, that piece of malware can no longer infect a system.

If the malware gets pass the whitelist and blocklist, AI, ML, and writing behavioral detection for that type of malware provides another layer of improved protection.
Behavioral detection is not just looking at the code in the file but at the way the code behaves – e.g., what Windows registry keys are being manipulated by the file, what other files are being created, is the file generating processes, scanning the network looking for other available systems, or looking to connect to external systems. Some of all this behavior can be a sign that the file is looking for instructions from a command-and-control server.
At the same time, advanced malware protection makes decisions based on AI and ML models that are trained and continuously retrained with data that is fed into the detection engine. This process is monitored by humans (who work for the software provider) to ensure the models are working properly, remain relevant with existing and new threats, and eliminate false positives.
Why is advanced malware protection important?
Classical malware protection methods of relying solely on hashes and code snippets have become irrelevant because malware is advancing so quickly. These techniques will not let you catch new malware or zero-day attacks. Instead, advanced malware protection has a better chance of detecting something new because it is looking at existing behaviors, which provides best-in-class malware protection.
Types of malware protection
There are different types of malware protection solutions available today that perform a combination of detection, prevention, and response to malware attacks. For example:
Detection only: Traditional anti-malware software relies on signatures and heuristics to detect a piece of malware. Unfortunately, attackers are using AI and ML to develop more advanced malware every day, which will not be detected by a traditional solution. Anti-malware on its own does not detect cryptomining and ransomware as it is only looking at the back door for trojans and basic malware.

Detection and prevention: Advanced end-point anti-malware uses a multi-layered approach by monitoring file access and file behavior to identify and stop malware using AI, ML, and behavioral detection. Advanced anti-malware protection can stop zero-day attacks and ransomware by stopping processes, automatically restoring files that were encrypted, and quarantining files.

Detection, prevention, and response: End-point detection and response (EDR) systems detect malware, record malware activities, and generate reports that identify and describe all the suspicious events regarding the spread of a piece of malware across the network. EDR systems typically require some type of manual analysis to effectively investigate and remediate. More than likely, EDR systems require a team of analysts so it is typically used by larger businesses. Extended detection and response (XDR) systems provide the same functionality as EDR systems but focus on multiple disciplines, such as endpoints, the network, cloud, and other solutions
Acronis Cyber Protect Cloud – detection, prevention, protection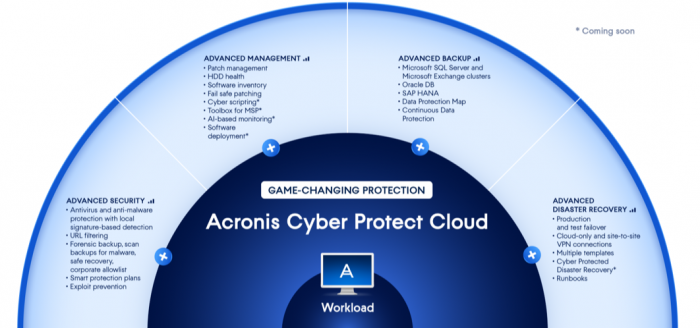 Acronis Cyber Protect Cloud is a one-of-a-kind solution that detects and prevents advanced malware, offers remediation and investigation capabilities, and provides total protection of your data. It unites behavioral and signature-based anti-malware, endpoint protection management, backup, and disaster recovery in one solution. With a single console and single agent, Acronis Cyber Protect Cloud offers unmatched integration and automation to reduce complexity, improve your productivity, and decrease operating costs. Some of its unique features include:
Next-generation anti-malware, which uses machine learning/AI-based technologies to prevent emerging/new malware

Global threat monitoring and smart alerts from Acronis Cyber Protection Operation Centers (CPOC) so you can stay well-informed about malware, vulnerabilities, natural disasters, and other global events that may affect your clients' data protection, so you can take action to prevent them

Forensic backup that allows you to collect digital evidence data, include them in disk-level backups that are stored in a secure place to protect them from cyber threats, and use them for future investigations
Patch management for Microsoft and third-party software on Windows, allowing you to easily schedule or manually deploy patches to keep your clients' data safe

Drive health monitor using ML technology to predict disk issues and alert you to take precautionary measures to protect your clients' data and improve uptime

Software inventory collection with automatic or on-demand scans to provide deep visibility into your clients' software inventory

Fail-safe patching by generating an image backup of your clients' systems to enable easy recovery in case a patch renders your client's system unstable
Protection for more than 20 workload types from a single console, including Microsoft Exchange, Microsoft SQL Server, Oracle DBMS Real Application clusters, and SAP HAN

A data protection map that tracks data distribution across your clients' machines, monitors the protection status of files, and uses the collected data as the basis for compliance reports

Continuous Data Protection that ensures you will not lose your clients' data changes that are made between scheduled backups
Provides disaster recovery orchestration using runbooks – a set of instructions that define how to spin up your client's production environment in the cloud – to provide fast and reliable recovery of your clients' applications, systems, and data on any device, from any incident
With Acronis Cyber Protect Cloud, you can provide your clients with multiple layers of protection for their endpoints, ensure their data, applications, and systems are always available and protected, and provide the shortest time to recover their data and systems no matter what happens.
About Acronis
Acronis is a Swiss company, founded in Singapore. Celebrating two decades of innovation, Acronis has more than 1,800 employees in 45 locations. The Acronis Cyber Protect Cloud solution is available in 26 languages in over 150 countries and is used by 20,000 service providers to protect over 750,000 businesses.