Acronis

Cyber Protect Cloud
The recent proliferation of solutions offer cloud storage for business can make choosing the right one for your company difficult – but there are ways to make it easier.
In this article, we examine:
How to choose cloud storage for business

How to evaluate different cloud storage options
How to choose cloud storage for business
All business decisions should start with better enabling your company's processes and operations. Selecting a cloud storage provider should be no different. After all, the best cloud storage for a small business might not be the same as a large enterprise. It all depends on the types of files you are storing, how you need to access those files, and with whom you want to share them.
To make the right decision, you need to examine the main purpose of your cloud storage so you get the solution that meets your company's needs.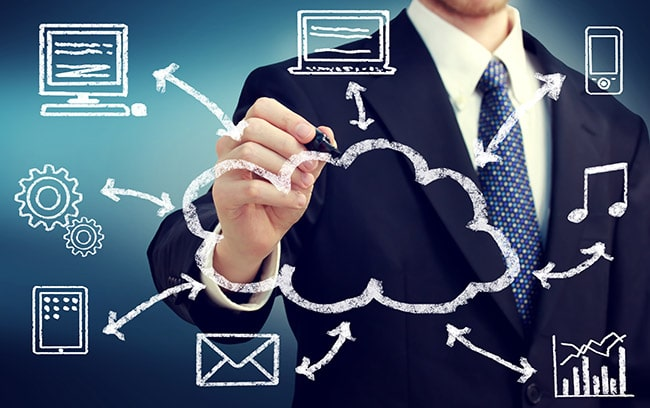 One of the primary uses for cloud storage is file syncing and sharing. With more employees working remotely and using mobile devices, you need a single spot where they can sync and share the documents, videos, PDFs, etc. that they use every day. Whether they're traveling or working from home, cloud storage provides employees more flexibility and accessibility than a local drive or memory card.
Moreover, you need a "single source of truth" for your business files. With a cloud-based sync and share solution, your employees are all working off the same version of a file. You don't need to worry about one person having a different version of the file. Plus, since the files are stored remotely in the cloud, you don't need to worry about losing any data if an employee's device is lost or stolen, or if a fire or flood destroys your office.
Cloud Storage for Objects (Object Storage)
Traditional file storage lets you set up information by giving the data a name and then placing it in a folder. If you think of it like a filing cabinet with folders, you need a different filing cabinet and a different drawer for each data point.
As you add more information to the database, however, you can experience slowdowns in processing power. That's because the metadata stored with the file can throttle the device – the process of moving from folder to subfolder to sub-subfolder to sub-sub-subfolder to document strains your system.
Object storage, on the other hand, acts like expanding file folders where all of the data and metadata is placed in a single location. Instead of having to search through all the different filing cabinets to find the specific drawer that contains the one folder you want, object storage lets you pick up the single expanding file folder that has everything you need.
If you're analyzing big data or looking to optimize your resources, you want to incorporate a solution that provides cloud storage for objects, not just files.
A business might consider a cloud-based file sync and share storage solution to allow employees to collaborate and share files. Relying on that solution to back up your business would be a mistake, however. That's because it only protects the files linked to the cloud storage solution – leaving all of the other devices and data your organization relies on completely unprotected.
A quality business backup gives you the ability to create mirror images of everything, from the operating system to applications to settings to individual files. That way you have everything you need to reliably restore your IT infrastructure quickly and easily. To protect yourself from financial and reputational losses caused by business interruptions, you need to combine cloud storage with backup and restoration functionalities.
For example, if you're already using Acronis Backup to safeguard your IT by backing up to a physical server, the Acronis Cloud add-on provides a cloud storage for backup solution.
About Acronis
Acronis is a Swiss company, founded in Singapore. Celebrating two decades of innovation, Acronis has more than 1,800 employees in 45 locations. The Acronis Cyber Protect Cloud solution is available in 26 languages in over 150 countries and is used by 20,000 service providers to protect over 750,000 businesses.