formerly Acronis Cyber Backup
A classic Backup is a sure thing – in an improper sense. The data is stored on another medium or on in another place. However, there are also situations in which the classic backup does not help. Then a professional data rescue (data recovery) is required.
Such a catastrophe can be seen when a data carrier is physically damaged, of which no complete backup exists. A simple restorations often not possible then. A professional data recovery is required. However, this can be an expensive undertaking. Therefore, a good backup strategy with Acronis Cyber Protect (includes Acronis Cyber Backup) is the very first step in planning a data recovery strategy.
Data loss can result in penalties
Have you ever wondered how much effort is required for the complete destruction of data? This could simply be the head of the drive with the operating system.
To destroy data irrevocably, you should use fire, water or strong electrical or magnetic interference. Nevertheless, most data can be recovered, even from severely damaged data carriers – even after a flood or fire.
Hard disks can contain residual information if some places retain their original magnetization or electric charge. Such technical errors can also be data integrity interruptions due to a controller error. The storage system then wrote other data as expected. It is possible that these incorrectly written data areas have already been copied or applied by backup procedures such as snapshots or RAID before the interruption occurred. The various RAID procedures can in no case replace a full backup like a Acronis data recovery.
While a comprehensive multi-level data backup for larger companies goes without saying, small and medium-sized enterprises (SMEs) can easily encounter technical, spatial and organizational boundaries here. However, SMEs may also have to ensure that certain risks do not lead to an interruption of business operations.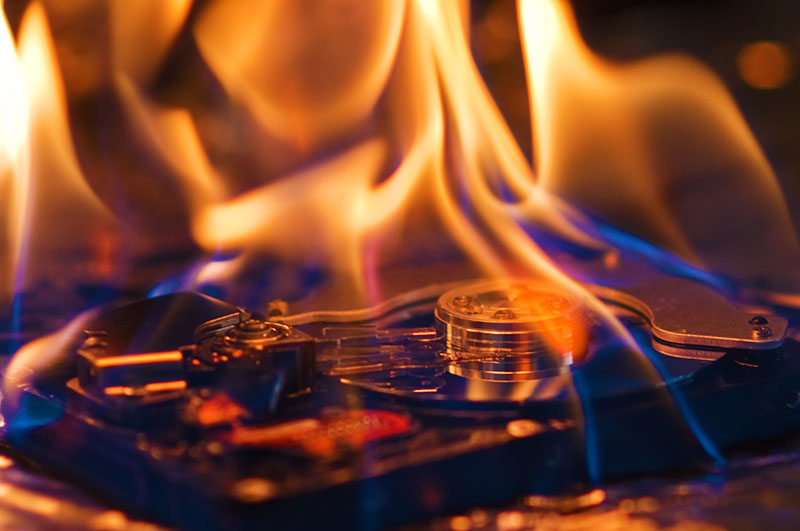 When datа can be recovered, when are they unrecoverable? There are companies that can recover the data using forensic methods. Theoretically – and in many cases also practically -– it is possible to save data even from a physically completely destroyed data carrier. For this, however, specialists with particularly extensive laboratories are required. A professional data rescue is associated with some very high costs. Only the submission and the cost estimate come to a three-digit Euro amount for many providers.
For the actual data rescue, fourfold amounts come to the bill. This is clearly more than a multi-stage, secure backup solution, in which the data is regularly backed up on various media – on a tablet, tape or in the cloud.
The equipment required to repair a hard drive that has been burned, flooded, or scratched is enormous. Cleanroom systems with complex systems and devices for reading and assembling data puzzle pieces from destroyed data carriers are expensive, as are the specialists needed for them. A sensible and important application of data rescue procedures is the recovery of data carriers that have been intentionally destroyed against a criminological or legal background.
In order for a data carrier to be rescued using forensic methods, the data carrier must be sent to the appropriate data rescue specialists in an appropriate laboratory. For this, couriers are required – which adds to the transport costs and the risk that the data remnants could be lost on the transport route.
Physical data rescue is therefore possible and always makes sense when there is no other way to reconstruct the data. However, these procedures are not only significantly more expensive than the recovery from a backup, but they also take longer and carry additional risks. In particular, the downtime that arises during the repair of the data carrier contributes to the cost.
The cumbersome forensic reconstruction of data can be easily prevented. Use a multi-step backup strategy with Acronis Cyber Protect (includes Acronis Cyber Backup).
Acronis creates independence for Business Continuity
Since data loss does not interfere with business processes, you should simply opt for the fastest backup and recovery in the world and for business continuity. The data backup in an encrypted backup is one of the measures that SMEs can use to effectively eliminate the risk of business interruptions due to data loss.
Acronis provides comprehensive data backup and enables data recovery on another manufacturer's reformatted hardware. This means that, recovery works even if the original system was completely destroyed.
With Acronis Cyber Protect (includes Acronis Cyber Backup), you can recover data on existing and new hardware, because data security can be stored not only locally, but also on a system in another location of the company or in the cloud. Acronis Cyber Protect (includes Acronis Cyber Backup) ensures the integrity of the data security. This will in any case save your valuable data – without the hassle of an expensive and complicated forensic reconstruction of data.
Acronis True Image is the tool aimed at private users who want to backup their data easily and comfortably:
Backing up, storing and restoring data

complete image of the computer system including operating system with all settings

Securing the complete system with just two clicks: Selecting Backup Method and Drive

fast recovery of the complete system also on a new computer from another manufacturer
Acronis Cyber Protect (includes Acronis Cyber Backup) is the tool for business users, including:
a simple and convenient user interface for backing up your drives

Backing up virtual systems

all areas of use (PCs, MACs, mobile devices with iOS and Android and also your social media- accounts
Data backup also has the advantage over forensic data rescue that all data of a user or a company is secured – no matter if it is a server, PC, laptop, tablet or smartphone. With the democratization of information technology, valuable information can be found on a wide variety of devices. This is also why it is important to backup the data of all devices and all users with a comfortable backup solution.
So that users with the greatest possible independence can use different cloud storage for security in the cloud, Including Microsoft 365, Microsoft Azure, any Private Cloud, Amazon EC2 as well as the secure Acronis Cloud.
Hardly any other procedure is as efficient as a multi-step backup with Acronis. The data is in your data centre for an easy restoration on the system. In case of severe disruptions, you can access a data backup in a second data centre. In the event of complete destruction of your data centres, you can access data backup in the secure cloud. You can also restore the data to new systems from another provider. Your company – whether a big corporation or SME – is up and running again as soon as possible.
How good a solution is for Business Continuity, the concepts for data restoration and data recovery and restarting of systems can typically be measured with the Recovery Point Objective (RPO, how much data loss is tolerable in error) and the Recovery Time Objective (RTO, so how long does the recurrence take). These criteria are defined by many providers of other solutions only for individual systems – the factors RPO and RTO had to be defined but also for the business processes.
Therefore, a data backup, as far as is properly concerned, is a significantly faster and significantly more cost-effective solution than a forensic reconstruction of the data. This applies both from the perspective of business continuity and also from the perspective of the price-performance ratio.
About Acronis
Acronis is a Swiss company, founded in Singapore. Celebrating two decades of innovation, Acronis has more than 1,800 employees in 45 locations. The Acronis Cyber Protect Cloud solution is available in 26 languages in over 150 countries and is used by 20,000 service providers to protect over 750,000 businesses.