Acronis

Cyber Protect Cloud
IT managed services are central to modern business IT management. In 2019, the global managed service provider (MSP) industry was worth $185.98 billion, a figure that will grow to $356.24 billion by 2025. But for small- to medium-sized businesses and enterprises who are still exploring managed services, transitioning IT operations to an outside vendor (including even the most reputable MSP) can be daunting.
Find the MSP pricing model that best fits your organization's need:
One of the main reasons businesses hesitate to transfer their IT management needs to an MSP is confusion over service capabilities and MSP pricing. Modern businesses rely on constant, seamless data availability, increasingly complex IT environments, and reliable data protection and cybersecurity procedures to ensure their organizations thrive.
The ability to deliver these capabilities will vary from MSP to MSP – as will the affordability of their services. To help alleviate these concerns, MSPs package their managed services and offer different MSP pricing models that deliver the level of service you need – without unexpected IT strategy gaps or excessive, expensive service capabilities you won't use.
We've outlined six of the most common pricing models for you to review and compare so you can decide which of the many MSP pricing models best fits your organization's needs and budget. But first, a look back at the reasons why IT managed services are growing in popularity and importance.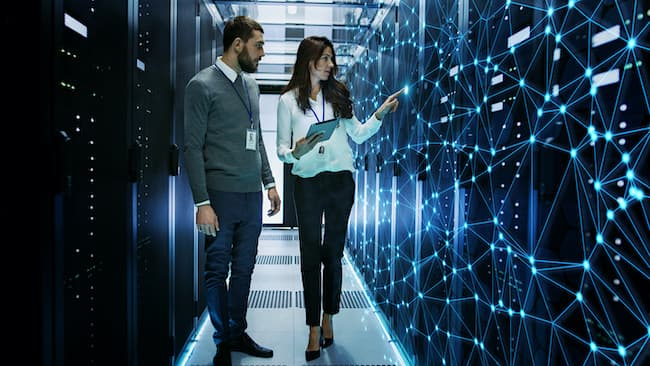 The Rise of Complexity and Managed Services
Business IT is getting more complex, diverse, and expensive every year. Today, 80% of organizations admit they're challenged by the complexity of tools used for monitoring and managing security across hybrid environments, alone. Historically, businesses responded to these challenges by hiring an IT administrator or an in-house IT team – the IT guys who were responsible for everything from fixing the printer to cyberthreat detection and elimination.
But, given how complex modern IT has become, this approach is no longer guaranteed to be the best one. In 2018, Gartner surveyed business executives and determined that a lack of qualified IT professionals was the third most prevalent business concern. They went on to predict that this skills gap will cause 75% of organizations to experience visible business disruptions before the year's over.
With those concerns in mind, organizations are turning to IT managed services – and finding that paying an MSP price can actually save money in the long run, if they choose the right MSP and the right service package for their unique needs.
MSP Pricing Model #1. Monitoring only
Best Suited For: Businesses looking to augment their IT and lack system monitoring capabilities
One of the most affordable MSP pricing options, monitoring services exclusively provide remote monitoring and issue alerts to your existing IT team. Any managed services beyond identification and notification will cost extra or will need to be handled by your own IT team.
MSP Pricing Model #2. Per-User
Best Suited For: Highly connected businesses, where a given user uses multiple devices
A flexible, easy to track pricing model, per-user MSP pricing charges a flat fee per user, per month, and covers all the devices they rely on. Managed services included in this support can extend to individual endpoints, connectivity between endpoints, and more.
MSP Pricing Model #3. Per-Device
Best Suited For: Businesses with specific, highly important devices they want defended professionally
Under this MSP pricing model, you're charged a flat fee for each device that the MSP will monitor and support. The fee you pay depends on the type of device being protected – e.g. server support costs more than laptop support.
MSP Pricing Model #4. Tiered pricing
Businesses planning on scaling their IT environment – and their reliance on managed services.
Explore managed services with an affordable basic service package and scale up as needed with this MSP pricing model. Tiers are based on fixed costs for fixed service packages that vary from basic IT needs to comprehensive IT management.
MSP Pricing Model #5. A la Carte pricing
Best Suited For: Businesses that need the most customizeable options
Ensure your business gets the exact managed services it needs without any support gaps or redundancies. A la carte tends to be more expensive than other MSP pricing models but does provide the highest level of control you'll find from a service provider.
MSP Pricing Model #6. Flat-Fee
Best Suited For: Businesses that want IT managed completely by professionals
As organizations wash their hands of the complexity central to modern IT systems and regulations, managed services that extend to every aspect of business IT needs are growing in popularity. This MSP pricing model features remote support, on-site support, bench time, and complete system management – all for a flat fee.
Whichever MSP pricing model fits your business needs, it's important to evaluate the specific capabilities offered by your MSP and the reliability, efficiency, and security of those services. Managed services can be an enormous time and money saver for businesses, but limitations in coverage (like slow, spotty backup and recovery processes, incomplete cybersecurity and anti-virus tools, and a lack of support for specific devices, etc.) can turn your IT support system into a frustration, or even a liability
Acronis Cyber Cloud: Managed Service Cyber Protection
Acronis Cyber Cloud is a platform designed for service providers that enables them to deliver comprehensive cyber protection to businesses like yours. Through a single software-as-a-service (SaaS) solution, they're equipped with industry-leading hybrid cloud backup, disaster recovery, AI-based ransomware protection, file sync and share, and blockchain-based file notarization and e-signature services – all of which can be expertly applied to your data, applications, and systems through the MSP pricing models of their choice.
With these managed services covering your organization's IT environment – whether it be on a basic tier-service model or an all-encompassing flat fee MSP pricing model – Acronis cyber protection services enable your MSP to deliver the easy, efficient, and secure services you need to keep your business moving.
Learn some key things to search for in a quality MSP here and find the Acronis-equipped MSP that best fits your business needs here.
About Acronis
Acronis is a Swiss company, founded in Singapore. Celebrating two decades of innovation, Acronis has more than 1,800 employees in 45 locations. The Acronis Cyber Protect Cloud solution is available in 26 languages in over 150 countries and is used by 20,000 service providers to protect over 750,000 businesses.